Nobody Loves a Slow Website, I think you'll agree with me.
Ever since the google speed update was released, everyone seems to have the fastest website and page speed.
Google announced Page speed as one of the primary SEO ranking factors. Google wants to improve users' experience of the web, and fast-loading web pages will do that because they found 40% of consumers will wait no more than three seconds before abandoning a site.
😲 Even a 1-second delay in your website`s load time can lead to lower you conversion by 9%
Website speed depends on various features like:
Server Location, DNS lookup, Connect, Redirects time, TLS connect, Request time, Time to First Byte (TTFB), Total time, Page size, Download speed, Programming language, CMS, Code optimization, Server cache.
But only one fix can enhance your Website speed by more than 75%, which is your web hosting.
The reason why It's REALLY important to select fastest web hosting for your website
However, from hundreds of available host with their attractive offers and services, it's hard to find the best website hosting platform suitable for your website.
I done ALL the hard work and this article will guide you through the difficult process of finding the Cost-effective, reliable uptime, fastest web hosting server to improve your Largest Contentful Paint (LCP) and First Input Delay (FID) in record time.
Want to jump straight to the answer?
Hostinger is a web hosting provider that makes it easy to get started with the fastest shared hosting services on the market.
While kinsta provides the fastest WordPress hosting speed, All their plans Built on Nginx, the fastest web server in the world.
As a Web Developer, I created this Advance Practical guide (Not a list post 🤣) to help yourself select the fastest servers for your website hosting.
I tested speed and server stress thoroughly, so there left no room for doubt(Everything is transparent).
I used WordPress on multiple sub-domains of my website with my heavy load homepage which is connected to different web hosts for the Load test to determine how many users the host server can actually handle.
The Reason for using the WordPress CMS is because:
According to builtwith.com market share of WordPress is around 40% of all live websites.
WordPress is built on top of the most popular server-side programming languages PHP and around 80% of the websites are based on PHP.
Most probably you're going to create a website on at least one of them.
In this post, I'm going to show you a list of High-Speed Server For Different types of web hosting to host your WordPress website.
Like:
Shared
Wordpess
Managed
VPS
Cloud
Small Business
After That, I will help you with the exact real-time process and tricks to optimize your website for maximum speed to get started RIGHT Now.
The BEST part is that I also take care of Search Engine Optimization's good practices while optimizing a website for speed.
In fact, the strategies in today's post helped ThatMy.com reach Google's PageSpeed Insights score something like this: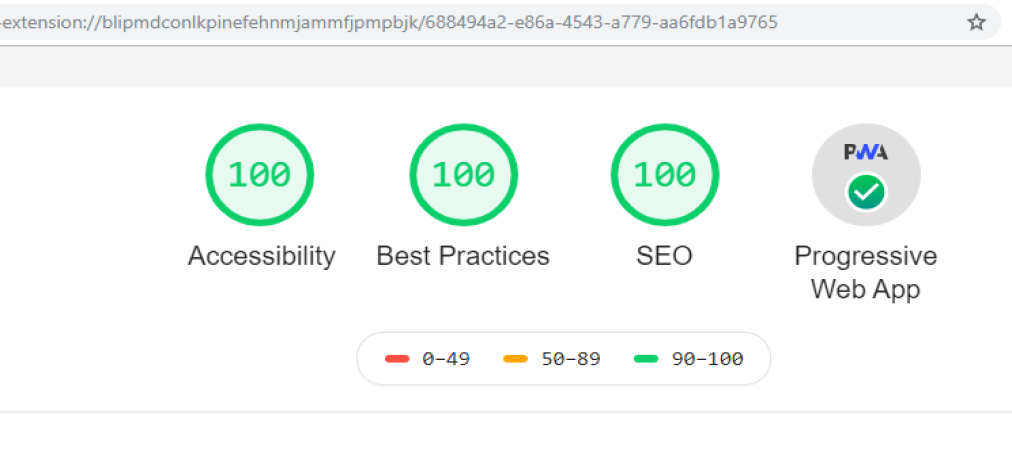 Perfect 100% on Google PageSpeed Insights 😋.
Let's dive right in.
Leading Companies with Excellent Server Speed, Performance & Security in 2021
Based on Their performance during ( - ) period .
We selected this list based on server responce experience: we purchased web hosting accounts with different types, set up test sites, measured their speeds and uptime, and whittled them down to the fastest web hosting providers with their hosting types.
7 Best Fastest Web Hosting Services
One common thing you need to Uderstand in life, You always get what you pay for It.
We need to be Realistic and way aware of companies falsy Promotions and Promices
I saw in many hosting reviews state that TTFB is under 100ms for shared hosting 🤭🤭.
I only say one thing to my Reader You always get what you pay for (Be realistic).
The Reviewer may test the blank website without any external essential script or resources. So as I said earlier, I used my heavy home page for a test, So you can expect what you see here.
2. A2 Hosting The Fastest WordPress Hosting

A2 Pros

Fastest web hosting
servers optimized for WordPress
Unlimited bandwidth and storage
free LetsEncrypt SSL certificate
free site migration
Best for WordPress, Joomla, Drupal, OpenCart and Magento
20+ email accounts
A2 Cons
A2 Server Performance.
Time to First Byte (TTFB): 300ms
Fully Loaded Time: 99.86
Fastest Web Hosting with a 51% Discount
A2 Hosting review
Everyone knows that When we install WordPress our hosting speed gets drastically down due to PHP and MySQL interaction.
When it comes to WordPress we cant ignore WooCommerce after all WooCommerce leads 40% of eCommerce share.
Therefore, I tested and discovered high-performance real-time hosting for WordPress and Wocommerce.
WordPress hosting is the most ideal hosting for WordPress websites. They provide great performance and are configured to be highly compatible with WordPress.
WordPress hosting makes it very easy for website owners to manage and maintain the website without having to allocate additional resources and also provides a variety of WordPress administration features.
To find the fastest WordPress hosting, first, you need to understand Managed Hosting.
What is managed WordPress?
Managed WordPress is a special type of hosting crafted with resources specific to your WordPress installation which performed some Automated tasks that the web owner has to perform in the simple shared plan, like installing the platform, keeping it updated, optimizing your site for performance, and performing backups are usually included as part of your hosting plan.
Due to the popularity gain and large accumulation of WordPress in CMS(Content Management System), top web hosting providers now offer managed WordPress hosting with one click installation.
During my test I found Important Benefits of WordPress hosting over shared hosting for your WordPress website.
The benefits of managed WordPress hosting:
The Main benefit of managed WordPress service, you do not have to worry about installation, updating the security of your website.
Managed WordPress plans come with the support of a provider, you can be sure that your support team fully understands WordPress. And they not just understand WordPress they are experts to handle WordPress.
If you host your site on managed WordPress hosting, you can likely get preinstall:
Security plugins
Performance plugins
Backup plugins
Caching plugins
You can fully concentrate on growing your business and your provider will assume the responsibility of managing your hosting.
You will get faster sites and better performance due to the specific WordPress environment.
Disadvantages of WordPress Hosting:
Not much important but you will get the full access to the server
Managed WordPress only hosts WordPress sites.
In my In-depth analysis tried out all most popular WordPress hosts as well as my partner's websites and compared their uptime, load time and overall reliability.
Many popular providers many kinds of free website services. Here, I recommend the top of the best service provider, mostly used and recommended for WordPress development, to help you create a website with virtually no effort.
from 2016-2021, I found 4 fastest managed wordpress hosting with Premium Support and Technologies.
Here are the fastest WordPress hosting companies you should look for.
The Fastest Web Hosting Services for 2021
A2 Hosting — The fastest WordPress hosting
SiteGround — The most reliable WordPress hosting (Limited but quality Service)
Dreamhost — Most Affordable Month-to-Month Plan
A2 Hosting is the #1 super fast WordPress hosting in the industry. they never compromised with their speed and performance for their client.
A2 also offers Managed WordPress Hosting turbo servers that promise up to 20X faster page loads for the Turbo plan with 1-Click Site Staging, Daily Automated Backups, Free Jetpack Personal License, and Free Site Migration.
Most importantly their price tag is unbeatable in the current market. their single website hosting plan comes with just $12.99/month for 3 years.
A2 WordPress Hosting Performace
A2 Hosting is perfect for WordPress users and the fastest WordPress hosting present for 2021.
A2 calls its SSDs "Turbo Servers" that can load pages up to 20 times faster page loads for the Turbo plan than a typical non-SSD server.
A2 has won plenty of top hosting awards and consistently ranks high on best service provider lists.
Important support of A2 Hosting for fastest:
PHP (5.x and 7.x),
MySQL 5.6 databases,
PostgreSQL 9.4,
Python (2.6, 2.7, and 3.2)
Apache 2.2,
Node.js,
and Free SSH access
In addition, they are the fastest service providers for hosting modern databases such as MongoDB.
A2 Hosting Global Data Centers
A2 gives you the option to Choose a server location from Europe, the USA or Asia.
A2 Hosting data servers are deployed in 4 different regions:
USA - Michigan
USA - Arizona
Europe - Amsterdam
Asia - Singapore
A2 Hosting data centers located around the world to bring your data closer to you and your visitors. All servers are high-powered, super reliable, exceptionally tune by a team of expert A2 engineers.
A2 Hosting Optimizations
Turbo Servers:
A2 hosting turbo booster load your web pages with lightning-fast speeds.
Pre-Installed Jetpack:
Jetpack performs automatic WordPress optimization to make your websites faster
A2 Hosting Page Speed Test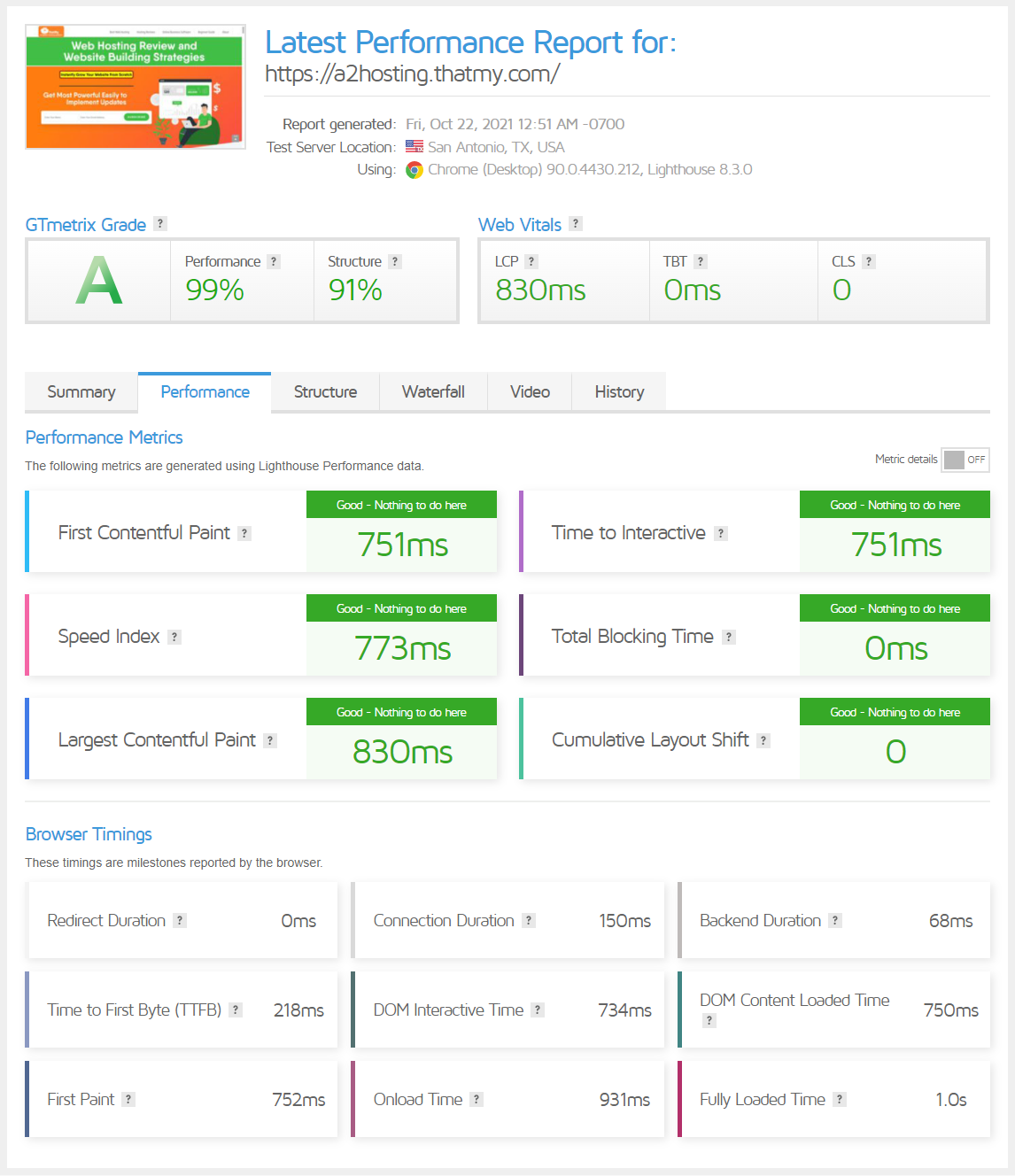 Initial Connection Time
For every test I ran, I found a consistent response from the server, and the reason I'm talking about is that this page I created with WooCommerce means you can assume this is a fully loaded web page with additional resource scripts.
We can see that a bit of lag in connection time is due to server-side script file processing.
But for WordPress with WooCommerce, this is better compared to all the other hosts I tested.
Time to First Byte (TTFB)
For multiple speed tests, I found A2 Hosting's TTFB speed is less than 220ms for WordPress with WooCommerce, it is really very powerful.
No one is even close to A2 Hosting in terms of TTFB performance and response, they are the fastest hosting provider for any WordPress service.
Avg. Loading Time
The average load time for the A2 website is less than for our heavy WordPress + WooCommerce is less than 1s, Yes, less than 1s (you may get a different result if your page is not optimized correctly)
A2 Hosting Server Load Test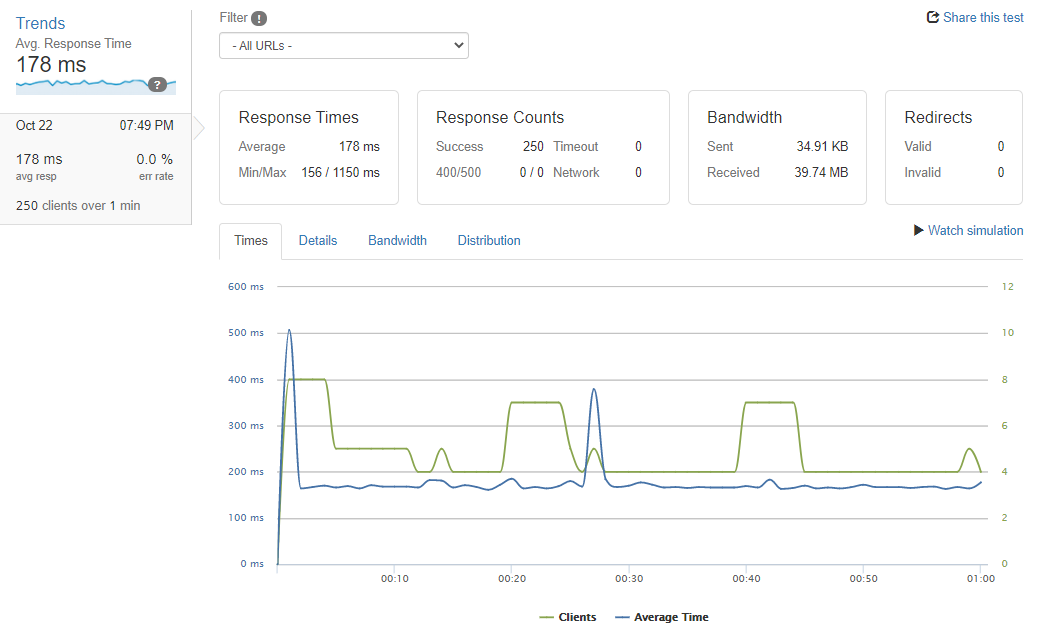 A2 Hosting is built on Cloud hosting specifically designed for WordPress websites, and we can see its positive effect on their server capacity.
When I performed load tests on the A2 server, I saw a very impressive result in multiple tests.
For 250 requests in one minute, the response of their server is less than 180 ms, from this, you can understand how powerful and optimized A2 servers are for WordPress.
During 1 minute I pull about 40 MB of data, so we can easily say that A2 is a really powerful web host for WordPress with WooCommerce.
With blazing-fast page loading speeds, A2 is the fastest WooCommerce hosting.
In A2 Dashboard with just a few clicks, you can easily add eCommerce functionality to your site with WooCommerce.
A2 Hosting Features
Woo Commerce hosting
fastest wordpess hosting provider
Automated setup for WordPress
Unmetered bandwidth
User-friendly cPanel
Database backup and restore
A2 Hosting WordPress Hosting Pricing
A2 hosting WordPress plans are crafted for High Speed performance.
A2 Hosting's cheapest plan starting from $3.92 per month.
Installation of programs can be done automatically, quickly and securely like WordPress, Joomla etc.
They offer an anytime money-back guarantee for your unused service.
For WordPress consideration a2 has fastest data delivery speed out of all tested service provider.
They also offer three plan for simple WordPress setup:
Lite($3.92/mo)(single website)
Swift($4.90/mo)(unlimited website)
Turbo($9.31/mo) (additional turbo booster for fast loading speed)
VISIT A2HOSTING
3. Bluehost Fastest Web Hosting for Small Business.

Bluehost Pros

Easy to Use for Beginners
Fast TTBF Speed (130 ms)
Comes with all Small Business Issential Security Options and Features
Full page load in less than 1.2 ms
30-Day Money-Back Guarantee.
24/7 Customer Support
Good Uptime 12-Months (99.95%)
One Free WordPress Site Transfer
You get a free domain name for one year included with your purchase
Bluehost Cons

Renewal rates are high
Basic plans are not good for speed
Bluehost Build Plan Server Performance.
Time to First Byte (TTFB): 200ms
Fully Loaded Time: 1s
Bluehost provides Easy Migration, separate WordPress support
In-depth bluhost review
Many companies claim that they are the best for small businesses. Also, show some promotional offers to attract website owners.
But be careful when you are going to create your online business, Because most of the companies provide free features which are suitable only for blog portfolio websites.
When considering hosting a commercial website, you need the freedom to focus on growth with your provider should take responsibility for your server. Not many hosting providers perform well in all areas like speed, service, and support in one place.
If you are looking for a suitable hosting provider for your small online business, you can select any of the following service providers with your WordPress or shared hosting plan.
Let's jump into the very fast Business Hosting to consider.
The Fastest Business Hosting Services for 2021
BlueHost — Perfect business hosting with maximum performance
A2 — Best if you want total control over the server
Siteground — Best value for money
After extensive research, I found Bluehost to be perfect fastest web host for small business websites (not for Heavy e-commerce) because they maintain a balance between all areas of hosting and also give you a $200 promotional credit for advertising and their web development services.
Do you have any idea why Bluehost has become so popular?
Not because they offer very attractive pricing packages or free service. They are popular because their hosting environment is suitable for growing your business.
They also provide support for a lot of add-ons, the latest programming support, and integrations.
Benefits of Small Business Web Hosting:
Performance: Unable you to perform high-quality service Manage network connectivity, Monitor website traffic.
Support: you can outsource your work or get help from your expert; they are available 24 hours a day, 7 days a week, 365 days a year.
Reliability: This allows you to handle services such as managing multiple applications and server resources, managing and providing security, reliability, and environmental controls.
Maintenance: maintenance and monitoring of website logs, reports, and analytics.
Business Growth: with the help of enterprise hosting, you can easily perform important tasks such as creating an online community, using e-mail marketing, creating an online community, and online sales.
Disadvantages of Small Business Hosting:
Only one disadvantage is that you will not get the particular feature of specific web hosting.
Bluehost Performace
Whether you are just starting out or need advanced performance, Bluehost has a reliable website hosting plan designed for your needs.
Bluehost is integrated with Cloudflare, so you get even better performance.
Bluehost Global Data Centers for Small Business hosting
Provo, Utah, USA
Orem, Utah, USA
Mumbai, India
London, UK/Europe
Hong Kong, China
Shanghai, Mainland China
Bluehost Hosting Optimizations
I did not find any special hosting optimization for Bluehost.
Bluehost relies heavily on plugins that give the option to install WP Super Cache or W3 Total Cache, which can be done from your WordPress dashboard under Plugins.
Bluehost Page Speed Test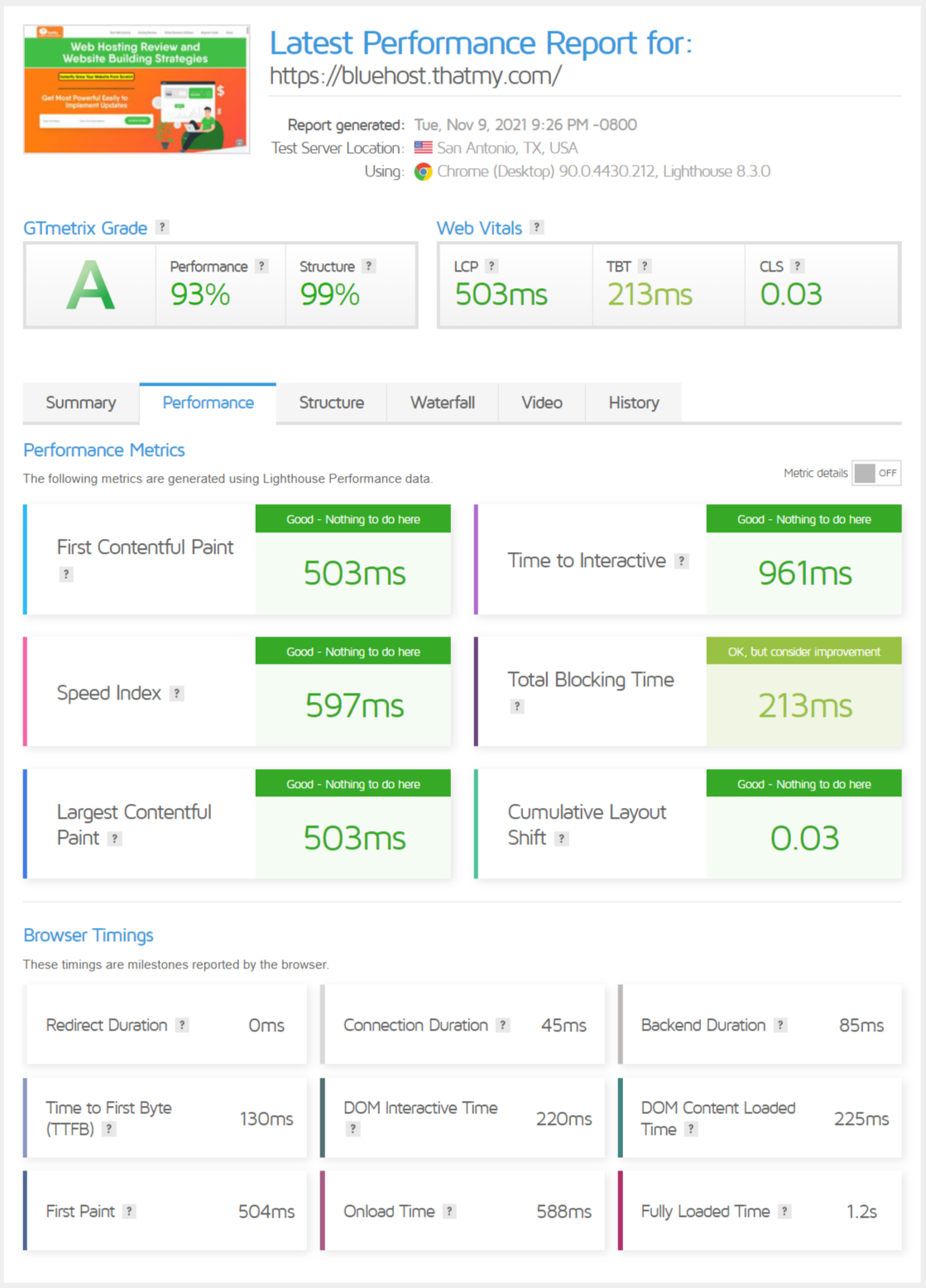 Initial Connection Time
I used the Bluehost Build plan for business hosting starting at $19/month, and I am quite happy with the result, this happens when you use the perfect web hosting for a specific purpose.
the innitial connection time is just 45 milli sec pretty reliable.
Time to First Byte (TTFB)
For this test, I also use the third party email capture add-on because I refer it to enterprise hosting, you can see that the block time is about 213ms, but I notice that TTFB is below 130 ms for multiple tests.
Avg. Loading Time
Bluehost also did not disappoint me on load time which could never deliver a full page load in greater than 1.2 ms.
Bluehost Server Load Test
Bluehost's Build plan server is perfectly configured for small business hosting, I don't like and recommend their shared hosting plan, but the Build plan is on a different level.
As I usually send 250 requests to the server, but this time I also did an upload test, I got a continuous response of 240 seconds for both upload and download.
Bluehost Features
Easy 1-click WordPress setup.
Free web builder.
Introducing WordPress pro .
Optimized for Business Need.
best WordPress optimization.
Free CDN. integration.
Award Winning Support.
Support all Latest Technologies.
super cashing service to reduce data pulling requests.
faster WordPress loading Speed(360ms).
Support Python, MongoDB, Node & New Tech.
Easy API Integration.
separate DreamPress for WordPress.
No. of plugins and themes available.
best support and online guide available for every operation.
Scalable service that allows users to manage their WordPress sites worry-free via automatic updates, caching with excellent support.
Bluehost Pricing
Bluehost's managed hosting plans are best for small business setups, as they generally include everything you need to grow and scale your business. Bluehost Managed plans are best for single WordPress website.
Bluehost comes with 3 different Managed hosting plan options: Build, Grow and Scale.
Build – $19.95 a month plan support up to 50,000 visitors per month. Bluehost Build Managed plan include 20 GB Disk space, Jetpack Personal, and daily scheduled backups.
Grow – $29.95 a month plan support up to 150,000 visitors per month. Bluehost Grow Managed plan include 40 GB Disk space, Jetpack Premium, Bluehost SEO Tools and Blue Sky Ticket Support .
Scale – $49.95 a month plan support up to 500,000 visitors per month. Bluehost Scale Managed plan include 80 GB Disk space, Jetpack professional,Unlimited Video Compression, Elastic Search, and Blue Sky Live Chat Support.
The prices I mention here are valid only if you purchase a 36-month hosting plan in advance. If you decide to opt for a 12 or 24-month package, the monthly amounts change accordingly.
For an online store, you can start your store with an online store plan that starts at $15.95 per month, based on WordPress and WooCommerce.
The online store plans have a payment processing, analytics system and create an essential store backup facility.
Read Bluehost In-Depth Review.
4. Kinsta The Fastest Managed Hosting

Bluehost Pros

Powered by Google Cloud Platform.
Free backups and server-side caching.
Free SSL and KeyCDN integration.
Testing environment to test your website before publishing.
Free premium migrations.
Fast and secure server stack with PHP 8, HTTP / 2, NGINX and MariaDB.
Kinsta Cons
Kinsta Server Performance.
Time to First Byte (TTFB): 102ms
Fully Loaded Time: 900ms
Premium managed hosting offers top performance and expert support.
Kinsta review
Managed plans work well for people who don't have time to deal with the technicalities.
Why are managed to host services growing?
In today's highly competitive world, to remain competitive and productive, you need to focus entirely on your business goals instead of dealing with various petty problems that others can handle well.
In managed hosting services, all the technical aspects of your server are managed by the hosting provider, such as daily backups, updates, speed, support, security, etc. while you relax and spend your valuable time on other important activities.
What is Managed Hosting?
With managed hosting plans, your hosting provider takes over much of the basic day-to-day tasks like, Backup, Optimization, Security checker that goes into keeping a server healthy and secure and leaves you to enjoy faster hosting and focus more on your business growth.
Advantages Managed Hosting:
Reduce your operating costs: No costly hardware upgrades, no IT staff to run and maintain the server, no servers of your own, therefore no risk of damage.
Save time: Administration and maintenance are taken care of so you can concentrate on your core business.
No additional support staff needed: Technical and security support from highly specialized technicians is always available.
Server monitoring: 24x7 managed server monitoring service is suitable for web hosting companies and server owners to ensure maximum system uptime for their servers and services.
Automated backups: You can manually schedule your backup on a specific date.
Scalability: The managed hosting company's always up-to-date technology gives you access to the latest technology.
Disadvantages of Managed Hosting:
You will not own the network and server storage, so everything will be managed for you by a hosting expert.
During my research, I came across numerous managed WordPress hosting companies and I found 4 Fastest Managed WordPress Let's jump into.
Top 4 Fastest Managed WordPress Hosting Companies
Kinsta – Fastest Managed Hosting Provider
WpEngine – Fastest web hosting for WordPress (Not Cheap)
SiteGround – Fast & Reliable Managed Hosting
Liquid Web – The best for Multiple Managed WordPress sites
Kinsta launched in 2013, call themselves premium WordPress Hosting. With the unique purpose of building the best WordPress platform with kinsta nginx server.
With Kinsta you get practically everything you need for a single WordPress website. That includes 10 GB of disk space, 25,000 bandwidth accesses, free SSL, CDN Staging and free website migrations. So, you get pretty good value for the price, plus its constant uptime and page load speed on the sudden surge of traffic makes your life much easier.
Kinsta comes with an excellent and powerful Google Cloud Platform, you will enjoy all the power, flexibility and control you will need for your website services.
In the test, we took a closer look at whether the provider is also worthwhile for smaller projects, which makes it unique, and how it compares to other hosting providers.
Kinsta Performace
Their primary goal is to create kinsta wordpress hosting with speed, security, and stability.
Kinsta Global Data Centers
Kinsta uses GCP (Google Cloud Platform), So Kinsta has 28 data centers in 5 major regions around the world.
South America
São Paulo, Brazil (southamerica-east1)
North America
The Dalles, Oregon, USA (us-west1)
Los Angeles, California, USA (us-west2)
Salt Lake City, Utah, USA (us-west3)
Las Vegas, Nevada, USA (us-west4)
Montréal, Canada (northamerica-northeast1)
Toronto, Canada (northamerica-northeast2)
Council Bluffs, Iowa, USA (us-central1)
Moncks Corner, South Carolina, USA (us-east1)
Ashburn, Virginia, USA (us-east4)
Europe
Warsaw, Poland (europe-central2)
Hamina, Finland (europe-north1)
St. Ghislain, Belgium (europe-west1)
London, United Kingdom (europe-west2)
Frankfurt, Germany (europe-west3)
Eemshaven, Netherlands (europe-west4)
Zurich, Switzerland, (europe-west6)
Asia
Changhua County, Taiwan (asia-east1)
Hong Kong (asia-east2)
Tokyo, Japan (asia-northeast1)
Osaka, Japan (asia-northeast2)
Seoul, South Korea (asia-northeast3)
Mumbai, India (asia-south1)
Delhi, India (asia-south2)
Jurong West, Singapore (asia-southeast1)
Jakarta, Indonesia (asia-southeast2)
Australia
Melbourne, Australia (australia-southeast2)
Sydney, Australia (australia-southeast1)
Kinsta Hosting Optimizations
Powered by Google Cloud Platform
Kinsta uses Google Platform and its premium-grade network to ensure ultra-fast network speeds. You can choose from any of our 28 global data centers. Placing your site closer to your visitors helps lower latency and TTFB, while ensuring ultra-fast load times.
Nginx Server
Nginx is a faster web server and Kinsta uses it for all their hosting plans, that makes them the fastest node.js web hosting.
Ready for traffic surges
There infrastructure is very easy to handle Sudden traffic peaks, you can simply increase your limit or define a condition that will take care of everything with a predefined budget.
Kinsta Page Speed Test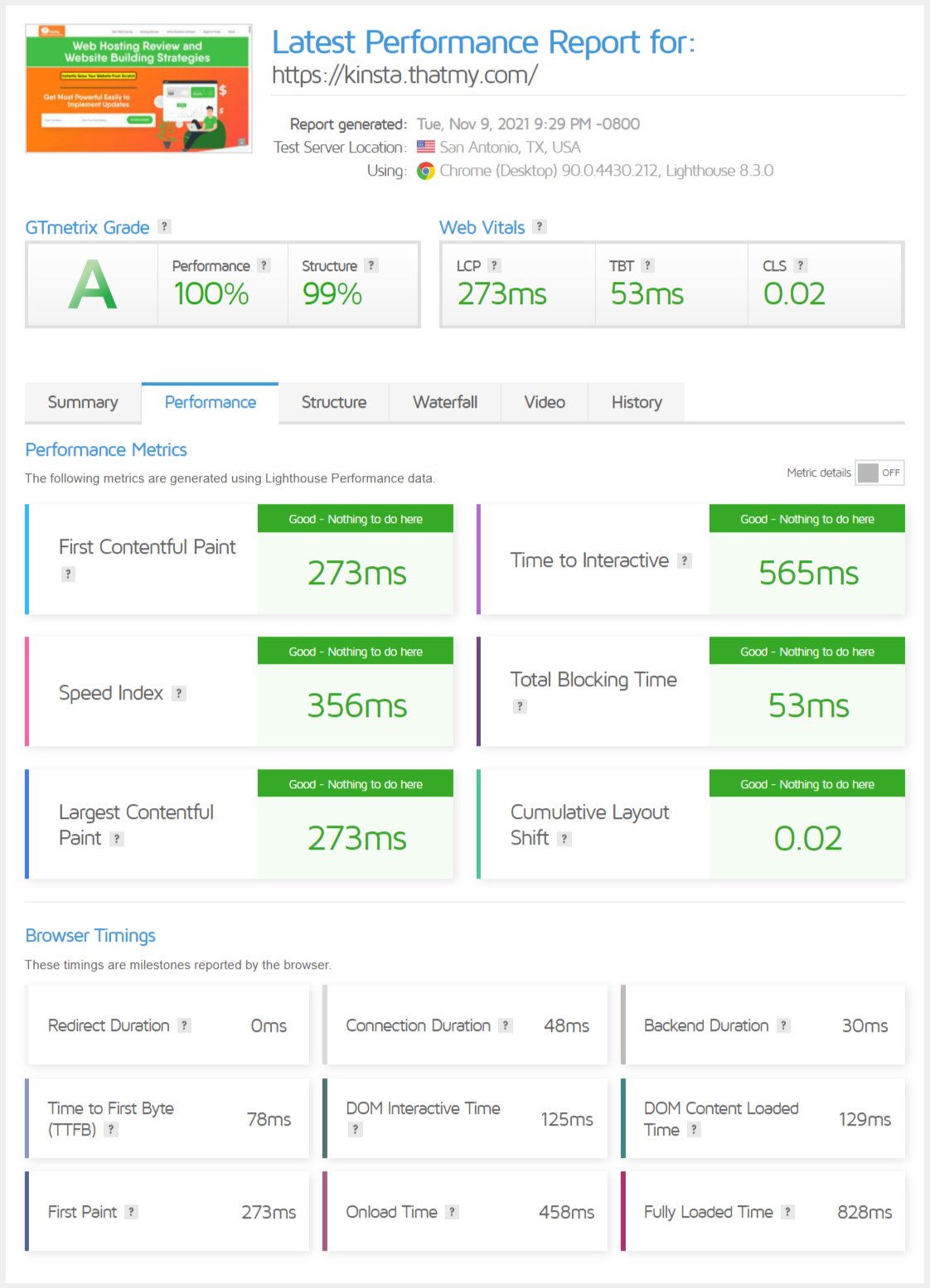 Initial Connection Time
Kinsta is based on Google Cloud Platform so i was very qurious about the test results, and i got results beyound my expectaction.
initial connection time is just 48 ms super powerful if you have buget and need i will definatly recommends you to go for Kinsta
Time to First Byte (TTFB)
kinsta delivering me fastest TTFB time all test still all carryout, I get TTFB of 78 ms and this is the power of google cloud server behind kinsta.
Avg. Loading Time
When I performed the test, I added additional plugins on my website, I was thinking about a small delay in my full-time loading speed, but the result is again very different than my expectations, the page is delivered at a speed of 830 ms.
Kinsta Server Load Test
From the test I performed, you can understand how powerful and optimized Kinsta servers are.
During the Kinsta test, I tried to send traffic as a sudden spike 3 times in my 1-minute test.
Even despite the spike, I get a constant response with 106 ms.
Kinsta Features
High-speed server performance
Staging and Cloning
Advanced caching
Free site migrations
Flexibility and scalability
Automated backup and restore
Excellent customer support
CloudwaysBot
Kinsta Pricing
5. inMotion - The Fastest VPS Web Hosting

Inmotion Pros

Free Site Transfer.
Unlimited Disk Space.
Unlimited Data Transfer.
Excellent Customer Support.
Free SSL, automated backup & hack protections.
90-day money-back guarantee & free website migration.
Inmotion Cons

Learning Curve is little Complex
Inmotion Server Performance.
Time to First Byte (TTFB): 150ms
Fully Loaded Time: 1.2s
best known Hosting for managed security
Inmotion Hosting review
What is VPS Hosting?
VPS stands for Virtual Private Server, in which provider offers an environment which provides for means such as RAM and CPU (central processing unit) to be added on your account.
This accomplished by virtualizing a Dedicated storage space and splitting the resources between the users on that server.
In VPS, you are guaranteed resources for your website, however, you are often required to manage the server yourself.
As compare to shared plan VPS is too costly and not affordable and required for small businesses.
VPS is only recommended if you having a moderate traffic each month.
There any many benefits of VPS if you're ready to afford their charges. some of them are as follows.
Advantages of VPS Hosting
Users will be assured the time on their VPS web hosting account. Which means that your account will be allocated to the fixed amount of RAM, CPU, and Disk Storage you've selected regardless of what others on the other website load and traffic. This allows for higher stability and performance of your website.
You also do not share the Operating System with any other users (you'll not get these benefits in a shared environment), providing better security for your website files.
Differences Between Shared And VPS Hosting Service
Users of Shared packages will share resources around the server their particular websites take. There is no assurance of RAM amount or CPU configuration with Shared environment.
Shared hosting likewise does not give full central access to the server, instead of VPS hosting where users are given complete root entry to perform instructions and help to make changes and configuration on their hosting environment.
Here are my top picks for the High Performance virtual private server providers in 2021.
The Fastest VPS Hosting Providers Are:
inMotion — Fastest value for money VPS Hosting
Scala Hosting — The Best for Upgrading From Shared Hosting
A2 Hosting — VPS hosting for Unmanaged plans
Hostinger — The Lowest Cost for Managed VPS Hosting
InMotion VPS offers unlimited features: domains, websites, MYSQL databases, FTP accounts, individual cPanel sub-accounts and email with every VPS plan..
inMotion Performace
With inMotion VPS hosting, it guarantees every user stable and predictable website performance, with full control and privacy.
inMotion's outstanding server performance comes with an optimized VPS website hosting plan built for your needs.
inMotion Data Centers
Washington, D.C., US
Dallas, US
Frankfurt, DE
Amsterdam, NL
Los Angeles, US
London, UK
Singapore, SG
Chicago, US
Milan, IT
Frankfurt, DE
Paris, FR
Zurich, CH
Sydney, AU
inMotion Hosting Optimizations
NGINX Server: Ultra-fast NGINX used for VPS hosting.
dedicated IP: With there starting VPS plan you will get 3 dedicated IP address.
Multiple Server options: They offer two types of VPS service, managed VPS servers and cloud VPS servers.
inMotion Page Speed Test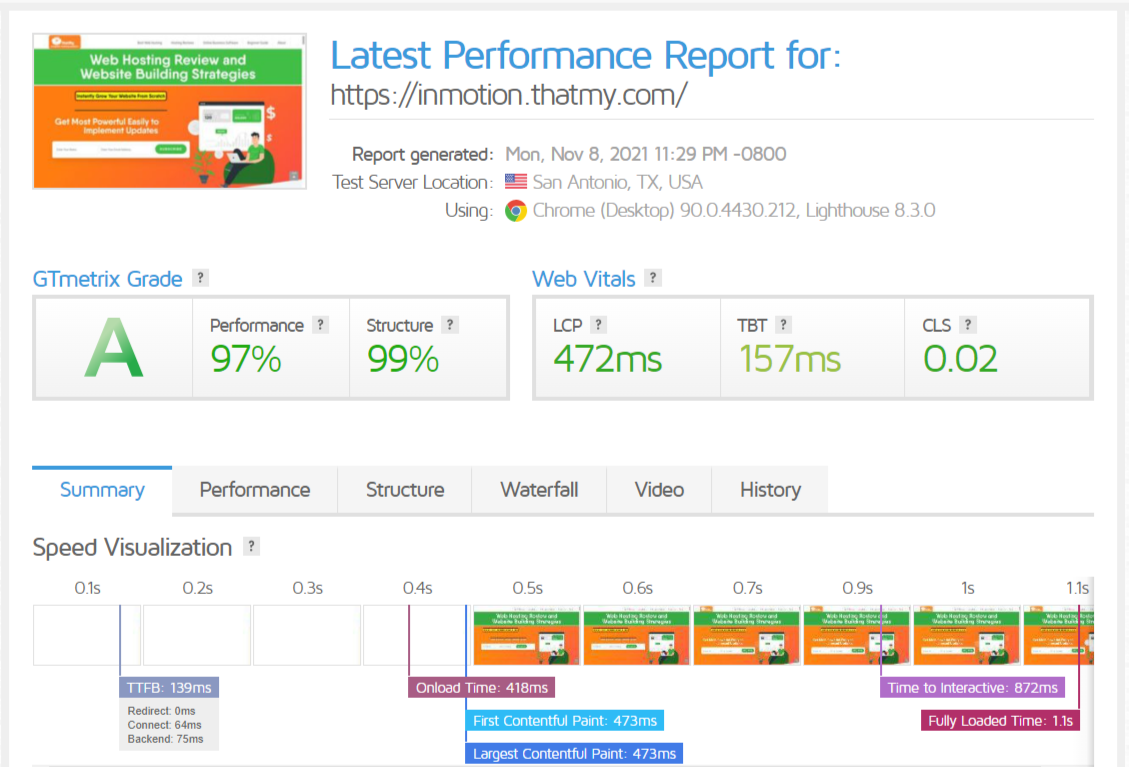 Initial Connection Time
InMotion VPS plan are very powerful they are not pretty cheap but there performance is extraordinary
I tested them with $19.99/month plan with onload plugins, I takes around 100ms to initial connection.
Time to First Byte (TTFB)
The test website with InMotion VPS delivered an average TTFB speed of 140 ms in multiple tests.
Avg. Loading Time
They take aroud 1.2 ms load time to deliver our test website.
inMotion Server Load Test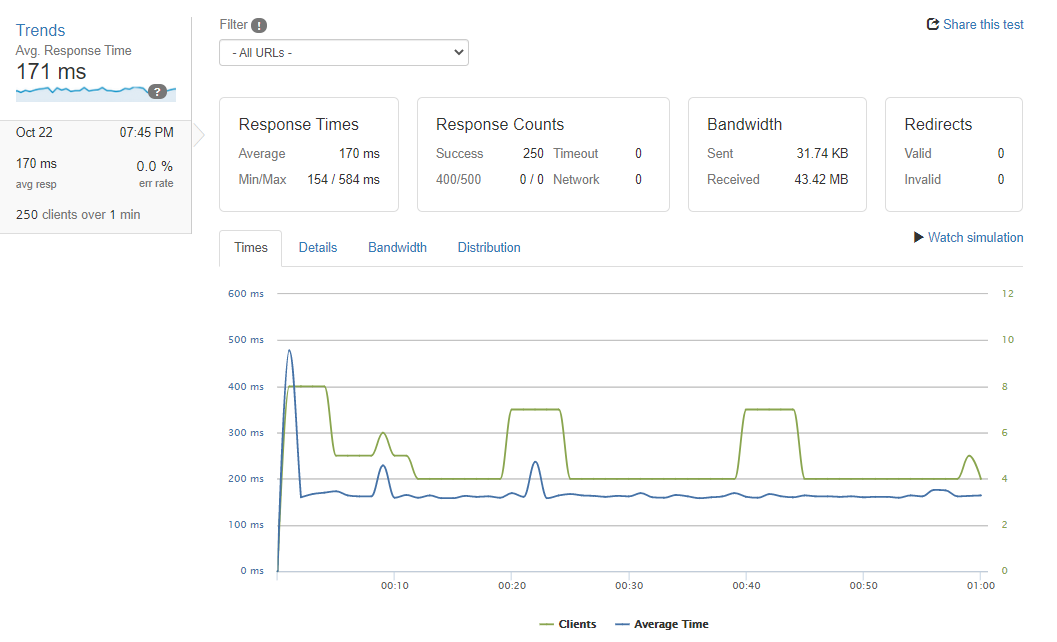 Using our test site hosted on the VPS plan, started testing their response times. I make 250 requests to server for which I get consistent responses from the server in every 171 ms.
Features Included With InMotion Hosting Plans
Websites allowed per VPS
MYSQL databases
FTP accounts
Individual cPanel sub-accounts
Email accounts
inMotion Pricing
Visit inMotion
6. Cloudways - Fastest Cloud Hosting

Cloudways Pros

<strong>Servers Available:</strong> DigitalOcean, Vultr, Linode, Amazon Web Services (AWS), Google Cloud Platform (GCP)
Free site migration service, free automated backups, SSL certificate, CDN, and one dedicated IP.
Nginx/Apache servers
Pay-as-you-go pricing without long-locked contracts.
Free website transfer
Varnish/Memcached caching
Cloudways Cons

The Renewal Rate are High. So you have locked for an extended period.
the cheap plan has Limited bandwidth.
Cloudways Server Performance.
Time to First Byte (TTFB): 122ms
Fully Loaded Time: 900ms
Unique Cloud Hosting Solution
In-depth cloudways Review
Cloud hostings are ideal for anyone who needs hosting resources on-demand.
Cloud hosting isn't cheap and easy to manage, so it's not for everyone, but if you have the budget, you can increase flexibility, scalability and high performance with on-demand hosting resources.
What is Cloud Hosting?
Cloud Hosting is a cloud computing model in which data is stored in logical pools. accessed over the internet It is maintained, managed by a cloud storage service provider.
In Cloud Web Hosting operation, your website fetches as well as stored data from multiple web servers.
Because of cloud hosting's utilization of multiple servers for fetching and saving data gives it special advantages more than regular hosting.
If you are not worried about your budget on hosting expenses, then you must know
Enterprise-level, cloud companies like Amazon Web Services, Microsoft Azure, IBM, and Rackspace are also available. Though these are technically cloud hosting services
Amazon and Microsoft is the clear winner in this list with their AWS covering near 70%+ of the cloud market
Advantages of Cloud Hosting over Traditional Web Hosting:
Increased Server Speed and Uptime: In case your website encounters an unexpected traffic spike, it may pull information from the other server to avoid slow web page loads rather than the website going down. Additionally, cloud hosting makes it extremely simple to level resources up or straight down, as they required.
Independence of Location: Using multi-server cloud hosting, your user can get a response from the closest server.
Changing Technology with Scalability: Cloud hosting makes it incredibly easy to quickly allocate resources according to the changing needs of a website or application. You can add or decrease resources such as processor, storage, bandwidth, and additional service from the resources available in the server cluster.
Disadvantages of Cloud Hosting:
They are most suitable for an Enterprise-level business website, Even they are blazing fast they are not affordable for small business owners or new beginners.
the learning curve is a little complex, need extensive knowledge about managing your resources.
Let's jump into the Fasest cloud web hosting services to consider.
Fastest Cloud Hosting Services for 2021
Cloudways — Fastest cloud web hosting
A2 — Best cloud hosting for small businesses
Hostinger — Best cheap cloud web hosting (Beginner)
Cloudways has a very unique infrastructure for cloud hosting. Almost every host on the market offers its own network, while Cloudways, instead of offering its own network, Cloudways connects you to one of the five major cloud providers, including Amazon, Google, DigitalOcean, Linode, and Vultr.
Cloudways then installs its management and security framework on top of this compute infrastructure.
It's high-performance managed WordPress cloud hosting provider with top class functionality, empowering your website to run smoother and securely
Cloudways Cloud Performace
Cloudways is the quickest cloud hosting provider. With their cloud server, you never have to worry about your website being slow even when there is a sudden spike in your website traffic.
Cloudways Data Centers
Cloudways data centers depend on the data provider you choose.
Cloudways Data Centers are available in four regions America Europe Australia and Asia with option to Choose from 65+ Data Center Locations Offered
These are the main server locations for Cloudways:
San Francisco,USA
Maxico,USA
New York,USA
Silicon Valley,USA
Paris,France
Frankfurt,Germany
Singapore,Singapore
Dublin,Ireland
London,England
Sao Paulo,Brazil
Toronto,Canada
Montreal,Canada
Fermont,Canada
Amsterdam,Netherland
Tokyo,Japan
Seoul,Korea
Bangalore,India
Mumbai,India
Sydney,Australia
Los Angeles,USA
Dallas,USA
Chicago,USA
Newark,USA
Atlanta,USA
Taiwan,China
Bahrain,Bahrain
HongKong,China
Miami,USA
Seattle,USA
Northern California,USA
Northern Virginia,USA
Northern Carolina,USA
Ohio,USA
Stockholm,Sweden
Belgium,Belgium
Oregon,USA
Iowa,USA
Cloudways Hosting Optimizations
Cloudways works with five cloud providers:
Digital Ocean
Vultr
Google Compute Engine
Amazon Web Services
Linode
You can scale your business on the fly. You can even change your host data center location and cloud provider without changing your configuration.
Dedicated Firewalls All Cloudways hosted servers have dedicated firewalls. And we don't have to worry about any manual tasks, they perform regular firmware updates to keep their cloud servers secure.
Optimized With Advanced Caches Integrated caches use advanced caching technologies such as Memcached, Varnish and Redis for faster response rates.
Cloudways Page Speed Test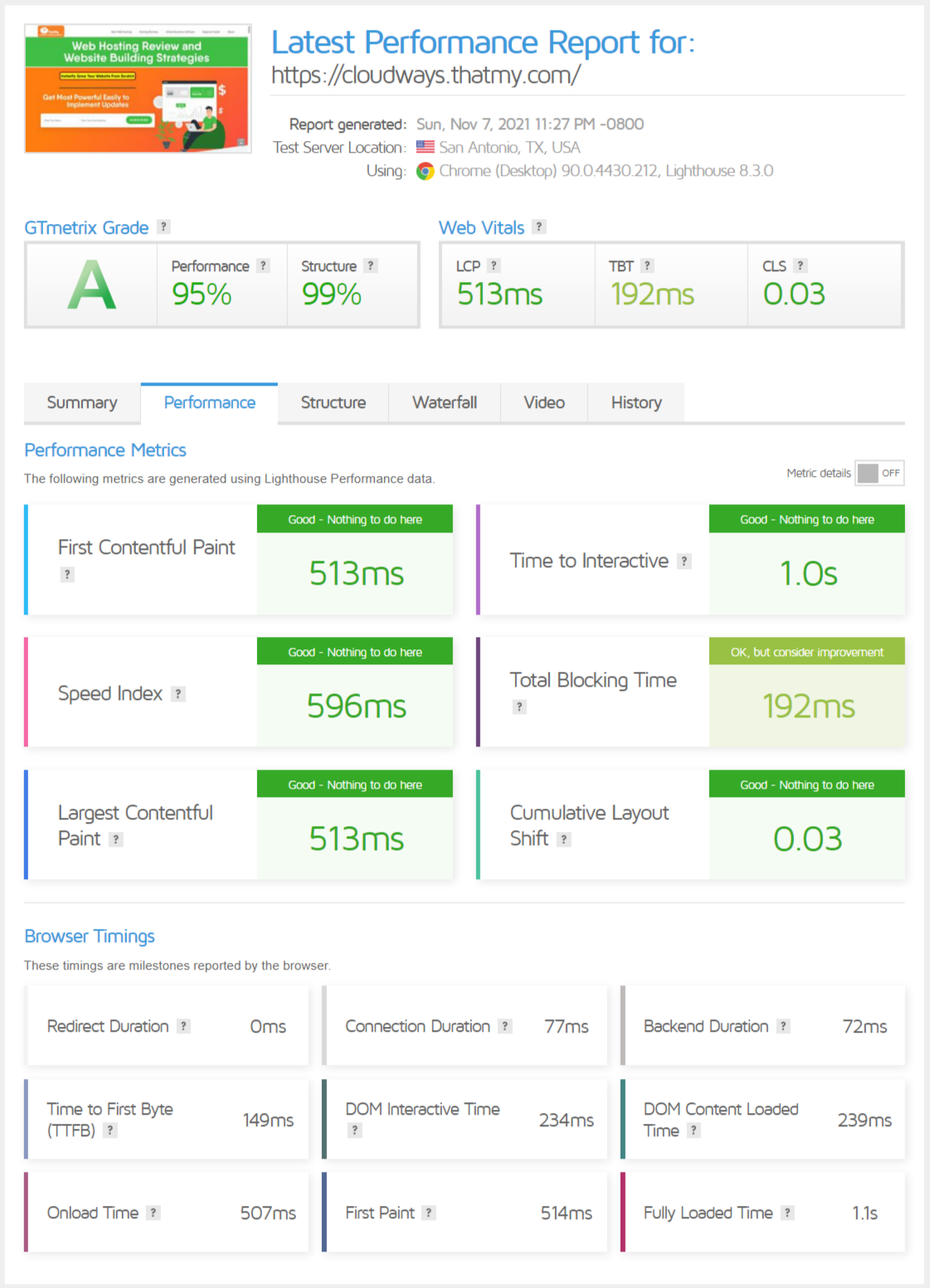 Initial Connection Time
Cloudways hosting responded exceptionally well, with server speeds that are WAY faster than other hosting providers.
They take only 77 ms for the initial connection.
Time to First Byte (TTFB)
With high-performance servers, Cloudways can dilute the first byte by 149 ms.
Avg. Loading Time
Cloudways is an absolutely excellent host, which is highly optimized for performance, taking only 1 second to load a heavy page.
Cloudways Server Load Test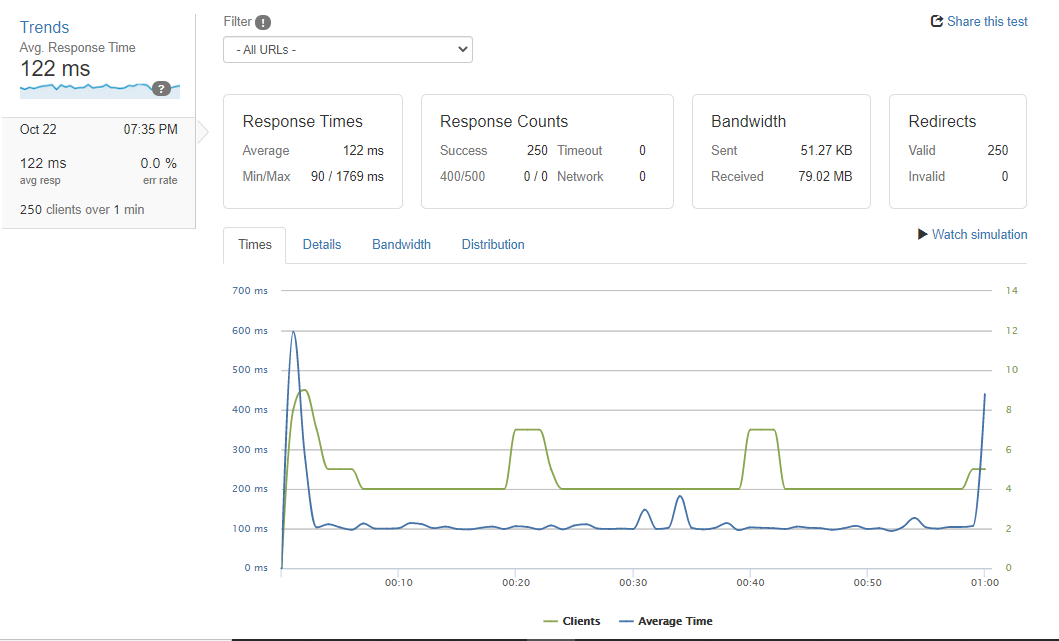 Cloudways offers High-Performance Servers that are suitable for your needs. I pick up vultr starting plan $13 /month, and test their server
Vultr server with cloudways infrastructure working like a charm, for 250 customer requests they responded in less than 125 ms.
If you want a world-class experience, Cloudways is an ideal choice.
Cloudways Cloud Features
Storage Limits
Bandwidth Allowance
Control Panel Integration
Web Framework Support
E-Commerce Integration
Database Support
Security Tools
Cloudways Cloud Pricing
How to Evaluate a Web Hosting Provider on Speed and Performace
What is Fastest web hosting?
The fastest web hosting is the service in which TTFB of hosts less than 300 milliseconds (ms) and Higher bandwith rate to load data quicker (Simply how much time it takes to download).
To find out high-speed website hosting, first thing you need to understand difference between Page speed vs Server speed
1. Page Speed
Page speed is a calculated by time required to load all content and resourcea on your page loads.
Website page has two states
First Contentful Paint (FCP) – User get's the first visual response of a page.
DOM Content Loaded (DCL) – Whole HTML document has been fully loaded and parsed with all resourses like, images, video, js, css etc.
How to check Page Speed?
You can evaluate your page speed with Google's PageSpeed Insights. PageSpeed Insights Speed Score
What Best Page Speed?
page speed between 1 to 3sec is good. Numbers of case-study already reveals, even delays of 1/10th of a second had a noticeably negative impact on their revenues.
2. Server Speed
Server Speed is a calculated by downloaded data per second from server. Server Speed = Data Loading Speed / Time.
However host server speed depends on serval factors
Time to first byte (TTFB):- TTFB is the time required by your browser to start receiving information after it has requested from the hosting server
Data Loading Speed from server.
Server Side language Support for rendering into HTML.
Gzip compression :- software application for file compression, to reduce the size of your CSS, HTML, and JavaScript files.
How to Check Web Hosting Server Speed?
You can test your website hosting responds to request from different locations using pingdom. using pingdom you can test free accurate Worldwide Server Speed for your current host
What Best Server Speed?
Server Responce recommended time to first byte is 200ms-400ms, less is always better.

Server speed is measurement to select our fastest web hosting service and the factor we need to measure is TTFB and Data Loading Speed from server of your website
3. TTFB (Time to first byte)
TTFB is an amount of time the browser wait before it receive the first byte of data from the server. The longer TTFB, the longer it takes to proceed your other page resource request.
The slower the TTFB, the longer it takes for users to see content on your site.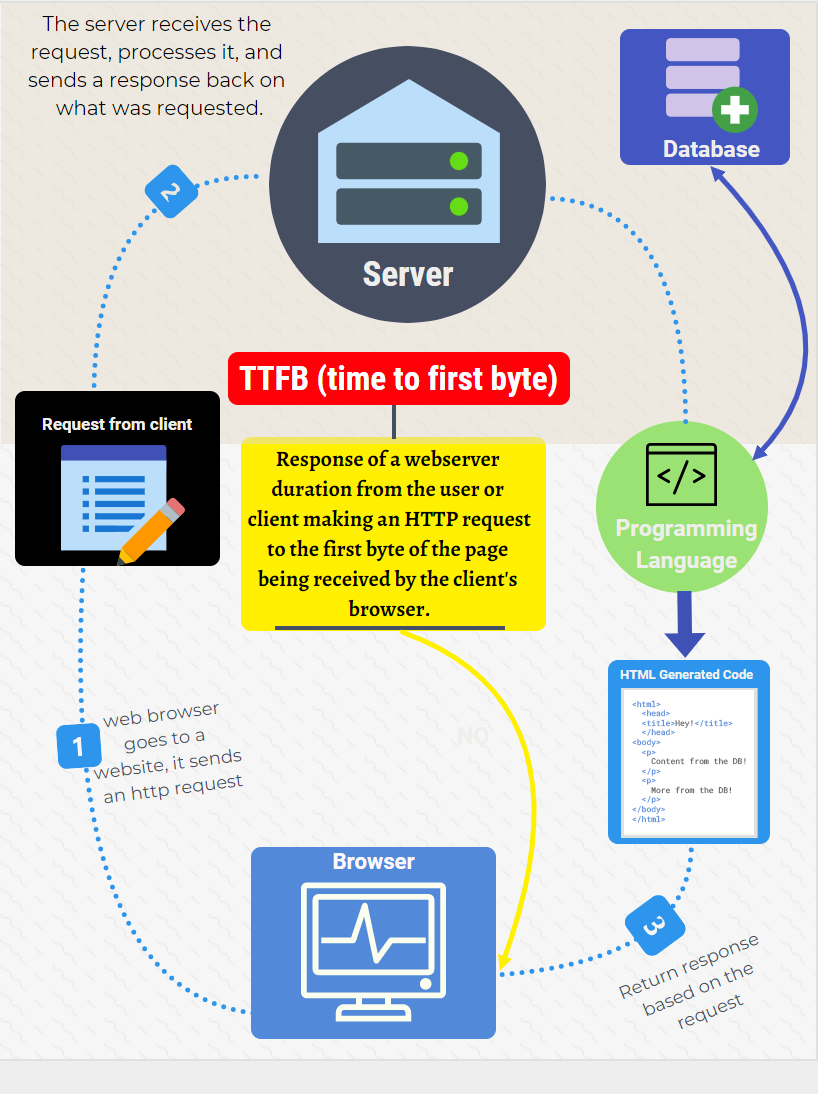 How to check TTFB?
You can test your website TTFB using website like GTmetrix without paying any amount.
What Best TTFB Speed?
As per google guideline Google heavily considers TTFB in search rankings.
TTFB times shorter than 300ms is Great to have, TTFB times between 300ms to 600ms are acceptable and anything higher is not good for your ranking as well as users.
4. Server Loading Capacity
Simply How much load the server can take during simultaneous requests per second.
server loading speed is also play an important role Because it can impact the performance of your website.
From the above image, you will understand: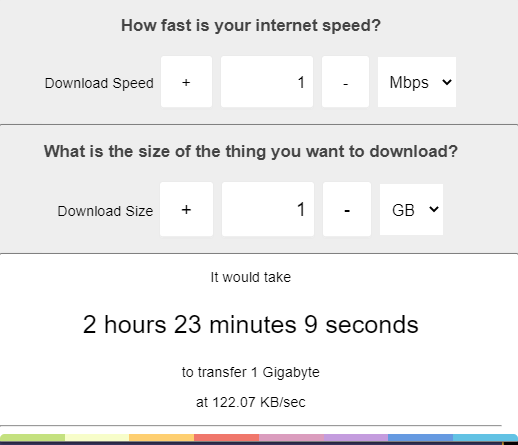 To perform server loading test we need specialize tool like stress tool.
Stress Tool simulates lots of users by sending HTTP requests to a hosting server to test a server under heavy load in real-time. They assure that your websites are given the resources that servers need to guarantee a high-quality user experience.
Here is an overview of how I carry out heavy loading tests, as you can see in the video I send multiple requests over the server to check how it will respond.
Don't get confused by watching variations in test results. The Greenline indicates concurrent user requests I send to the server, and the blue line is the response your website gets from hosting response time.
5. Hosting Server Location
Hosting Server Location is important for customers latency and reliability because the lowest latency, faster result in your user can get.
Which server location is best for web hosting?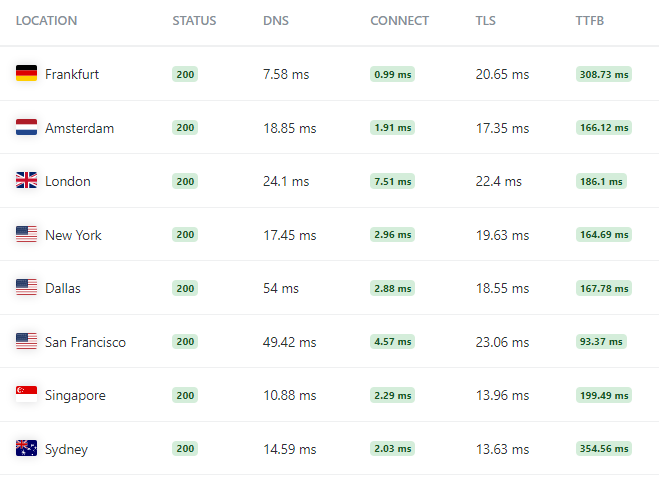 Choosing a location closest to your user base as this will decrease latency, TTFB, and load times.
As a business owner, you never want to worry about where your customer lives, The thing is just you care about fast response time and load time to deliver a good user experience.
To Pick the Best Server Location for Your Site, you need to:
Consider your target audience. If most of your visitors reside in the USA, you'll want to pick a data center located in or close to the USA for optimal performance.
See which data centers your web host offers.
Check your data center's performance.
How to check Server Speed on Multiple Client Locations?
You can use free accurate server speed testing tools like Pingdom.
I think this much knowledge is enough 😪.
Why is Website speed important?

Conversion rate:

Slow Site Speed Can Impact Your Conversion Rate, websites that loaded in or less had a 20%+ higher conversion rate than the average Website.
To Improve Your Conversions rate on Your Website: Aim for a Load Time. A good Site Speed is 3s or less.
Googles Ranking Factors:
According to Google Users want to find answers to their questions quickly and their analytics data shows that people care about how quickly their pages load.
If a page takes more than 3 sec to load the probability of bounce increases by 59%.

The Google Search team announced in 2010 speed would be a ranking signal for desktop searches and in July 2018 page speed become a ranking factor for mobile searches too.
Bounce rate:

A slow page load can be a huge problem for bounce rates.
As everyone knows Site speed is the one of most important factors of Google's ranking algorithm.
If your page takes longer than a few seconds to load, your visitors may get fed up and leave. That high bounce rate tells search engines that users don't find the page content useful, so your google rankings will automatically fall drastically and raise the ranking of your competitor to test users' satisfaction.
User experience:
Google wants to promote content that provides the desired experience for users, and they realize that a slow site can provide a poor experience.
The faster a webpage loads, the more likely a user is to perform the targeted action on that webpage.
Page weight:
Page weight is the overall size of a particular web page, including all of the files that are used to create the page: HTML files, images, other media files, and CSS styles, which the server delivers to the client to be rendered into a browser webpage.
Choosing high performance-optimized web hosting is one of the easiest ways to reduce load times.
Network conditions:
Website speed refers to how quickly a browser can load, but loading time also depends on The type of internet connection you have, Network conditions directly affect the speed at which any website loads.
Disadvantages of Slow Website
Website loading speed an important factor for the user-interaction of a website, as well as the SEO.
As we know that website speed is an important part of SEO and delivering web pages to your audience.
Data from researching shows:


"About 50% of people will abandon a web page requires more than 3 seconds to load."

Also, some study cases claim:


"1-second delay in load time can lower conversion rate by 3.50%, reduce pageviews by 9.40% and increase bounce rate by up to 8.30%."

A slow website speed will frustrate users and encouraging them to use your competition instead.
Loading Speed is the one of the primary Google's search algorithm factors part.
Benefits of High-Speed Web Hosting.
Page load time can be impacted by a variety of factors like image size, code, and videos
One-second delay can decrease customer satisfaction by 16%.
73% of mobile users say that they have found a website via their mobile device that is too slow.
A Good Website speed, you can keep customers happy and engaged, which will lead to increased sales and conversions.
47% of internet users expect a website to load in 2 seconds or less.
90% of the top five google result having loading time less than 3 sec.
How To Improve Loading Speed of Website
Factors Affect Website Speed
Server Side
Server performance (Hosting Speed).
Server location (Visitors are closer to your hosting data center, Your website loads faster for them).
Not benefit of a Content Delivery Network (CDN)
A large database can greatly affect the performance of your website
Uncompressed or Unoptimized large images.
Too many redirects.
No Caching strategy for your web pages.
Not Using asynchronous and defer loading for your CSS and JavaScript files.
Unnecessary file requests (RTT5).
Unnecessary plugins
Unnecessary redirects
An outdated CMS
Client-Side
Render-blocking JavaScript Is Delaying Page Loads.
Website's CSS Isn't Optimized, Poorly-Written or contains unused code.
Large Media Files like audio, video, and images Are Increasing Loading Times.
Scripts, requests, or styles Are Conflicting With Other Site Elements.
Your Website Code Is Too heavy and not written by the following standards.
Missing Files Are Causing Errors (Mostly Images).
Browser Extension Are Weighing Your Site Down.
Network conditions of the client's device can Are Hurt the User's Performance, directly affect the speed at which any website loads.
Factors to Consider For Choosing Right Web Hosting
Besides web hosting speed Some important things to keep in mind:
Best Server Response Time:

Server response time is the first byte receiving by the client-side after a request. While some top hosting providers maintain response times of at least hundreds of milliseconds (ms), some others have response times between 1 or 2 seconds. Google recommends that try to keep the response time below 200ms. At least good.

Control Panel vs Plesk

Both typically uses the control panel type. Both are working great. however, according to my experience, Linux is better for PHP, while Plesk is the best choice for an ASP.NET-based website.

Disk space type and size SSD Storage

This is the most important thing to check. mostly two types of hosting spance are offered SSD and HDD. SSD are much faster than the HDD in server load and normal condition.

Money-Back Guarantee

Most of the host will refund your money in 30 days if you're not satisfied with their service.

Support Team

There Support team should respond on Time whenever you need, help, or some configuration. Nowadays many hosts support basic website setup and integration.

Email Accounts

If you are creating a website then an Email account is an essential thing to have. But you can buy an account from any third-party provider Because many of them provide very powerful automation and a productive environment.

SSL Certificate

SSL Certificate can easily set up by a CDN provider, But if your provider is including them in your package with additional features then you should consider that.