Disclosure: This content is reader-supported, which means if you click on some of our links that we may earn a commission.
Cloudways offers a variety of cloud hosting services that are perfect for small businesses and bloggers. Cloudways also offers a wide range of promotional codes that make it easy to get started with cloud hosting.
Not sure where to find the best Cloudways promo code? Look no further! Use Coupon code CLOUDS2022 to get $30 free credits (3 months free hosting). This is the highest discount available, so don't miss out!
Cloudways is a First-Try-and-Then-Buy web hosting service with the fastest hosting servers optimised for SEO and business. I would highly recommend using it for at least 3 months so you can see a real difference in your traffic and conversion.
For any new user who signs up for their services, Cloudways offers a free trial and promo code coupons. Get your Cloudways promo code now and get rewarded with a $30 signup credit for your first 3 months of service.
Cloudways is a WordPress managed hosting service that charges you only for the resources you use. You can manage your own hosting using five main hosting providers: DigitalOcean, Linode, VULTR, AWS, and Google Cloud. The payment is due on the first and sixth of each month for the total resources used in the preceding month. If you have money in your Cloudways account, it will be used to pay the invoice.
We gathered data from server speed testing to identify the fastest providers. Based on those findings, we discovered that these Cloudways offer the fastest web hosting servers at reasonable pricing. They all have fast load speeds, with TTFB times of less than 80 milliseconds. Furthermore, they all have initial paint times of less than 300 ms.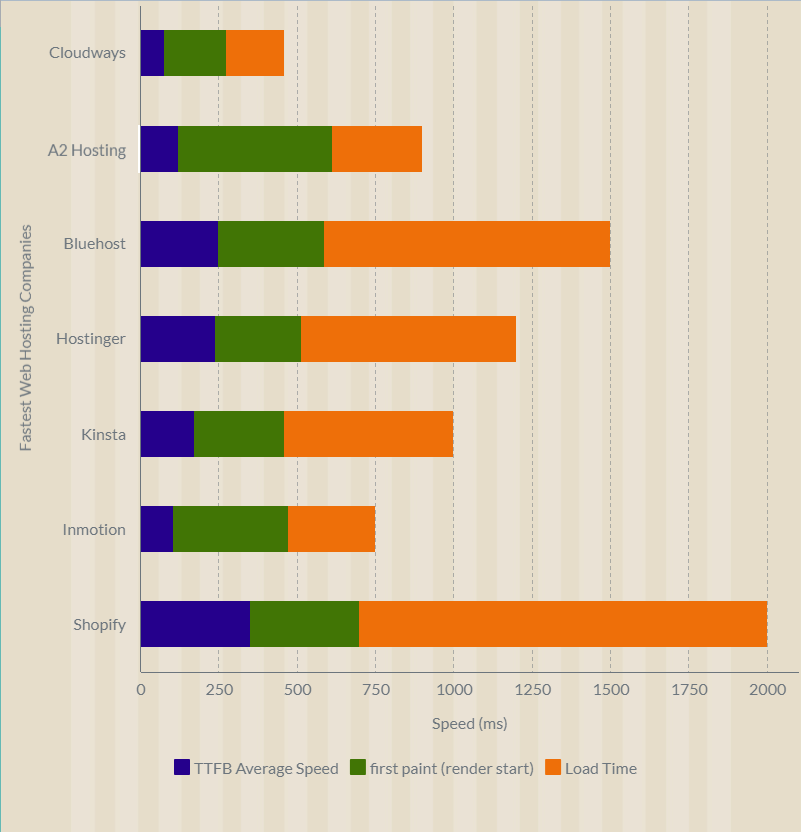 With one of the fastest web hosting, they provide a set of tools to help you manage, monitor, and speed up your websites on a single cloud server, providing you with much more control over the performance of your website.
Here is the performance comparison of major web hosting providers.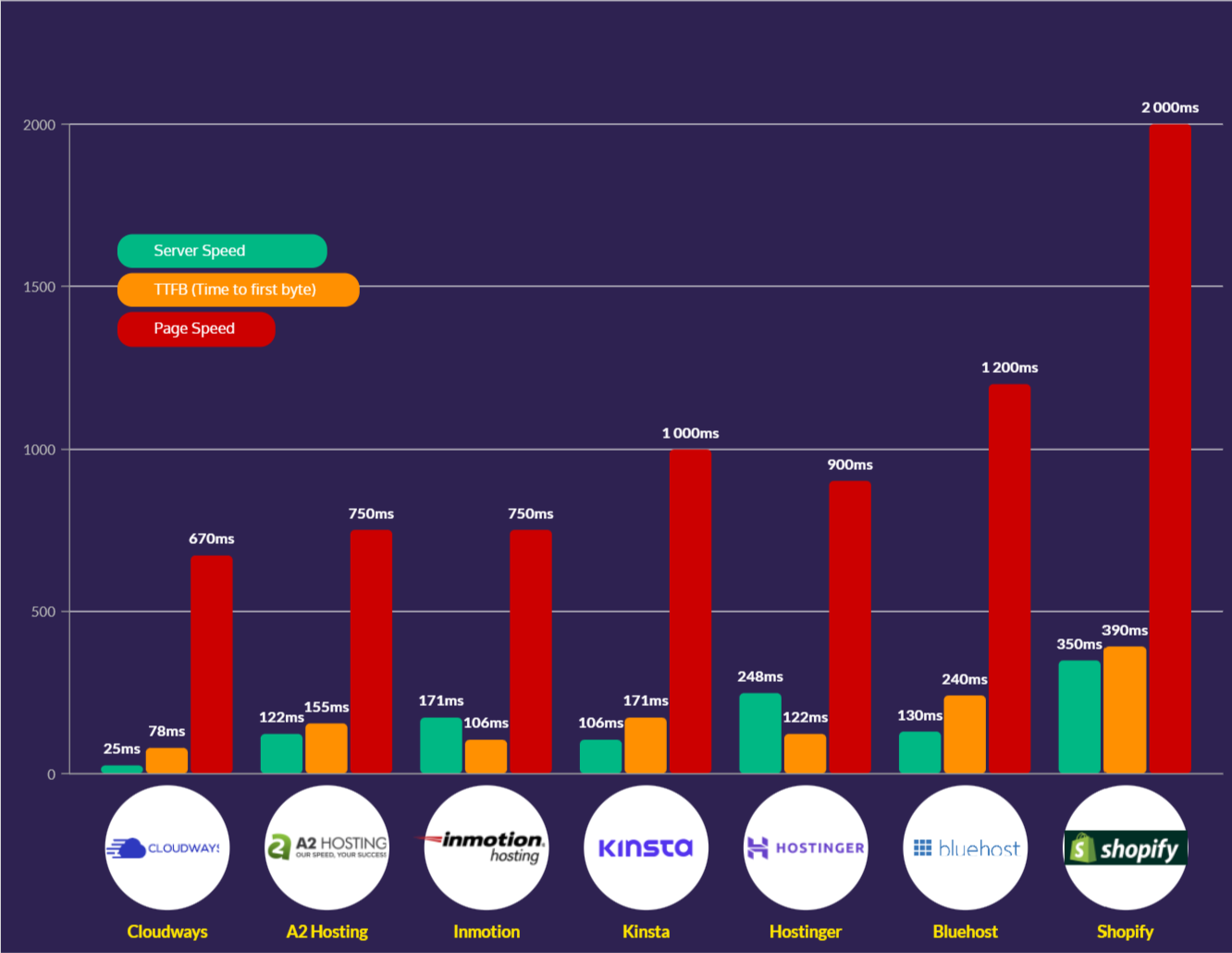 Cloudways offer a free trial for any new user who signs up for their services, and the best thing is that you can get a free Cloudways trial without any credit card details.
In general, you can get an official 3-day free trial of the Cloudways plans. A customer taking a free trial of Cloudways is not free for long time. But it does offer a Cloudways promo code to all new subscribers from ThatMy.com.
As a new Cloudways user, you can use Cloudways promo code CLOUDS2022 to take advantage of the risk-free $30 Credit and use Cloudways free for exactly 3-months.
To use Cloudways free for 90 days, you need to select a Standard DigitalOcean server for $10/month. While you will not be billed when you subscribe, you will not have to pay any money.
After signing up, you just need to verify your account with $1, and $30 will be credited to your account. If it is not added, ask for support, and they will credit it immediately.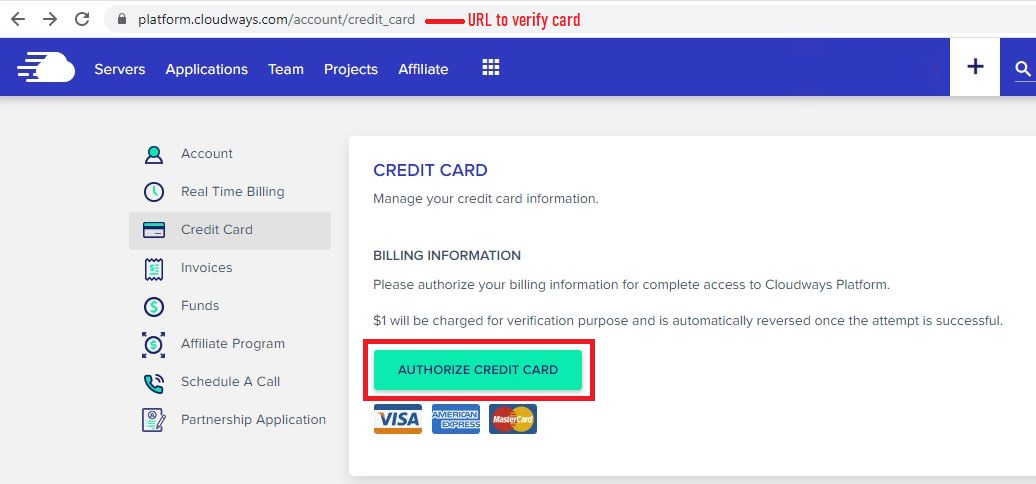 There's also a genuine Cloudways offer with a 20% discount for the first 2 months of your hosting plan. Use Cloudways coupon code THATMYCLOUD to get that.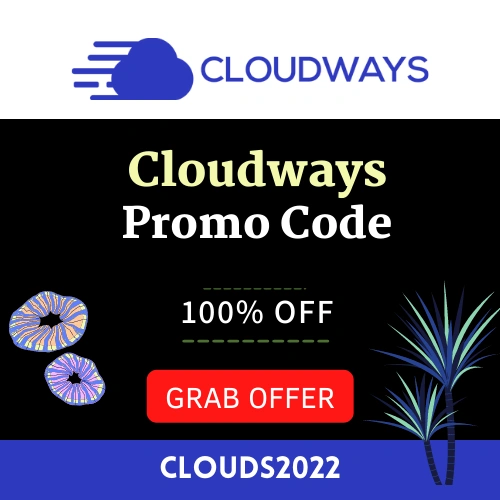 Simply copy and paste CLOUDS2022 promo code while signing up for your account, and you will have a maximum of $30 in free credits in your balance.
In 2023, Cloudways has made several improvements to their platform, including improved staging and backup management, the addition of Premium Intel servers from DigitalOcean, the launch of the Cloudflare Enterprise add-on, and the introduction of the SafeUpdates feature for WordPress.
As for the pricing plans, it seems that there have been some changes as well. Here is the updated pricing for Cloudways, The new rates and tax charges will bill from April 2023:
DigitalOcean: $11 USD/month for the basic plan and $14 USD/month for the premium plan.
VULTR: $14 USD/month for the basic plan and $16 USD/month for the premium plan.
Linode: $14 USD/month for the basic plan and $16 USD/month for the premium plan.
Every Cloudways plan includes 1GB of server memory.
Cloudways Promo Code 2023
As a Thatmy.com reader, you have an excellent opportunity to try out managed WordPress cloud web hosting and tweak your online presence. Cloudways Promo Code "CLOUDS2022" will give you a $30 discount on your account.
Cloud hosting is the perfect solution for busy business owners who want to tweak their online presence without having to worry about the technical details. With Cloudways, you can easily manage your website's content, traffic, and performance from one convenient dashboard.
Cloudways has been ruling the WordPress-managed hosting industry for a while now. And there are reasons for that.
To start with, they offer lightning-fast servers that are perfect for any WordPress site. Secondly, their team of experts is always available to help you with any issue that you may face. Besides, they have a lot of features that are great for any WordPress site, too.
In this section, we will show you the best Cloudways Promo Code 2023 that you can use to purchase cloud hosting at a discounted price.
You can get the best Cloudways offers and chance to buy cloud hosting at a discounted price. You can save up to $30 on your purchase. All you need to do is use the Cloudways Promo Code 2023 while checking out.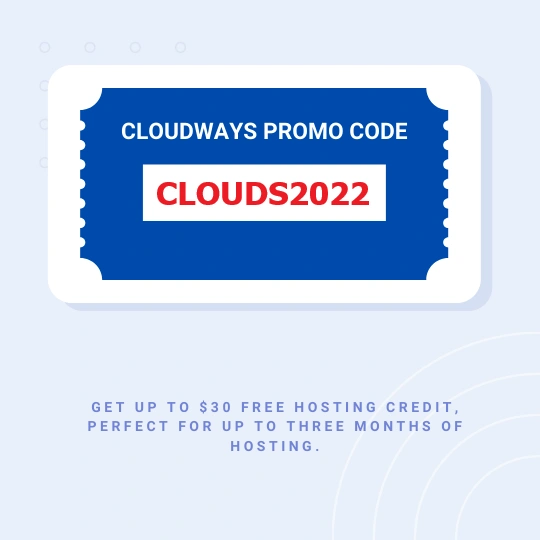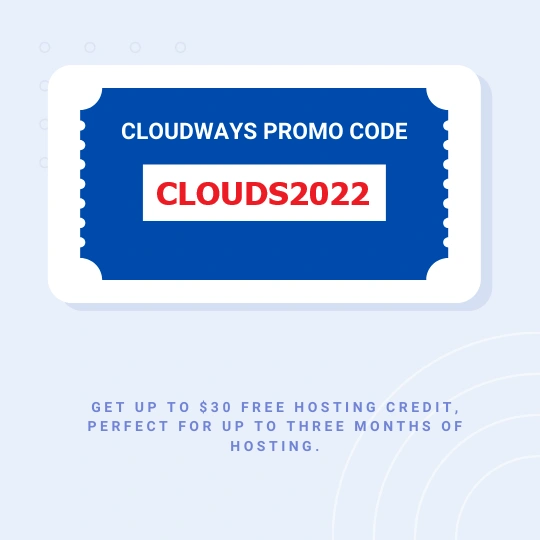 How to Use a Cloudways Promo Code
now you will learn how to apply Cloudways promo code 2023 to get highest discount
The sign-up process is very similar to Google Gmail.com.
Open Cloudways.com through this link (Promo code is included).
You can get a three-month trial account by creating a username and password or signing up using your GitHub, Google, or LinkedIn credentials, which is fantastic.
You will notice your Promo code is automatically applied; if not, you can manually put the code in the promo code area (CLOUDS2022).
Then, enter your email address, create a secure password, and Tap the "Create Account" button; the Account creation confirmation mail is automatically sent to your appropriate email account.
After you sign up, you'll be asked to confirm your email account.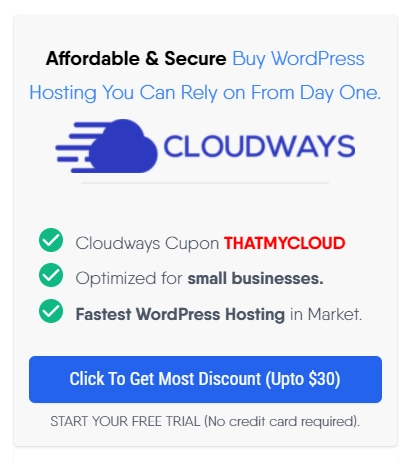 Cloudways sends one verification email to your email account, and you just need to click on "verify account".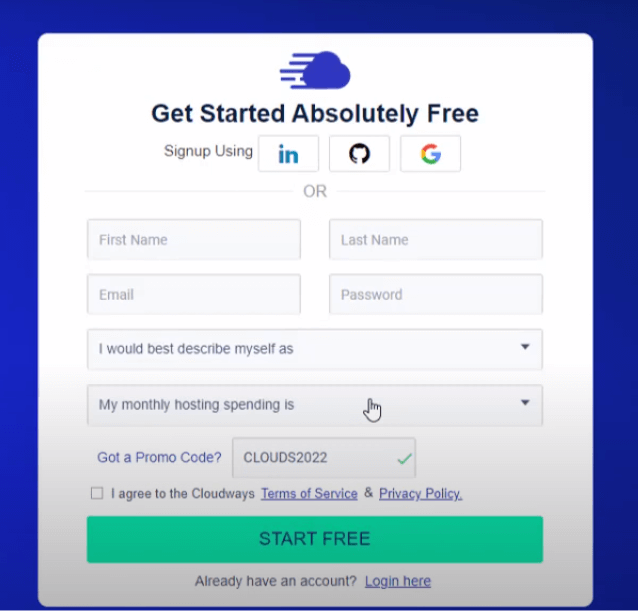 Once you've confirmed your account, you can wait for Cloudways to add hosting credit to your account. If it takes time, just put a query in the chat section. Your credit is immediately transferred to your account.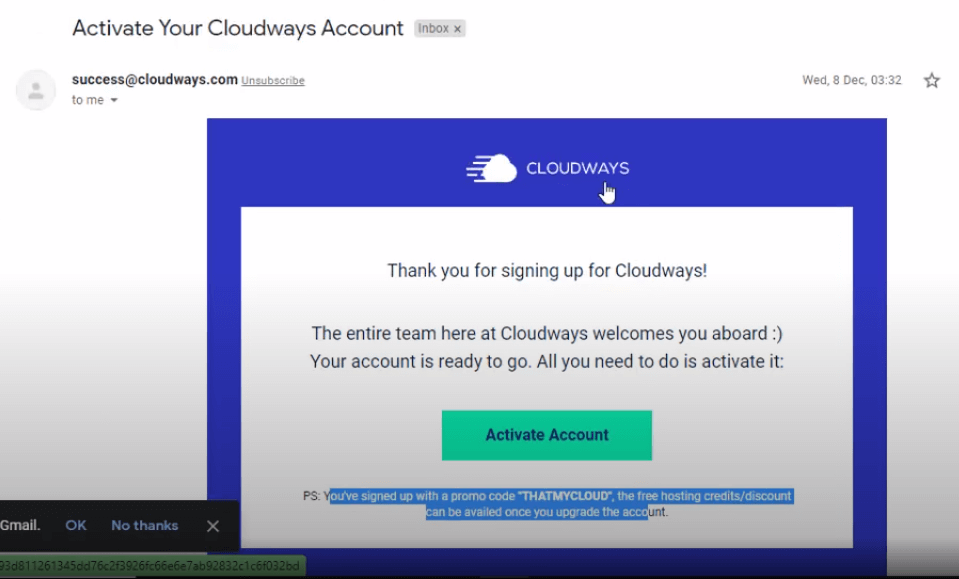 From the Cloudways server list shown on the Cloudways main screen, you can select the server and other resources, from which you can connect to the web hosting servers for free using your promo code balance.
The great thing about Cloudways free trial is that it doesn't require any payment upfront. even if they don't take any payment details at all. As such, you won't be automatically upgraded and billed for one of the Cloudways plans.
Except for AWS and Google Cloud, you can get a free trial for all servers and extra services.
Why Should You Use Cloudways?
Cloudways is the best web hosting service available right now. It's quick, secure, and an excellent choice for multiple WordPress websites. If you want more information, check out my comprehensive Cloudways Review.
If you don't have time to learn how to move your website yourself, Cloudways engineers will do it for you. They'll only do it once for free. However, It is very easy to install WordPress on Cloudways.
Cloudways enables you to pay as you go, only for the resources you use. Cloudways provides simple, monthly pay-as-you-go plans.
There is no calculating or guessing – just simple, direct monthly pricing that you can tailor to your specific requirements.
Cloudways hosting collaborates with some of the industry's most important cloud providers, including Digital Ocean, Google Cloud, Vultr, Linode, and AWS. It was also in charge of WordPress hosting services.
Apache and NGINX are the most popular web server software options. While they are nearly identical in many ways, NGINX outperforms Apache for high-traffic websites. On the other hand, Apache has a larger community and more documentation.
Cloudways, a cloud-based web hosting service, has a 99.99% uptime and TTBF times that range from 40 to 200 milliseconds, which means that your site will be up and running at all times.

Digital Ocean is one of the most affordable cloud services available, so if you're looking for the most cost-effective option, I've never had a problem hosting my website on DigitalOcean through Cloudways. You can view my website's performance on DigitalOcean, which I personally use for $10 per month.
Cloudways provides:
Cloud hosting plans that are adaptable
Quick setup times
reasonable web-based customer support.
high uptime.
Cloudways optimizes the speed and security of your WordPress website. Cloudways is one of the few cloud-based managed WordPress hosting providers that offers an excellent value-for-money ratio.
Furthermore, advanced security features such as Cache Pro cost $75/month, which you get for free, and a free trial with a discount is the icing on the cake. CloudwaysCDN, on the other hand, is an exception. It costs $1 for 25 GB of storage for each application and $0.04 per GB for extra storage. This makes it a more cost-effective option for businesses of all sizes.
Advantages of Cloudways
They do offer a free trial period so you can try out the service before you decide to commit, You can start the trial without tying up a credit card.
Each website has an independent space: enjoy independent resources, and the speed is definitely faster. (Just like every room has a presidential suite, you can do things more freely and quickly in compact common areas with others.)
The plan is billed by the hour and paid at month-end. It isn't like other virtual hosts that require you to buy more than a year's worth at once.
The hosting plan comes with a database administration tool, a database profiler, MySQL, and an integration tool that is good for setting up a new website. As your website grows, you can change your hosting plan.
You can upgrade the host from the host console at any time in less than ten minutes. (Some host companies have to be disconnected for a day or two to upgrade.)
You can copy the host from the host console, disable the host, and open a new host at any time (it can be used to test the host at different prices until you find a suitable one).
The website can be copied from the host console at any time so that a test website can be set up quickly.
The website has an automatic backup at any time, or you can manually create a backup (this is very important for beginners).
You can monitor website traffic and host resource usage at any time from the host console. (Many hosting companies can't see it.)
Provide free SSL certificates to make the URL start with HTTPS, which is good for Google rankings.
You can easily switch the version of PHP and adjust the PHP setting parameters from the host console. (Some virtual hosts will not be changed.)
Professional, friendly, and instant customer service. 24 hours a day, 365 days a year of support.
Disadvantages of Cloudways
Cloudways is a great web hosting service, but there are some disadvantages to using it.
No free domain name
No free email accounts - but this is not a major issue because most people use third-party providers for automations.
However, these disadvantages don't outweigh the benefits of using Cloudways. Its affordable price, great features, and easy-to-use interface make it a great choice for any business.
Cloudways Promo Codes and Trial FAQs
What is the Cloudways promo code for a discount?

The Cloudways promo code for a discount is CLOUDS2022. It gives you up to $30 in free hosting credit, good for up to three months.

Does Cloudways offer a $50 credit promo code?

When you search for Cloudways promo codes on Google, it will pop up with a list of all the different promotions they are currently running.

$50 worth of free hosting credit Promo Code
6-months of free trial

Cloudways does not offer massive discounts like $50 off. The biggest discount they are offering is CLOUDS2022 $30, and all you need to do is contact Cloudways customer support via live chat to confirm the promo code being used on your purchase order.

What are the terms and conditions of the Cloudways Promo code?

The terms and conditions of the Cloudways Promo code are as follows:

You can use the promo code for a maximum of three months.
The promo code is valid for new customers only.
The promo code cannot be combined with any other offers.
The promo code is non-transferable and cannot be redeemed for cash.
The promo code is subject to change or withdrawal at any time.

How Do I Cancel My Cloudways Free Trial?

Simply delete the servers in your account, and your billing will be automatically stopped. If you don't know how, contact Cloudways via live chat and request that your service be terminated. They may ask for feedback, but you are not obligated to provide it.

Cloudways customer service is consistently excellent, and cancelling a subscription has never been a problem.

Does Cloudways Have a Referral Scheme?

You can also get a $20 Cloudways hosting Credit for each friend you refer to the service. You'll need an active account to do this, but there's only one step after that.

You can invite your friends to Cloudways via email or by sending them a personalized link.

There is also no limit to the number of friends you can refer. You could get Cloudways for free for a long time if you have enough friends.

CLOUDS2022 is your Cloudways coupon code, which you've given as a gift to all Thatmy.com readers.

Use this exclusive Cloudways coupon to get up to $30 in free hosting Credit, good for up to three months.
Cloudways hosting Features
Enterprise CDN
Cloudways hosting offers an enterprise-grade CDN to ensure quick and reliable delivery of your content. Our CDN cache and unique IPs help to prioritize your traffic and deliver your content as quickly as possible. Up to 100GBs of data can be transferred with our CDN.
Managed WAF
A web application firewall (WAF) is a security solution that monitors and filters traffic to web applications. A WAF can protect against a variety of attacks, including Cross-Site Scripting (XSS), SQL injection, and session hijacking.
Cloudways offers a managed WAF service that includes PCI compliance and advanced bot management and mitigation. The Cloudways WAF is powered by ModSecurity, an open-source web application firewall. ModSecurity is the most widely deployed WAF, with more than 1.4 million active installations.
DDoS Protection
DDoS Protection is a critical service that is essential to ensuring the security and stability of your network. By using a quality DDos Protection service, you can minimize the risk of an attack taking your network offline or causing other serious disruptions.
There are a number of factors to consider when choosing a DDoS Protection service. The first is the level of protection that is offered. Make sure that the service can protect your network against large-scale attacks that could potentially cause major damage.
Second, consider the provider's experience and expertise in DDoS protection. The provider should have extensive experience in dealing with different types of attacks and be able to quickly react to any threats.
Cloudways provides the highest level of DDoS protection for its clients. The protection is prioritized for layers 3, 4, and 7, with prioritized IP ranges.
In addition, Cloudways offers a 100% SLA for its clients. This means that your website is always protected from DDoS attacks, ensuring that your business remains online and accessible to your customers.
Image Optimization
Image optimization is the process of reducing the file size of images while retaining or improving their visual quality. There are a number of techniques that can be used to optimize images, including compression, cropping, and resizing.
Compression is one of the most common methods for optimizing images. Compression algorithms reduce the file size of an image by removing unnecessary data from the file. The level of compression can be adjusted to trade off image quality for file size.
Cropping is another common method for optimizing images. Cropping removes unnecessary data from the edges of an image, resulting in a smaller file size. Resizing is also often used to optimize images. Resizing an image reduces its file size by reducing the number of pixels in the image.
Cloudways provides an optimum way to compress and resize images without any distortion. It not only helps you save bandwidth but also speeds up the loading time of your website.
Cloudways Mirage + Polish is my favorite! It helps me compress my images and resize them for mobile devices. Plus, it strips out any EXIF data that I don't need. I prefer this over any image optimization plugins.
You can either optimize images manually or through the Cloudways automatic image optimization feature.
Full Page Cache (Coming Soon)
Cloudways offers a full-page cache that can speed up the loading of your website pages. The full page cache stores a copy of the HTML contents of your pages on Cloudways servers. When a visitor requests a page from your website, Cloudways will serve the cached copy of the page instead of generating it from scratch. This can dramatically improve the performance of your website.
A full page cache is a web caching technique used to improve the performance of a website by caching the entire web page, including all assets such as images and scripts. This can dramatically reduce the amount of time it takes for a user to view the cached page, as well as reduce the load on the web server.
I'm hoping they are available for all this soon.
Global load balancing
Global load balancing is a technique used to distribute network or application traffic evenly across multiple devices or servers. This can help improve performance, redundancy, and reliability by ensuring that all devices or servers are utilized to their fullest potential.
Cloudways is a web hosting company that provides global load balancing. This means that your website will be hosted on multiple servers around the world, which helps to ensure that your site is always up and running.
Cloudways global load balancing also includes a failover feature. This means that if one of your origin servers becomes unhealthy, traffic will automatically be routed to a healthier server. This can help to reduce things like latency, TLS errors, and general errors.
7 Steps to Deploying Website on Cloudways
Deploying Website on Cloudways is very easy, all you have to do is select the features and the whole operation will only take a few minutes, here are the detailed steps.
1. Register an account
Open the official Cloudways website, then click on the green GET STARTED FREE button at.
Next you will be redirected to the registration page, enter your email, password, self-description, expected fees, check the Terms of Service and Privacy Policy, and then click the START FREE button to complete the registration process. Or, you can sign in directly with your LinkedIn, GitHub or Google account authorization.
Now, you will receive an email and after verifying the email address you can log in to the Cloudways platform.
2. Configure the application and server details
From the drop-down menu, select the version of WordPress you want, as well as the application, server and project name:.
3. Select a cloud provider
With Cloudways, you get five world-class cloud infrastructures: DigitalOcean, Linode, Vultr, Amazon Web Services and Google Compute Engine, each offering different prices and products, and they're all great - just choose the one you feel most comfortable with! Just choose the one you feel most comfortable with!
4. Select server size
Depending on your hosting needs, choose server size, bandwidth, and storage. Depending on the cloud platform, these options may vary. When making your selection, please consider factors such as expected website traffic, applications, and space used.
5. Select server location
With Cloudways' data centers located in over 25 different locations worldwide, you may want to choose the location closest to your customers. Likewise, depending on the cloud platform you choose, the available server locations will vary.
6. Start the server
Finally, click the LAUNCH NOW button at the bottom of the screen and wait a few minutes, and your WordPress site will be live!
This is a 3-day free trial, after which you can decide whether to continue using it.
7. Visit your WordPress website
Now that you have started the server, it's time to configure the application. In the upper left corner of the screen, click on the Applications tab.
Select your WordPress application and configure its details, next we will browse each tab.
Steps to Speed Up Your WordPress Website On Cloudways Hosting
Cloudways is a managed cloud hosting platform that makes it easy to speed up your WordPress website – no coding or hosting experience is required! Sign up for an account, select your desired cloud provider and application, and launch your server. From there, you can optimize your website for performance with just a few clicks.
In this section, we'll show you how to use Cloudways to optimize your WordPress website for peak performance.
There are two steps you can take to speed up your WordPress website hosted by Cloudways.
Enable Cloudflare Enterprise CDN
Cloudways offers a Cloudflare Enterprise add-on for $5/month, which is a great way to increase your website's security, performance, and reliability. It comes with features like DDoS protection, web application firewall (WAF), and SSL/TLS certificate management.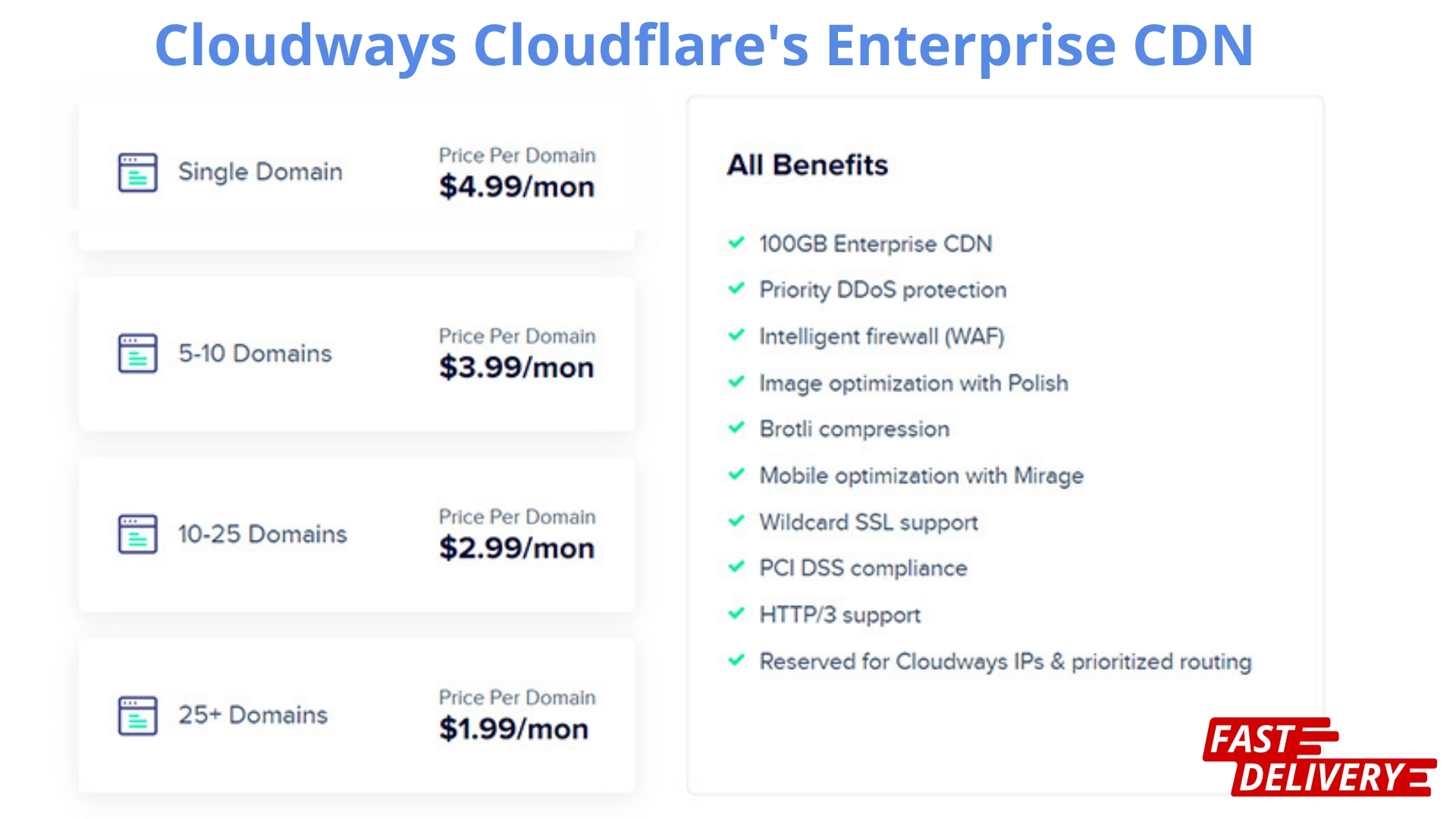 Cloudways Cloudflare's Enterprise CDN distributes your website's content across multiple servers in different locations so users can quickly and efficiently load content, no matter where your server is located. This results in a faster and more responsive website for your visitors. With Cloudways and Cloudflare's Enterprise CDN, you can be sure that your website's content is delivered quickly and reliably to all of your visitors, regardless of their location.
Step 1: Go to Cloudflare in Cloudways application management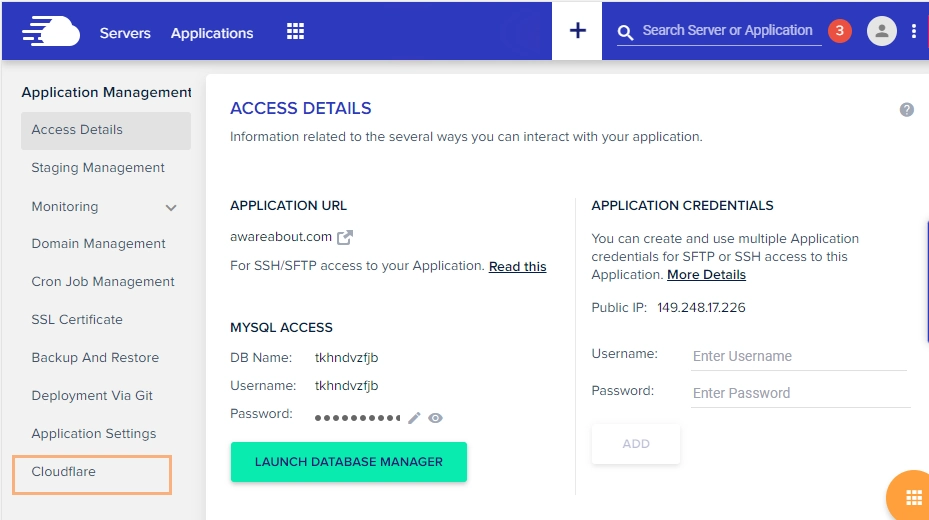 Step 2: Enable Cloudflare Enterprise on your domain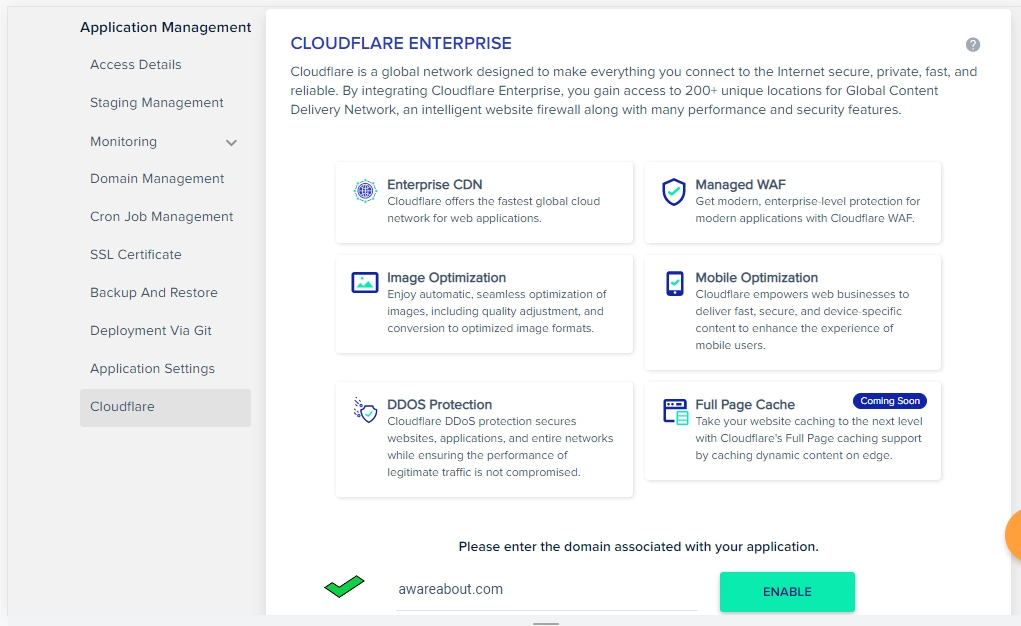 Step 3: Copy the TXT records provided by Cloudways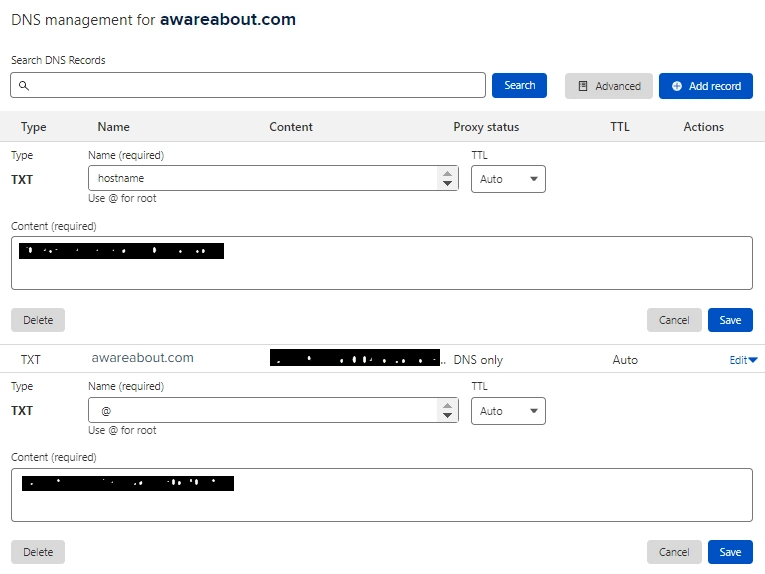 Step 4: Add the TXT records to your DNS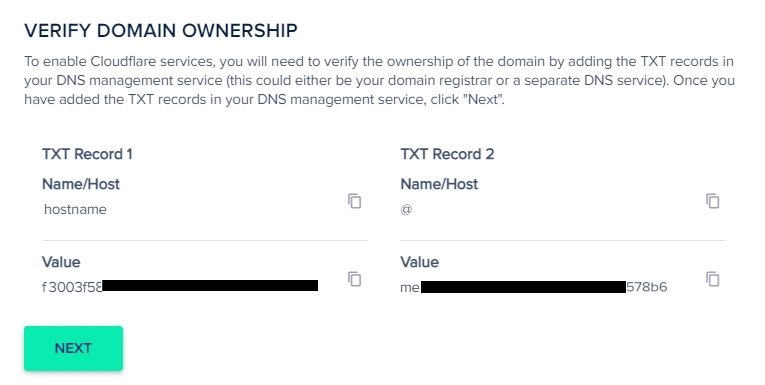 Step 5: Check Your Active Domain With Cloudflare On Cloudways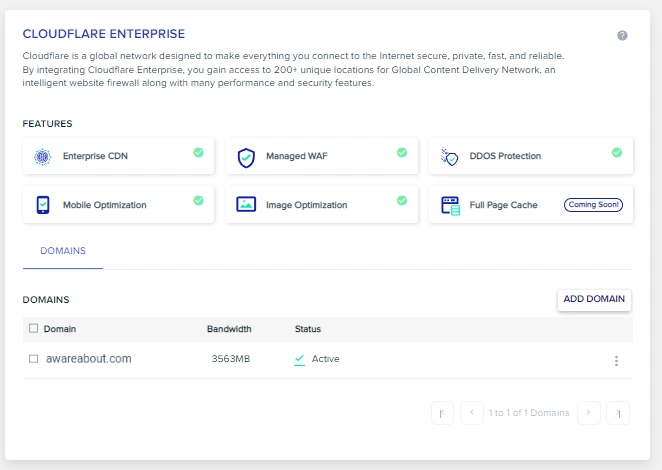 Using Application Setting by allocation Memory
Cloudways hosting comes integrated with Cloudflare's Enterprise CDN, which helps deliver content quickly and improve the user experience. The CDN is located all around the world so that your content can be distributed to users' browsers as soon as possible, no matter where your server is located. This results in a faster and more responsive website for your visitors.
First, log in to the Cloudways console.
Once it's ready, navigate to the Servers tab and click on the name of your server.
From here, scroll down to the bottom of the page and click on the Settings & Packages tab. Under Apache Packages, enable mod_pagespeed and set the Minimum File Upload Size to 128M. Under PHP7 Packages, enable php7-fpm and set Memory Limit To 256Mb: Click on Save & Apply at the bottom of the page.
Your WordPress website is now optimized for peak performance! Be sure to test it out by loading it on different browsers and devices.
Final Thoughts on Cloudways Promo Code
Cloudways is a web hosting company that offers different performance levels, depending on which cloud provider you choose. They offer Amazon Web Services (AWS), Google Cloud Platform (GCP), DigitalOcean, Vultr, and Linode as options. This allows you to pay for the performance you need, without overspending.
Additionally, Cloudways has a unique feature that allows you to change providers with just a few clicks, giving you even more flexibility.
Cloudways also has a wide range of features that are not available on other web hosting providers. These include ThunderStack, which speeds up to 2.5x faster than traditional hosting, 1-click applications installers, live chat, phone support, automatic backups, and more.
Cloudways also has a very user-friendly interface. You can easily manage your website, applications, and hosting settings without any difficulty. In addition, they offer a wide range of tutorials and guides that can help you get started with their platform.
Overall, Cloudways is an excellent web hosting provider that offers great performance and a wide range of features. If you are looking for a reliable and user-friendly web hosting provider, then Cloudways is definitely a good option to consider.
You can test their web hosting without spending a penny by using their trial. There's nothing to lose - so why not give it a go?
You may be surprised at just how good their hosting is. Plus, you can always cancel your account if you're not happy with the service.