Disclosure: This content is reader-supported, which means if you click on some of our links that we may earn a commission.
Choosing the right email marketing tool can impact the performance and ROI of your email campaigns.
We want to make your life easier on this journey.
That's why we'll show you some of the best email marketing tools to use in your online business.
Finding an email marketing service that meets specific needs is not difficult, as companies offer essentially the same options.
Specifically, offer features and pricing, including free trials, numerous email templates, social media integration, and task plans.
Using email marketing software, you'll be able to automate your:
marketing workflow
track statistics
send more and better email content
deeper relationships with your customers' interests.
However, when it comes to the best email marketing services, it would be irresponsible to say that there are a lot of options. 
In fact, according to recent research we conducted, we found that there only a few dozen services (free and paid) are good to go. Still, despite this, we have picked out some of the best options to make your decision much easier.
1. Constant Contact - Best Email Marketing Service for Small Business.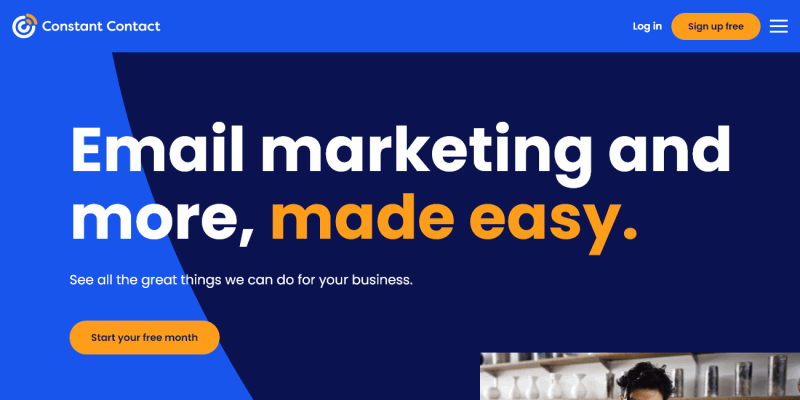 Founded in 1995, Constant Contact has grown into one of the world's largest email marketing services.
Constant Contact continue to improve their product and expand into new areas that other competitors can't reach.
For example, you'll have access to an event manager and innovative social media tools - create coupons and download content to share on social media. 
You'll also have access to hundreds of different integrations, so it will work well with any other applications and services you currently use.
In addition to the unique features mentioned above, they offer a wide range of niche-specific templates and use a dashboard to display the most important email metrics.
This is one of the best email marketing services for small businesses, and you can try it for free for 60 days. However, there is still one obvious drawback: there aren't actually any automation tools available.
2. GetResponse - Best Automated Sales Funnels and Landing Page Features.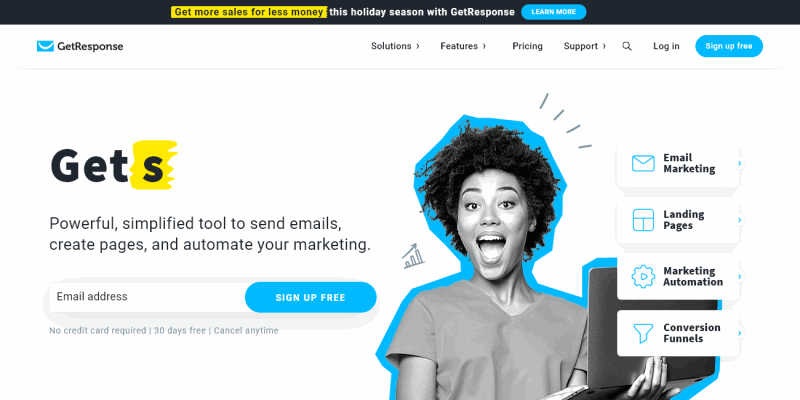 With a customer base of over 350,000, GetResponse is more than just an online service platform for email marketing.
GetResponse comes with additional features such as landing page design, webinar solutions, and more. Combining all these tools can help you grow your email subscription list like crazy.
To create emails, simply use the WYSIWYG drag-and-drop editor. 
Plus, it has all the advanced features you'd expect, such as list segmentation, A/B testing, autoresponders, software integration, and even a cool feature called Perfect Timing that predicts the best time of day to send emails to improve open rates.
If you have any trouble using it, you can find answers through a rich library of resources. 
Alternatively, you can get in touch with support via email, live chat, live phone, etc.
This service is perfect for medium-sized businesses that want a lot of marketing tools that don't require any existing skills because it's very intuitive and easy to use and even allows for other advanced features you haven't thought of.
3. ConvertKit - Best Email Marketing for Bloggers.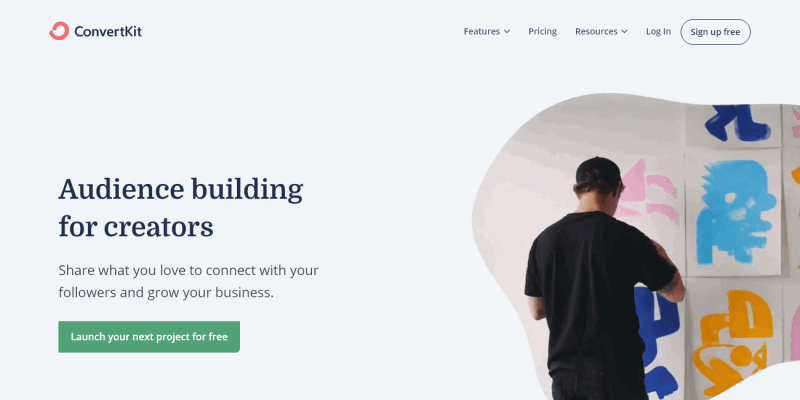 Pros Of Convertkit

Free migration service
Free SSL Certificate
Free domain for one year
basic site builder
One-Click-Install for WordPress
User friendly Easy to use Control Panel
24/7 support (Phone and Live)
Ready to Use Themes are Available
Cons Of Convertkit

Discount Price Available for 3 year plan
Performance Of Convertkit
Chepest Plan: $5/Month
Trial: Yes
Automation Flow: Best
Best Overall Web Hosting
In-depth bluhost review
Nathan Barry founded ConvertKit  in 2013. They target creators, including bloggers, writers, internet celebrities, and course producers.
One of the biggest selling points is how easy it is to create email automation workflows.
ConvertKit relies on a visual editor so you can see in real-time how the email sequence will play out.
A built-in landing page editor makes it easy to start email marketing without even having a website, just a traffic source (such as your YouTube channel or social media accounts).
The service is easy to use and powerful, so the price is slightly higher than other competitors. 
If you don't mind spending more, then ConvertKit is probably the best choice. They offer a 14-day free trial, as well as multiple subscription plans. 
Each plan comes with exactly the same features, and the price will depend on the number of subscribers. 
Plus, if you eventually find that it's not for you, you can get an unconditional refund within 30 days.
4. ActiveCampaign - Best Email Marketing Automation and Deliverability.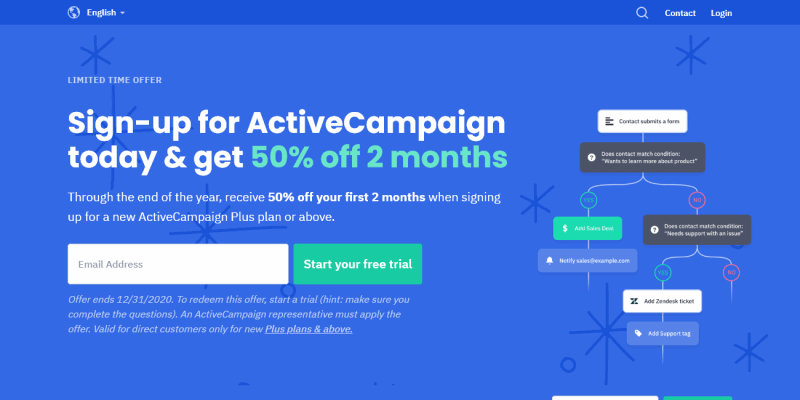 ActiveCampaign is an option for small businesses. Besides a tool for email marketing, the platform can also be used as the CRM tool to manage contacts.
With the ActiveCampaign campaign automation tool, you can create templates that will automatically be sent to the contact segments you've created. -
it is easiest to use and the price range in the account, with the basic subscription costing starting at just $9 per month.
Its weak point is the difficulty in understanding the platform's reports and the impossibility of performing A/B tests. In other words, it is not possible to create models for the same objective and establish a comparison natively, requiring manual work to find out which of the models worked. Visit the ActiveCampaign page to learn more about the application.
5. AWeber - Email Marketing Tool that Improves Open Rates by 34%.
Aweber is a very popular tool that has been around for close to 20 years. They even invented the autoresponder feature.
You get access to a number of premium marketing tools, including a drag-and-drop email editor, a large number of pre-defined templates, rich integration options, etc. 
Aweber allows you to create automated trigger-based email sequences, as well as email tracking sequences and based on these tools. You will have access to various statistics (such as open and delivery rates) and A/B testing of emails.
Additionally, you can easily create email subscription forms to embed on your website.
If you're confused about marketing terms, don't worry, they offer a library of very helpful resources to help you every step of the way. There is also live chat and email support, as well as phone support from 8:00 to 20:00 EST and 9:00 to 17:00 on weekends.
Aweber always provides reliable service and is one of the best choices for small teams looking to streamline their email marketing efforts.
6. Campaign Monitor - Best Email Marketing Software for Small Businesses with Helpful Support.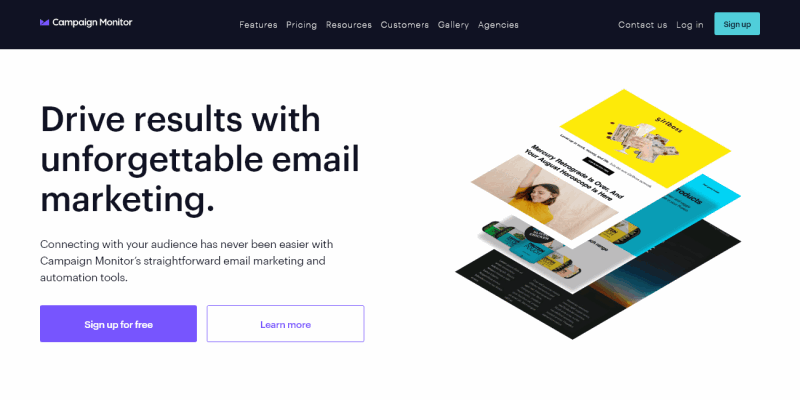 Campaign Monitor is one of the email marketing tools focused on ease of use.
Many of its editors - both model editors and marketing automation editors - operate on a "drag and drop" basis, ideal for beginners.
Campaign Monitor Email Marketing Tools
One of its most useful functions is the personalized email builder, built according to previous campaigns' data.
That is, depending on the results of an earlier campaign, you can create a personalized message to a group of specific behavior automatically, without the need to segment them yourself.
Campaign Monitor also has one of the most affordable plans costing $9 per month.
7. Mailchimp - People-First Company with 99% Customer Satisfaction.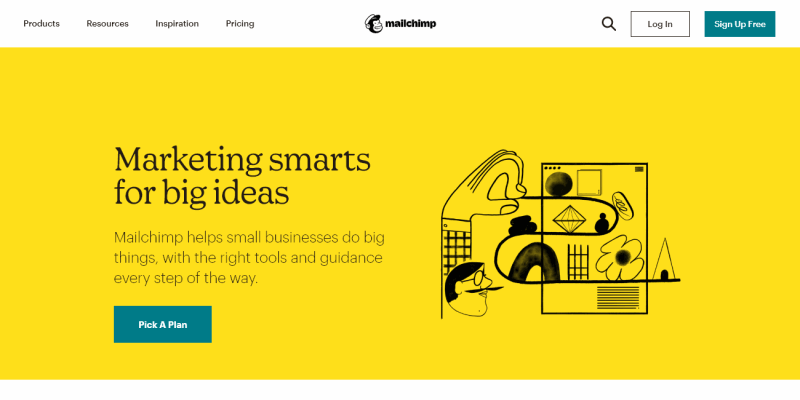 MailChimp is a leading email marketing provider, sending over 1 billion emails a day.
MailChimp is perfect for those who want to take the first steps in email campaigns and offer even more tools for those who already have email marketing experience.
You can create personalized lists, segmented campaigns, and measure the results of each of your efforts.
One of the most important things is the creation of email designs. Not everyone is a master of design or programming.
MailChimp has many templates and a drag and drops editor, which means you only need to drag and drop to design emails!
The integrations also deserve to be highlighted, especially if you have e-commerce.
The platform can be integrated with Shopify, Magento, Woo Commerce, and even Google Analytics.
The service is continuously growing, with new features coming out every so often, and even includes social media integration. 
The preset templates are sized properly and very easy to customize. You'll also find advanced email marketing features: such as contact segmentation, autoresponders, service and app integration, time zone-based sending, A/B testing.
The support team can respond quickly via live chat or email. 
MailChimp's free plan offers users an easy-to-use interface and up to 2,000 subscribers and 12,000 e-mails per month, more than enough if you're a small business.
MailChimp's free plan includes autoresponders, transactional emails, analytics and many third-party integrations. There is also a free Mailchimp application for iPhone and Android.
However, MailChimp charges according to the size of your email list, so if you exceed the 2,000 threshold, it joins your 2,000-2,500 plan at $30/month.
Moreover, they offer a wide variety of teaching resources.
Many people use MailChimp as a free service only, except for those on a budget. 
MailChimp offers several facilities: customizing your emails using ready-to-use templates, configuring email flows (not just mailing lists!), and even doing A/B tests.
MailChimp offers several facilities: customizing your emails using ready-to-use templates, configuring email flows (not just mailing lists!), and even doing A/B tests.
It is one of the best cost-effective email marketing services, not to mention that it integrates perfectly with platforms like WordPress, Magento, and Shopify.
It is one of the best cost-effective email marketing services, not to mention that it integrates perfectly with platforms like WordPress, Magento, and Shopify.
They offer easy-to-use tools and premium options for bloggers and business owners.
8. Benchmark - Best for Integrations.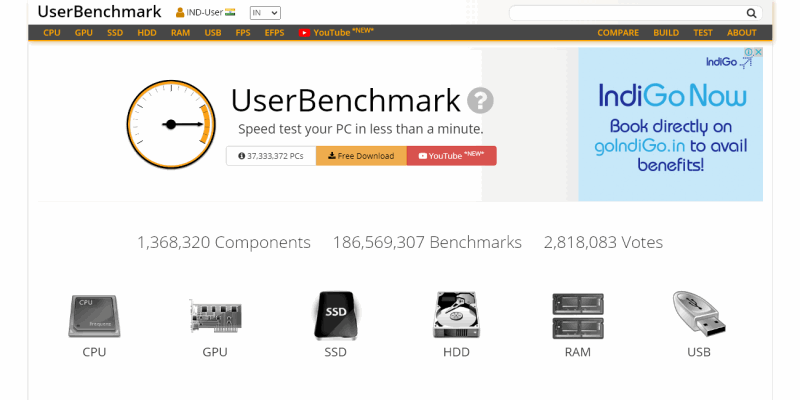 The Benchmark system created with the focus on medium and small businesses.
Therefore, if it fits your profile, it is worth checking the different resources available in your email marketing tool.
It also has a drag & drop editor, allowing you to compose emails faster, making them automatically adjust to different devices, such as desktop, tablets or smartphones.
you can use templates for your email marketing campaigns, or create your templates. With the tool, you can also make quick adjustments in the design of your content, as well as editing in HTML code.
Benchmark's attractive feature is that you can use the system for up to 2,000 contacts and 14,000 emails per month for free.
9. Mailjet - Best Full-Lifecycle CRM for Email.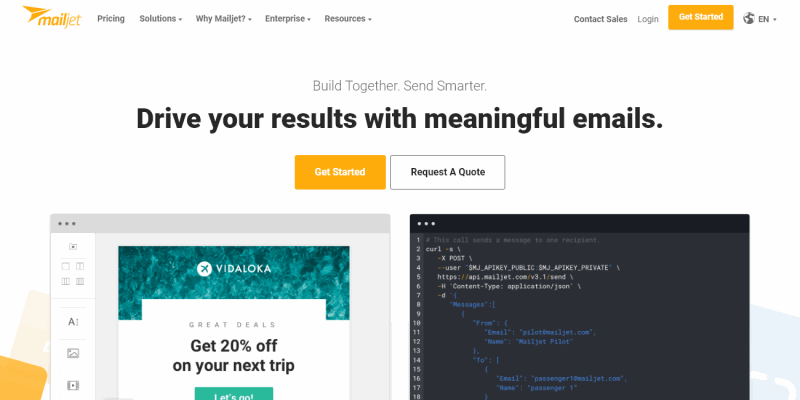 MailerLite is one of the youngest tools on this list. 
It is also one of the easiest to use, but don't let this simple approach fool you - it actually covers a lot of marketing tools and then simplifies them down to what is necessary.
This simple service is very popular because it appeals to a broad worldwide audience and offers multiple language options.
MailerLite has a clean, easy-to-use interface and offers some simple and flexible modern templates that allow you to create marketing emails quickly.
MailerLite does not offer advanced automation or analytics features. It is suitable for users who want to keep things simple, such as freelancers, website owners, and small businesses.
10. Drip - Good for Larger Lists.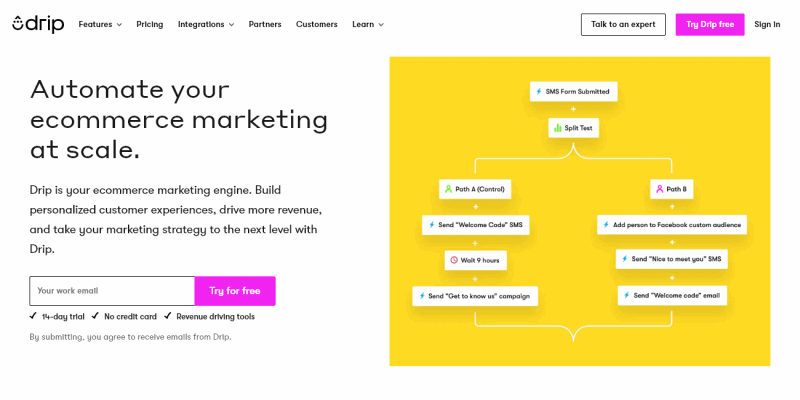 Drip is a relatively new email marketing provider whose core audience is bloggers, marketers, and e-commerce, website owners. Not only is this tool excellent for beginners, but the smart marketing automation tool is better than other products on the market.
Suppose you are an e-commerce website owner or sell a variety of different digital products. 
In that case, a Drip is a great option that allows you to track metrics such as the following to gain insight into your customers' purchase intent and behavior.
• Returning visitors vs. new visitors
• Visitors who abandoned their shopping carts
• Customers who clicked on the email link and customers who did not click on the link
Not only that, you can also find various integrations for Facebook ads, etc. 
Suppose you sell a lot of products online (both digital and physical) and want to create complex marketing sequences without spending a lot of time. In that case, this tool might be for you.
Keap (formerly known as Infusionsoft) is a powerful email marketing provider. 
Their all-in-one marketing tool combines CRM, email marketing, and other features in order to allow you to build complete customer profiles and create more targeted marketing campaigns.
Email marketing is just one part of the overall feature set. For example, the dashboard will display data on email campaigns, sales data, customer financial history, etc. 
Keap was one of the first email marketing providers to offer a drag-and-drop automation editor.
In Keap, you can set the goals you want to achieve and create a corresponding automation sequence.
Despite combining CRM and email marketing, one feature is still missing: A/B testing, making it difficult for you to test different campaigns and may negatively impact increasing open rates and overall sales.
12- Mautic
An open-source marketing automation tool, Mautic has already won over 200,000 companies and has been translated into 35 languages, thanks to the power of its community of developers that exceeds 1,000 members.
If you have a developer on your team and want to create very customized solutions, Mautic is the ideal e-mail marketing service for you.