Disclosure: This content is reader-supported, which means if you click on some of our links that we may earn a commission.
Hostinger Overview
Hostinger was founded in November 2004, and since that time, they have been one of the top best web hosting with the most cost-effective Pricing.
Currently serving over 29 million customers in 178 countries and territories, this company allows you to create a standard website for less than $1 with the basic website builder and email account.
In 2007, they founded 000webhost.com - a free web hosting service without advertising.
By 2012, Hostinger started to expand internationally with the establishment of a new company in Cyprus.
As of May 2014, Hostinger had more than 10 million paying subscribers.
The scale of this growth has been impressive for over a decade. This company offers a large number of free and unlimited features.
To get the most realistic data, we built our website using Hostinger and monitored it for more than a year.
Hostinger is a powerful web host that comes with excellent pricing and uptime. Here is our real test data for WordPress.

Pros Of Hostinger

Chepest Web hosting
one of the fastest web hosting
Excellent Support
Free website transfer
Choice to select Datacenter from US, Europe & Asia
Cons Of Hostinger

The Renewal Rate are High. So you have locked for an extended period.
the cheap plan has Limited bandwidth.
Performance Of Hostinger
Speed: 300ms
Uptime: 99.99%
Security: Best
Fast and Affordable hosting with 90% Discount ($0.99/month)
In-depth Hostinger Review
Overall, Hostinger well-known as one of the top of all web hosting companies with reliable uptime, speed, and most importantly price. Hostinger customer support team members are knowledgeable, fast, and friendly, especially with the WordPress setup.
Each plan comes with an SSL certificate, One email accounts, and a Basic website builder.
Hostinger hosting plans comes with very affordable prices:
Shared hosting starting at $0.99 per month.
VPS hosting starting at $3.95 per month.
Cloud hosting starting at $9.99 per month.
However, there are some downsides too Like, Higher renewal rates, No Traditional cPanel like others and Money back guarantee have some terms to follow. a little bit messy as compared to other competitors.
Hostinger Review for 2023 (February Update)
| Hostinger Hosting Features | Hostinger Availability |
| --- | --- |
| Hostinger International Performance | A+ |
| Hosting Speed | 300ms (February 2023 to February 2023) |
| Sequrity | Best In Class |
| Uptime | 99.99% |
| Technology Support | PHP,ASP.NET,Python,Node.js. |
| Hosting Types | Shared, WordPress, Cloud, and VPS. |
| Hostinger Control Panel | Hostinger offers a modern easy-to-use interface. |
| Basic Plan Features | 100GB bandwidth, 10GB storage, website builder, 1 email account, Free SSL Security, 30-days money-back guarantee. |
| Starter Plan | Single Shared Hosting $0.99/mo USD ($2.99/mo when you renew) |
| Support | 24/7 Online Chat, Knowledge Base, Ticketing Booking. |
| Website Transfer Fees | One Free Site Transfer |
| One Click Installation | WordPress, Joomla, PrestaShop, OpenCart, and Drupal. |
| Payment Support | visa, mastercard, amex, discover, jcb, maestro, dinersclub, paypal, bitcoin, ethereum and litecoin. |
| Detail Pricing | Starting at $0.99/mo (renews at $2.15/mo) |
Hostinger Pros & Cons
Free services and unlimited features won't mean anything if your website can't stay online. During our testing, Hostinger had excellent uptime, fast loading speeds, and knowledgeable customer support.
During our analysis, the real-time test we came across some pros and cons, so you can make sure you're getting the best host according to your need.
Pros of Hostinger
Included in top fastest web hosting provider table.
Good security and privacy with a free real-time protection suite.
Three data centers, located in the US, Asia, and Europe (UK).
Easy to use custom back-office management system.
Knowledgeable customer service team.
30-day money-back guarantee.
Cons of Hostinger
Only premium or commercial hosting plans can get a domain name for free.
No traditional cPanel control panel
Must be logged in to live chat.
Features
Hostinger provides many features that make them stand out. following are some important features that you should consider.
1. Automated Backups
Automating the backup process saves the time and complexity required to manually back up your website every defined time interval.
You can create backup files manually by accessing your CPanel of Hostinger, In the Files section, just click on the Backups menu.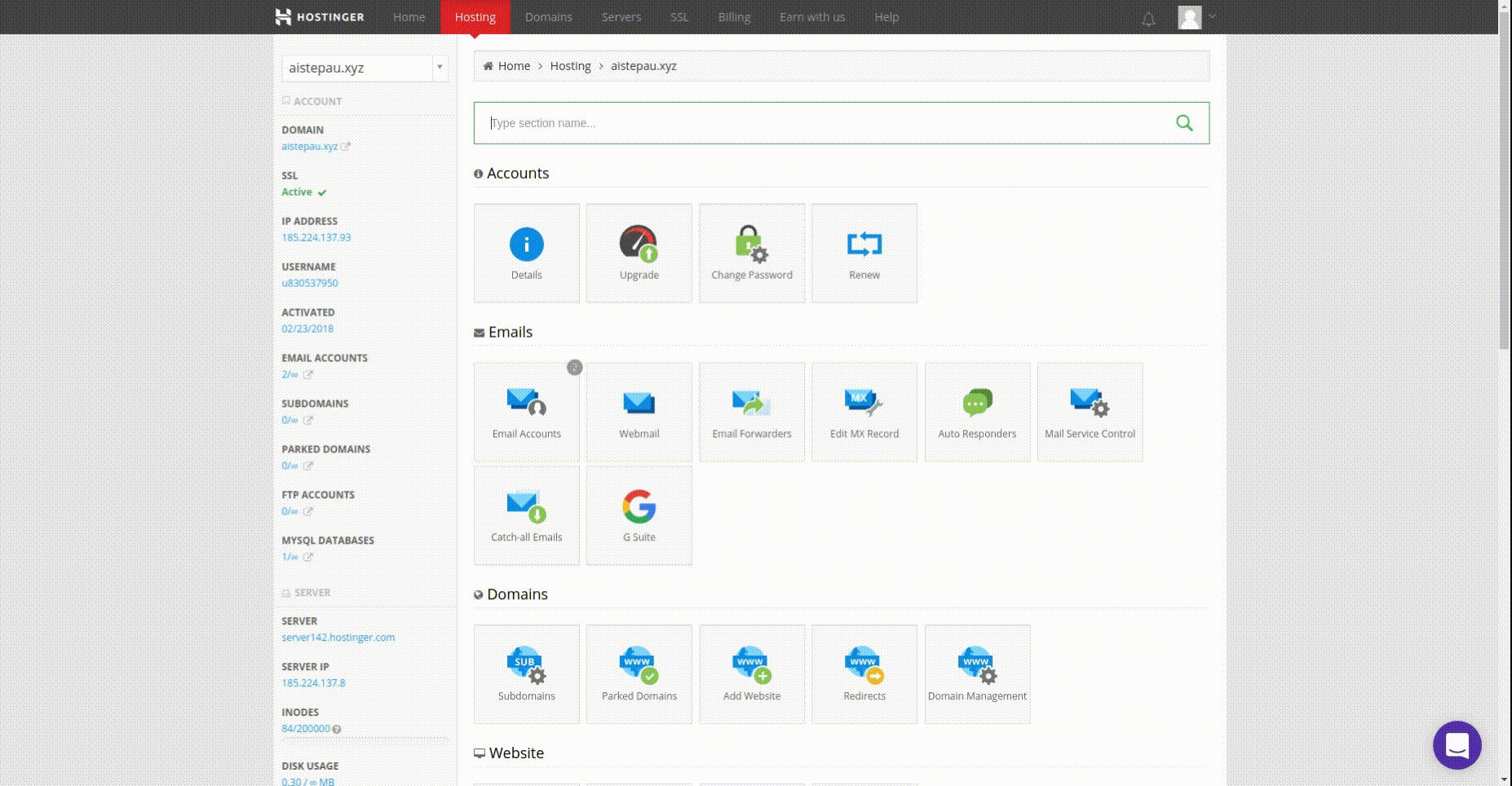 By Default For Single and Premium hosting plans hosting will backup files once per week. But you can enable daily backups service.
2. SSH Support
Deploying the Current Version of the website from GitHub or Bitbucket is the best of the practices. Well, With the hosting you Can do it Simply by adding your SSH key to your GitHub/Bitbucket and deploy your content to your website Instantly
3. WordPress Optimized Plans
Most of the portion websites are built on WordPress and why not, Afterall you will get all premium services and plugins for free
By considering these facts hostinger creates specially dedicated plans for WordPress, Where hosting servers are configured for optimal performance of WordPress.
For making website fast globally, hostinger use LiteSpeed Cache for WordPress (LSCWP). LiteSpeed Cache for WordPress is an all-in-one website site acceleration plugin that provides exclusive server-level caching.
Most importantly compatible with the most popular plugins, including WooCommerce, bbPress, and Yoast SEO.
4. Unlimited Bandwidth
Hostinger Starter plan comes with 100GB Bandwidth and other plans have unlimited bandwidth. So you do need too much worried about your bandwidth
5. Unlimited Subdomains
Hostinger allows you to create multiple sub-domain of your domain name. So it is easy to create a separate sub-domain for multilingual website or business under a single brand name.
6. Disk Storage
Disk storage is limited to 10 GB SSD Storage. But Hostinger is very transparent compared to another host they even do not display their server configuration. With then basic plans you can go head with 10GB high Performing SSD Disk very much sufficient if you are a beginner
7. Email Accounts
Each plan comes with an Email account option. If you're start with their basic, it comes with 1 free email account while others enable you to create 100+ email accounts.
8. hostinger website builder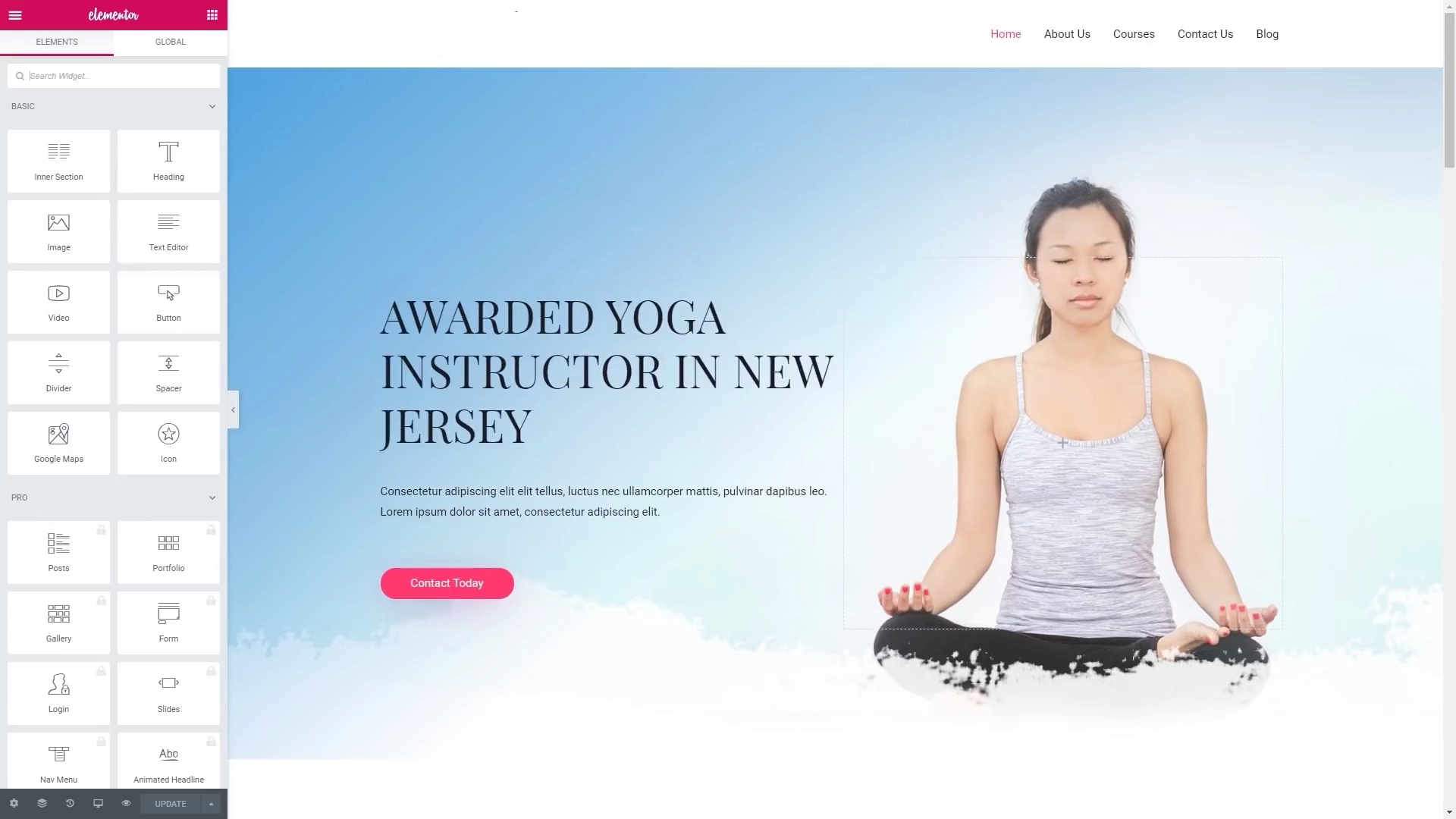 With a basic plan, you will get access to their extremely simple to use Zyro Drag-and-Drop Website Builder.
You have 100+ website design template options to choose a template that fits your business needs perfectly.
Customizing your template will come easy. Everything is automated and intuitive with Zyro. Change the pictures, the text, and the layout – colors, and fonts are both fair game.
When you're happy with how things look, you're ready to publish your website and share it with the world. Most importantly It's optimized for search engines.
So, when you start building your website with Zyro, your don't need any Extensive programming skill.
9. Affordable
Hostinger's pricing strategy is similar to most of its competitors, with substantial discounts for first-time sign-ups and then a bump at renewal. Nonetheless, these prices are attractive. We prefer to recommend purchasing the 48-month hosting plan because the average price here is the lowest, and given the generous 30-day money-back guarantee, you shouldn't take any risks (except time).
The following pictures show the shopping carts of the English and Chinese websites respectively, showing the price of a 48-month subscription.
More positively, the service they provide is quite good compared to other competitors.
There is much to appreciate about Hostinger's uptime, page load speed, quality of customer support, and customization of the control panel. But unfortunately, there is no perfect web hosting provider, every company has flaws or flaws, and here are some of the less than perfect ones presented.
Hosting Types
1. Shared Web Hosting
Shared Web Hosting is the Most suitable beginner-friendly web hosting For bloggers and small to medium websites.
You will get everything you need to start a website, Even more, you can upgrade your package as your business grows. the best plan for beginners are:
$0.99/month: When You Lock For 4 year
$1.99/month: When You Lock For 4 year
2. Cheap VPS Hosting
VPS hosting provides you Dedicated resources to scale, So you no need to share your resources with another webmaster. this is especially very handy when you are going to create a website using NODE, Python, or Ruby.
Hostinger provides affordable VPS plans with Higher configuration, But You need to choose their long-term plan.
3. Cloud Hosting
If you running a business that generates good returns and having clients from all across the world then Cloud Hosting is the most obvious choice for you.
4. WordPress Hosting
Having a WordPress CMS is always beneficial whether you want to create a business website or Money Making Blog.
To fulfill your needs hostinger comes with WordPress Optimized plans, knowledgebase, and real WordPress experts to guide you every time you face a problem.
Uptime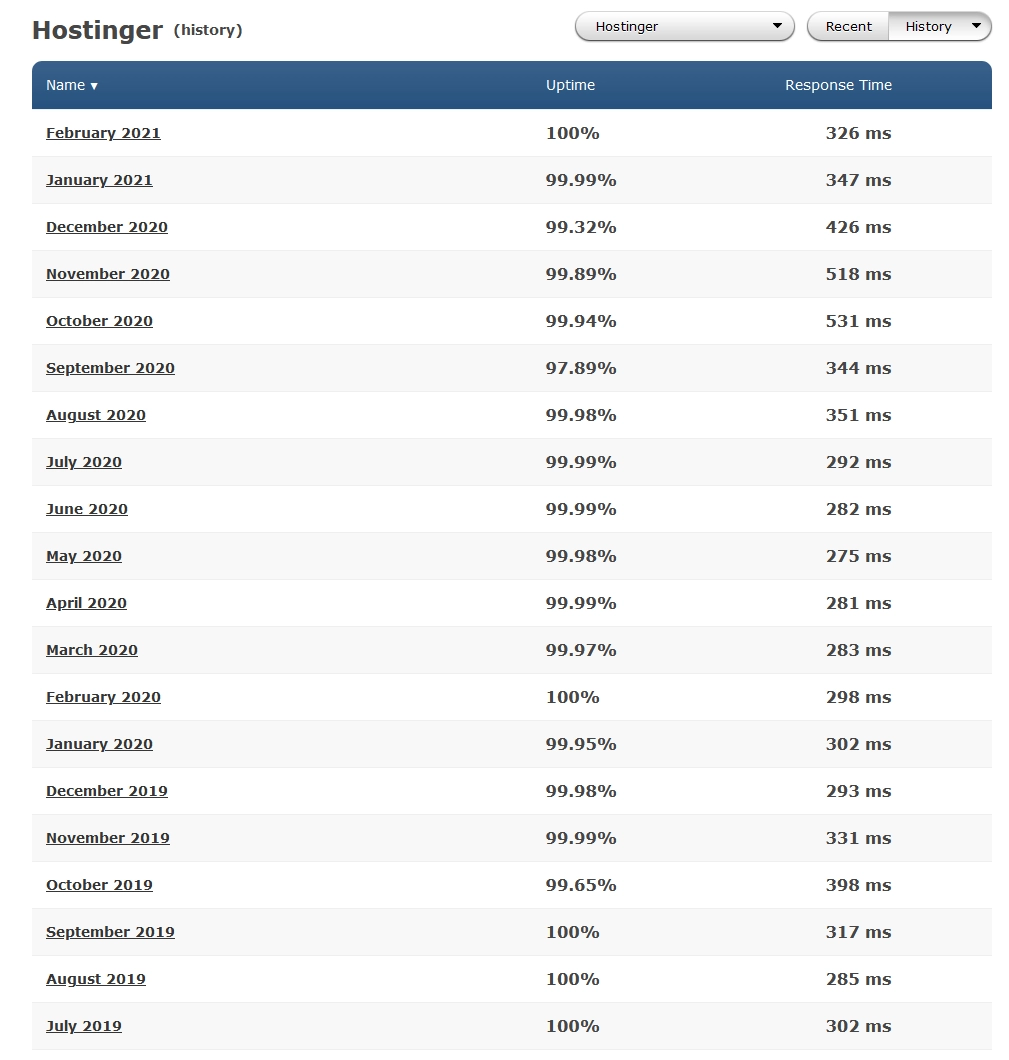 When evaluating web hosting metrics, uptime is the most important, and Hostinger performs well in this regard, except for a few imperfect months, the overall performance is very good. The following chart shows the uptime for the last 12 months.
Here is Monthly Average for the Last 18 Months
| Month | Average Uptime |
| --- | --- |
| July 2023 | 99.99% |
| June 2023 | 99.37% |
| May 2023 | 99.87% |
| April 2023 | 99.94% |
| March 2023 | 97.89% |
| February 2023 | 99.96% |
| January 2023 | 99.99% |
| December 2023 | 99.99% |
| November 2023 | 99.94% |
| October 2023 | 99.99% |
| October 2023 | 99.97% |
| August 2023 | 100% |
| July 2023 | 99.99% |
| June 2023 | 99.32% |
| May 2023 | 99.89% |
| April 2023 | 99.94% |
| March 2023 | 97.89% |
| February 2023 | 99.98% |
Sequrity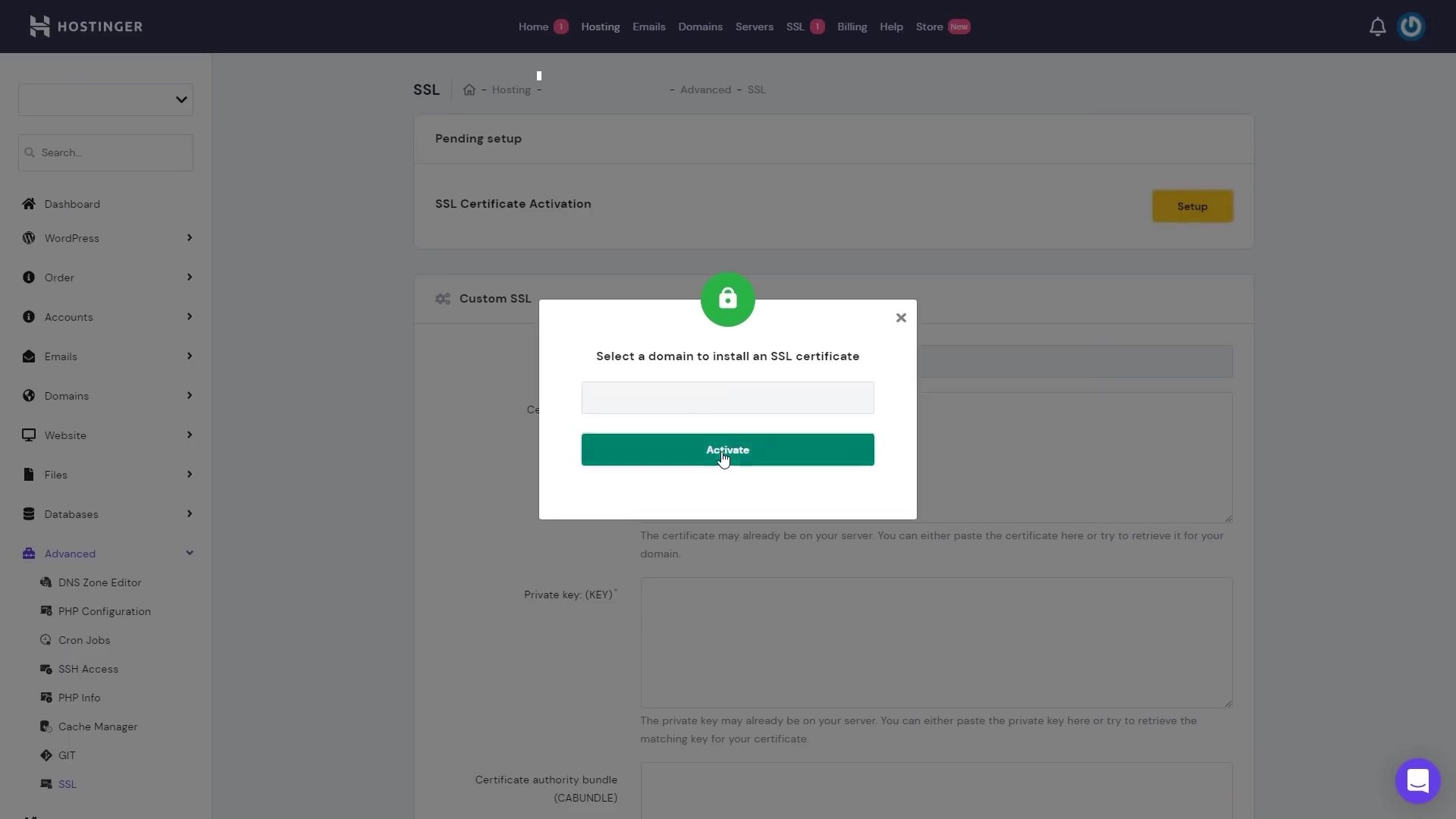 Website security is most essential for any Blogger or Business, if you can't be sure that it's safe from an attack you may end up losing all your profit or your whole business.
Hostinger has special attention to their security. they have advanced, custom-built security software that is regularly updated.
there BitNinja to protect your website data and files, to ensure that servers are secure from third-party attacks.
Moreover, their servers have advanced security applications like, Apache mod_security, Suhosin PHP hardening, PHP open_basedir protection that allow us to guarantee the highest security level available today.
Each shared hosting packages servers have DDoS protection, they use advanced hardware firewalls to keep your data safe and protected from all possible risks
Above all points are a clear indication that hostinger is one of the fine secure web hostings.
User interface & Ease of Use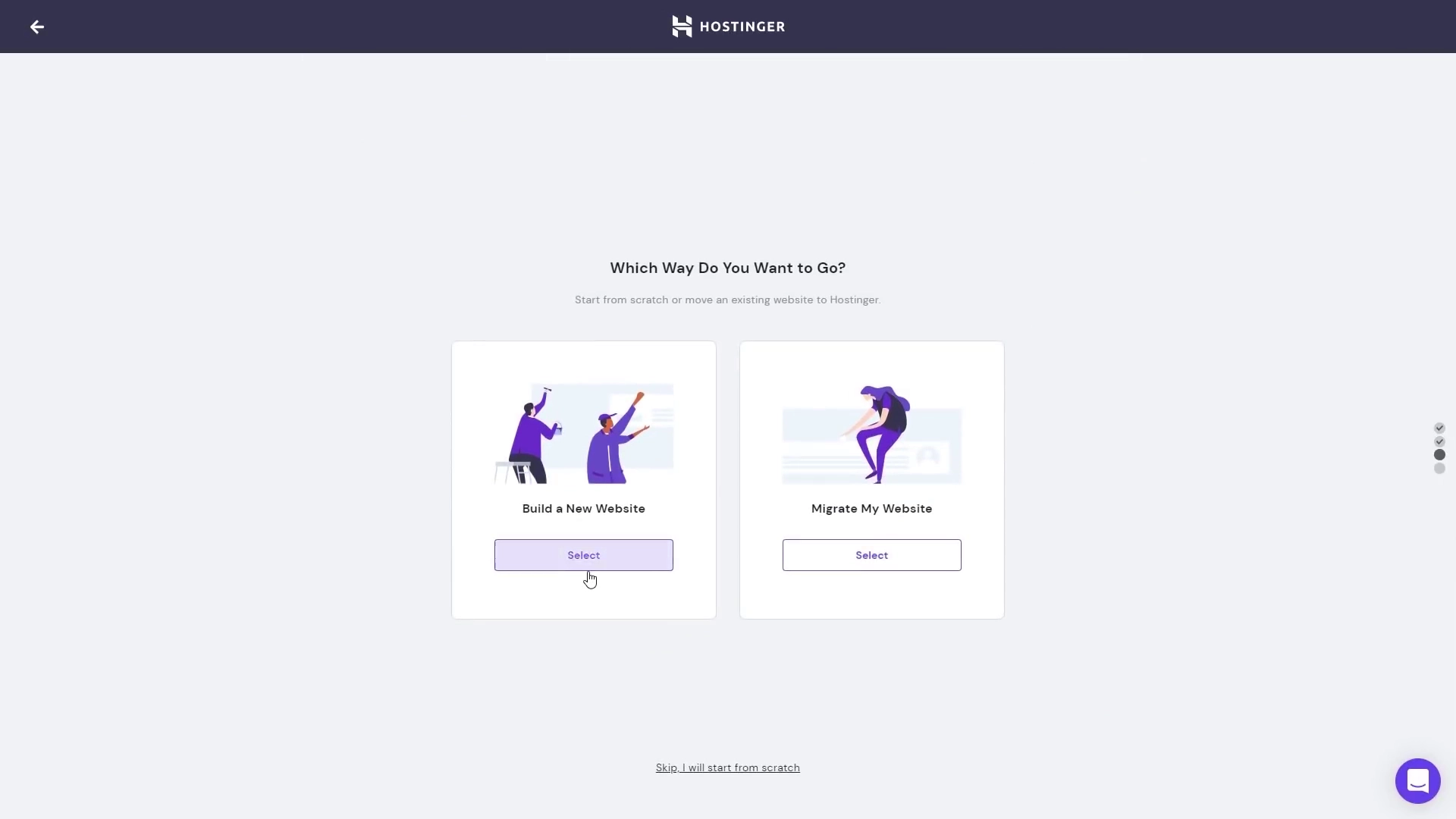 Hostinger offers an easy-to-use interface where you can find all the features you need in one place. The control panel is not a traditional cPanel, but the large icons help to find what you need more easily:
Some advanced users may prefer cPanel, but otherwise, this customized version is perfect for beginners who don't want to become software engineers to understand how to build a simple website.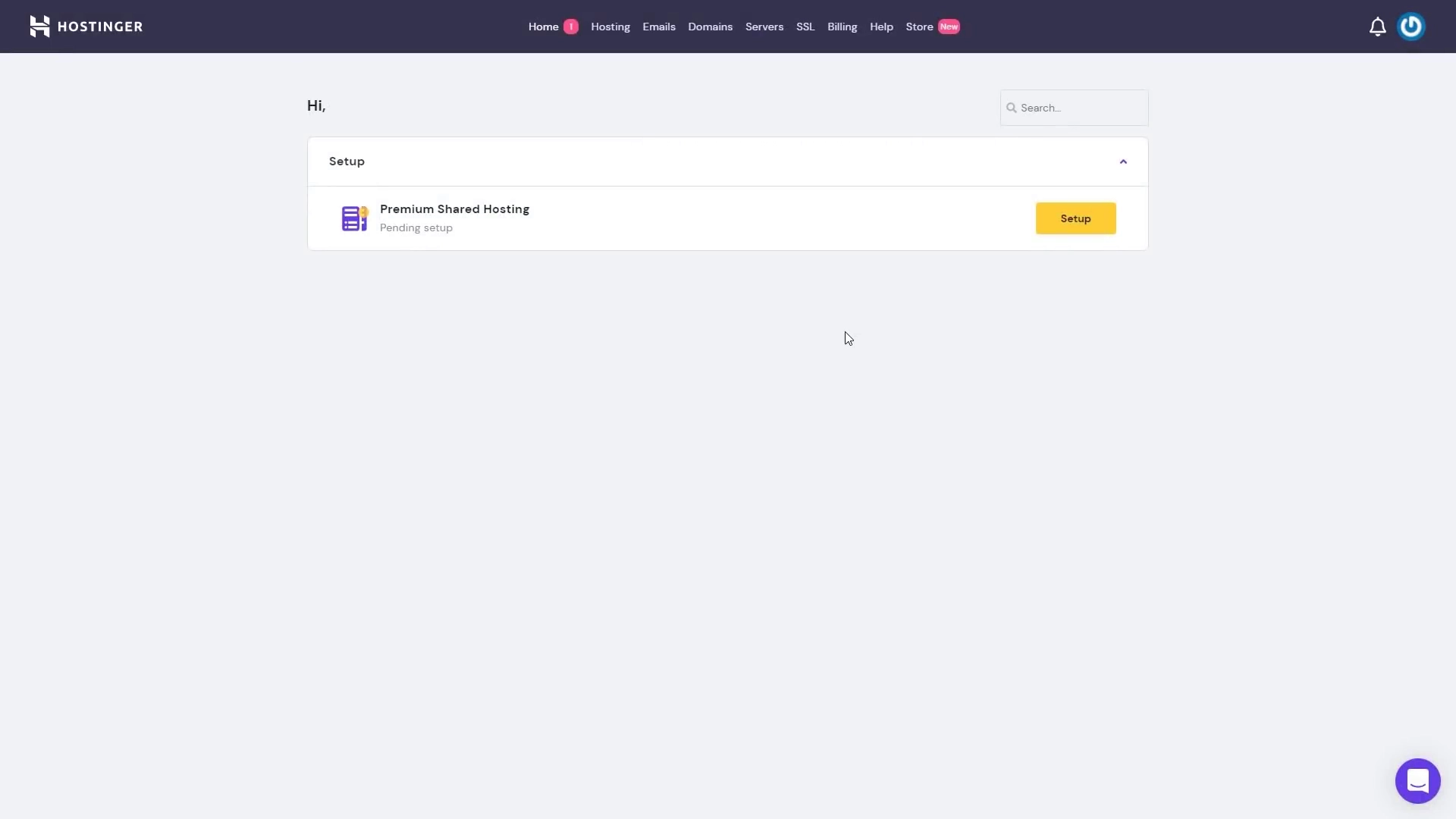 If you sign up for a premium or business hosting plan, then you can get a lot of unlimited features, including unlimited websites, unlimited traffic, unlimited databases, and unlimited email accounts. For Email, you can set up autoresponders, enable/disable accounts, and forward emails to the customer's domain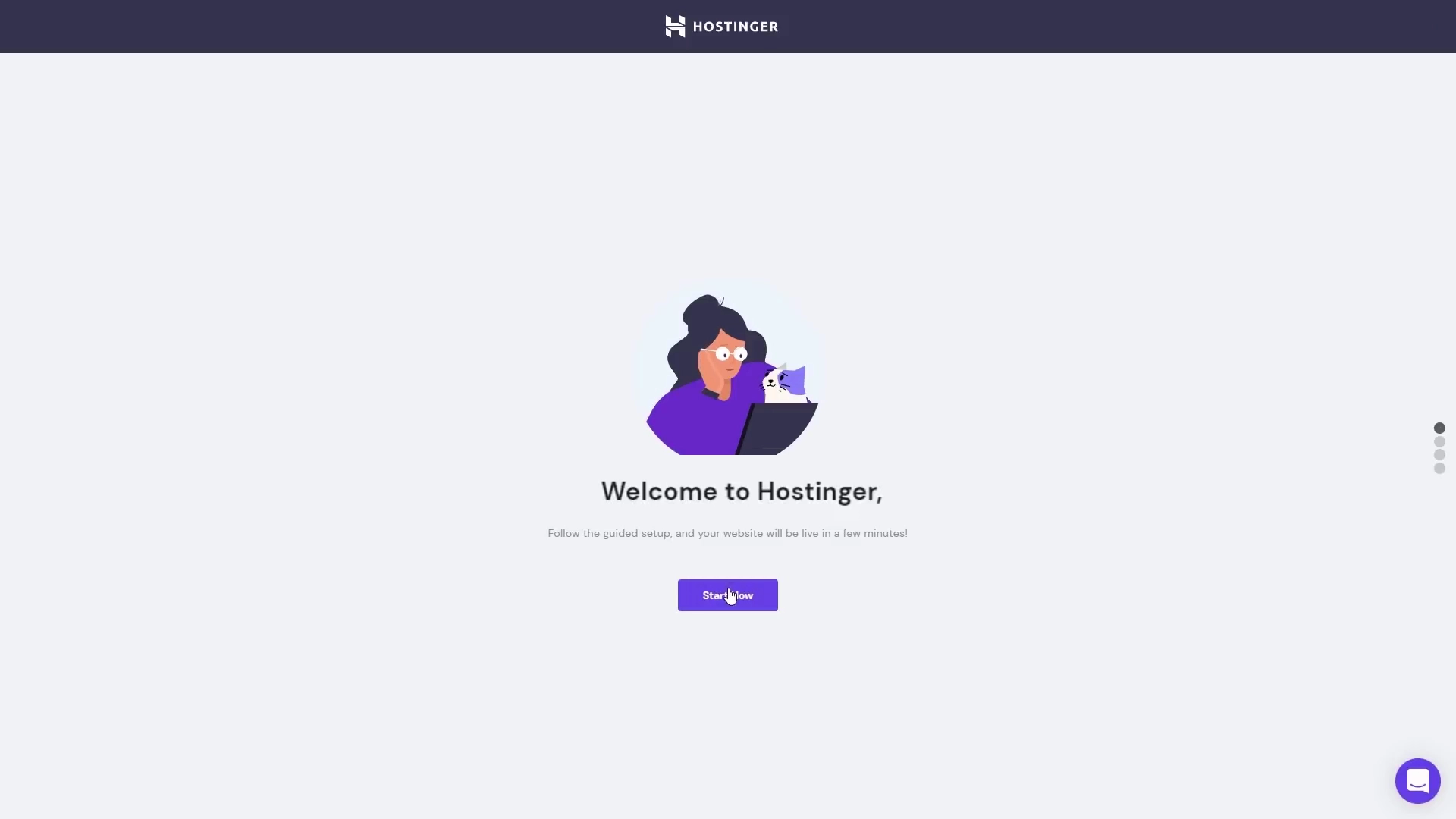 Hostinger has developed its control panel that makes the web hosting service easier to use than most of its competitors. But if you are used to using traditional panels (such as cPanel), then you may not like this dedicated dashboard.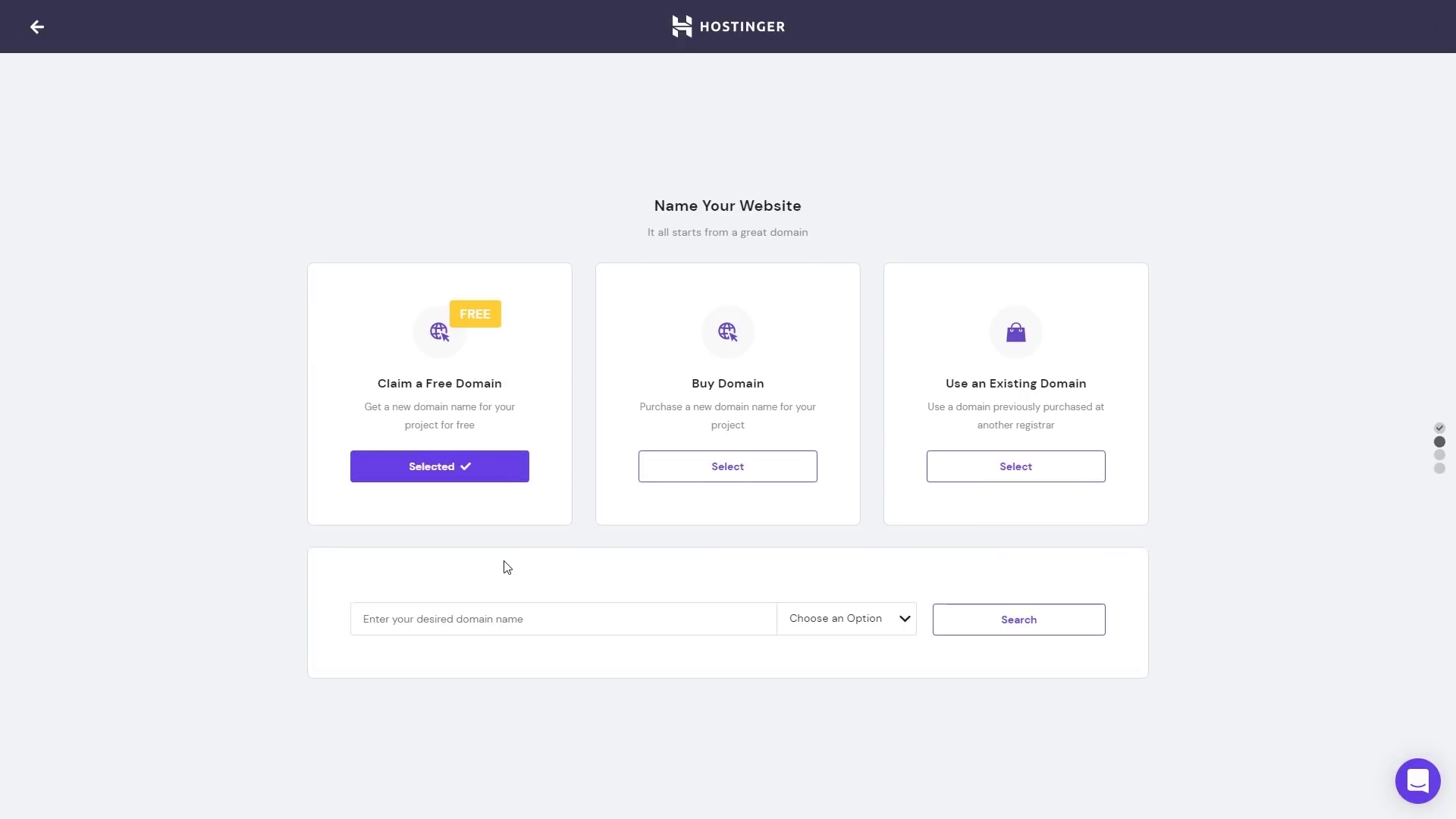 Most importantly, You can easily install applications automatically with the help of Auto Installer. It makes your lime Much Easier.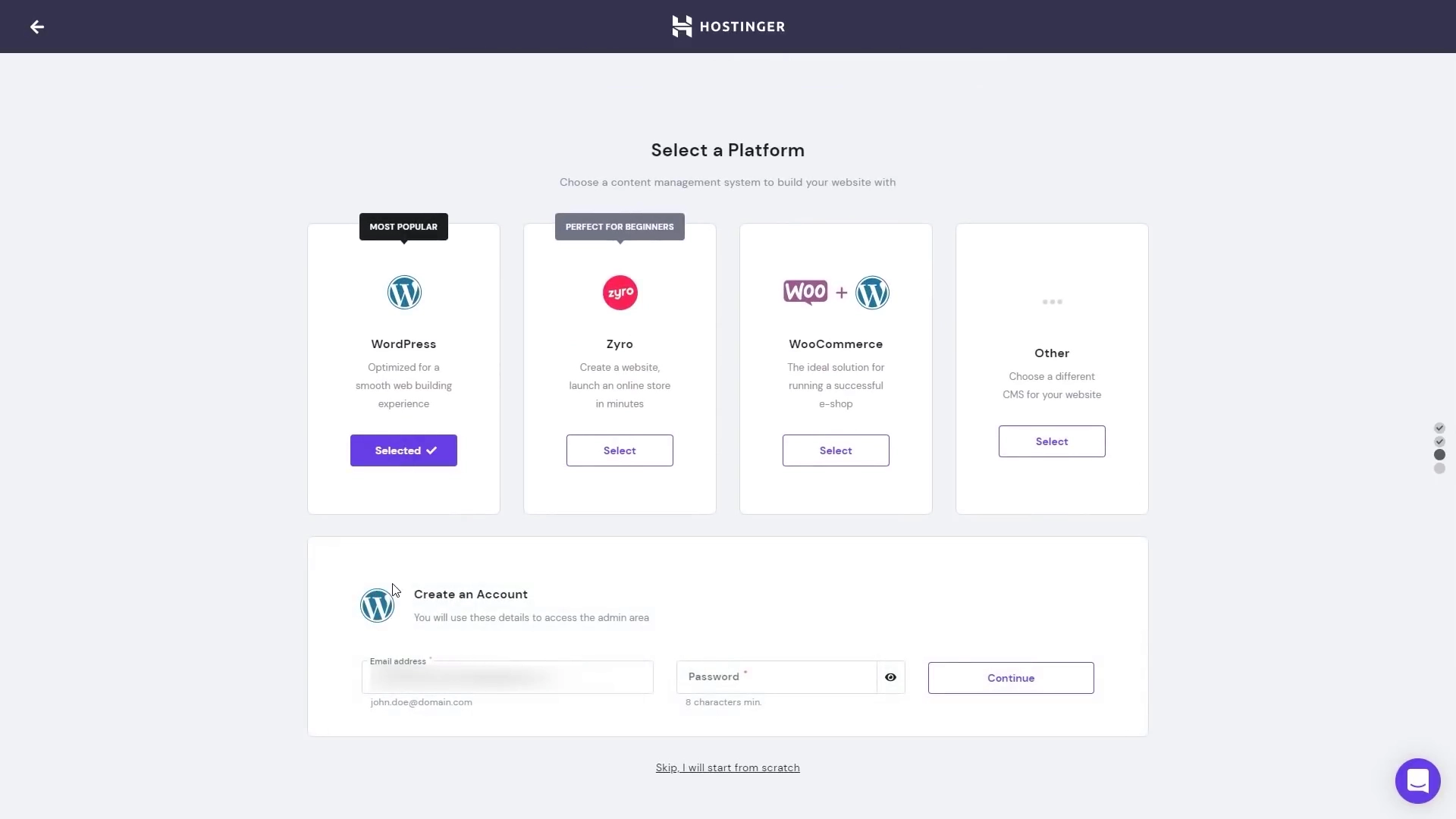 Auto Installer automatically install any of the available CMS on your hPanel account, includes WordPress, Joomla, Drupal, PrestaShop, OpenCart, PhpBB.
finally, you access you're Dashboard here.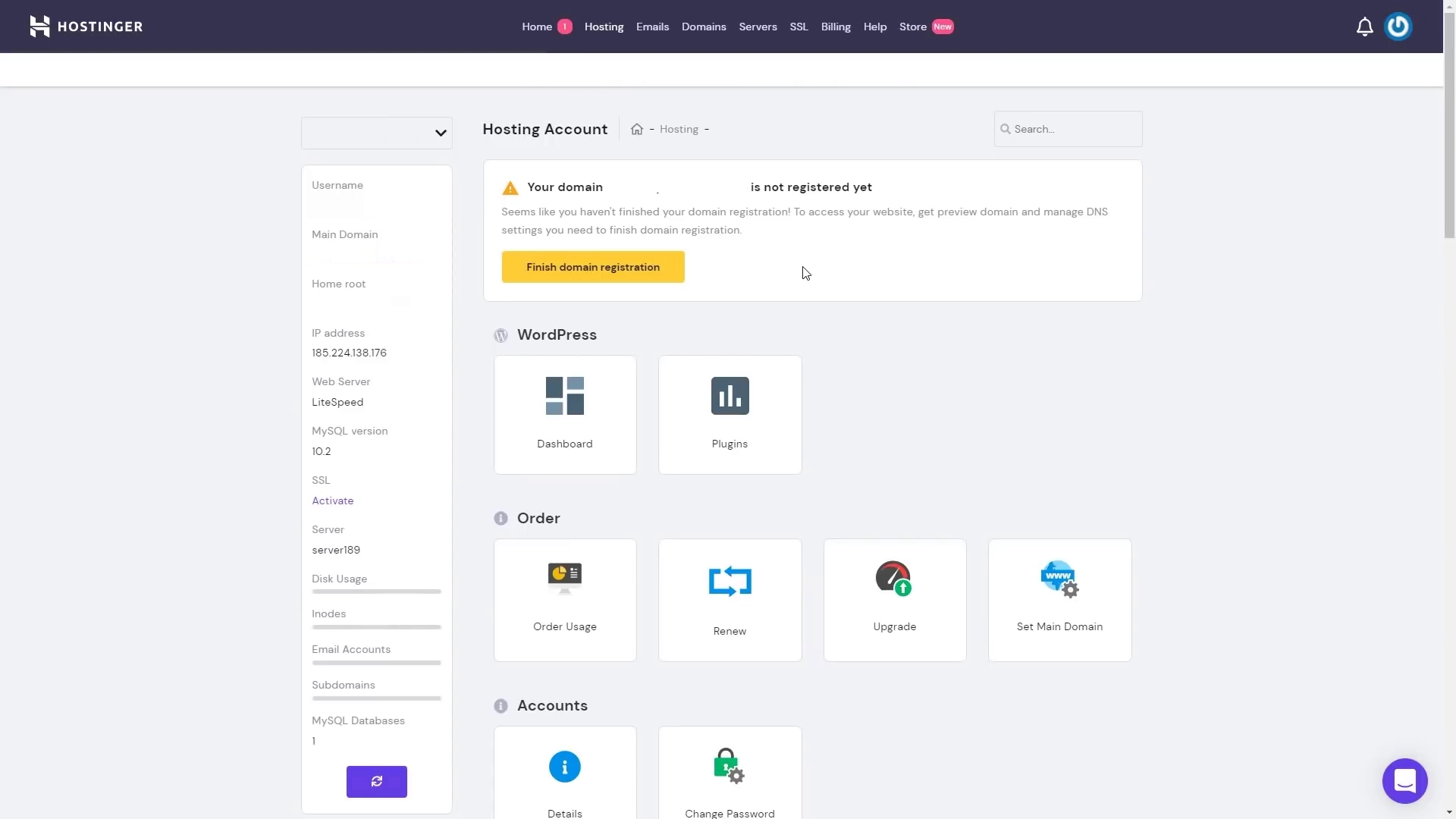 Performance
Everyone knows speed is the most important factor according to google for providing the better user experience and improving your search engine rankings in 2023
Fast page load speeds are critical to the user experience of any website. Have you ever clicked on the back button just because the site was loading slowly? I think you got your answer.
As per Statistics, if a site takes more than three seconds to load, 40% of visitors will give up waiting and visit another website.
Hostinger has servers in the US, Asia, and Europe (UK) with network bandwidth up to 1000 Mbps, which helps ensure stable load times. The following chart shows the results of our tests over the past 12 months.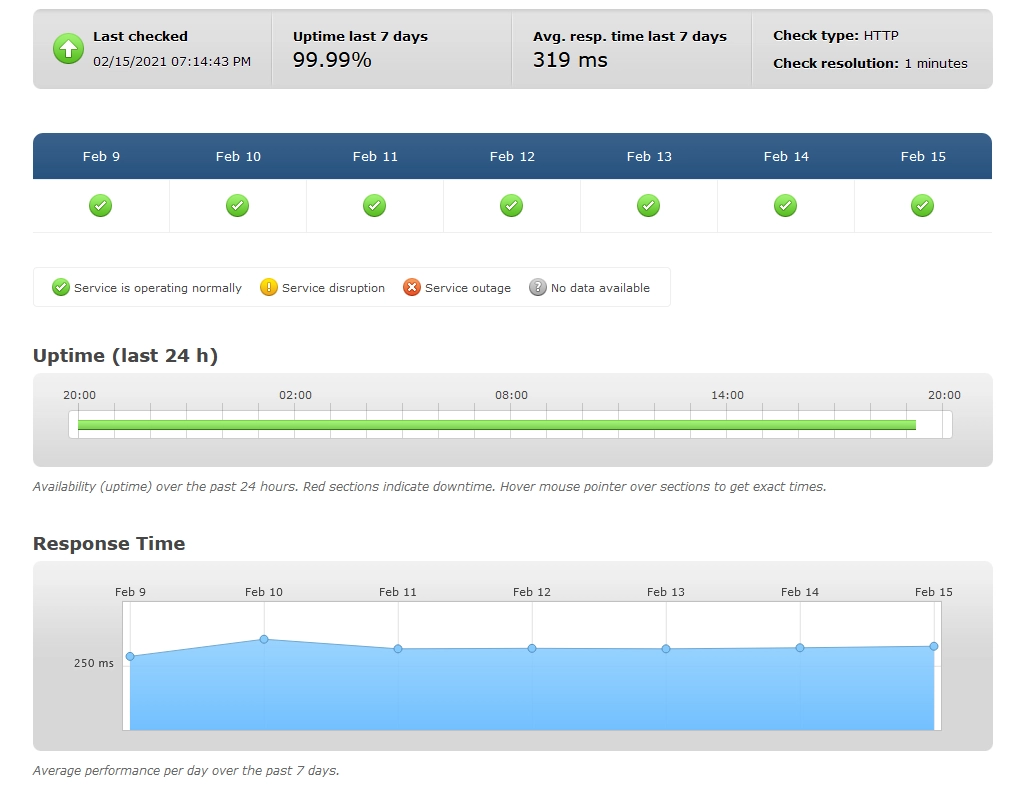 Programming language Support
Avialable Server
Apache: Avialable
Plesk: Not Avialable
Hostinger's all shared hosting place comes with Apache server on Linux based, So you can't use any other language than PHP.
But for Python, Asp.net, Node, you can use their VPS plan at affordable rates.
Dedicated IP's comes with Hostinger Cloud and VPS plans
Support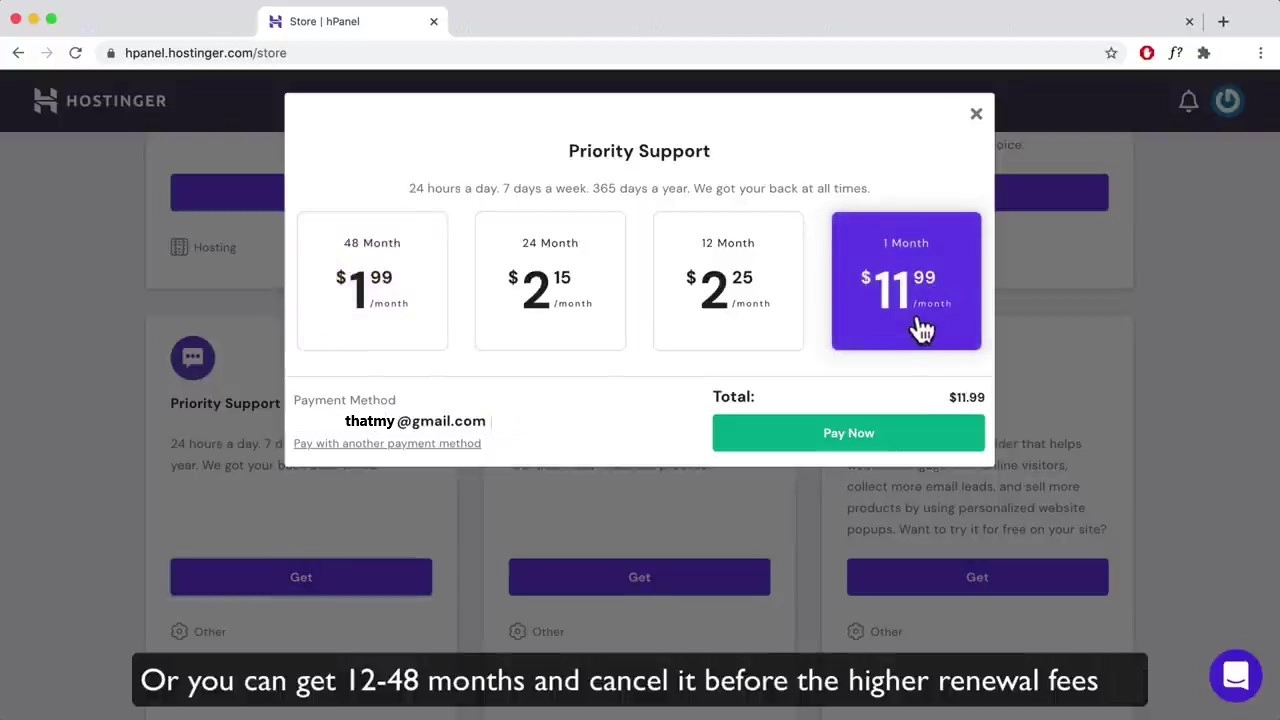 The company and many other affiliate websites claim that they are Instantly Available for help but the reality is far different.
you have to wait for a long time for their response, even they move support into a premium plan where they give that user more priority support.
Available support
Live chat: Yes
Knowledge base: Yes
Tickets: Yes
Phone Call: NO
Multilingual customer support
Customer support is an important reference indicator. If your website is down for some reason and you can't get in touch with support as soon as possible, you are likely to lose a lot of sales.
Hostinger does not disappoint, they offer a multi-lingual customer support team and use Intercom as their primary support system. However, you can only access the live chat if you are logged into your Hostinger account. To get in touch with them without logging in, please click on the Contact Us link at the bottom of the site at
The official website also has a huge knowledge base and tutorials for beginners, covering everything from building a website to everything about SEO (Search Engine Optimization), where you can find guides, information, and answers to questions.
Hostinger's Pricing
Hostinger offers five main types of hosting plans:
Shared hosting
VPS hosting
Dedicated hosting
WordPress hosting
Cloud hosting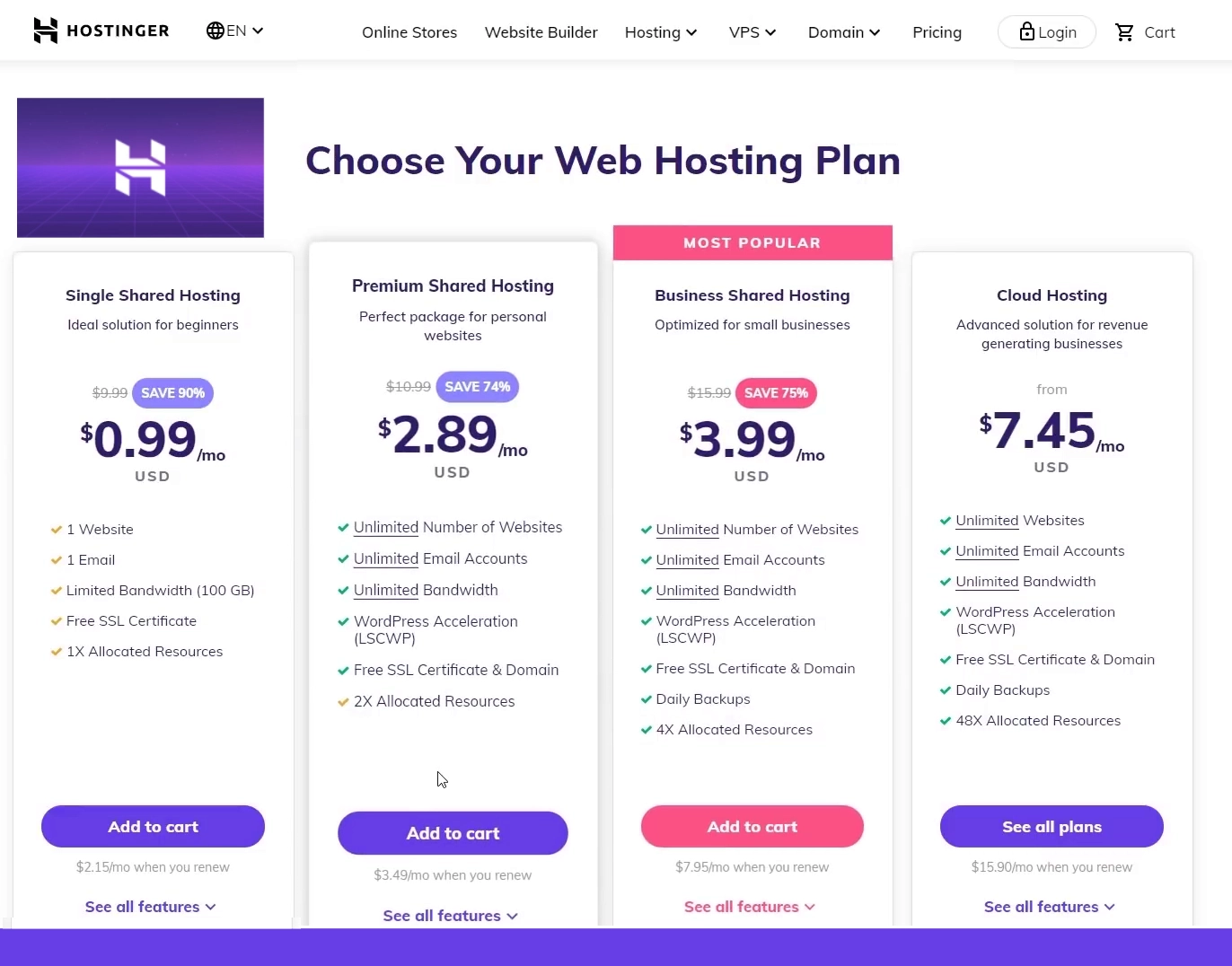 Hostinger is well known cheapest web hosting provider in the market.
But the real thing is very different, if you want to get hosting as they mention on their home page or advertisement, you need to subscribe to at least 36 months or 48-month package.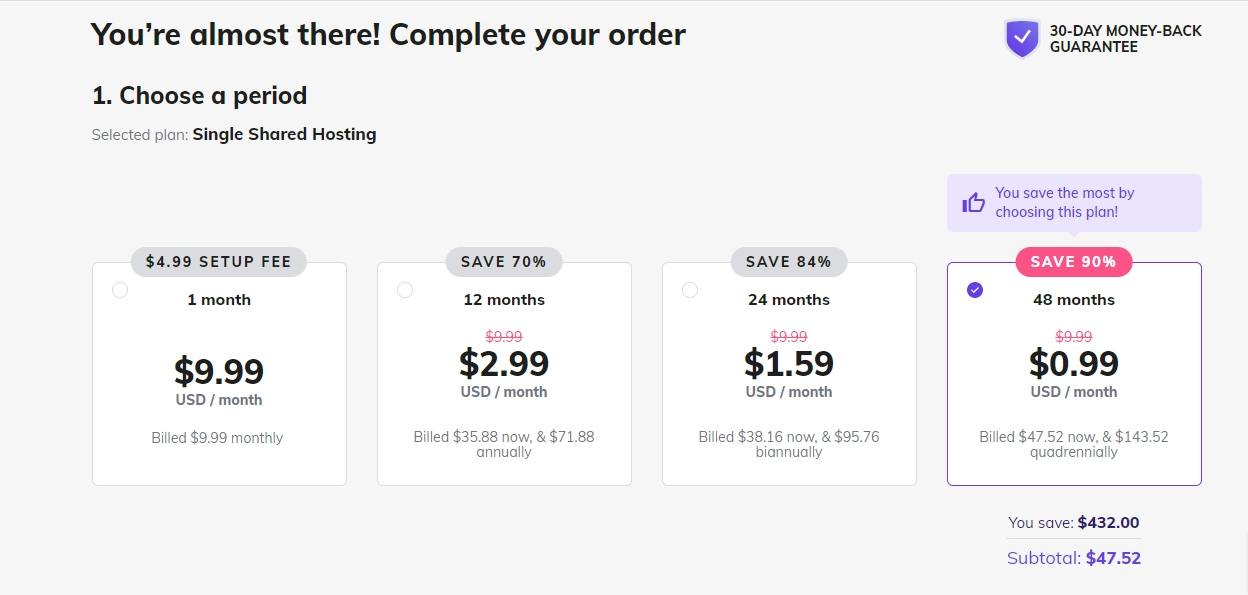 They provide Shared, VPS, Cloud, And dedicated Hosting, Shared hosting is pretty enough to meet your requirement. especially, if you're a beginner.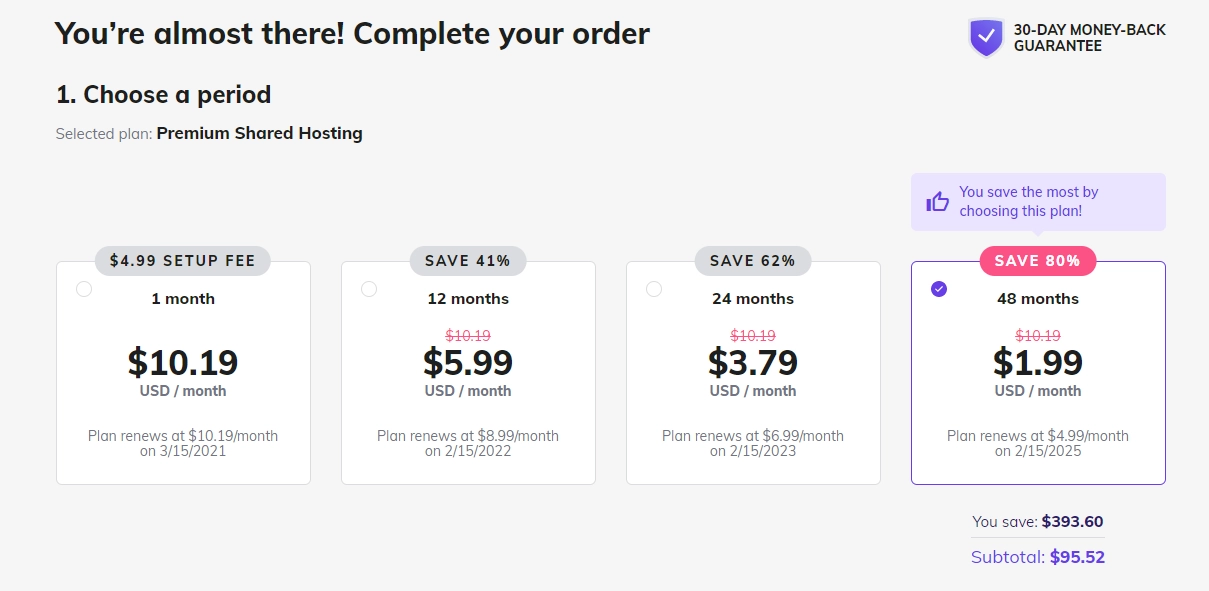 Once you start getting the traffic you can switch your plan to their Premium Web Hosting Just for $1 extra but you will get many extra benefits.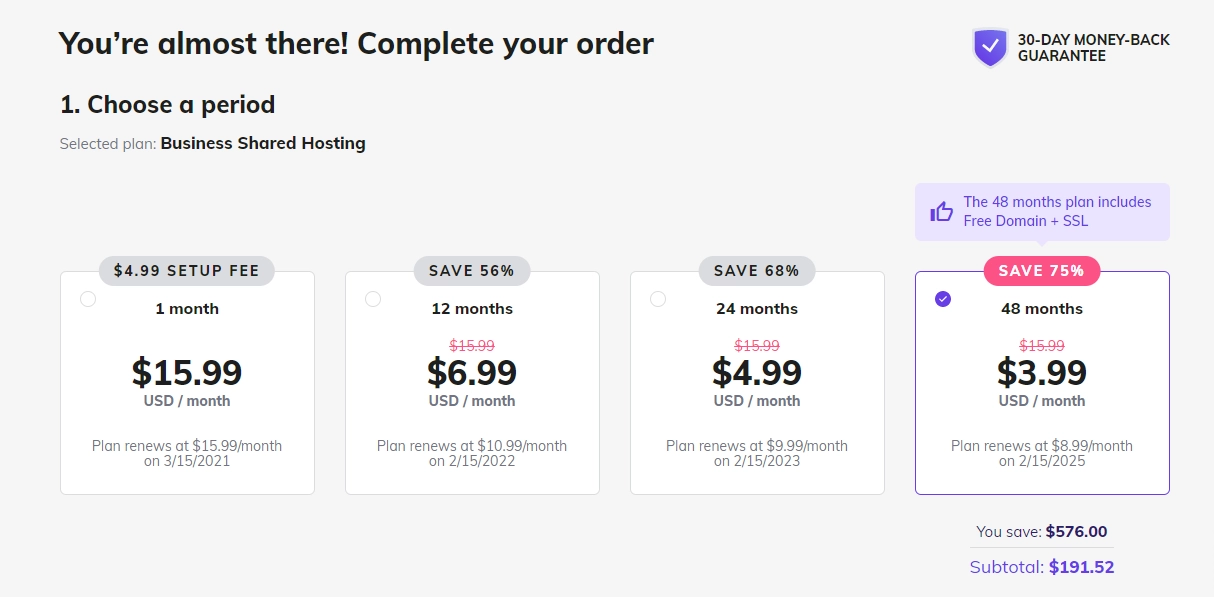 Hostinger uses industry-standard pricing, and the following chart shows their pricing scheme.
All Hostinger Promotional Prices look very attractive and they are But you also keep eyes on their Renewal rates.
They catch your attention with a low introductory rate, But Prices become even triple the price when it's time to renew your Package.
For example, SINGLE SHARED HOSTING starts at $0.99/month and renews at $2.99.
The only way to tackle this problem is to lock-in the longest term possible (48 months) as long as you can to take advantage of that lowest possible price.
Hostinger offers a variety of different payment options such as Visa, Mastercard, Discover, American Express, JCB, PayPal, Bitcoin, Maestro, and more.
They also offer a 30-day money-back guarantee, so if you think Hostinger is underperforming, then you can get a full refund anytime within 30 days.
Overall rating & conclusion
Hostinger is an affordable web hosting company that offers very fast loading speeds and uptime of over 99.95%, both of which are better than the industry average, and if you're not satisfied with their service, you can get a refund within 30 days. Also, the customer support is responsive, knowledgeable, and friendly, and you get much more than the price you pay.
Regardless of which hosting package you purchase, you get a free website builder with many different templates to choose from.
After selecting a template, you can customize all the content on the page. Happily, the site builder is also multilingual
The Premium and Business editions offer free domain names, which will save you a considerable amount of money in the long run.
Frequently Asked Questions
Is Hostinger good and trusted?

Yes, Hostinger is a good and reliable WebHost, includes is top best and fastest web hosting list

Which have better performance GoDaddy or Hostinger?

I have personal experience with both web hosting. In the case of GoDaddy. I have a very bad time for speed, renewals, and optimizations. So short answer Hostinger is much better than GoDaddy

Hostinger is cheap?

Yes, but when you are lock there period for the maximum period

Chepest plan of Hostinger?

Hostinger Chepest plan start from $0.99.

Where Hostinger servers are located?

Hostinger Server locations available all around the world: USA, UK, the Netherlands, Brazil, and Singapore.