Disclosure: This content is reader-supported, which means if you click on some of our links that we may earn a commission.
Kinsta launched in 2013, call themselves premium WordPress Hosting. With the unique purpose of building the best WordPress platform with kinsta nginx server.
In the test, we took a closer look at whether the provider is also worthwhile for smaller projects, which makes it unique, and how it compares to other hosting providers.
Their primary goal is to create kinsta wordpress hosting with speed, security, and stability.
We divided our test is into several sections, for a goal and comparative overview of what Kinsta has to offer.
For an goal and comparative overview of what Kinsta has to offer, our test is divided into several sections.
Allows you to decide better whether the hosting provider is suitable for your purposes or not because the priorities can differ depending on the project.
Advantages
outstanding performance
automatic updates and backups
Full access thanks to SSH and FTP access
SSD storage and SSL certificates included
Free Migration of a page including support
straightforward initial installation
many useful additional functions
excellent dashboard
Disadvantages
can only be used for WordPress
no emails
not a package for multiple WordPress sites with little traffic
Facility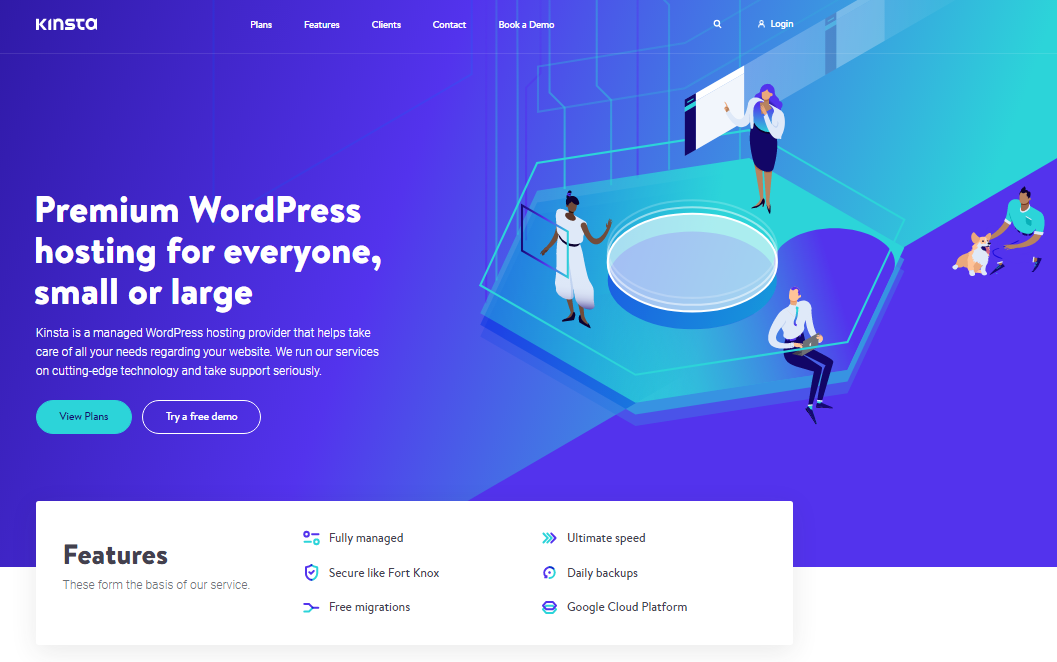 First impressions of visiting the Kinsta landing page are consistently positive. The site looks tidy, modern and of high quality.
You can find your way around and get to the overview of the hosting packages via the "Packages" tab.
Compared to other WordPress hosters, there are numerous pre-configured packages for large customers to choose from.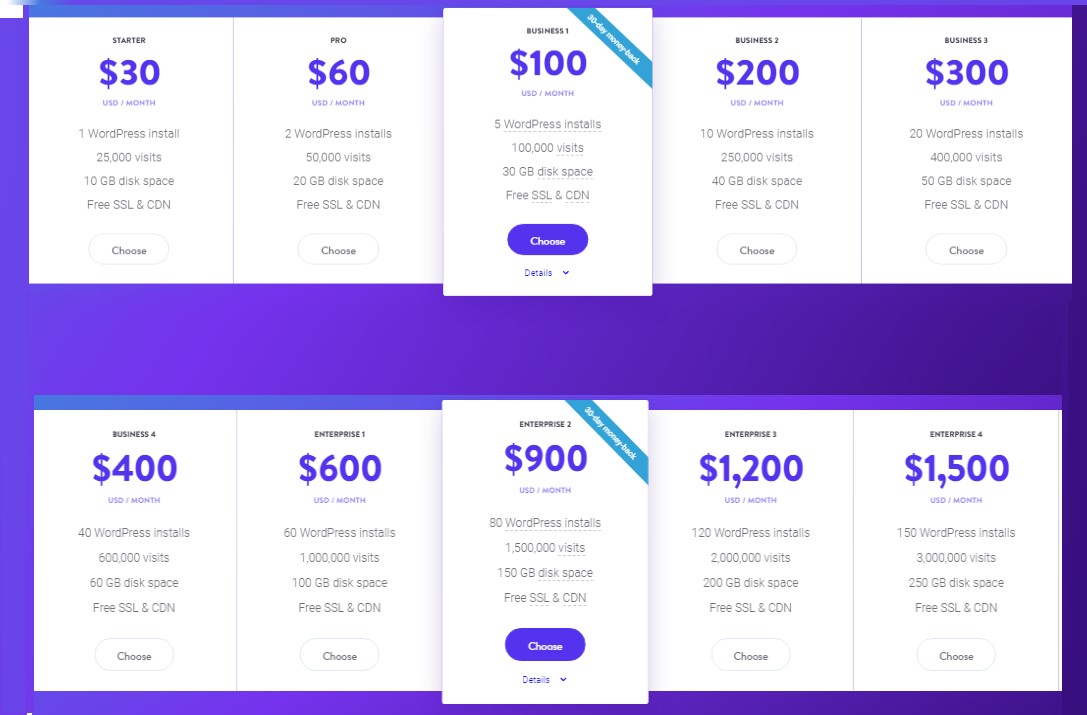 But, there are also exciting offers for small and medium-sized projects with the three entry-level packages for between $30 and $100 (with payment and booking in individual months).
Those who only need a single WordPress installation well served with the entry-level package for up to 20,000 visitors per month, because the packages do not differ in terms of performance.
If you opt for the $ 60 per month Pro plan, you get additional hosting features, with their free "White Glove Migration".
In "White Glove Migration" Kinsta team of engineers e set up your site for you.
The most extensive predefined package already supports up to 150 WordPress installations and is designed for up to 600,000 monthly visitors.
The offer covers everything from the individual WordPress site to the needs of large agencies. What is missing, however, are packages for small and medium-sized providers who operate only a few pages, but which have many visitors and generate high traffic. So if you only run one or a few sites with high traffic, you won't find anything at Kinsta.
With a click on the desired package and the payment method (monthly or yearly), you get to the payment and can then log into the dashboard immediately. WordPress installation can be set up via the "Sites" tab.
Only a few details such as the page title, admin username and the language of the WordPress installation have to be entered. Particularly positive: the location of the data center can be selected from over 20 different international locations (including US, Berlin and Frankfurt in Germany and Zurich in Switzerland). This allows the performance of the site to be optimized for the leading target group. Besides, the three popular plugins 'WordPress Multisite' (from the PRO package), 'WooCommerce' and 'Yoast SEO' can be added directly during the initial installation so that you don't have to install them manually later.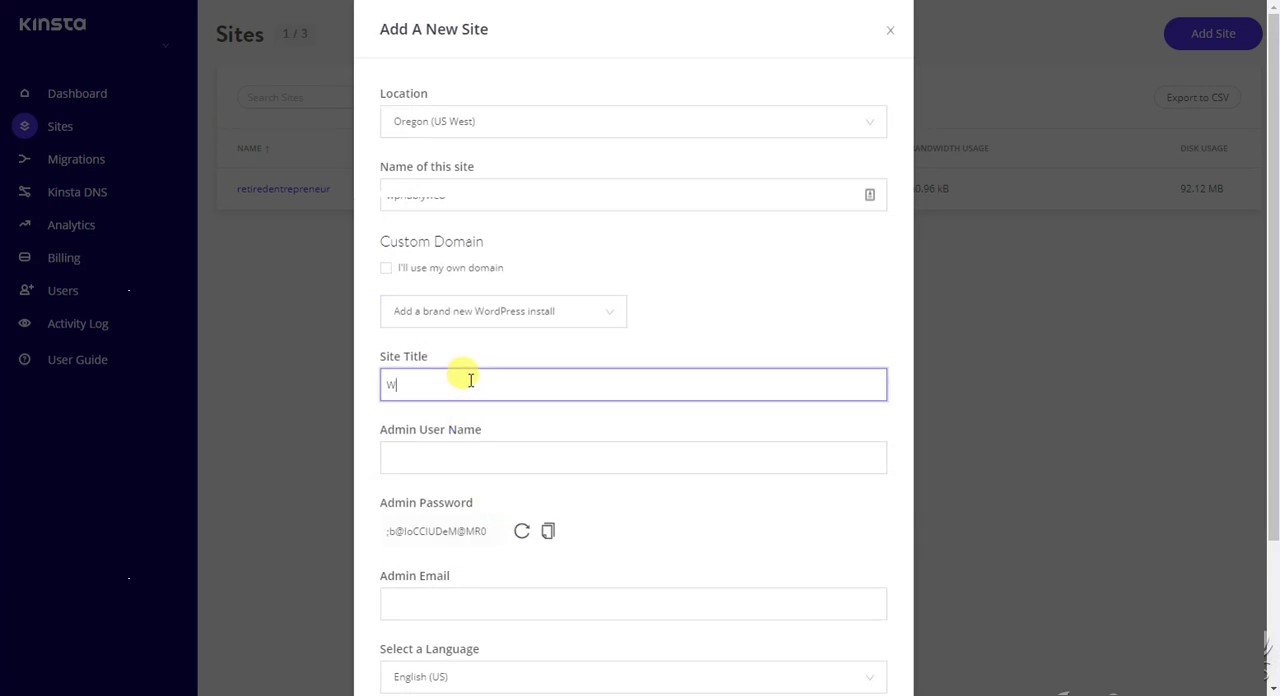 After the installation, which took about five minutes for us, details on the page can be found in the dashboard. For this purpose, there is another navigation menu available on the left-hand side, via which you can quickly log into the WordPress admin backend, view analysis data, create users, install plugins, manage backups and access various tools.
Kinsta solved the initial setup brilliantly. Only a few steps are necessary, the most important things can be set manually and the selection of the data center location, in particular, is a feature that most other providers do not offer. This makes Kinsta especially interesting for everyone who runs different sites with different international target groups.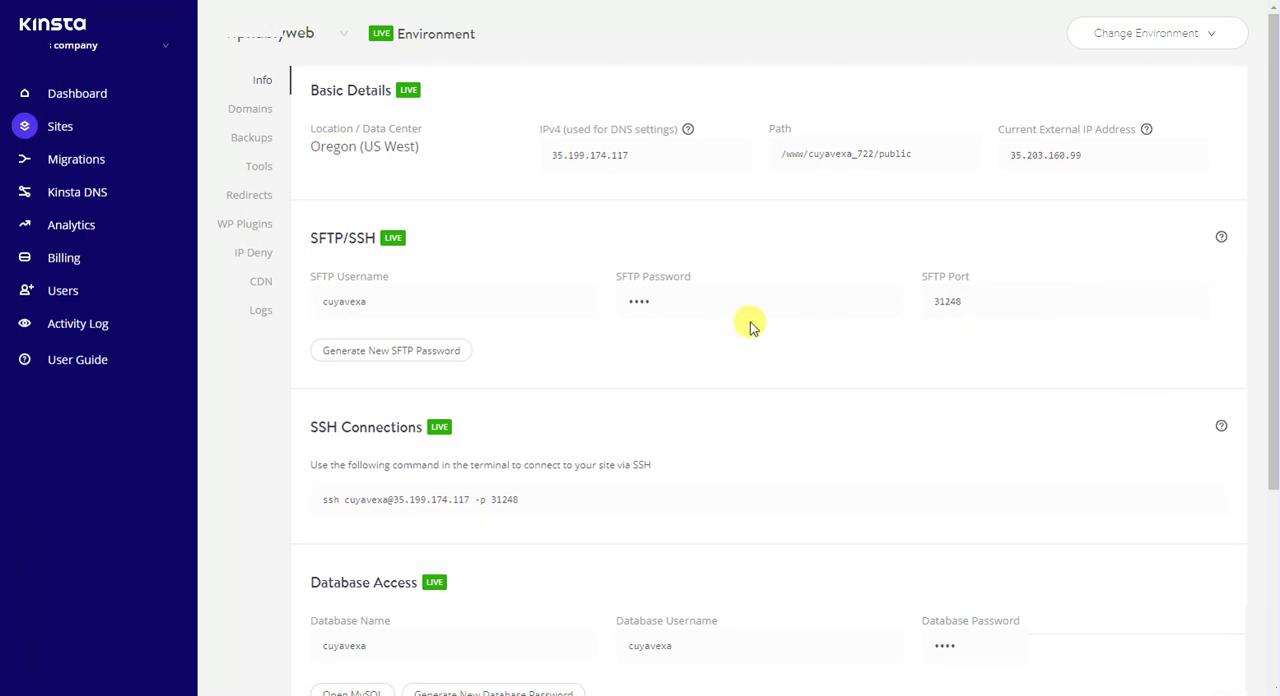 The clear design of the dashboard leaves little to be desired, and the automatic installation of the three most used plugins saves additional effort.
User interface & ease of use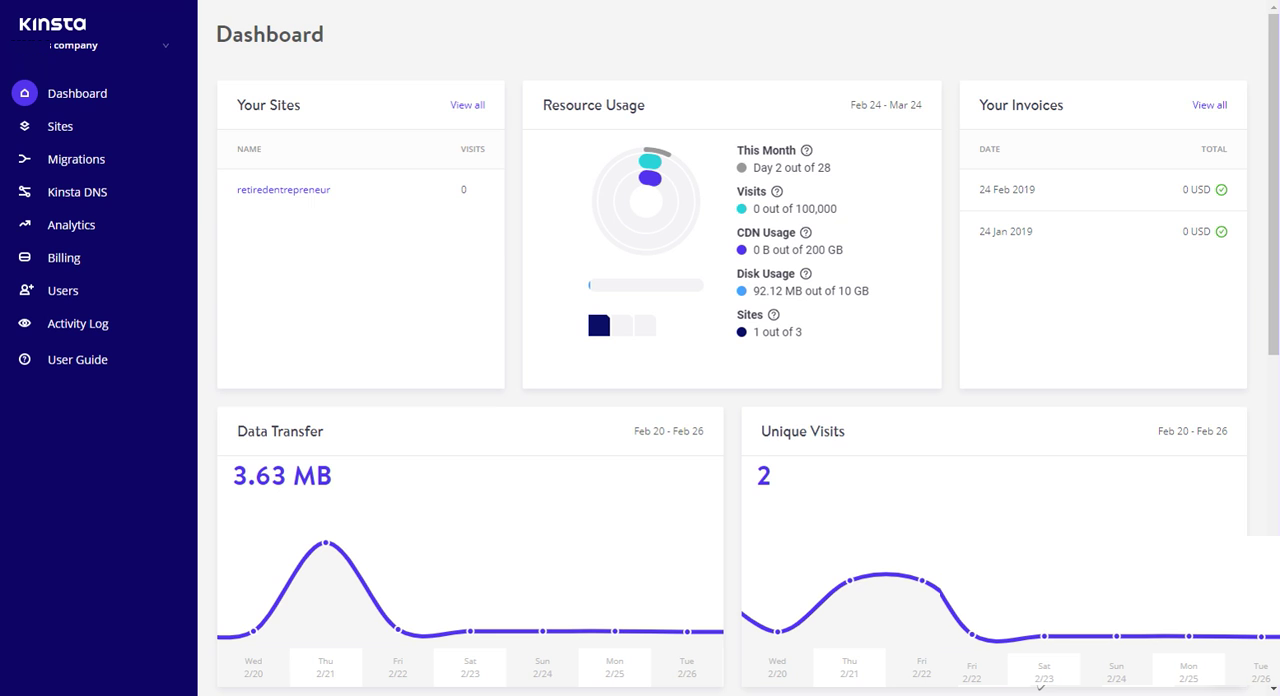 When it comes to menu navigation and navigation, Kinsta surpasses almost all other providers on the market. Despite extensive functions, the navigation is always intuitive, there is a separate submenu for the most important settings for the WordPress site, and all important features can be reached with a maximum of two clicks. It couldn't be better.
All information, analysis data, access data to FTP, SSH or the database, are displayed and processed. From our point of view, there were no weak points in the operation, so there is absolutely nothing to criticize in terms of ease of use.
Features & customization options
The overall functionality of the Kinsta dashboard is excellent. A few small things, such as creating cron jobs, are missing, but all important features are available. Also, Kinsta offers a few unique features that make it even easier to manage and maintain the installation.
The separate submenu for the individual WordPress installation gives you quick access to important functions such as cache management, setting up the free SSL certificate and managing the backups. Click on the "Tools" area to access the advanced functions and monitoring tools. Here, for example, individual variables in the database can be exchanged with just a few clicks, making a domain move much more comfortable. You can also use this submenu to perform a PHP restart and start the PHP monitoring tool 'New Relic Monitoring'.
Since you have full access to the installation, you can, of course, make any changes to the WordPress installation. The most important settings can already be adjusted in the Kinsta dashboard. The rest can be done manually via SSH, FTP and admin access to WordPress, if necessary. Kinsta does not have any restrictions on installing plugins or adapting php files.
In addition to the basic features, Kinsta offers several additional features that set the premium WordPress service apart from most other hosting providers on the market. This also includes, for example, simple switching between the live and staging environment, which makes it easy to test changes without jeopardizing the functionality of the live installation.
We have summarized the essential features of Kinsta for you in the following.
Special features at Kinsta
Content Delivery Network (CDN)
If desired, a CDN can be set up very easily in every package, via which website data such as images, videos and other media are made available separately from the main installation. 50 GB are already available in the entry-level package. In the most extensive package, there is a whole 1,000 GB.
Full FTP and SSH access
FTP and SSH access are available, users have already been created, and the access data can be found quickly in the overview.
Staging environment
The button in the upper right corner takes you directly to the staging environment, where changes to the page can be tested very easily and, if necessary, transferred to the live version.
Search and Replace
This useful function makes it possible to change data sets and values ​​in the entire database at all positions with just a few clicks. It is instrumental when moving a domain.
Free Migration
Migration to Kinsta is entirely free in the original package - including support. Kinsta is also advised of redirection of the domain until Migration
is completed.
kinsta Elasticsearch
The kinsta Elasticsearch service is a fully managed service that makes it easy for you to deploy, secure and run Elasticsearch cost effectively at scale. You can build, monitor and troubleshoot your applications using the scale of the tool you required.
SSD and SSL free of charge
Even the entry-level package already includes a free SSL certificate and a fast database connection via SSD including 5 GB storage.
Data center location selection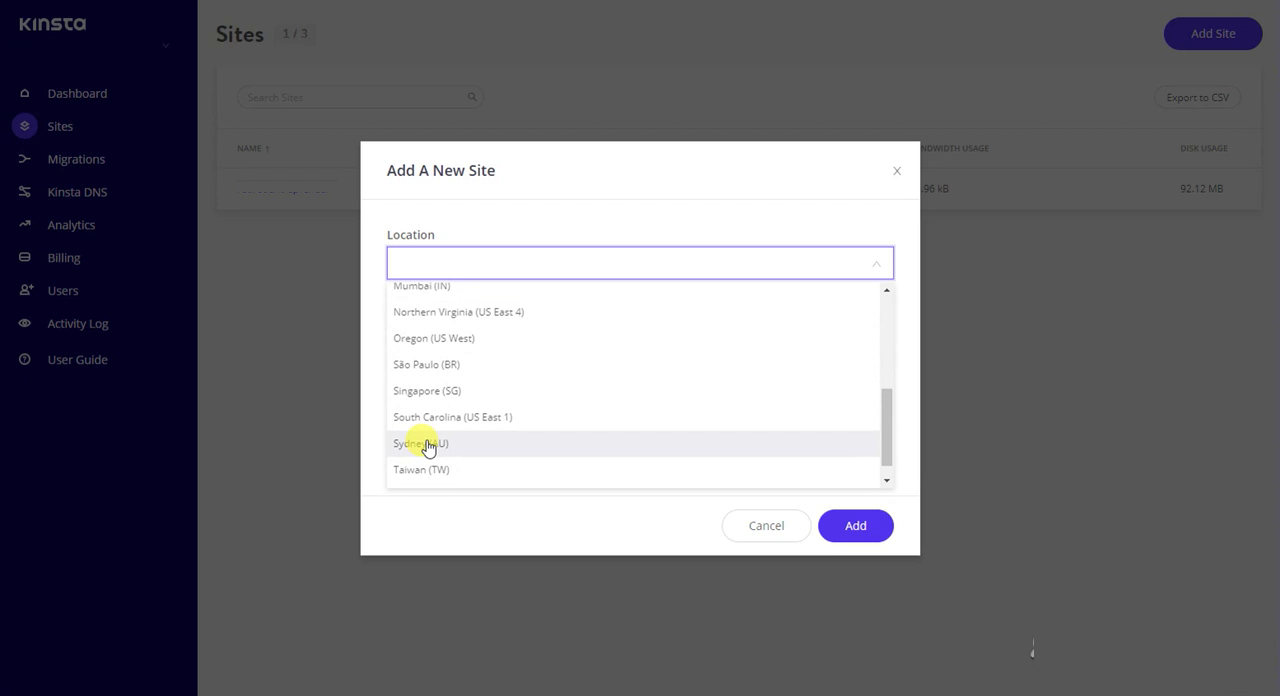 The data center location for each individual WordPress installation can be chosen independently from more than 20 international locations.
Multisite support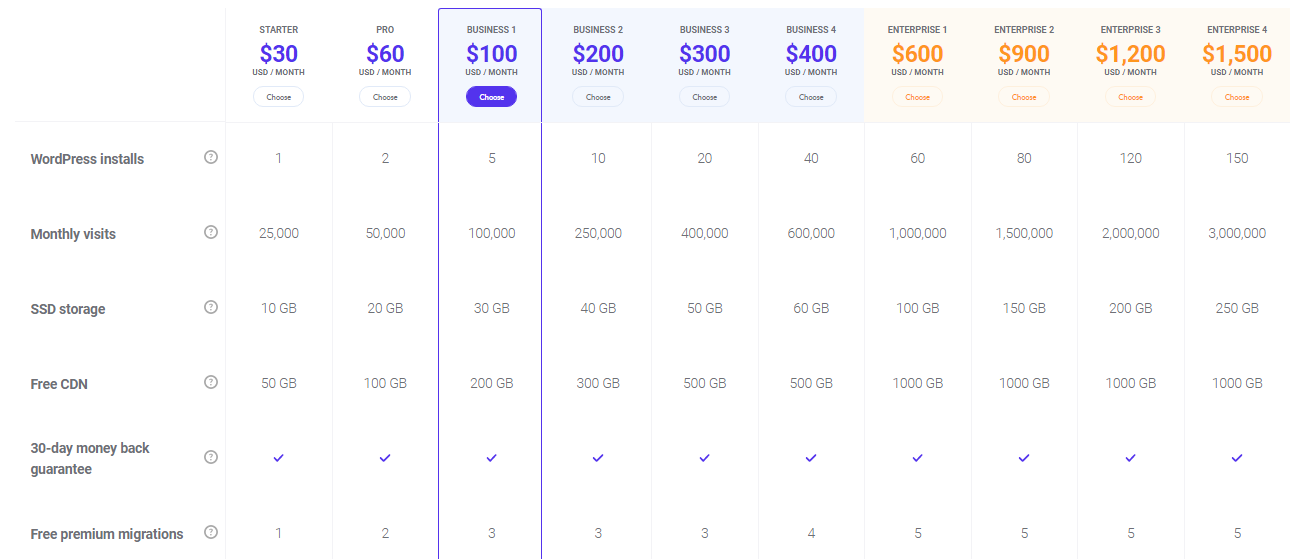 From the PRO package, multisite support is available for every WordPress installation.
Here we have only listed the features that are not a matter of course for a WordPress hoster anyway. It is worth mentioning that almost all of them (with a few exceptions such as multisite support) are already available in the starter package. Kinsta offers more features and customization options than almost any other provider on the market, so it's almost perfectly positioned.
performance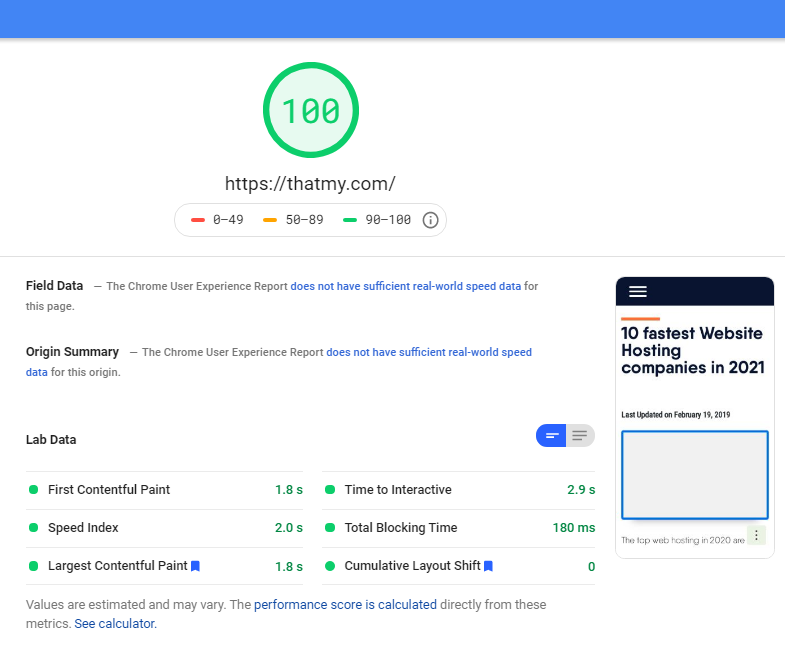 Kinsta's performance is outstanding. WordPress installations are much faster here than with most other hosting.
Our Google PageSpeed ​​Insights analysis with the standard page also confirms this, because here the test page achieves a performance value of 100 on both mobile and desktop.
Awe-inspiring is the fact that even our test site hosted in Frankfurt almost always achieved TTFB values ​​below 300 ms from different locations internationally, according to the Bitcatcha report.
The consistently good performance is not only due to a fast server connection but also to the fact that the database can be accessed thanks to SSD hard drives very quickly. Additionally, thanks to NGINX, PHP 7 and Maria DB, the hosting has specialized fully in WordPress. Since the Google Cloud operates Kinsta, scaling is also possible at any time as required, so that consistently good performance is guaranteed even with pages that are growing. Even those who have high demands on the speed of their WordPress site will get their money's worth with Kinsta. This applies, in particular to websites that are accessed worldwide.
security
In addition to the standard security tools such as restores from backups up to 20 days old and free SSL integration, Kinsta also takes other measures to ensure that your WordPress installation meets the highest security requirements right from the start. There is automatic DDoS detection, hardware firewalls and extensive analysis and monitoring tools with which the installation can be monitored in great detail. The server software is always automatically kept up-to-date, and support is available to assist you immediately in the event of a hack.
In detail, Kinsta offers a whole range of additional functions that run in the background without the end-user noticing. Critical security updates from WordPress are also installed automatically. The little things, such as the requirement for strong passwords or two-factor authentication (optional), also contribute to the very high-security standard.
Even if you don't deal with the topic of security or just a little bit, KINSTA makes sure that its website is much better than most pages on the net in this context. It could not be better.
Mobile use
The entire environment can be used solely on the move.
All functions can be accessed without restrictions on both smartphones and tablets.
Comfortable and good navigation comes into its own on mobile devices and ensures that pages are fully monitored and controlled at all times, even on the move.
Although some areas with larger fonts appeared here and there that were cut off in portrait view on smartphones, this did not affect functionality. The bottom line is that Kinsta offers an exemplary mobile platform that most competing providers must learn.
Support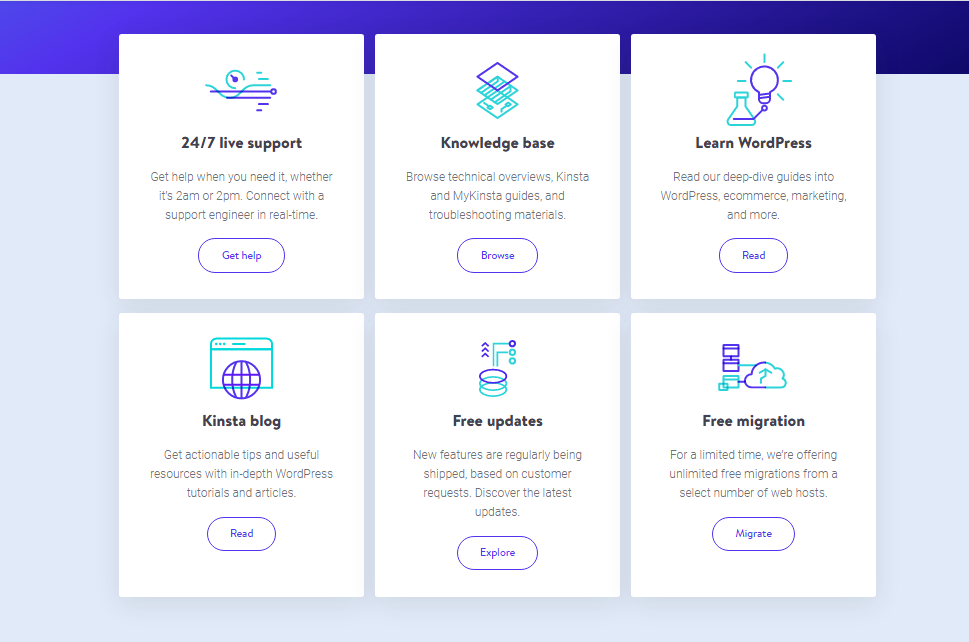 A lot has happened at Kinsta in terms of support for non-native customers in recent years; another language customer service is now available between 9 a.m. and 5 p.m. Unfortunately, the 24-hour support is only available in English, but there is a knowledge base available for other languages in the Kinsta dashboard. It is well structured, sensibly structured and contains the right answers to many questions that a user asks.
Overall, the support can be described as "good" throughout, In the test inquiries via live chat or via email were answered quickly, 24-hour live support is available will contact Kinsta customer service be consistently satisfied.
price
If you are looking for an exceptionally cheap hosting option for your WordPress site, It will not find it at Kinsta. It only starts at $ 30 a month. ($25 if paid annually) comes with 1 WordPress install, free SSL CDN, and 5 GB of disk space, well-suited for~20,000 monthly visits.
If you have substantial business and need to scale your hosting as your business grow, then they have a tier of 10 different plans series.
as your requirement increase, you can increase your number of websites, SSD storage, and monthly visitors limits.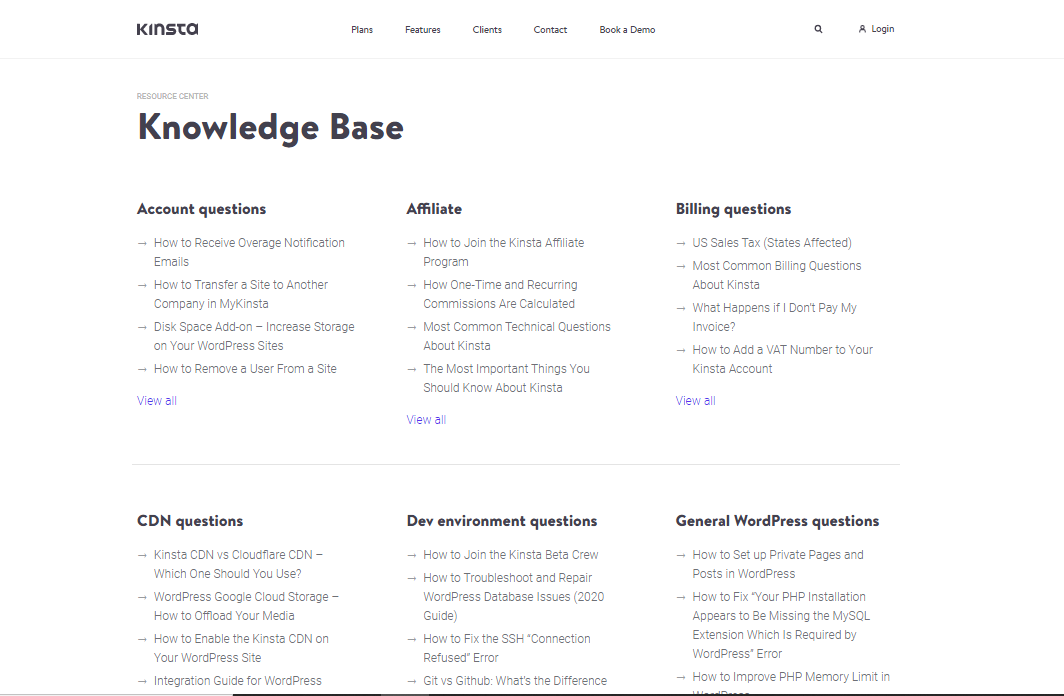 Each plan comes with its powerful cache plugin with free unlimited Migration from multiple different hosts, automatic daily backup, manual backup points and 24/7 instant support.
This may make hosting less interesting for small projects. But suppose you value straightforward administration, good support, excellent performance even with many daily visitors and a high-security standard. In that case, you will not pay too much with the entry-level package. The price-performance ratio is excellent overall, because the problem-free scalability, the simple integration of SSL certificates, the unrestricted access to all content and numerous additional functions, there are good goods for the money, especially for demanding users.
Overall rating & conclusion
Kinsta promises professionalism - and delivers it too. There are only a few starting points for criticism because the provider can convince without reservation in all of our test categories, from performance to support. If you have high standards and want to run multiple websites with high traffic, Kinsta is the right choice. For website operators who only want to operate a small page or a few pages with many visitors, there are, on the other hand, cheaper providers that are better tailored to their projects.
If you'd like to try Kinsta, it's free for 30 days. If you are not satisfied with the offer, the provider will refund the entire purchase price. However, Kinsta does not offer a free test phase in the form of trial access.
Customer rating
The fact that Kinsta enjoys a high reputation among its existing customers is reflected in the customer ratings and is also reflected in the fact that the hoster looks after many significant customers, some of whom operate hundreds of individual WordPress sites.
Conclusion
The only question is, which side are you going to pick?
Let me know in the comments.