Disclosure: This content is reader-supported, which means if you click on some of our links that we may earn a commission.
The WordPress website speed can vary greatly, depending on the provider and plan you choose. This is because when you install WordPress, your hosting speed drops dramatically due to PHP and MySQL interaction. For this reason, it's important to choose a fast WordPress hosting provider.
WordPress Hosting is a type of web hosting service that is specifically designed for WordPress websites. It is a more secure and powerful hosting option that is specifically optimized for WordPress websites.
Some WordPress hosting providers have different speeds based on the plan you choose. Plus Not all hosts are created equal, so it's important to do your research to find the fast WordPress hosting for your business.
Nobody loves a slow WordPress website. When a webpage takes too long to load, not only does Google notice, but users prefer to move on and find another page that answers their questions more quickly.
But only one fix can enhance your WordPress website speed by more than 75% by selecting a fastest WordPress hosting for your website.
When looking for a fast web host, it's important to consider the page speed test results. This tool measures hosting performance and can be used as a guide to select a suitable provider.
Fast hosting is key to keeping visitors on your site, so by offloading images and scripts to a content delivery network, you can see considerable improvements in page speed.
But I conducted all the tests without a CDN to get accurate results for server speeds alone.
When it comes to finding the fast WordPress hosting, you have a lot of different options to choose from. In my tests, I looked at four important metrics:
Load Times
TTFB (Time to First Byte)
Server Stress Test Response Times
Server Response Times from different locations.
Here are the results of my tests:
7 Fastest WordPress Hosting Providers in 2022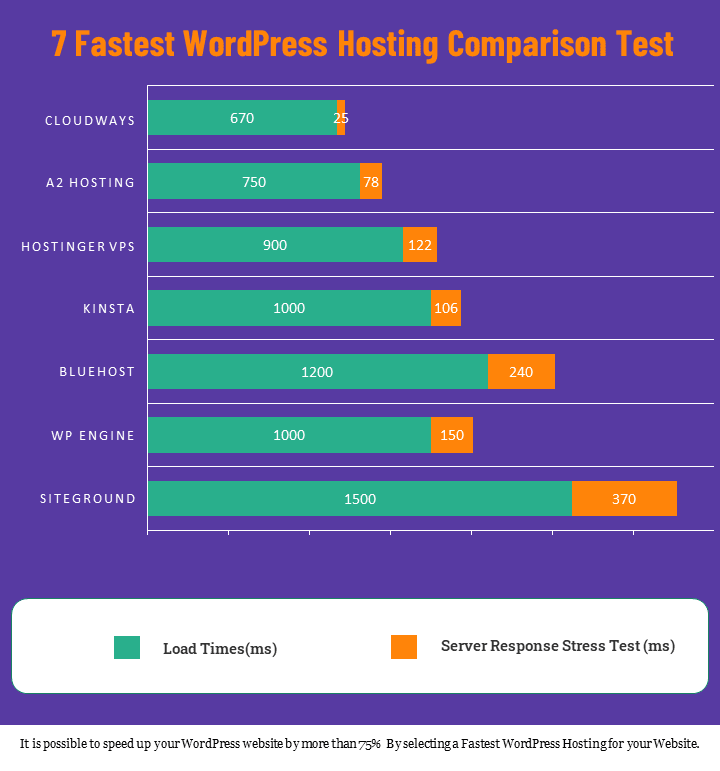 The 7 fastest WordPress hosting companies in 2022. All of these providers offer great features, reliability, speed, and customer support.
The fastest WordPress hosting



Cloudways is the fastest WordPress hosting provider for the majority of users. Because they have a sophisticated WordPress platform and high-speed servers that can handle high-intensity traffic, you can be sure that your website will be up and running smoothly no matter how much traffic you get.

The $30 promo code "CLOUDS2022" can be used for a free trial period. You only need to verify your card with $1, and you don't have to worry about automatic renewal or deductions. They don't charge automatically- you have to add credit to their wallet. This makes it a very user-friendly service.
Get The Best Deal
As a web hosting expert, I'm always interested in the latest page speed test results. So I was happy to see that the new WordPress services are now available. I gathered the data below from each hosting company's page speed test section, showing the page load time and key metrics for each web hosting service.
The hosting company you choose is critical to the success of your website. A reliable hosting provider keeps your site up and running and helps you prevent downtime.
This guide explains the fastest types of web hosting for various scenarios. Use these reviews to find the fastest web host for the least amount of money.
I compare the best web hosting providers' speeds and performance for different hosting types, websites, and locations with hosting stress tests, which involve sending multiple requests to a server to find out how their server handles the traffic.
I update this list every few months, so bookmark this page if you want to know which hosts are currently the fastest.
The following is a list of the 7 fastest WordPress hosting providers consider using 2022
#1. Cloudways: The fastest WooCommerce hosting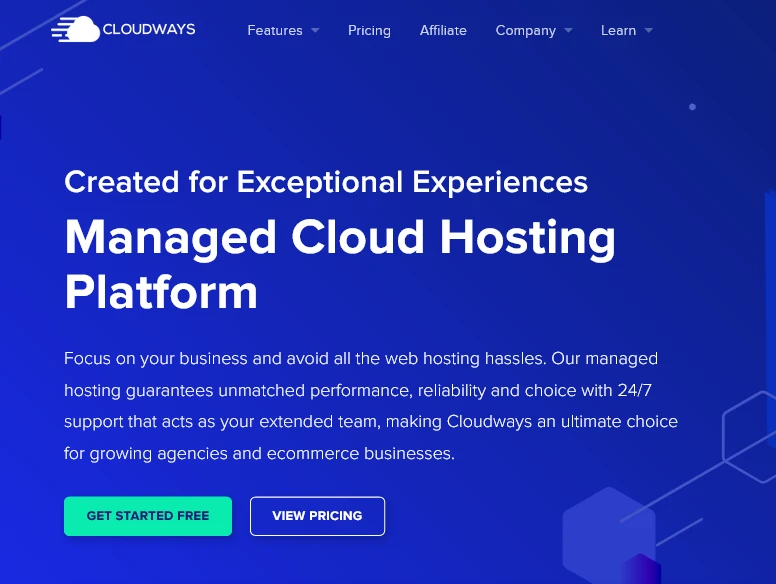 When looking for the fastest WordPress hosting service, it is important to consider both your budget and your speed requirements. Some services are more expensive than others, but may provide faster speeds. Other services may be less expensive, but may not be as fast.
Cloudways has the fastest response time for WordPress websites in the world with their high-speed server provider that starts with a $10/month DigitalOcean plan. plus a backup facility charge based on your storage capacity.
Cloudways cloud plans are fully customizable, based on your needs. I like their cloud options because the plans are tailored to meet your specific requirements. Whether you need a small or large plan, Cloudways has a plan that will work for you.
Almost every host on the market offers its own network, while Cloudways, instead of providing its own network, connects you to one of the five major fast hosting cloud providers, including Amazon, Google, DigitalOcean, Linode, and Vultr.
You can choose the size of server, type of software, and how much storage and bandwidth you need. This makes it easy to find a plan that fits your needs without paying for more than you need.
Cloudways has a unique infrastructure that sets it apart from other WordPress, Magento, and PHP hosting providers. Almost every host on the market offers its own network. Cloudways, however, does not provide its own network; instead, it connects you to one of the five high-speed servers.
Cloudways can also be a great choice for hosting your WooCommerce store. Cloudways provides the fastest response time worldwide with their high-speed server provider. Their servers are incredibly fast and provide unlimited scalability, so your store can grow with your business. In addition, Cloudways is optimised for WooCommerce, so you can be sure your store is running quickly and smoothly.
With Cloudways, you can set up your online store quickly and easily, without any hassle. Whether you're just starting out or you're already a well-known store, Cloudways is the perfect host for your WooCommerce store.
A CDN is one of Cloudway's managed WordPress services, as well as staging areas or clone environments where you can test new updates before putting the changes into place on your live site. Cloudway also automatically updates your site's security.
Now we'll see the results of their server tests.
Page Speed Test.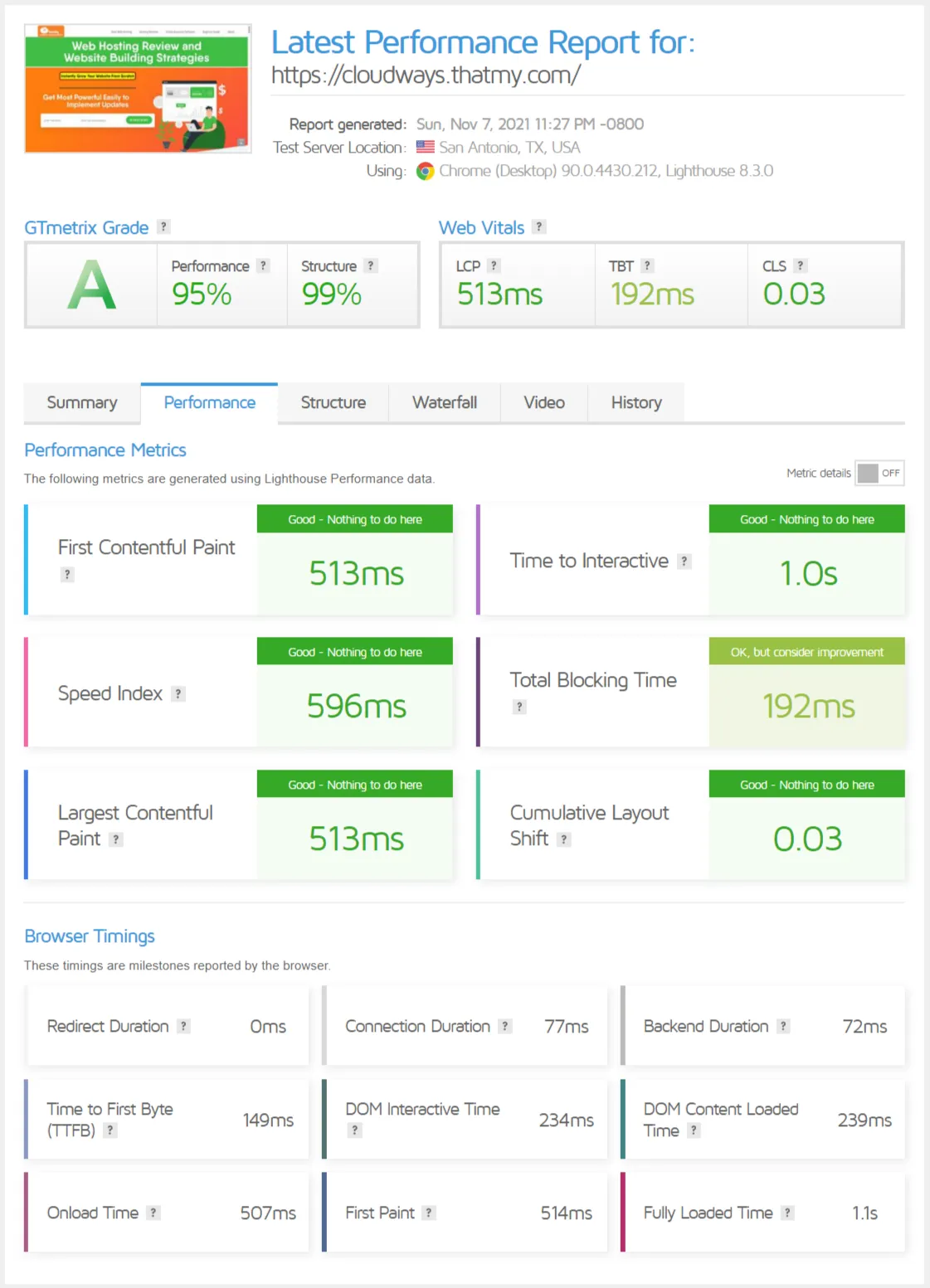 Sydney, Australia: 830ms
New York, USA: 871ms
Los Angeles, California, USA: 795ms
Toronto, Canada: 846ms
London, UK: 720ms
Singapore:745ms
Initial Connection Time
Cloudways high-speed WordPress hosting responded exceptionally well, with server speeds that were way faster than other hosting providers.
They take only 77 ms for the initial connection.
Time to First Byte (TTFB)
With very fast hosting servers, Cloudways can dilute the first byte by 149 ms.
loading time on average
Cloudways is an excellent host, highly optimized for performance, taking only 1 second to load a heavy page.
Best WordPress Plan
Cloudways offers high-performance servers that are suitable for your needs. I picked up DigitalOcean's starting plan of $10 per month for the best value.
Cloudways is a Pay-as-You-Go WordPress hosting solution; you only pay for the resources you use.
CloudWays is the only hosting company where you can pay on an hourly basis. You don't have to deal with website maintenance and management, and you can focus on your business's growth and scalability.
When joining with Cloudways, click "Got a Promo Code?" and apply the discount code CLOUDS2022 to get a $30 credit for the first time you use it, all you need to do is show that you have a credit card that costs $1.
Once you get more than 30,000 unique visitors per month, you can switch to Linode.
#2. A2 Hosting: the Fastest cPanel Hosting for WordPress.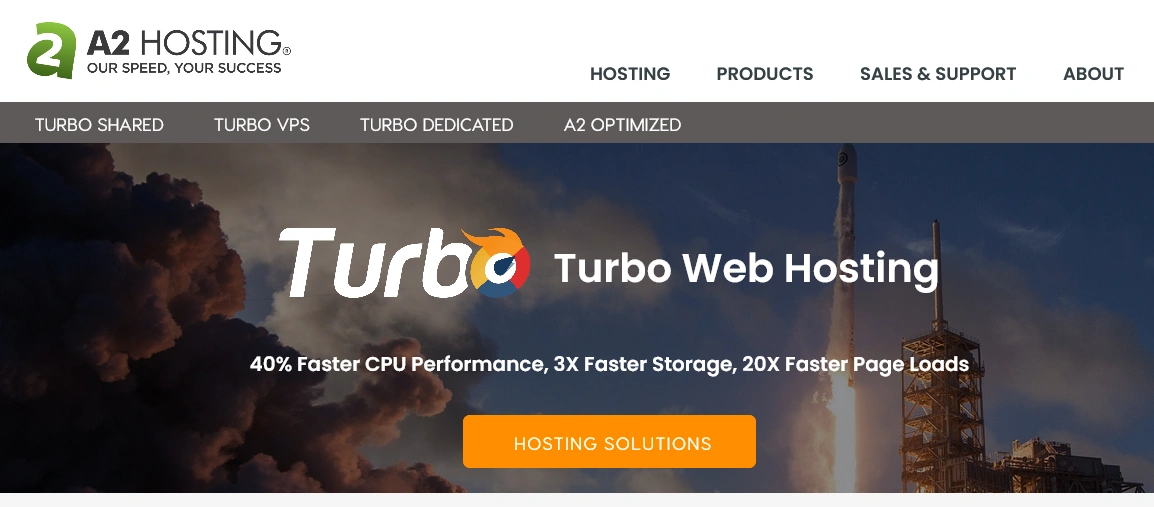 A2 Hosting is the fastest WordPress hosting with speeds up to 20x faster than the competition. OpenLiteSpeed is the fastest server in the world and with their NVMe SSD Storage, it is even faster. If you are looking for the fastest WordPress website hosting, look no further than A2 hosting.
With Turbo Boost servers, your site will be able to load quickly and give ytheir visitors a good time. Our customer service is top-notch, so you can be sure any problems you have will be quickly solved.
A2 Hosting is the fastest WordPress hosting provider in the industry. Full loaded times are only 0.7 seconds, and the largest contentful paint is only 200 milliseconds.This makes it an ideal choice for sites that need speed and reliability over data center dwellers.
A2 Hosting offers the fastest cPanel hosting with top-notch security. Their web servers (OpenLiteSpeed) are specifically optimized for WordPress, so you don't have to worry about ytheir website slowing down. The company also offers several features that will make managing ytheir WordPress site a breeze.
Their high-speed server is perfect for bloggers and businesses who are looking for improved website performance. They are the fastest web hosting companies because they have features that other companies don't have at the same price.
They never compromised on their speed and performance for their users. Their hosting is also configured to be highly compatible with WordPress. This makes them the perfect choice for anyone looking for the best possible WordPress experience.
A2 Hosting is my top recommendation for web hosting as they are beginner-friendly and have a superb user experience. Plus, they're trustworthy and provide easy-to-use tutorials and assistance when you need it.
Page Speed Test.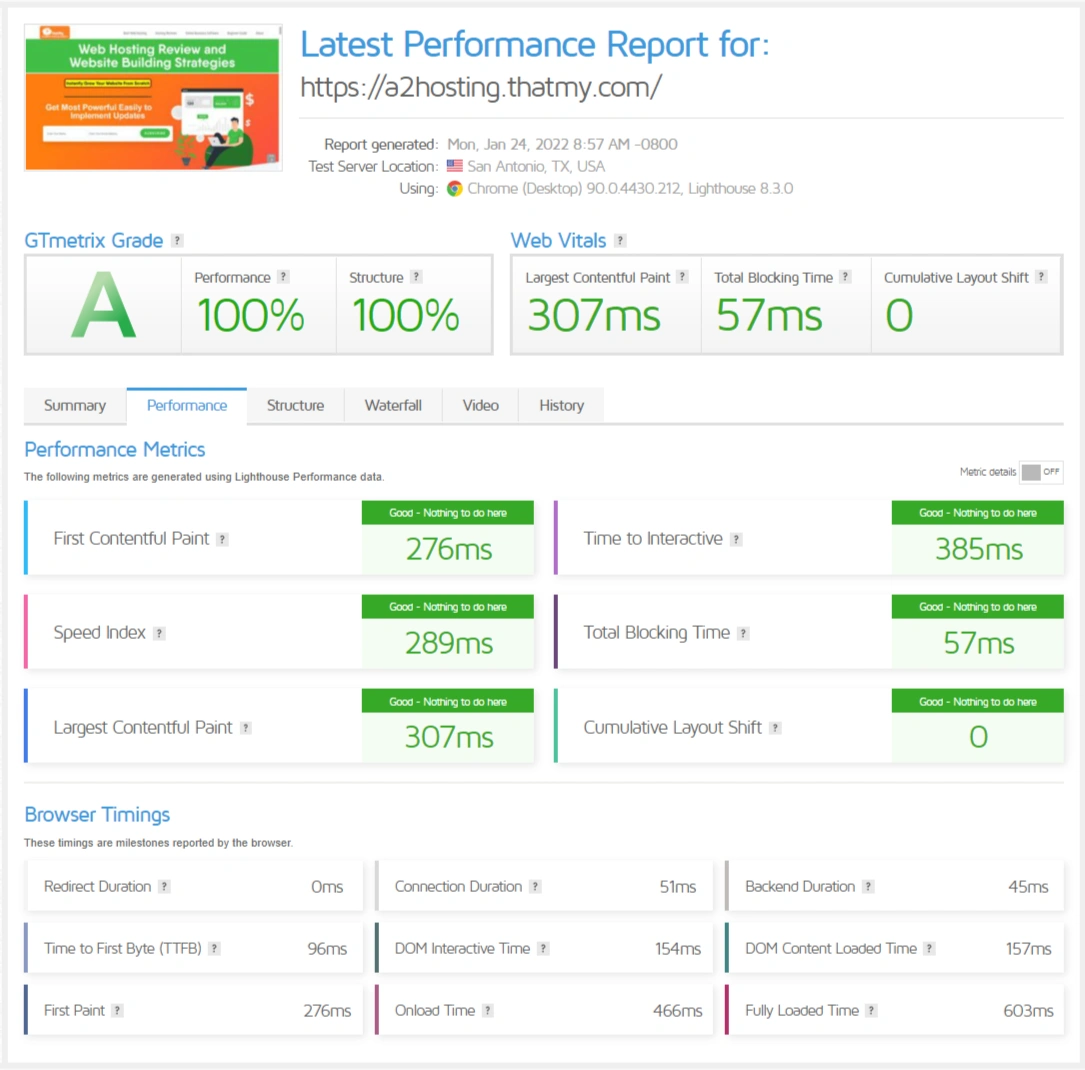 Sydney, Australia: 0.90 seconds
New York, USA: 0.87 seconds
Los Angeles, California, USA, 0.88 seconds
Toronto, Canada: 1 second
London, UK: 0.92 seconds
Singapore: 0.89 seconds.
Initial Connection Time
A2 Hosting's server performance is incredibly fast, even when running scripts and plugins. For every test I ran, the server responded consistently, with no noticeable lag. WooCommerce pages tend to be quite resource-intensive, so it's great to see that A2 Hosting can handle these pages quickly and smoothly.
A2 Hosting delivers blazing-fast WooCommerce hosting. In my tests, the average connection time was just 150ms. That's faster than any other host I tested.
Time to First Byte (TTFB)
If you're looking for a web host with lightning-fast response times, you'll want to check out A2 Hosting. TTFB speeds are less than 220 ms, which is incredibly fast. In fact, they're the only host that's even close to that mark. So if you're running an online store with WordPress and WooCommerce, you can't go wrong with A2 Hosting.
A2 Hosting is the clear winner when it comes to TTFB performance. Their response time for WordPress service is unbeatable. No one comes close in terms of speed and reliability.
loading time on average
A2 Hosting is the fastest WordPress hosting provider. They are built on cloud hosting, which gives them an edge over other providers. Their servers are powerful and can handle a high volume of requests without any issues.
I tested their server response time and found that it was less than 180 ms for 250 requests. This means that their servers are well-optimized for WordPress and can handle a large number of requests without any problems. I also pulled 40 MB of data in 1 minute, which shows that their servers are really powerful. If you're looking for a fast and reliable WordPress host, then A2 Hosting is a good choice.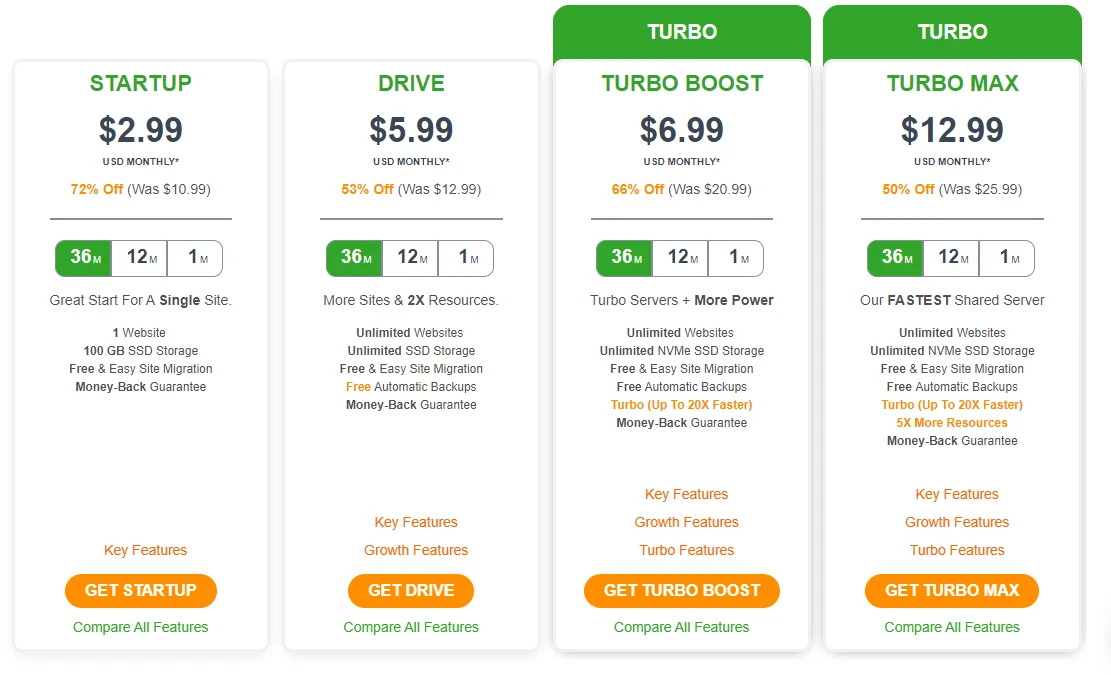 A2 Hosting is a great web hosting company that offers high-speed performance for WordPress sites.
Their cheapest plan starts at $3.92 per month, and they have an anytime money-back guarantee for unused service.
A2 Hosting is a great web hosting company with affordable pricing. If you have multiple websites, I recommend the 1-year Turbo Boost plan. It's only $119.88 a year, but there's also a promotional offer of $215 for 3 years. That's an amazing deal that you shouldn't pass up.
If you're looking for a fast and affordable web hosting plan, I recommend the A2 Hosting 3-year Shared Web Hosting Startup plan. It's only $107 a year, and a year's subscription is only $83.88.
A2 Hosting also offers a variety of other web hosting plans, so you can find the perfect one for your needs. Plus, they offer a wide range of features, including unlimited storage, bandwidth, and domains.
#3. Hostinger: Fast, reliable, and great customer service.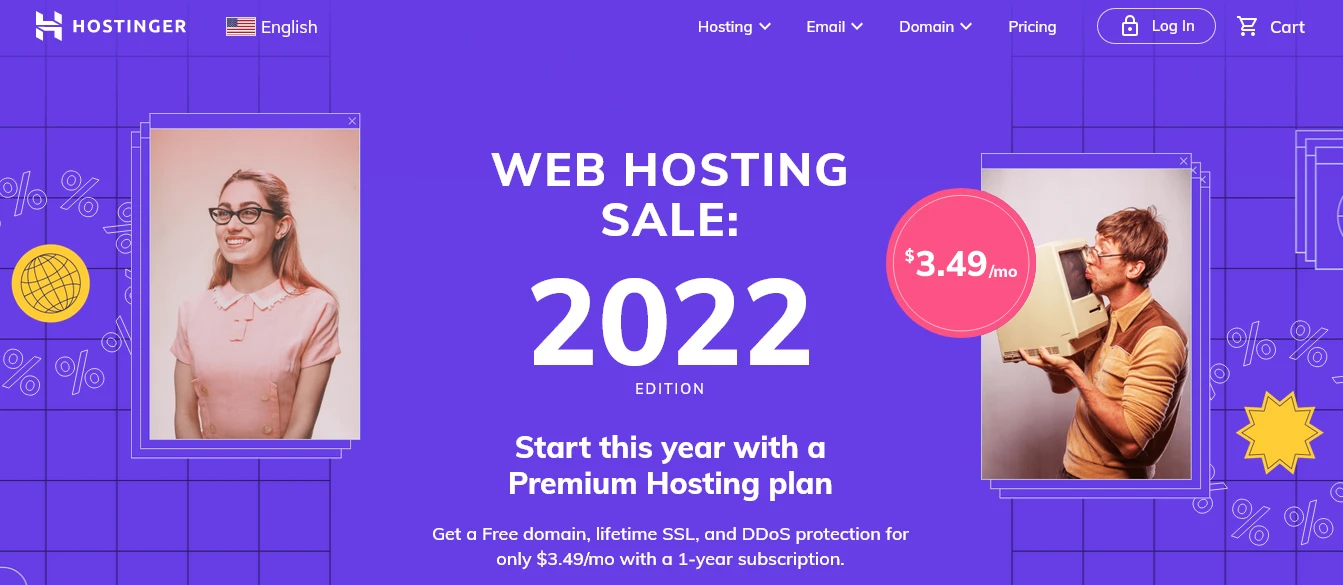 Hostinger is a great option for fast WordPress hosting. Their servers are specifically optimized for WordPress, so you can expect excellent performance and reliability.
If you're looking for a reliable, budget-friendly hosting option that won't slow your website down, VPS hosting may be the right choice for you. VPS hosting is perfect for small or medium-sized businesses that need a little more power and flexibility than shared hosting can offer. With VPS hosting, you'll have access to all of the resources of a dedicated server, without the high price tag.
VPS hosting is also a great option for website owners who are experiencing rapid growth. With VPS hosting, you'll have plenty of room to expand your website and handle additional traffic. And since VPS plans can be customized to meet your specific needs, you'll never have to worry about your website's performance.
Hostinger is super fast wordpress hosting best choice if you want high-quality, affordable, and fast WordPress hosting with excellent customer service.
Hostinger uses multiple data centers to ensure 99.9% uptime for your website, which extends to your VPS hosting plan.
Hosting a site on any kind of shared space can be risky due to the risk of other customers using up all upstream bandwidth, storage space, or CPU power and forcing your site offline as a result through the shared weight of numbers.
Shared hosting is also an insecure platform to use, as your website's security is at the mercy of your host's other customers. If one of them is running an outdated and unpatched version of WordPress with a known vulnerability, your site is open to attack.
A VPS (Virtual Private Server) offers you the advantages of both shared and dedicated hosting. You're still sharing a server with other customers, but you have your own isolated portion of the server's resources that no one else can touch. The only person who has access to your software and settings on the server is you. This means that you're less likely to have downtime caused by someone else's work and more likely to have a secure site because you're the only person on the server with access to your own software and settings.
Hostinger's VPS Hosting is a great choice for people who are starting a new site from scratch or who are currently running a small website. When your website traffic grows, you can upgrade your hosting to an advanced plan if need be, but it will be more than good enough for your current requirements.
Hostinger is the perfect platform for WordPress hosting. Not only do we offer fast, reliable VPS hosting, but our support team is available 24/7 to help you with any WordPress issues you may experience. They also offer a wide range of features to make it easy for you to get the most out of your WordPress site, including free themes and plugins, unlimited storage space and bandwidth, and a free domain name.
Hostinger provides fast VPS hosting and has excellent CPU power to help optimize your WordPress site's performance so that it will load faster than any other company on the market!
As of now, they have over 50 thousand satisfied customers, specifically WordPress, and counting. They also offer a 30-day money-back guarantee, so you can try their services risk-free!
Hostinger VPS has a lot of custom-made webhosting packages for WordPress that work well and are a good value for your money!
Now we'll see the results of their server tests.
Page Speed Test.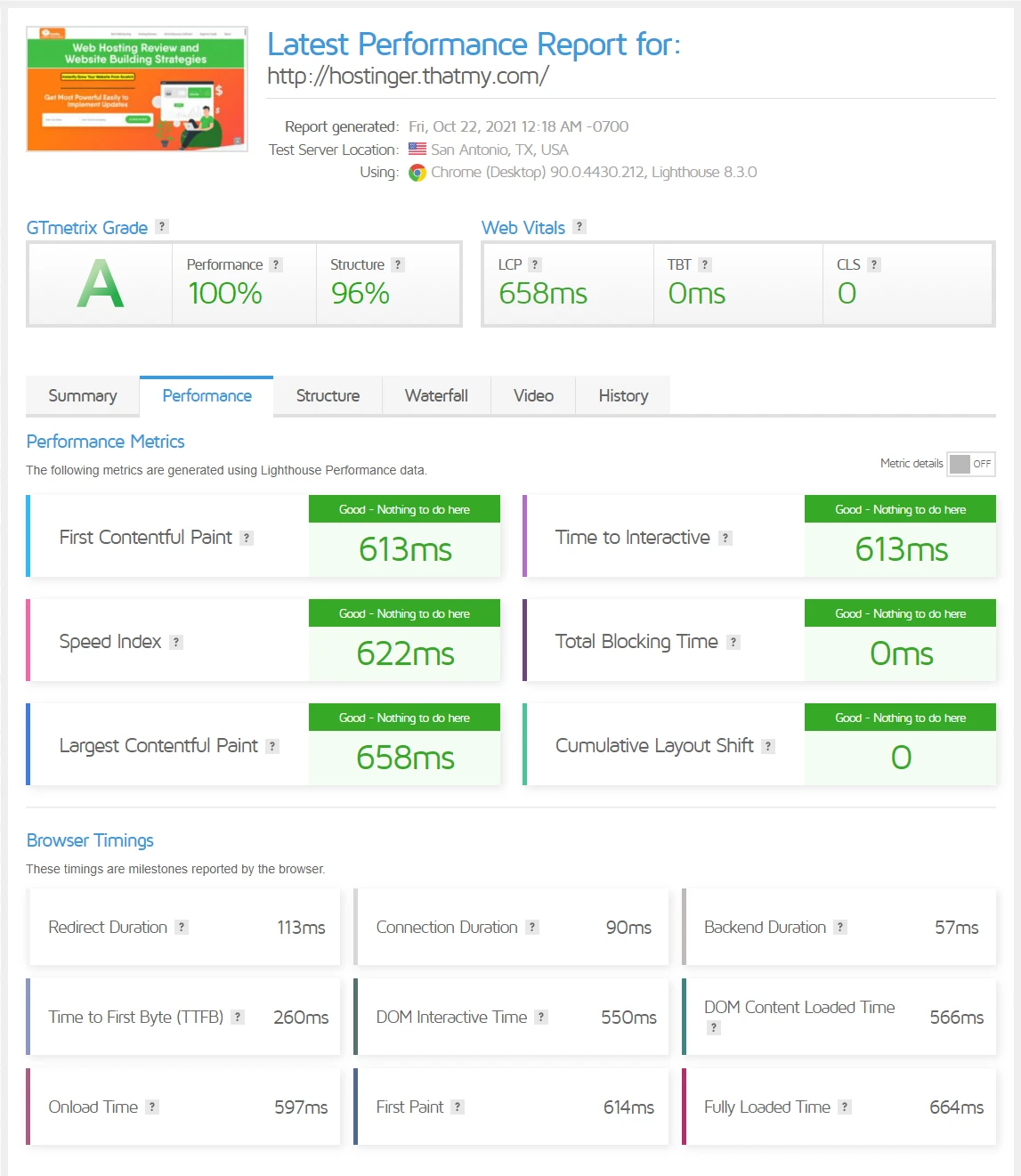 Sydney, Australia: 1.20s
London, UK: 1.60s
Singapore: 1.50
Los Angeles, California, USA: 1.70s
Toronto, Canada: 2.20s
New York, USA: 2.30s
Initial Connection Time
We have prepared a short test to evaluate how fast and responsive hosting services are. For this test, we have taken one of our new customers, a medium-sized yet simple wordpress website.
Hostinger is taking minimal time for initial connection for a medium-sized simple wordpress website just needed 90ms
Time to First Byte (TTFB)
I found Hostinger's TTFB speed is around 250 ms for shared hosting for multiple speed tests. It is very impressive. Not to mention, Hostinger 250ms is the fastest TTFB for the fastest shared WordPress hosting.
loading time on average
I realized one thing with Hostinger: your loading speed is very steady, but in the case of other hosts, except for A Two, Siteground, their loading time varies every time they load test.
Hostinger is pretty dominant in the shared hosting category regarding price, speed, technology, and almost everything else.
Best WordPress Plan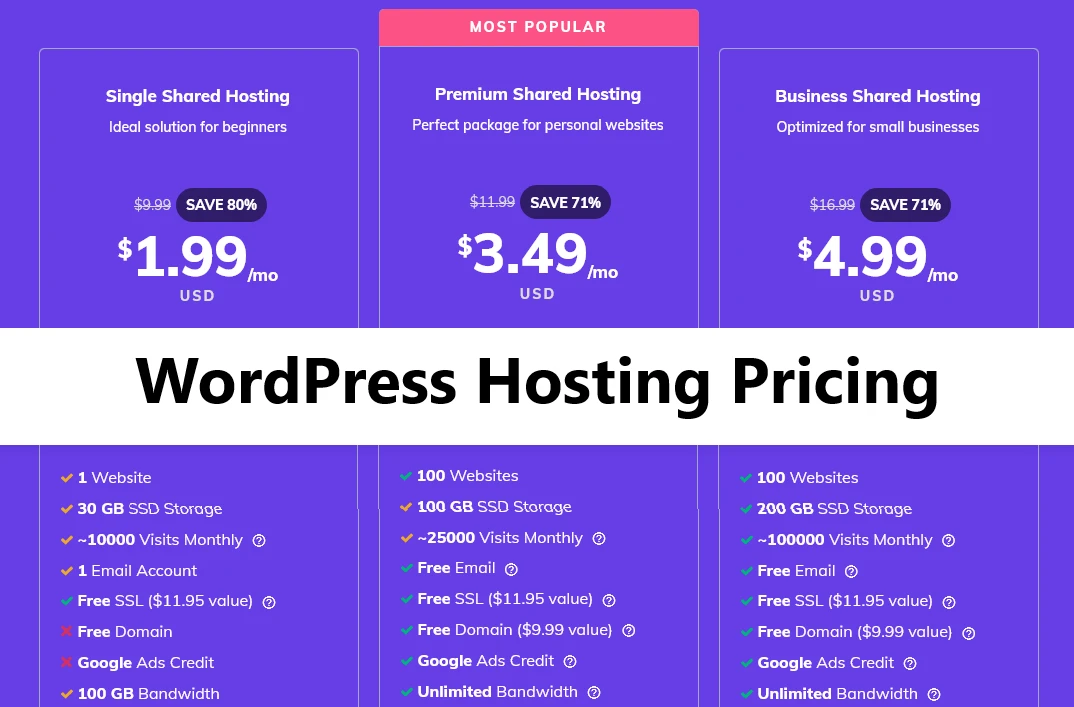 Hostinger offers a total of six different VPS plans, each with different specifications to meet your needs. The higher the plan, the more resources you'll get.
Hostinger VPS hosting offers a variety of plans, each with its own set of features and specifications to choose from. The most basic plan is the VPS Start, which includes 1 CPU core, 1 GB RAM, 20 GB SSD storage, unlimited bandwidth, and a free SSL certificate.
The next plan up is VPS 2, which includes 2 CPU cores, 2 GB RAM, 40 GB SSD storage, and unlimited bandwidth. This plan also comes with a free SSL certificate and 24/7 customer support.
The top tier plan is the VPS Power, VPS Power, includes 4 CPU cores and 4 GB RAM. It's perfect for small businesses or entrepreneurs who want to get started with their own hosting. You'll also get 80 GB of SSD storage, unlimited bandwidth, and a free SSL certificate. The plan is priced at $15.95/month.
If you are looking for a more powerful hosting plan, Hostinger also offers VPS plans with 6 or 8 CPU cores and 12 or 16 GB of RAM. These plans also include more storage space (120 or 160 GB SSD) and unlimited bandwidth. All Hostinger VPS hosting plans come with a free SSL certificate, 24/7 customer support, and a 30-day money-back guarantee.
#4. Kinsta: A managed WordPress host built for speed and security.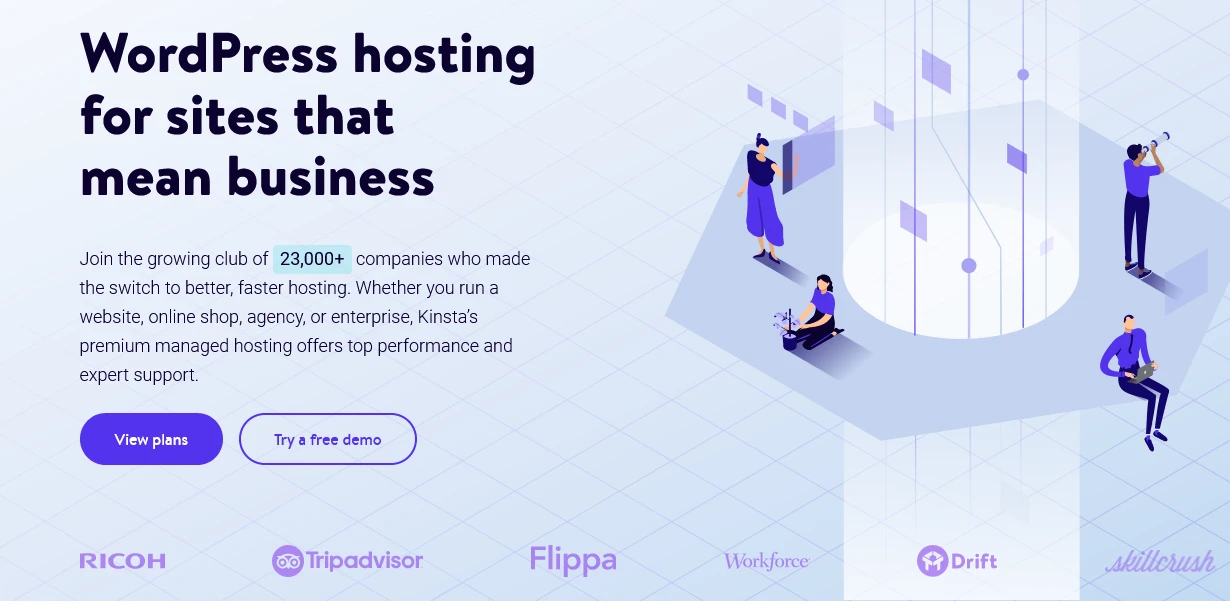 Shared hosting vs Managed WordPress hosting: Shared hosting is a hosting plan type where your site shares resources with other sites on the same server, whereas Managed WordPress hosting is a set of added services and performance tweaks that sit on top of regular hosting.
Managed plans work well for people who don't have time to deal with the technicalities.
Many of these tasks can be handled by installing plugins to handle them for you on your non-managed website, but they take a lot of time, and setting up plugins can leave features unselected, conflicts, and problems unresolved. Managed hosting servers are optimized to run WordPress, which means that the server comes optimized for a specific platform. Managed hosting is worth it if you need those features.
Kinsta is the fastest managed hosting provider. When comparing the quality of ongoing product support and feature updates, during my research, I found Kinsta to be the preferred option that meets the needs of businesses better than WP Engine.
With Kinsta's high-performance web hosting, you get practically everything you need for a single WordPress website. Kinsta's starting plan uses Google Cloud Platform and includes 10 GB of disk space, 25,000 bandwidth accesses, free SSL, CDN staging, and free website migrations.
So, you get pretty good value for the price, plus its constant uptime and page load speed on the sudden surge of traffic makes your life much easier.
Now we'll see the results of their server tests.
Page Speed Test.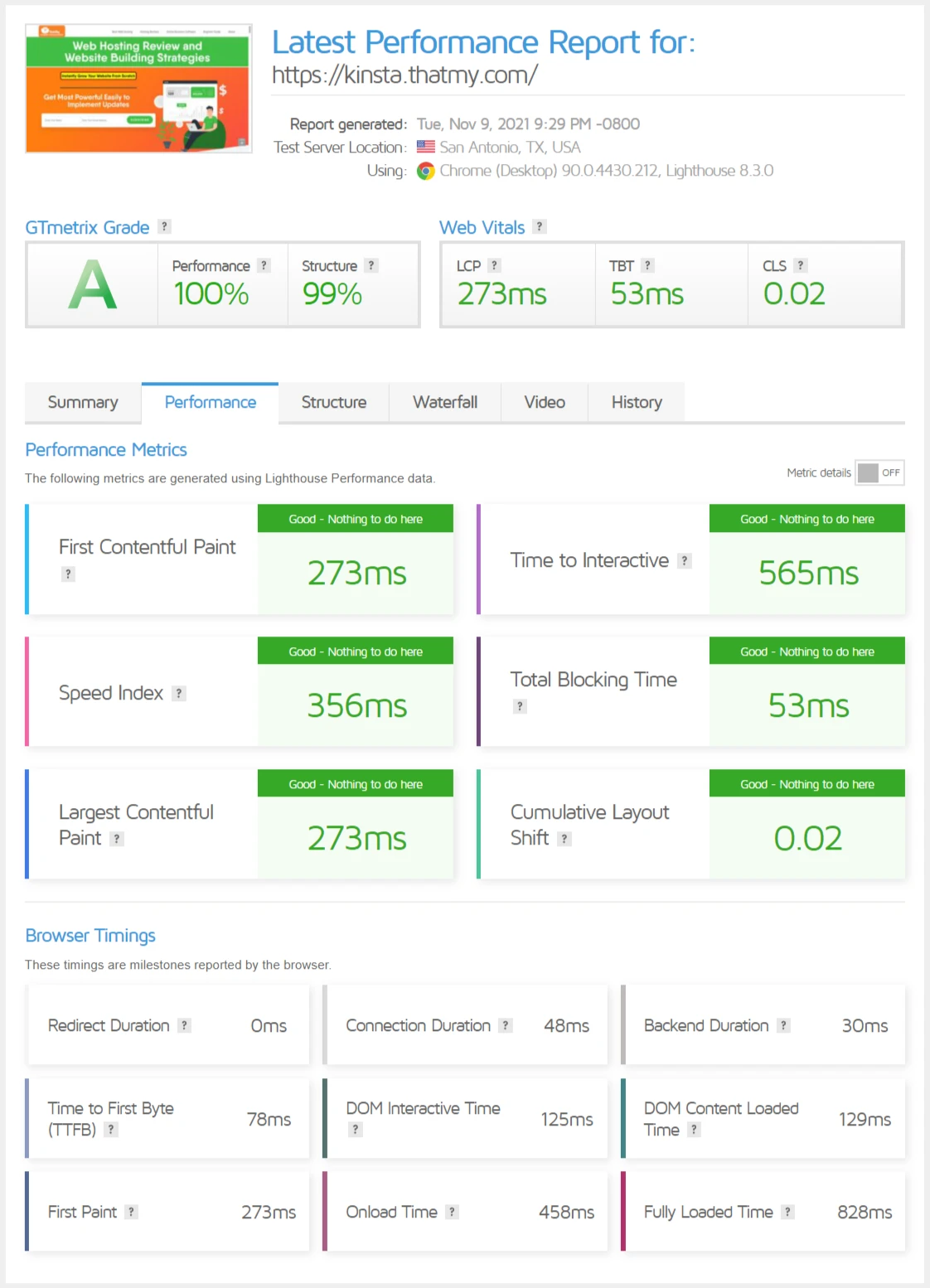 Initial Connection Time
Kinsta is based on the Google Cloud Platform, so I was very curious about the test results, and I got results beyond my expectations.
The initial connection time is just 48 ms. If you have a budget and need, I would definitely recommend you go for Kinsta.
Time to First Byte (TTFB)
Kinsta delivered me the fastest TTFB time. All the tests are still carried out. I get a Time to First Byte of 78 ms, and this is the power of Google Cloud Web Hosting behind kinsta.
loading time on average
When I performed the test, I added additional plugins to my website; I was thinking about a small delay in my full-time loading speed, but the result was again very different than my expectations. The page was delivered at a speed of 830 ms.
Best WordPress Plan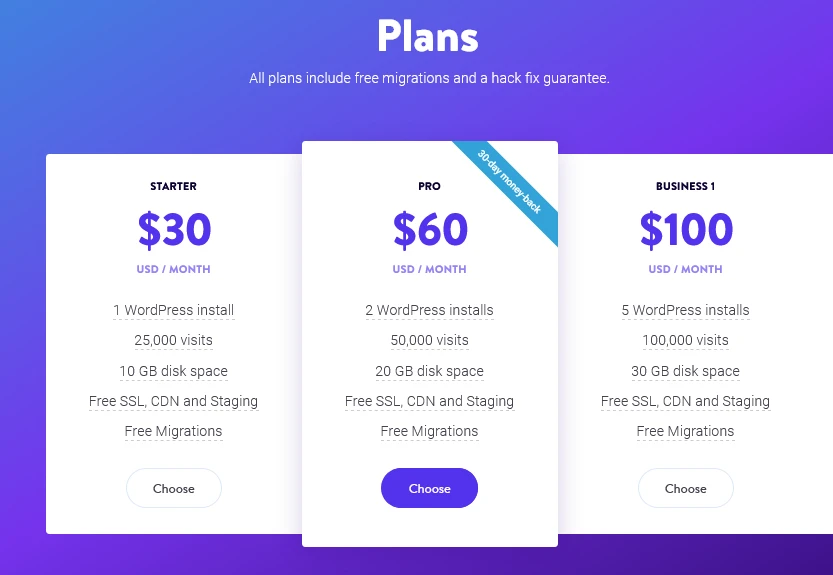 The only thing keeping them from being ranked higher and recommended for you is their huge price tag, with entry-level plans starting at $30 per month.
Cloudways is the best alternative for small businesses, and you will have more options as you grow.
I have more than 10 websites using Cloudways. That will cost more than $2000 per month on Kinsta. I only need $250 with Cloudways.
#5. Bluehost: the fastest WordPress hosting for small businesses.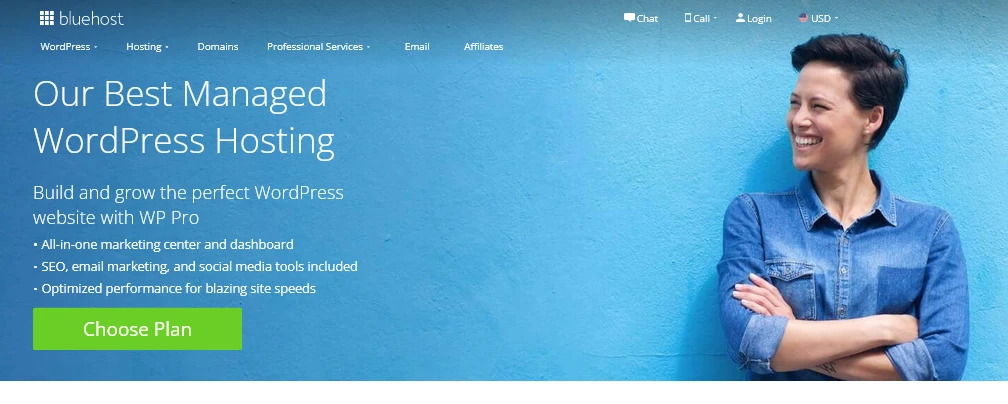 Bluehost is one of the most popular WordPress hosting companies. After extensive research, I found Bluehost to be the fastest web host for small business websites (not for heavy e-commerce) because they maintain a balance between all hosting areas and give you a $200 promotional credit for advertising and their web development services.
Do you have any idea why Bluehost has become so popular?
Not because they offer very attractive pricing packages or free service. They are popular because their hosting environment is suitable for growing your business.
They also provide support for a lot of add-ons, the latest programming support, and integrations.
Page Speed Test.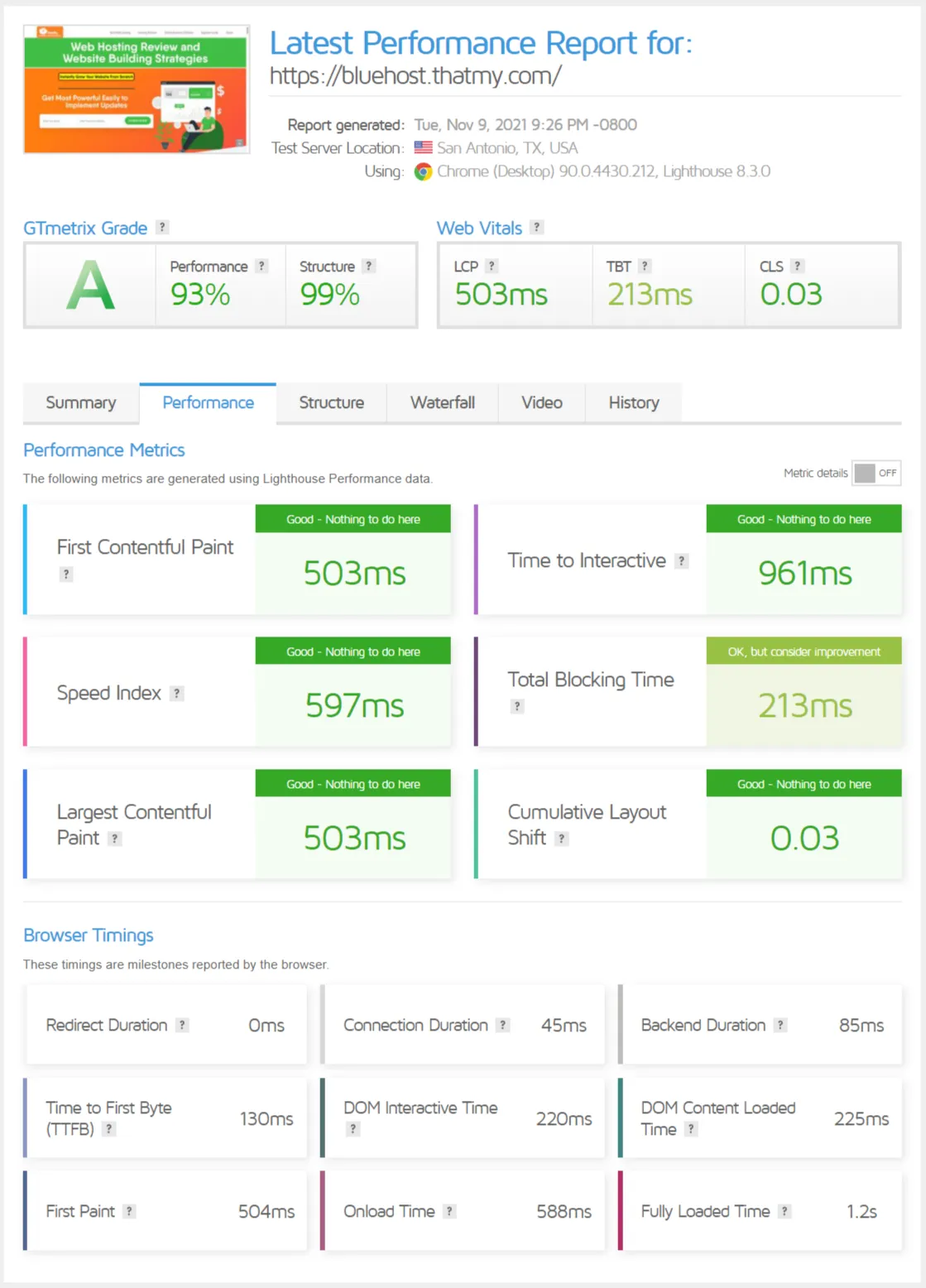 Sydney, Australia: 0.90 seconds
New York, USA: 0.87 seconds
Los Angeles, California, USA: 0.88 seconds
Toronto, Canada: 1 seconds
London, UK: 0.92 seconds
Singapore: 0.89 seconds
Initial Connection Time
I used the Bluehost Build plan for business hosting starting at $19/month, and I am pretty happy with the result. This happens when you use the perfect web hosting for a specific purpose.
Time to First Byte (TTFB)
The initial connection time is just 45 ms, which is pretty reliable.
loading time on average
For the website server speed test, Bluehost also did not disappoint me on load time, which could never deliver a full page load in greater than 1.2 ms.
Best WordPress Plan

Bluehost comes with 3 different business-managed hosting plan options: Build, Grow, and Scale.
I will recommend the Build hosting plan. For $19.95 per month, you can have up to 50,000 monthly visitors. Bluehost's Build Managed plan includes 20 GB of disk space, Jetpack Personal, and daily scheduled backups.
6. WP Engine — The fastest VPS WordPress hosting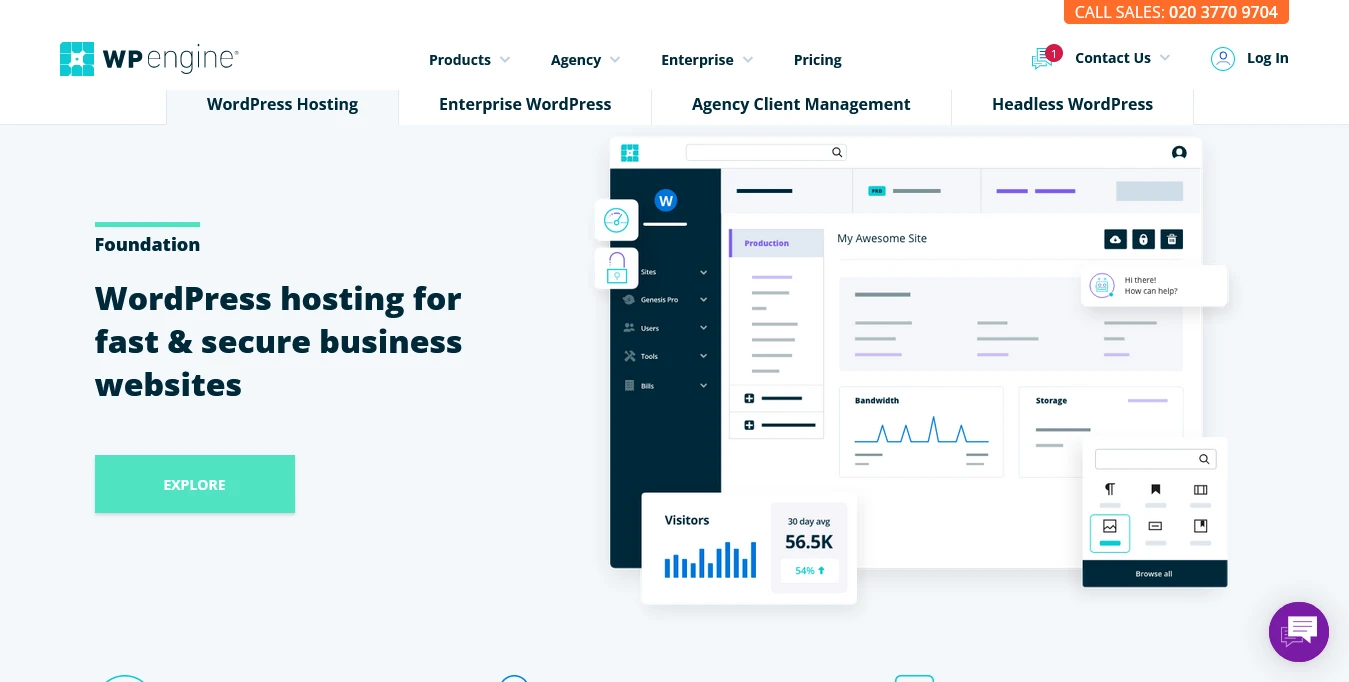 WP Engine is one of the top-tier hosting companies with high speed wordpress hosting plans. Their service is highly reliable and reliable for both creative and business purposes. It's also widely used by bloggers, authors, developers, and many more.
Simply put, WP Engine is fastest managed wordpress hosting service for web developers and web designers. It has many features and services that make it the ideal solution for creating websites.
Although their main focus is to provide managed hosting services, WP Engine also offers WordPress hosting (managed WordPress). This service is great for WordPress bloggers and anyone else who needs high-speed web hosting with a lot of uptime and a fast loading speed. WP Engine has very good prices and performance.
WP Engine has proven over time that they are an excellent provider for WordPress hosting, and I have no doubt that this claim will stand the test of time. The great thing about the company's hosting service is that it's user-friendly, reliable, and comes with advanced technology and unlimited email space and storage.
Page Speed Test.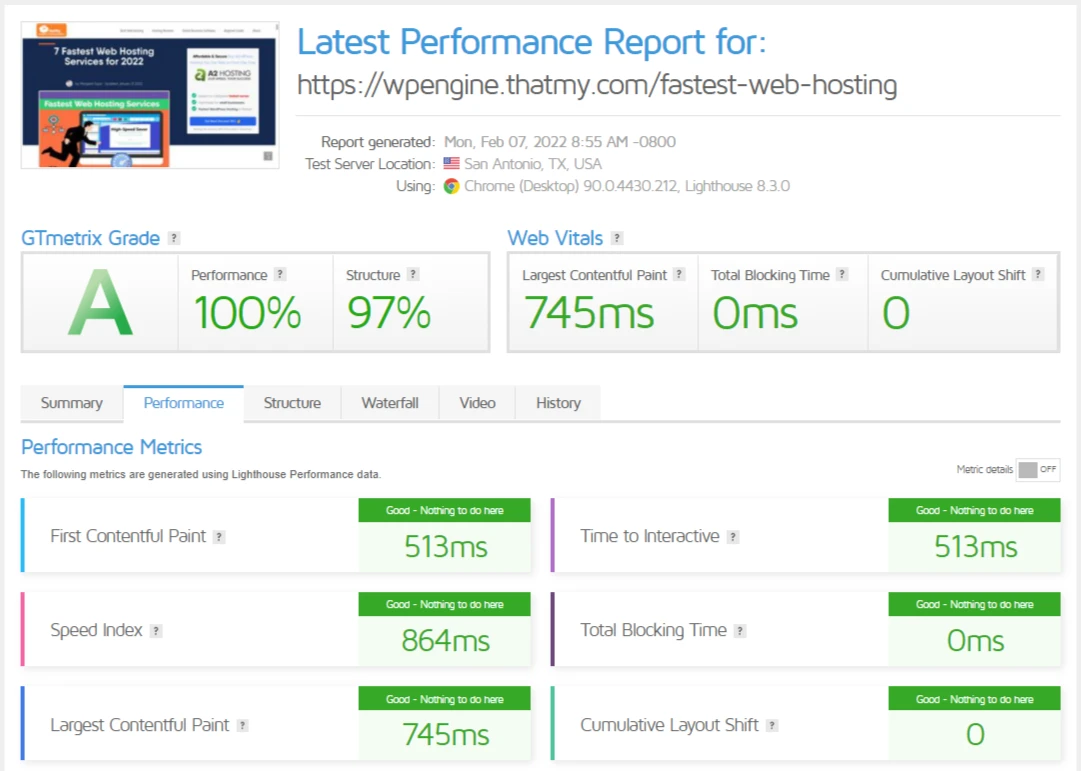 WP Engine is a web host that specializes in WordPress hosting. I decided to test WP Engine's performance by creating a website on their platform and then measuring the page load time.
According our test results, Sydney, Australia is the fastest at 0.70 seconds, with London, UK coming in second at 0.90 seconds. Toronto, Canada was third at 1.00 seconds, followed by New York, USA at 1.20 seconds and Los Angeles, California, USA at 1.30 seconds. Singapore was next at 1.40 seconds.
Sydney, Australia: 0.70s
New York, USA: 1.20s
Los Angeles, California, USA: 1.30s
Toronto, Canada: 1.00s
London, UK: 0.90s
Singapore:1.40s
Best WordPress Plan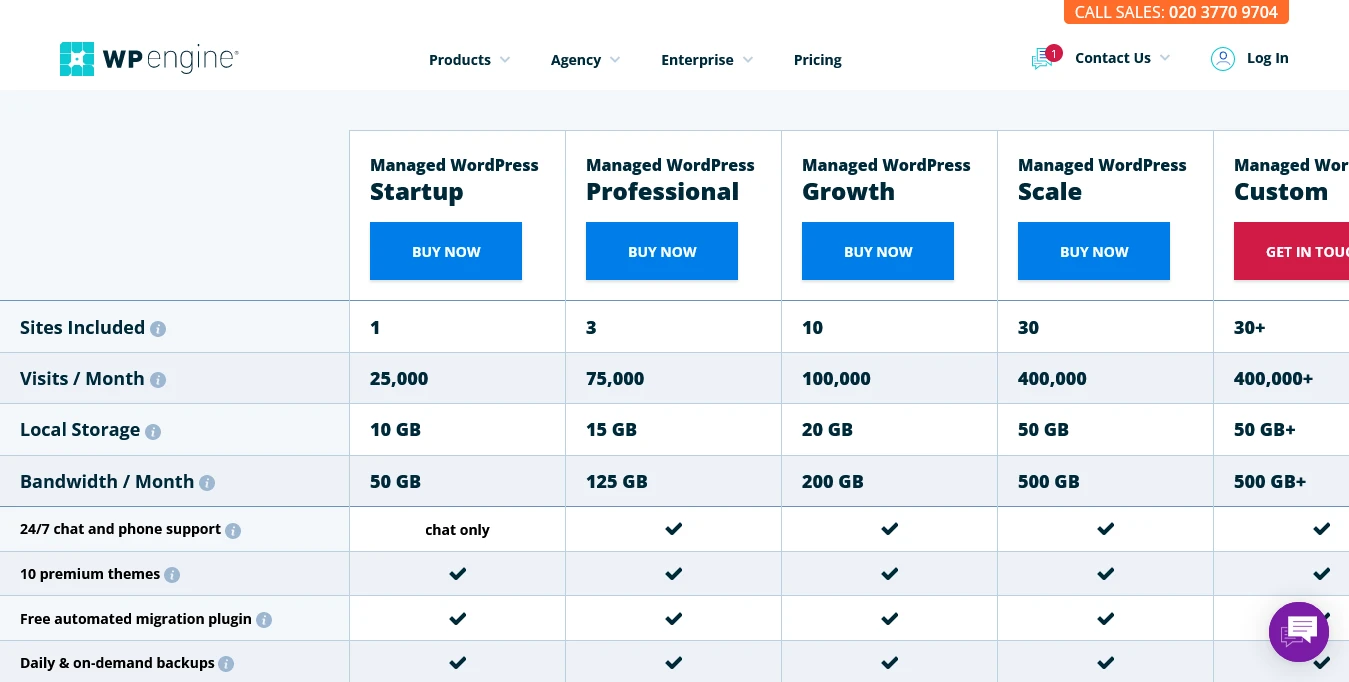 WP Engine offers a variety of pricing plans for their Managed WordPress hosting services.
The first plan is the Personal plan, which starts at $29/month and includes up to 10,000 visits/month, 50GB of storage, and a free SSL certificate.
The second plan is the Professional plan, which starts at $99/month and includes up to 100,000 visits/month, 200GB of storage, and 2 free SSL certificates.
The third plan is the Business plan, which starts at $249/month and includes up to 500,000 visits/month, 1TB of storage, and 5 free SSL certificates.
The fourth plan is the Enterprise plan, which starts at $499/month and includes up to 1 million
WP Engine has a fantastic selection of hosting plans, along with excellent customer service and outstanding support.
7. SiteGround — The fast and secure wordpress hosting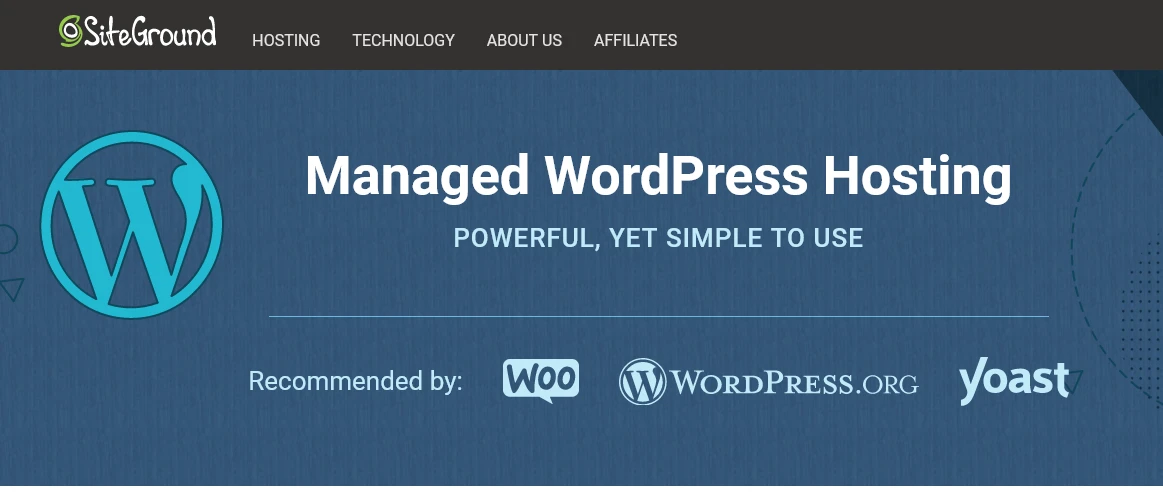 SiteGround has been at the forefront of hosting technology for over a decade and continues to be a leader in rapidly improving flexibility and scalability. They have become an essential part of the WordPress ecosystem because their team's commitment to highly innovative design and performance has made them one of the most innovative companies in the world.
SiteGround is a hosting company that specializes in WordPress. They are one of the best options for those who want to host their site on WordPress, but don't know how to do it.
SiteGround is known for its lightning-fast loading speeds, which are perfect for users who are concerned with page loading times. SiteGround also has a 99.9% uptime guarantee, which can help you sleep better at night knowing your website will always be up and running.
Page Speed Test.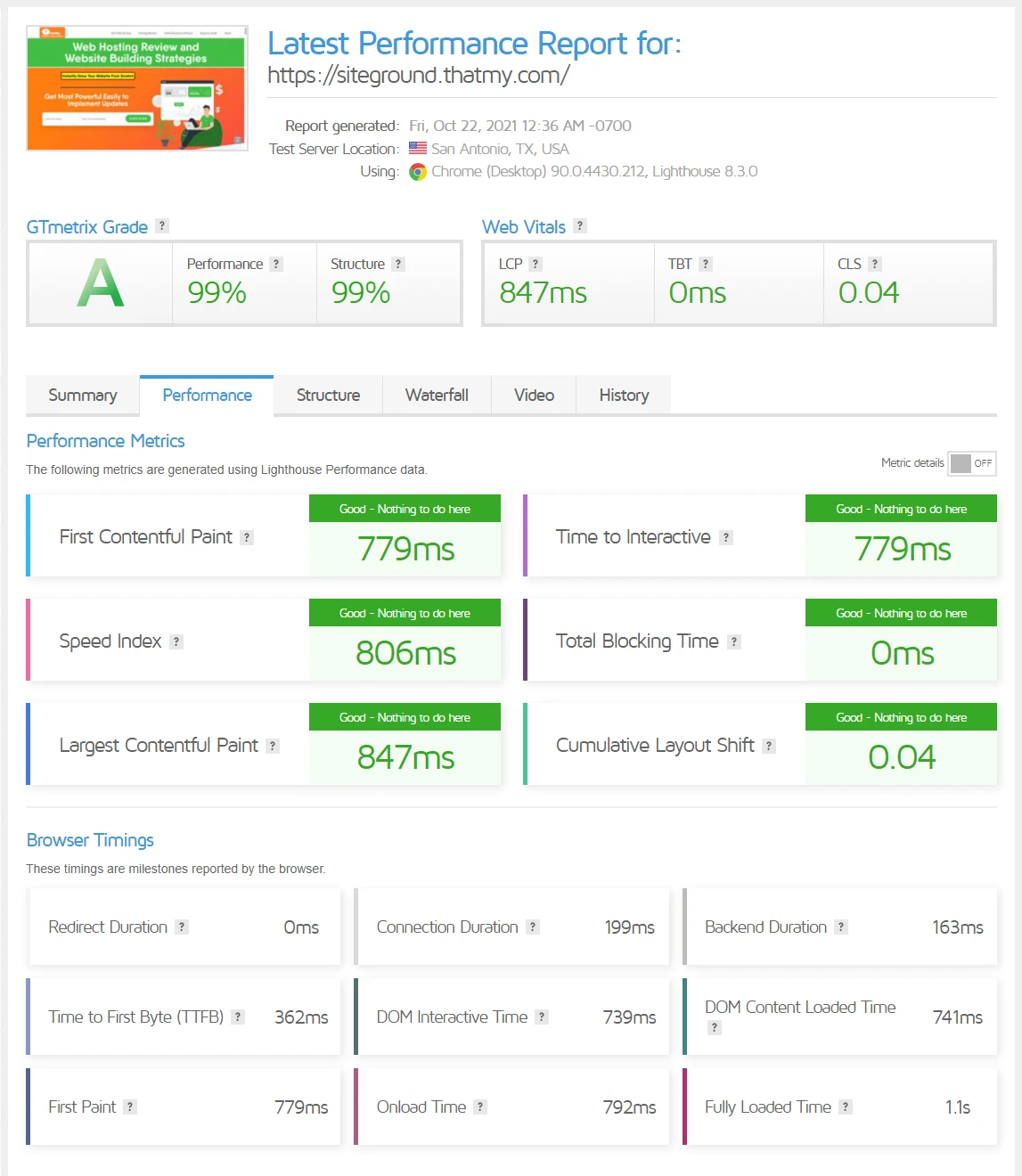 Sydney, Australia: 0.90 seconds
New York, USA: 0.87 seconds
Los Angeles, California, USA: 0.88 seconds
Toronto, Canada: 1 seconds
London, UK: 0.92 seconds
Singapore: 0.89 seconds
Best WordPress Plan

SiteGround is one of the biggest and most well-known web hosting companies. They offer shared hosting for small businesses with no additional fees. Today, many web admins have already used SiteGround's shared hosting packages to build a website from scratch.
SiteGround's shared hosting plans are available in three different packages.
Startup: With this plan, you can host a single website. It has 10 GB of storage space and can host a site with 10,000 monthly visitors. This includes 1-click WordPress install, free setup, and easy website transfer!
GrowBig: Unlimited hosting for GrowBig customers who want to host their sites on the larger servers included with this plan.There is 20 GB of storage space available here, which is enough room to provide significant traffic. Premium features and benefits like:
PHP is speedy on their server. A backup copy is available 24 hours a day, seven days a week, for your convenience staying software that is simple to use. You can invite collaborators to visit your locations. Their Priority support lines are available 24 hours a day, seven days a week. When additional server resources are required, they are made available.
GoGeek: The GoGeek plan is for eCommerce stores or companies that need 100,000+ visits per month to function properly because they require more than just essential hosting services, considering how much bandwidth their store will consume. Other benefits include priority customer service and extra server resources, which are added to help manage white label clients, as well as the one-click git repo creation tool, which saves time managing everything from there easily.
Which is Fastest WordPress Hosting Type?
When it comes to web hosting, there are three main types: shared, virtual private server (VPS), and dedicated. Each has its own advantages and disadvantages, depending on your needs.
Shared hosting is the most affordable and popular type of web hosting. As the name suggests, it involves sharing a server with other websites. This can lead to slower speeds and less control over your server, but it's a great option if you're just starting out or on a tight budget.
Virtual private servers (VPS) offer more power and control than shared hosting, but at a higher price. A VPS is a virtual machine that runs its own operating system and functions independently of other servers. This gives you more control over your server, but it also means that you're responsible for maintaining and securing it.
Dedicated servers are the most powerful and expensive type of web hosting. They offer the greatest amount of speed, control, and security, but they're also the most difficult to set up and maintain. Dedicated servers are best suited for large websites with high traffic levels.
What to look for in a fastest WordPress hosting company?
Web Hosting Server
Websites are hosted on web servers. A web server is a computer system that stores websites and delivers them to a user's computer or mobile device when they type in the website's address. The speed of a website is depends on the type of web server your hosting provider is using.
Multiple Data Centers
The fastest web hosting services are those that have multiple data centers around the world. This allows their users to connect to the closest data center, which results in faster loading times for their websites.
For example, if your website is aimed at customers in the United States, you will want to choose a web hosting service that has servers located in the United States.
SSDs (solid-state drives)
Additionally, the fast web hosting services also use SSDs (solid-state drives) for their servers. As a result, they can deliver website content much faster.
You should consider the quality of the SSDs that the web hosting service uses. Not all SSDs are created equal, and some are much faster than others.
Customer service
Customer service is another thing to think about when choosing a web hosting service. If you have any questions or problems with your website, you will easily reach customer support. The best web hosting services have excellent customer service departments available 24/7.
Hosting Plan Pricing
Finally, you should also think about the cost of a web hosting service when you choose one. The fastest Hosting services are usually more expensive than average services, but the price difference is generally worth it when you consider these services' improved speed and performance.
How to Speed Up your WordPress Website Loading Time
Use a CDN: Cloudflare is an easy-to-use service that we recommend for speeding up websites, it reduces the load times on anything from images, scripts, css files or fonts by storing them close to users around the world and serving them locally as needed rather than downloading them every time they visit your site. This also makes sure critical business data remains secured through 2048 bit SSL encryption.
Reduce Requests: It's important to use tools like GTmetrix to measure the number of requests your site is making. This will tell you how many files are being loaded on each page, which CSS and javascript libraries are being loaded, and which images are being used. It's a good idea to reduce the number of requests by using only the files you need for each page.
Move JavaScript and CSS to the bottom: This is a good way to boost your website's loading speed because it allows HTML to load first and prevents any broken images or incomplete text from being seen.
Decrease your image size: Use a tool like TinyPNG to decrease the number of colors, as well as using a compression algorithm like PNG for images that need transparency.
Reduce File Size: Another way to decrease loading time is to decrease the number of requests that your website is making. This can be done with a free tool like GTmetrix. It will measure the size and number of requests for each asset on your website, and then give you the total load time. It's a good idea to decrease the number of requests, as well as decreasing the load time.
Leverage Browser Caching: If you're using Apache, you can add the following code to your .htaccess file:
Adding the code to your website server is a very easy process that can be accomplished in just a few minutes. All you need to do is create a .htaccess file and paste the following code into it:
      
                        # Enable Leverage Browser Caching
                        <IfModule mod_headers.c>
                        Header set Cache-control "public"
                        Header set Cache-handle "max-age=60000"
                        Header unset ETag
                        Header unset Last-Modified
                        </IfModule>
            
                    
This will tell the browser that it can store your files for up to 60 seconds.
Now we see the FAQ regarding web hosting and website speed.
Frequently Asked Questions Regarding Web Hosting and Website Speed
Should I Go with Shared or managed WordPress Hosting?

If you are new to WordPress, you should choose a shared hosting because it's the easiest way to get started. It will allow you to get familiar with WordPress and its features without worrying about how your website will look.

If you are looking for a managed WordPress hosting, there are several companies offering this service. However, we do not recommend them as they often take too long to install and configure the server. They also tend to have high price tags which can be hard for new users to afford.

Which is fastest WordPress website hosting?

There are many companies that offer hosting for WordPress websites but not all are capable to handle WordPress Properly.

These companies may not understand or care about the plugin layout of WordPress and when they do, they are neither able to deliver on their promises nor able to utilize advanced features like rollbacks, force updates. And when you have a website with a lot of visitors and lots of traffic, it is very difficult to keep it online without any issues.

This is where an A2 hosting company comes in to help and provide you with a fast and reliable solution for your WordPress website hosting needs. They will provide you with the best hosting packages so that your website will be able to run smoothly even during peak times.

Which type of WordPress hosting is faster?

If you use a WordPress hosting company, you should know that there are two types of hosting.

Dedicated hosting
Shared hosting

Does web hosting affect speed of your WordPress website?

Yes, web hosting affect the speed of your WordPress website. the web host you choose can make a big difference in terms of page loading times and overall performance. Make sure to do your research and choose a reputable host that is known for their high-quality servers and fast loading times.

What are the benefits of using Fastest WordPress Hosting for your business?

One of the biggest benefits is that it will allow you to save money and time. You will be able to keep your website running quickly and smoothly. This means that you won't have to worry about it being slow or unresponsive. You also won't have to spend as much time trying to fix these issues. Additionally, you will be able to focus on growing your business instead of worrying about your website.

Another benefit is that you will have access to customer support. If you ever experience any problems or need help, you will be able to get the assistance that you need. This can be very helpful if you are not familiar with how to fix these types of issues.

The last benefit is that your website will be much more secure. You will be less likely to experience attacks or other problems. This can help to keep your website running smoothly and protect your data.

what are the best web hosting that is compatible with WordPress?

Some of the most popular hosts for WordPress are A2 Hosting, WPEngine, Flywheel, SiteGround, and InMotion. These are all premium options that are very reliable and have good customer support. They also offer many additional features like caching and monitoring tools to help speed up your site.

how much does web hosting for WordPress cost?

When it comes to web hosting, the cost can vary greatly depending on your needs. For shared hosting, you can find options for as little as $5 per month, while for dedicated servers, you can expect to pay upwards of $100 per month. VPS hosting is often a good middle ground, providing more power than shared hosting but without the high price tag of a dedicated server. Ultimately, the best option for you will depend on your budget and what your website needs.

Benefits of having fastest web hosting?

The following are some of the benefits you can get from using a good web host:

☑ Reduce server maintenance costs by using a single, reliable web hosting provider.

☑ Keep your website up with lots of security and speed without spending hundreds or thousands of dollars.

☑ Reduce your website's hosting costs for multiple websites by doing the installation yourself.

☑ Increase sales by keeping your website fast and responsive.

fastest shared hosting wordpress?

When it comes to Shared web hosting, there are many alternatives available in the market. However, A2 Hosting is a clear winner between A2 Hosting and Hostinger shared hosting. The data center of A2 hosting has been consistently delivering us great services and they offer very low prices compared to others. Furthermore, their customer service is also superb.
Conclusion
If you are new and don't have any server-side knowledge, I would recommend A2 hosting, which has a very powerful cPanel.

A2 Hosting is the fastest WordPress hosting provider. Its largest contentful paint is just 200 ms, and its fully loaded time is excellent at 0.7 s. This makes it an ideal choice for WordPress sites who need speed and reliability.
A2 Hosting fastest WordPress hosting is recommended for anyone who requires fast website performance with great uptime, unlimited disk space and bandwidth. They are rated best fastest web hosting companies due to their advanced features that are not available with other companies at the same affordable price.
Get The Best Deal
The table below has a list of the top 7 fastest WordPress hosting companies based on their average load times during our stress test. While all of these have been shown to be fast, there's a big difference between the load times from the fastest and slowest hosting company.