Disclosure: This content is reader-supported, which means if you click on some of our links that we may earn a commission.
Cloudways is a comparatively new company in cloud web hosting and is exceptionally well with the hosting WordPress websites.

It does an excellent job of simplifying and demystifying the process of hosting a website on fast cloud servers such as DigitalOcean, Linode, VULTR, AWS, and Google Cloud on an hourly basis, especially if you want to use WordPress.

All plans feature free site migration, the same configuration regardless of server upgrade, a free CDN, a drag-and-drop website builder, and a free SSL certificate.
One thing leaves a lot of questions: how can you obtain everything you need in one place? Is it appropriate for your upcoming website? Continue reading to find out.
What is Cloudways?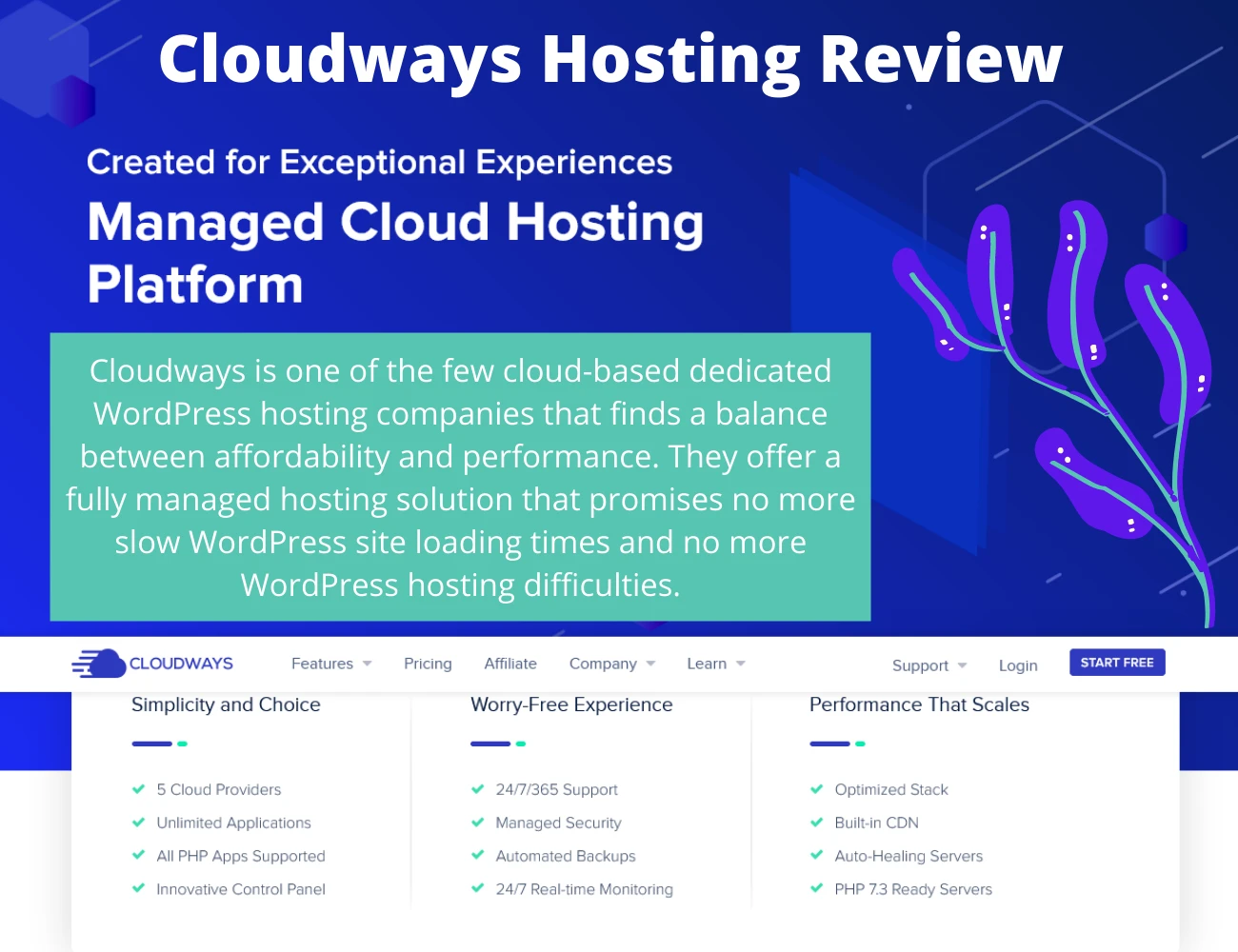 Cloudways is a Pay-as-You-Go WordPress hosting solution; you only pay for the resources you use. where you can manage your own hosting using five major hosting providers: DigitalOcean, Linode, VULTR, AWS, and Google Cloud

the payment due on the first and sixth of each month for the total resources spent in the previous month If you have money in your Cloudways account, the invoice will be paid using that money.
Their mission is to provide more flexible cloud-based hosting solutions than shared hosting, allowing website owners to focus on their online businesses.
Cloudways Overview
Cloudways Established: 2009
Minimum price: $10.00/month with DigitalOcean plan.
Uptime: 99.99%
Page load time: 700ms
TTBF(Time to first byte): 700ms.
Hosting plans: Cloudways offers WordPress hosting, WooCommerce hosting, Magento hosting, PHP hosting, Laravel hosting, Drupal hosting, Joomla hosting, PrestaShop hosting, eCommerce hosting
Customer Support: Cloudways offers Live Chat, Phone, Tickets, Knowledge Base.
Payment method:Cloudways support Paypal, credit card, debit cards.
Money back guarantee: No need of Money back guarantee, If you are hesitant to using the dedicated WordPress hosting offered by Cloudways, then join up for the 90-day free trial they offer to test it out for THATMY.COM readers.
Cloudways Promo Code: Cloudways provide a three-day free trial and do not require credit card details. You may also request a demonstration. Whether you are unclear if the function or how it performs is suitable, you should make use of our well-thought-out service You can grab a unique discount code on this website: When joining with Cloudways, click "Got a Promo Code?" and apply the discount code "THATMYCLOUD" to obtain a $30 credit for the first time user.
Cloudways Compared to The Best Web Hosting Services?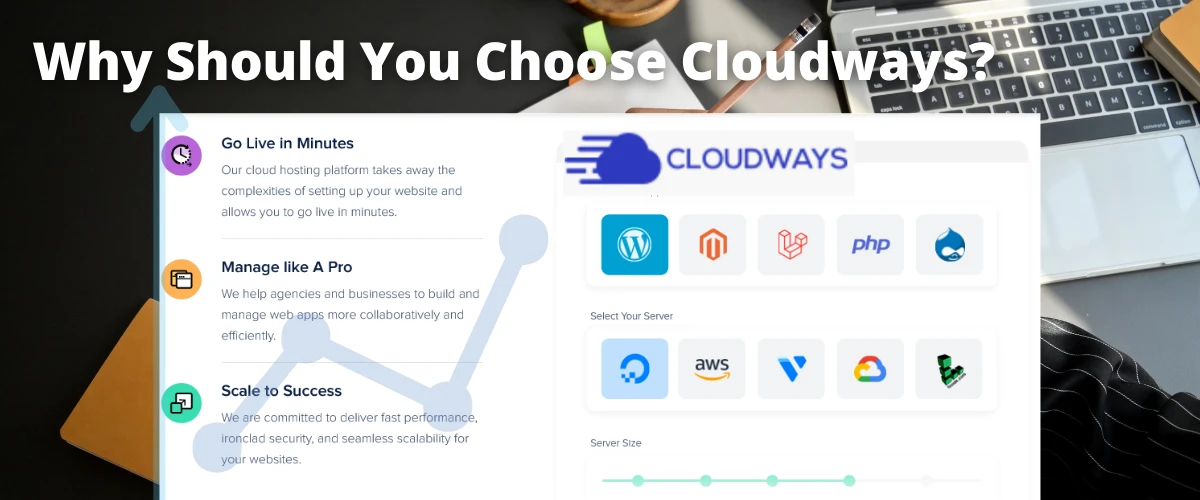 With over 25 data centres across the globe, Cloudways has become one of the leading cloud hosting platforms, and with their latest cloud technology and customer-centric service model, they are helping individuals and businesses solve major hosting problems. To provide peace of mind to their users, they have eliminated all technical, security, and stability worries.
Cloudways' hosting services are tailored specifically for WordPress. From deploying ThunderStack technology for faster access to implementing platform-level firewalls for enhanced security, managed WordPress hosting provides you with the most comprehensive coverage.
For new server deployments, Cloudways offers several pre-installed WordPress applications.
1. Cloud hosting for WordPress websites.
Cloud-based servers are a solid choice when it comes to web hosting. From speed optimization to security capabilities, cloud hosting has various advantages over other hosting options. If one of the following conditions is met, you may choose cloud hosting services:
Cloud hosting means that your website is stored on multiple servers instead of regular hosting, which uses only one, and Because other servers in the network can take over in a problem, cloud hosting improves uptime and performance.
Cloud hosting is faster than shared hosting because servers detect visitors' locations and deliver content from the server closest to them.
Cloud hosting is typically more secure than shared and VPS hosting, and Cloudways manages your WordPress site using various security technologies.
Cloud hosting allows you to scale quickly, which is ideal if your website experiences a sudden surge in traffic. SSD drives are used by many cloud hosts to improve website performance. SSD-based WordPress hosting speeds up your site Using dedicated resources.
You are a business owner or individual blogger who wants to run an online website without worrying about updates, backups, and other technical issues.
Your increasing traffic to your website is never be the problem for you.
You are running an e-commerce site and cannot afford excessive downtime.
It would help if you had expert help and support around the clock.
2. Multiple WordPress versions
This version comes with Varnish configuration and Breeze, a WordPress caching plugin developed by Cloudways, which can improve site performance.
3. Optimized WordPress+WooCommerce version
The latest version of WooCommerce is already installed, and if you plan to build an online store, it is highly recommended to choose this version.
4. Multisite
As the name suggests, this version will support multiple WordPress sites, allowing you to manage two (or more) sites from a single dashboard.
5. WordPress original version
WordPress is also accessible in its most basic version, with no Cloudways optimization features added. This version is equivalent to the version downloaded directly from WordPress.org, without any additional features.
6. Rapid deployment environment
When searching for dedicated WordPress hosting, you will come across several comparable providers, such as Kinsta, Flywheel, and WP Engine. Although the majority of hosting companies offer WordPress hosting in the form of shared hosting, VPS, or dedicated servers, one company has gone against the grain, and that is Cloudways.
Cloudways offers cloud hosting for WordPress sites on its servers, which means that multiple copies of your site will reside within the same data center. Data swapping is managed by a unique algorithm, and if the main server fails, then a replica of your site will be given from the next available server. This architecture enables the rapid deployment of high-performance, extremely reliable system resources.
Cloudways Pros and Cons
Pros of Cloudways
Cloudways hosting provides many functions; here are the ones that are important for SEO or website maintenance. Basically,
Its host is used to operate SEO without any problems, and it is not difficult for users without IT backgrounds to get started.
No credit card information required for free trial
Unlike competitors that limit the number of sites, Cloudways does not have any restrictions on this
Easy to use control panel with many useful features
Automatic site backups are easy to configure and can be scheduled as needed
In addition to WordPress, Cloudways provides hosting solutions for many other content management systems such as Magento, Joomla, Drupal and Moodle
Free site migration service
Pay-as-you-go pricing strategy
Outstanding performance, and the TTBF and average loading time are the fastest. If you want to test it, you can take this as an example.
One-click installation of WordPress, Magento, and other systems. We provide an
Easy-to-use and straightforward WordPress moving plug-in and a one-time free manual moving service for paid accounts.
Provide free SSL certificate, will be automatically updated; you can set to force HTTP to 301 forwarding to HTTPS.
1-click offline website
Provide 24/7 customer service (communication in English is required), online chat, or ticket delivery is possible.
Provide a "one-time" free moving service for each "official" user account.
Provide a PHP version change interface, with support currently limited to version 8.0.
Provide a daily host backup, which can be kept for up to four weeks, and the backup schedule can be adjusted by yourself.
The host can be upgraded or downgraded at any time.
Use the HTTP/2 transfer protocol to help website transfer speeds.
It provides a self-developed cache plug-in called Breeze (though I use WP Rocket).
FTP, divided into host level and application level. can
You can block specific IPs or only allow specific IPs to connect.
Cloudways will be responsible for the security maintenance on the host side, and users will only need to be responsible for the security of the application side. Login with Two-stage verification.
Cons of Cloudways
Cloudways is a platform-as-a-service company, so they provide their own console and you can't use Plesk or cPanel
Cloud-based hosting is not for everyone, as it requires a certain level of expertise, and if you want to avoid technical details altogether, then SiteGround or Kinsta may be more appropriate
Cloudways Pricing
The best part about Cloudways is that it offers a wide variety of choices at a reasonable price. It provides five major server options, each with a distinct price plan based on your needs. DigitalOcean, Linode, VULTR, AWS, and Google Cloud are among them.
It is not often possible for every customer to spend more money, we believe that you get what you pay for. The amazing thing about Cloudways is that it provides extremely high-performance servers with all of their plans. For only $10 per month, you can get access to 1GB RAM, 25GB SSD Disk, 1TB Transfer, and 1 Core Processor, which can keep huge ecommerce websites running well at first.
Cloudways' all-server plans are an excellent option for larger websites because You can ensure that how many users are on your server and their consumption in real-time.  also, You can increase or decrease your resources during traffic spikes to ensure that there are no slowdowns.
How does Cloudways pricing work?
The renewal fee is the actual devil. You can only pick up and move if you don't want to pay high renewal fees. Being a nomad is now extremely exhausting!.
Cloudways pricing system is simple: monthly or hourly payments. Although Cloudways the annual fee you cannot be paid, you can add credit to your account. If there is a stored credit Cloudways wallet, the accumulated credit will be deducted first, followed by a monthly deduction when the deduction is completed. This is also its key selling point: rather, it does not have to pay high hosting expenses.
Another advantage of this pricing method is that you don't have to worry about high renewal costs. To attract new users, many host companies charge low fees. At the time of renewal, the original price is calculated with maybe a slight discount depending on how long the contract you select with the company.
Cloudways' fees may be revised, but they will not be as overpriced as the available host companies' initial purchase and renewal prices. It will only rise by one dollar at a time!
Furthermore, if you use the Shared Hosting service, the cost of upgrading to a host (VPS or Cloud Hosting) with guaranteed resources will skyrocket (USD monthly fee).
I switched from SiteGround to Cloudways; my blogs' traffic reached the recommended upper limit of the SiteGround GoGeek plan, and the cost of upgrading the host specifications has become very substantial.
In short, Cloudways will definitely not be the cheapest, but the cost is well estimated and paid monthly. Even if you want to upgrade, that level is more acceptable.
The evaluation of the hosting cost should take into account the first purchase price, renewal price, upgrade price, and required resources. It isn't very easy. The focus is to find a solution that meets the needs, not the best solution.
Then the cost of Cloudways must be more expensive than the official website price of the host company. After all, it provides many functions to operate it efficiently, and it also assumes the heavy responsibility of host maintenance. Moreover, they also have to make money.
If you ask me which plan on cloudways is the best, I'd say DigitalOcean is the best if you're just starting out, and Linode is the best if you already have a website and traffic.
Cloudways' best provider is Linode. Their speed is superior to that of DigitalOcean and Vultr.
DigitalOcean Pricing on CloudWays
Cloudways' most popular hosting server is DigitalOcean. You may choose between a regular and a premium server. Each one provides the same hosting bundle to meet your needs. If you decide to go with a managed WordPress alternative, you should base your choices on the CPU they're each suited for.
The difference between the two plans is that the ordinary plan uses a non-branded CPU, whereas the premium plan uses Intel hardware with NVMe disks (nonvolatile memory express).
NVMe, an abbreviation for nonvolatile memory express, is a new storage access and transport protocol for flash and next-generation solid-state drives (SSDs) that offers the maximum throughput and fastest response times for all kinds of systems and applications.
Each plan includes a slew of useful features designed to help your site develop. This includes storage beginning at 1 GB RAM, 25GB SSD Disk, 1 TB Transfer, 1 Core Processor, servers, scheduled backups, staging environments, and free SSL certification, to mention a few features.
What ultimately differentiates each managed tier is its traffic capacity. Here's a quick overview:
Digitalocean standard Plan pricing on Cloudways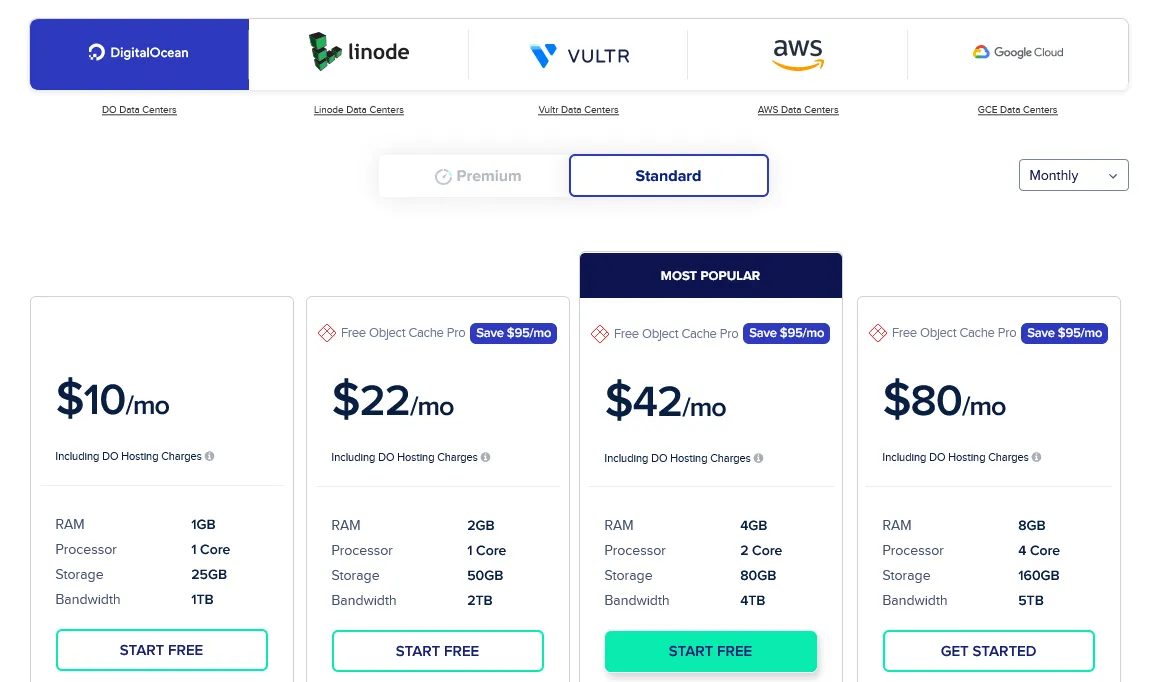 Standard 1-This plan is the most popular of all Cloudways' plans and is suitable for any beginning blogger with one WordPress website. It starts at $10 per month and includes 1GB RAM, a 25GB SSD storage, 1TB transfer, and a single core processor, making it perfect for 30,000 monthly visitors.
Standard 3 - 4GB RAM, 80GB SSD Disk, 4TB Transfer, 2 Core Processor, best for 250,000 monthly visitors.
Digitalocean Premium plan Pricing on Cloudways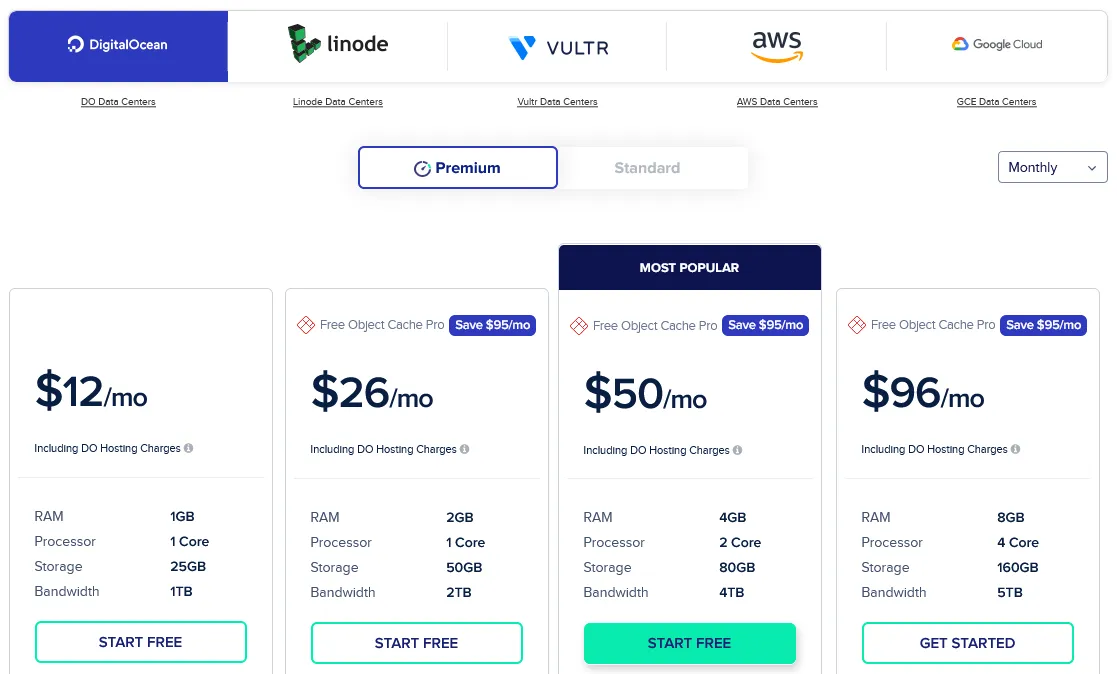 Premium 1 - 1GB RAM, 25GB NVMe Disk, 1TB Transfer, 1 Core Processor, best for 50,000 monthly visitors.
Premium 3 - 4GB RAM, 80GB NVMe Disk, 4TB Transfer, 2 Core Processor, best for 300,000 monthly visitors.
Linode Pricing on CloudWays
Linode pricing is easy to understand. Linode does not offer separate plans for the same storage or CPU like Vultr and DigitalOcean.
The most popular Linode plans available through Cloudways are listed below.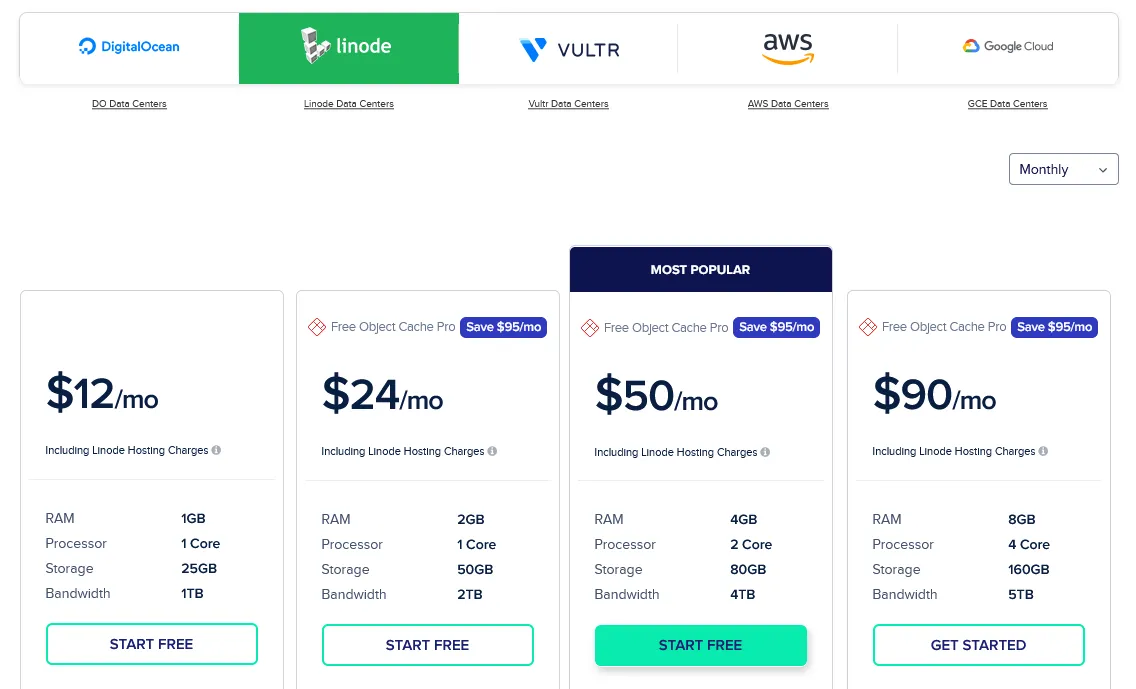 1GB RAM, 25GB SSD Disk, 1TB Transfer, 1 Core Processor
2GB RAM, 50GB SSD Disk, 2TB Transfer, 1 Core Processor
4GB RAM, 80GB SSD Disk, 4TB Transfer, 2 Cores Processor
Cloudways' best provider is Linode. Their speed is superior to that of DigitalOcean and Vultr.
VULTR Pricing on CloudWays
Vultr standard plan pricing on Cloudways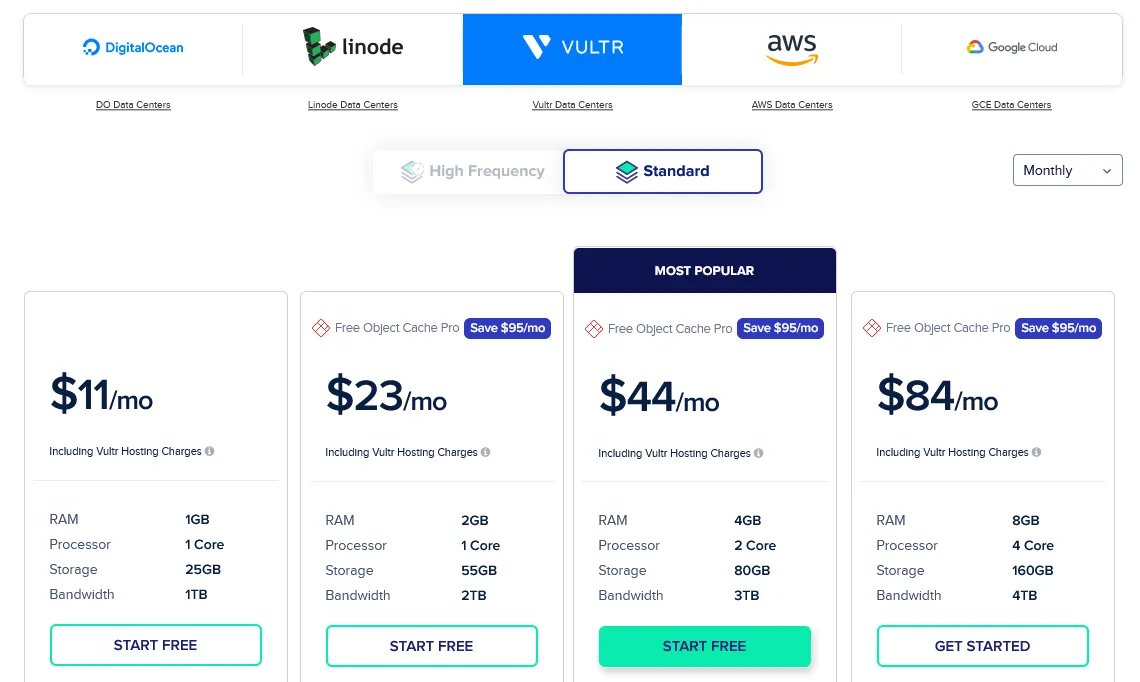 1GB RAM, 25GB SSD Disk, 1TB Transfer, 1 Core Processor
2GB RAM, 55GB SSD Disk, 2TB Transfer, 1 Core Processor
4GB RAM, 80GB SSD Disk, 3TB Transfer, 2 Core Processor
Vultr high frequency plan pricing on cloudways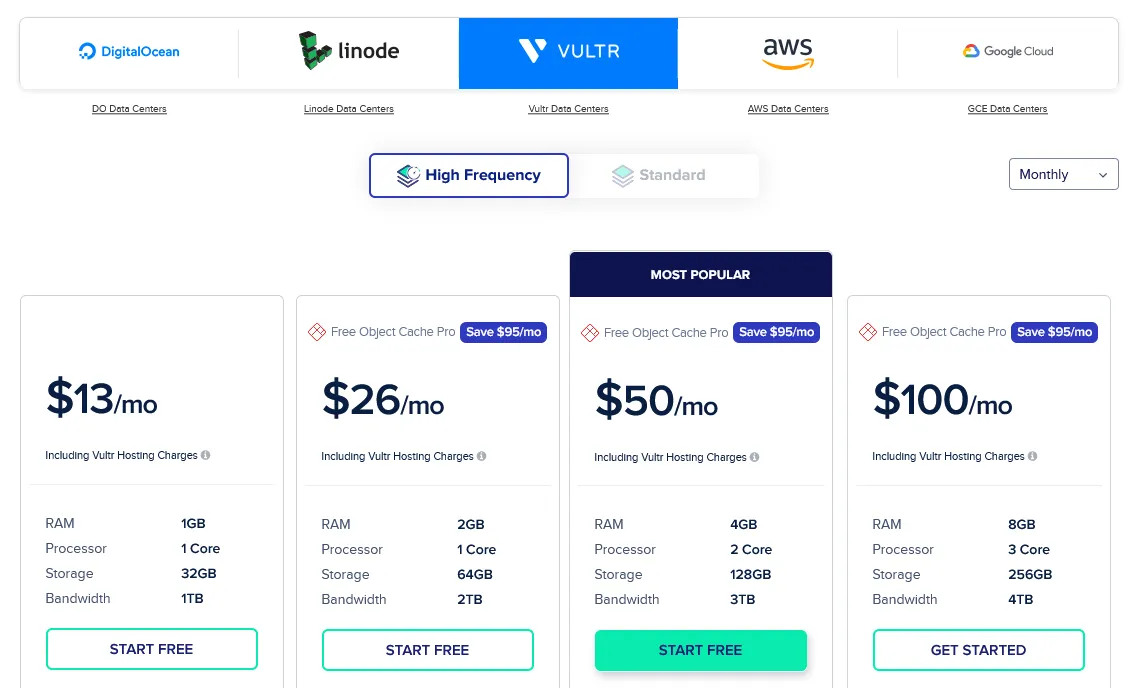 1GB RAM, 32GB SSD Disk, 1TB Transfer, 1 Core Processor
2GB RAM, 64GB SSD Disk, 2TB Transfer, 1 Core Processor
4GB RAM, 128GB SSD Disk, 3TB Transfer, 2 Core Processor
Amazon Web Services and Google Cloud Pricing on CloudWays
AWS pricing on cloudways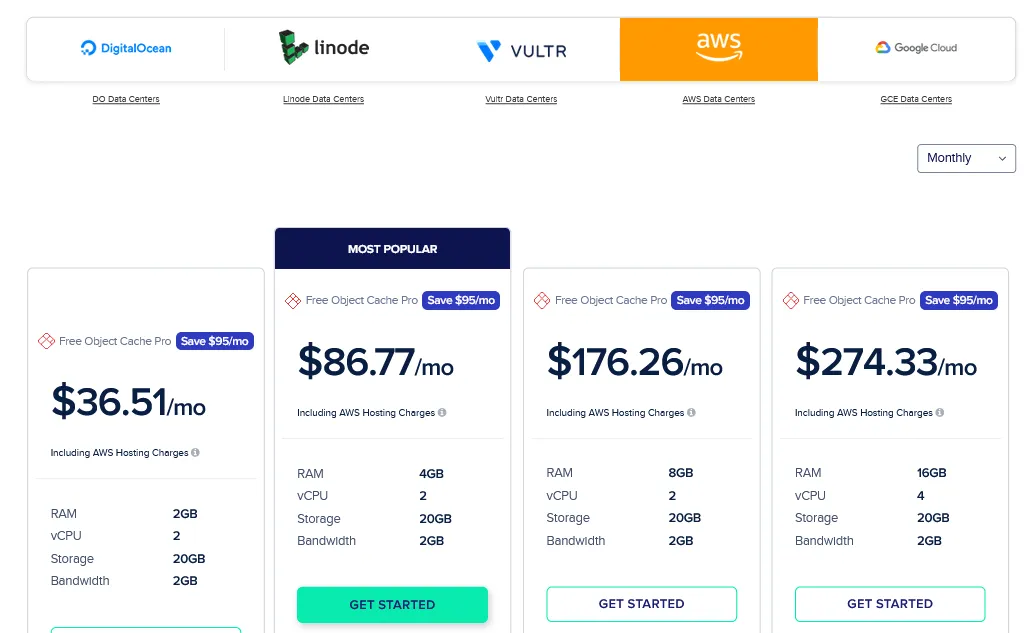 Google Cloud pricing on cloudways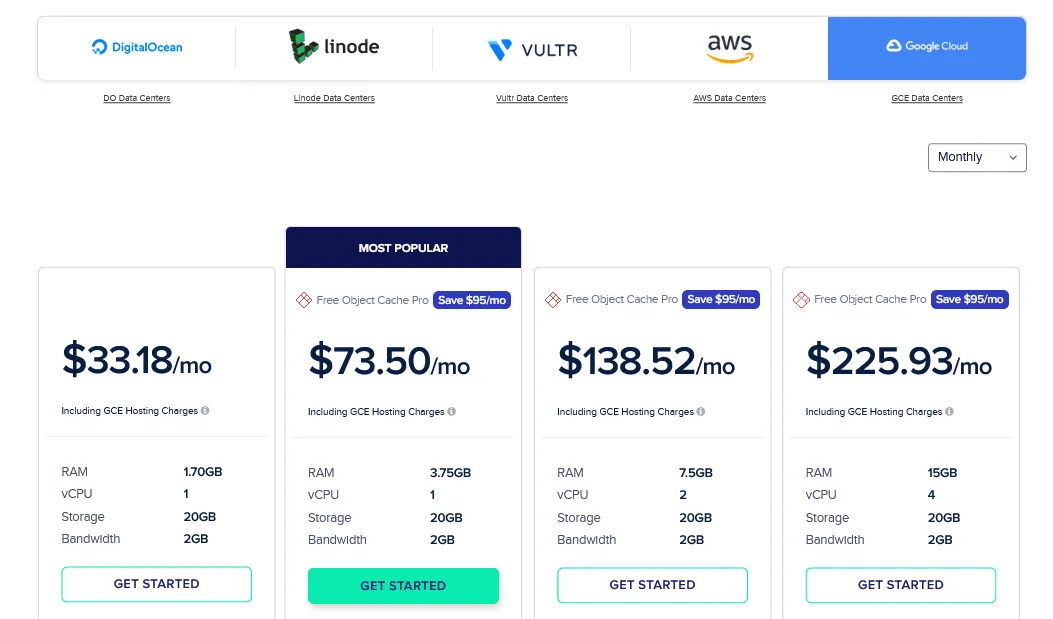 As with any hosting company, Cloudways servers offer varying amounts of CPU, memory, bandwidth and storage, with the most basic hosting plan featuring 1 processor, 1GB of memory, 25GB hard drive and 1TB of bandwidth.
Cloudways Speed Test
Page load speed is especially important for online sites, as long load times can affect a site's search result rankings and cause customers to leave impatiently. cloudways boasts ultra-fast page load times, thanks to its advanced technology stack designed to maximize speed:.
Apache
Nginx
Varnish
Memcached
Redis
PHP-FPM
MySQL/MariaDB for databases
Solid State Drives for Storage
The following table shows the page load times we have tested over the past 1 year.
Cloudways' servers can provide extremely fast load times, and what's even more exciting is that you can reduce this time even lower (37 milliseconds) with various optimizations, check out this article on the official website for more details.

Cloudways Uptime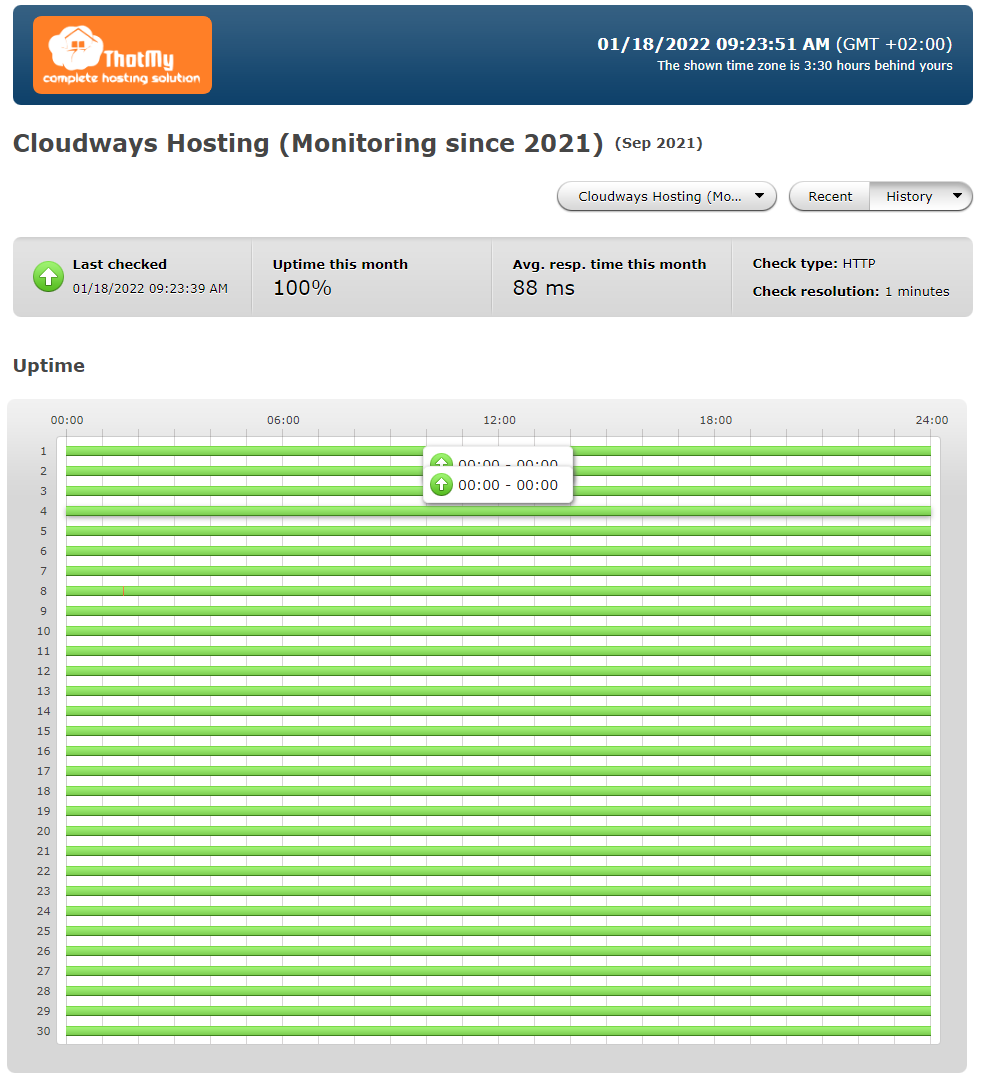 Cloudways has partnerships with some of the top cloud providers in the industry, so you can expect over 99% uptime. This is indeed the case, as we have tested an average of over 99.99% availability for the past 1 year.
Cloudways Offerings features
Cloudways' platform (cloud server) delivers an excellent feature set and architecture that is expressly created for speed, efficiency, and security, allowing you to simply add CPU, memory, storage, and other resources as your site grows.
Manage Services:
From here, you can restart or shut down the services used by the host, such as Apache (the host operating system), MySQL (a database program), etc. I rarely use the functions here. If the website encounters strange cache problems, you can try to clear the Varnish Cache (PURGE) from here!
Vertical Scaling:
Cloudways Vertical ScalingUpgrade the host specifications, but the hosting provider cannot be changed.
If the host hardware is insufficient, it can be dealt with here. There is no need to re-purchase the host and do a lot of troublesome website relocation.
The upgrade can only be directed to this host, and you cannot change the hosting vendor or host location incidentally.
The host cannot be connected during the upgrade process, which takes about 10–20 minutes; it is recommended to do it during off-peak hours.
Cloudways Guarantees Resources.
There are many types of web hosting services. The most common type of WordPress hosting is shared hosting, which means you share hosting resources with other people, and how many resources are available is unknown.
You may think this is not a problem, but it will also be reflected in the extra cost. If you come across a poorly managed vendor who consistently oversells host resources, the website will become unstable.
Compared with shared hosting, Cloudways provides guaranteed resources, so you don't have to worry about whether too many people are sharing resources, which will reduce your availability and affect the website.
Cloudways offers a variety of servers.
Cloudways has five types of hosts to choose from: DigitalOcean, Linode, VULTR, AWS, and Google Cloud, all of which are billed every month (hours for less than one month).
DigitalOcean, Linode, and VULTR hosts belong to VPS (Virtual Private Server), and AWS and Google Cloud belong to Cloud Computing.
General users don't need to be too obsessed with the difference between the two, it is more important to choose the budget, and the school can meet their own requirements. If there is no instantaneous explosion of hardware requirements, you can choose a VPS host. AWS and Google Cloud are very expensive.
From these five types of hosts, can choose the East Asian host location:
No matter which host you choose, you can use the functions provided by Cloudways. The cost of AWS and Google Cloud is high, and the host specifications are different from those of DigitalOcean, Linode, and VULTR. I am not familiar with this kind of service. Please study it yourself if you need it!
This site is a Tokyo host that uses Linode. You can find evaluations of DigitalOcean, Linode, and VULTR on the Internet. After reading it, I feel that DigitalOcean is the best, and I am very satisfied with it. If you are like me, most of the users are from the United States, so you can choose DigitalOcean's San Francisco Data Centers.
Global Data Center Network
You can choose to use StackPath CDN (Content Delivery Network), they store a copy of your website in data center nodes around the world and when someone visits your website, the system automatically detects their geographic area and delivers your website from the node closest to it.
In addition, you can choose to use the Cloudflare CDN, and Cloudways provides step-by-step instructions on how to do so. cloudflare has recently added 22 nodes in mainland China, but it should be noted that only enterprise accounts can use the CDN nodes in mainland China.
Page load speed can depend on many factors, and on this point, Cloudways offers a great article: 13 Ways to Speed Up WordPress Site for Better Performance.
Cloudways is the most popular web hosting service on the market not only because of its exceptional features and products, but also because it is so unbelievably simple to use. But don't worry, Cloudways provides a simple onboarding procedure that will have your website up and operating in a matter of minutes. With an easy-to-use interface, it will ask you to fill out a form with your website objectives, what you want to add to your site, and what you want your site's name and tagline to be. After completing these questions, you may choose a theme from the Cloudways Marketplace, and it will immediately install WordPress for your convenience.
Control Panel
In the Cloudways control panel, you can see a number of site settings.
Security
The security feature logs the whitelisted IP addresses you use to access the server.
Backups
Cloudways allows you to set up automatic backups of your cloud server images, either daily, every two days, every three days, weekly, etc., or manually at any time with the click of a button.
Monitoring
Probably one of the most impressive features, the charts will help you monitor the load on your cloud servers, with drop-down menus providing over 15 variables for monitoring, including incoming traffic, idle CPU and read speed, and more.
Traffic Spikes
There is nothing more frustrating than paying for advertising, getting a lot of traffic, and then having your website crash. With vertical scaling, you can adjust the allocated server resources with just a few clicks of a button. This is a great feature to have when experiencing a traffic spike.
Other Tools
In addition to the features mentioned above, Cloudways offers many other tools. For example, you can configure services such as MySQL, Apache and caching. With the WordPress Migrator tool, you can migrate your existing WordPress website. In addition, Cloudways console offers additional tools such as backup recovery, SSL certificate and GIT integration, etc.
Cloudways Security
Cloudways takes server security seriously and your WordPress site will be protected by a sophisticated firewall. Their technologists deploy their own security hardening technology to protect the server from hackers. As mentioned earlier, Cloudways also offers automatic site backups, and you can choose how often you want to back up your data.
In addition to server security, you get application-level security. This is another extra layer of security to protect your online business from external threats.
Here you can adjust the connection restrictions between SSH/SFTP and MySQL. First, explain MySQL. Cloudways blocks remote MySQL connections by default unless the source IP is whitelisted.
The chance of general users remotely connecting to My SQL should be extremely low and can be ignored temporarily.
SSH/SFTP is the more important setting. Cloudways does not have a built-in file manager.
It is quite possible to use SFTP to upload and modify files. The settings here are divided into two:
Allow all IP addresses, except those blocked by the Cloudways security system.
All IPs can connect to specific services except those that Cloudways blocks.
The vernacular is a blacklist, but Cloudways controls the list.
Block all IP addresses, except those on the whitelist. Only IPs on the whitelist can connect to specific services.
Based on information security considerations, I recommend setting it to a whitelist and then adjusting it to a blacklist when connecting to SSH/SFTP. If you have been unable to connect to SFTP, remember to check the settings here.
The general broadband and WiFi external IPs are all floating IPs. If you use Chunghwa Telecom's broadband, you can ask if you can apply for a fixed IP.
If possible, you can add that IP to the whitelist, and then you can connect to the above services through this line. But in cafes or other public places, you still have to adjust to the blacklist when you need to connect.
Cloudways User Interface
Cloudways has a simple and user-friendly interface compared to hosting providers like AWS, Linode and Google Cloud. Using these hosts must have the most basic host management features, and script code entry is necessary.
Even though they provide one-click WordPress installation functionality, follow-up instructions are likely required for the host to connect correctly.
From time to time in the WordPress community, you may find that some people use Google Cloud, Linode and other hosts but cannot complete the deployment of SSL, install WordPress, etc.
In Cloudways, WordPress installation can be done with one click. It can be considered an optimized and user-friendly interface for using all kinds of hosting services. Even if you don't understand the host management commands, you can complete daily tasks quickly.
In addition to the operations mentioned above, host management also includes information security protection, system program maintenance, service status monitoring, etc. If you use AWS, Linode, Google Cloud, you need to do this yourself; if you use Cloudways, they will handle it.
Cloudways Customer Support
Getting help from Cloudways is easy, you can contact the support team via phone, live chat or email. Or, you can find answers to your billing, sales or technical queries on the support page, which contains knowledge base articles and FAQs.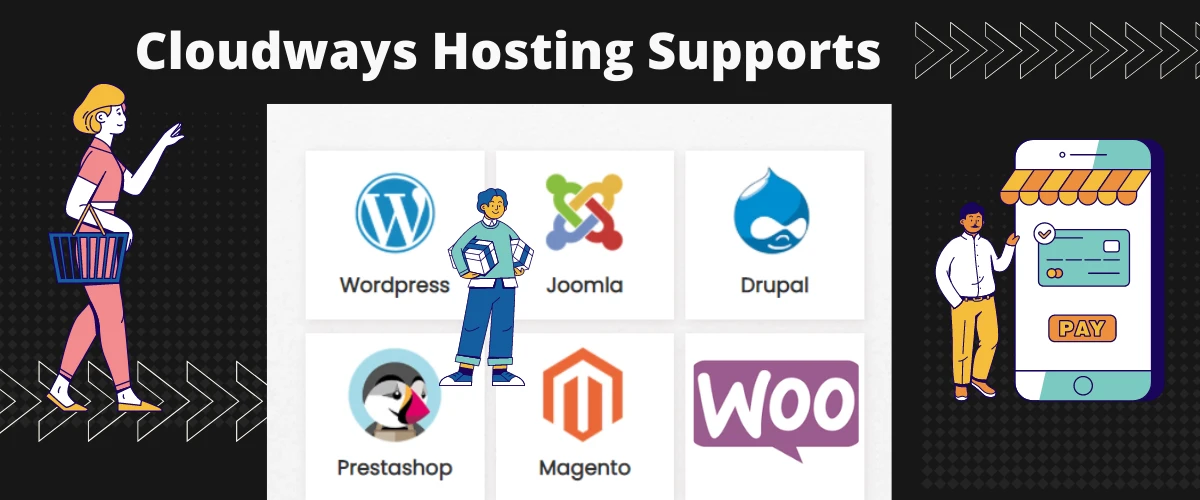 Cloudways for Different Types of Websites
Cloudways Server Performance on Different Types of Websites
Cloudways for WordPress Website
Is Cloudways good for WordPress? Many people have this question.
The Cloudways are specially designed for WordPress and PHP-based applications with Appache and Nginx hosting servers.
You practically get everything you need to create a successful and scalable website. Their target users are mostly for WordPress and WooCommerce.
Cloudways has already spent a significant amount of time and effort developing plugin, Varnish, SSL, Multisite, and Elasticsearch integrations for WordPress websites.
You can, for example, create multiple websites until your subscribed server space is depleted, and you can migrate an unlimited number of websites from other website hosting providers using their custom design migration plugin.
not stop here. You can increase or decrease your resources whenever you want.
Cloudways is one of the few cloud-based dedicated WordPress hosting companies that finds a balance between affordability and performance. They offer a fully managed hosting solution that promises no more slow WordPress site loading times and no more WordPress hosting difficulties.
Cloudways WordPress Hosting Performance
Cloudways is not only good for WordPress, but it also provides a very powerful hardware and software environment for WordPress, as evidenced by my own website performance test, which is built on Cloudways.

Cloudways WordPress Staging Environment
A staging application provides an independent system in which changes may be pushed and pulled between Live and staging apps without affecting the live environment.
If the staging site is hosted on a server already in your account, there are no extra expenses. However, if you start a new server, you will be charged the standard server fees.
SSL certificates, which encrypt all end-to-end communication, may be used to safeguard all staging websites. You have the option of using a FREE Let's Encrypt SSL certificate or your own Custom SSL certificate. Most significantly, for added protection, your staging site is password secured (.htpasswd) by default.
Cloudways for E-commerce Website
To make selling your business online a breeze, Cloudways offers a wide range of e-commerce features and currently hosts over 10,000 e-commerce websites. With the combination of Memcached, Apache, Varnish and Nginx, your website will have 100% reliability and super fast page load times.
Cloudways supports many popular e-commerce platforms, including Magento, WooCommerce and PrestaShop, among others.
Magento
Cloudways promises a one-click installation of Magento and the hosting servers are optimized to run online stores at high speed, which helps allow you to achieve higher conversion rates.
Other features include multiple SSL deployments, built-in SSH and Git environments, and a free migration service.
Cloudways for WooCommerce Website
WooCommerce is another popular e-commerce platform and with the help of one-click installation and automatic migration services, Cloudways makes sure that the whole installation process is as easy as possible. Also, the WooCommerce hosting plan includes features like WP-CLI support and server extensions so that you can get some extra resources during busy hours.
Conclusion
Cloudways is probably the most flexible company when it comes to cloud-based WordPress hosting, and their cloud servers have an excellent feature set that allows you to adjust each hardware facility of the server at any time as your website grows. What's more, Cloudways is very affordable in the WordPress dedicated hosting space, cheaper than major competitors like Kinsta, Flywheel and WP Engine!
Overall, Cloudways is a WordPress hosting service I highly recommend. Even if SiteGround provides the same price, I will consider relocating to Cloudways. Its advantages can be summarized as follows:
Cost: monthly payment, no large fees in the initial stage; the price is very transparent, and there is no need to worry about the huge price difference between the first purchase and the renewal
Interface: easy to use, don't worry about not completing daily operations without host management commands.
Server Location: The host in Tokyo can be used, and the connection speed with Taiwan is better than the host in Singapore
Function Offerings: have everything that should be there, and small defects are easy to overcome
Customer Support service: The response is super fast when using the online chat, and no problem needs to be sent to deal with the ticket.
Reliability: It has been used for more than half a year, and the notification of the host problem has not been confiscated
If you feel like it, make good use of it to provide a free three-day trial (remember to enter the promo code: THATMYCLOUD for $30 ), which is great without credit card information.
When signing up for an account, use the following promo code to get a $30 account credit, which is equivalent to 2 to 3 months of free use.
If you plan to continue using it, please add a credit card or deposit before the trial period expires. Otherwise, the host will be deleted once the trial period expires.
We believe that most clients will love the Cloudways experience, which includes a broad choice of server options such as DigitalOcean, Linode, VULTR, AWS, and Google Cloud price plans.The Cloudways is a web hosting provider worth considering—especially for WordPress users.