Disclosure: This content is reader-supported, which means if you click on some of our links that we may earn a commission.
As of right now, creating a blog site is probably one of the best things I've ever done in my life, and by that I mean: I get to stay in the comfort of my home every day, work with great people from all over the world, and spend as much time as I want.
In fact, everyone should create a blog as of February 2022 at. main reasons why you need to create a WordPress blog, even if you are not a technical developer or a writer, you don't have to worry because creating a blog is very easy.
The process of starting a blog is simple, and the initial cost is low. To get started, all you need is a computer with internet connection and an idea.
What is WordPress
WordPress is an open-source platform built on PHP and MySQL and is being continuously improved with excellence by dynamic developers and designers. With the latest plugins and features, WordPress can offer endless possibilities, and the Content Management System (CMS) will continue to thrive in the years to come.
WordPress is a content management system that allows you to easily manage all aspects of your website without knowing anything related to programming. It is open-source software that anyone can use for free and modify as they wish, even if they are not a professional web developer.
Since its launch in 2003 by Matt Mullenweg and Mike Little, WordPress has become increasingly popular.
It started as a blogging platform but has grown to support over 30% of all online sites on WordPress.
Some of the powerful sites that run on WordPress include TED, the New York Post, CNN, USA Today, Spotify, TechCrunch, Microsoft, and our Top Ten Reviews.
The primary reason for the popularity of WordPress's flexible and simple interface is that it's powered by thousands of plugins and templates, which reduce development costs and deployment time.
In short, WordPress is the best way to build a website.
You can start blogging for free using WordPress.com, which provides you with a completely free solution for sharing ideas, uploading images, or writing guides, as many people do every day.
What is the difference between WordPress.org and WordPress.com?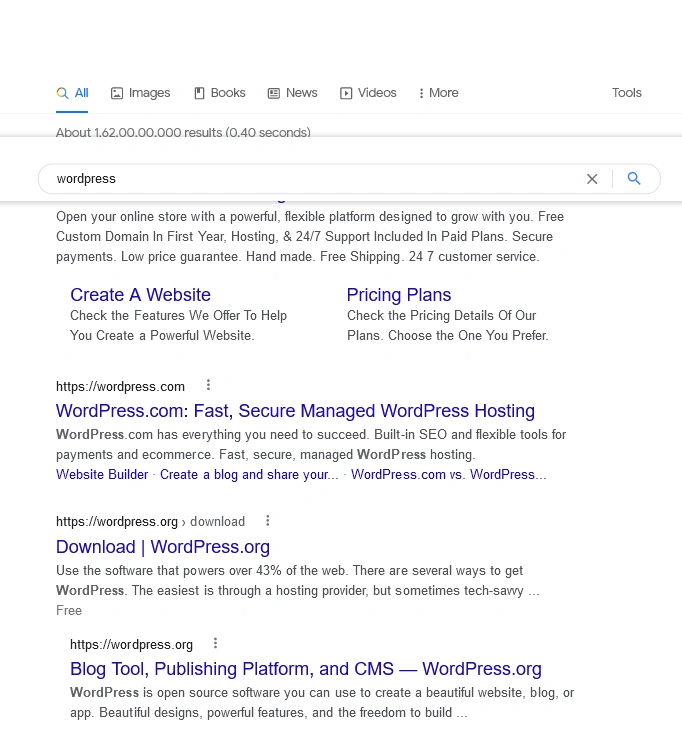 We have already covered in detail the differences between WordPress.org and WordPress.com. Here is the short version.
If you search WordPress from a search engine, these two things must be pretty confusing. You will find two similar websites, namely WordPress.com and WordPress.org.
The difference between WordPress's two is often confusing, especially for beginners new to the blogging world. The use of the two does have different purposes and users; here's the difference:
WordPress.org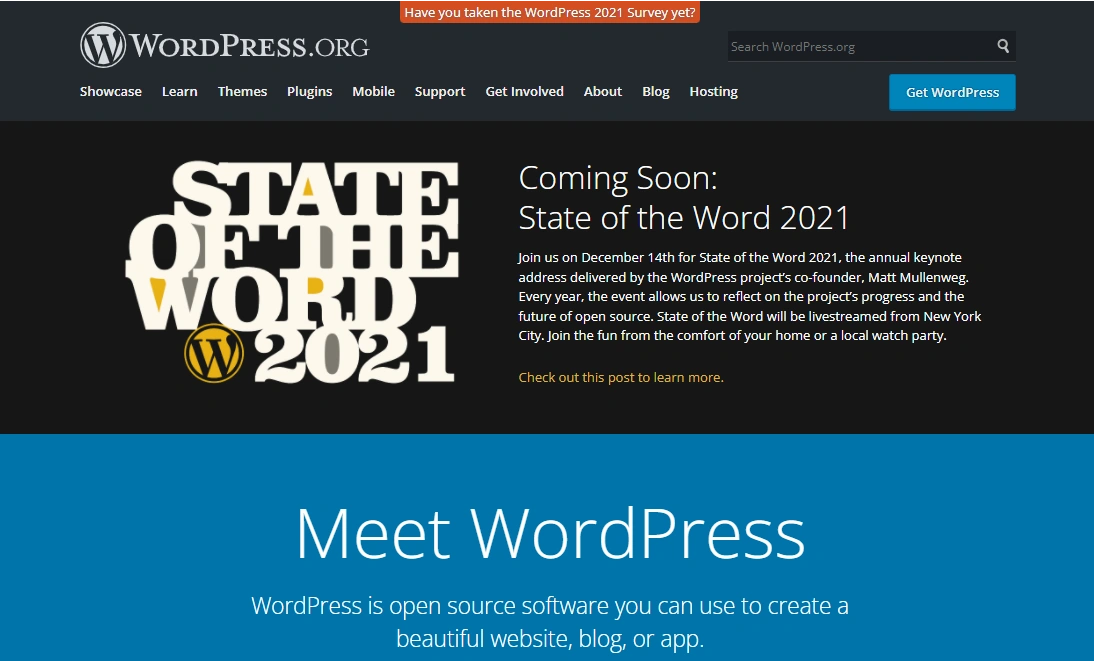 WordPress.org: often referred to as self-hosted WordPress, you will need to purchase web hosting separately and install this software to create a website with 100% control.
WordPress.Org official website of WordPress. Through WordPress.org, users can download the WordPress platform and get many free themes and plugins.
WordPress.com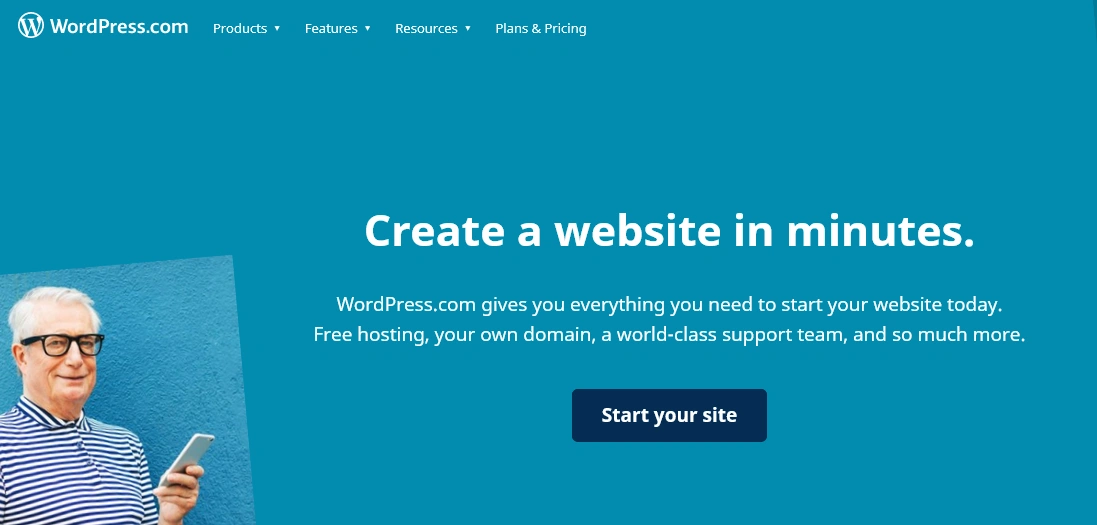 WordPress.com is a for-profit platform based on the WordPress.org software that offers web hosting services that are very easy to use, but you lose most of the self-hosted flexibility WordPress.
WordPress.Com uses the WordPress content management system for all blogs created. If you are interested in creating a blog using this platform, the type of domain you get is myblog.wordpress.com. You can get the default package for free, but you have to pay if you want a custom one.
When people say WordPress, they are mostly referring to the self-hosted WordPress available on WordPress.org. If you want to have an indeed your website, then self-hosted WordPress.org is the best choice. You can follow this guide How to create a WordPress website
Then to make an online site that has been created, a domain name and hosting package are needed. WordPress must use PHP and MySQL to activate and function properly. You can also utilize a WordPress hosting package to maximize CMS performance. According to building a website, WordPress can create various websites for different user interests.
How Much Does It Cost to Build a WordPress Website?
Whenever you're building a WordPress website from scratch, you need to make sure that every website component is working properly.
The domain can cost anywhere between $5 and $10, and a hosting plan can cost $3 to $100+ per month.
So you can expect you can start your WordPress website for $100.
So let's take a look at some of the things you need to spend money on for your website to work properly.
The domain and hosting of your WordPress website
A domain is the name of your website, and hosting is where all of your website's files are stored.
Since your domain is the first thing your website visitors notice, it should be simple, memorable, and fit your brand.
And your hosting is critical to your website's performance and speed.
Hence, it is important to pay attention to whether the servers are close to your target audience when choosing a hosting platform.
If you want to start WordPress to make money or drive traffic to your business, two popular hosts can help help you provide effortless service and pay as grow no additional cost.
cloudways is the Perfect choice with their discount coupon codes.
Is WordPress good for a Business Website
Are you ready? Let's get on with it. it is very easy to create a blog
As with any self-employed business, the work itself is very demanding, but the rewards you get (not just the money) are definitely worth it. Best of all, you don't need a bachelor's degree, a web designer, or any other fancy credentials to prove yourself, and you can share your information with the world in a minute.
How to build a personal blog site
Affordable
Why should you use WordPress to create a website and blog?
Most well-known bloggers on the internet use WordPress as their content management system because it is simple to use and has all of the functionality required to run a successful blog.
You can expand the functionality of your blog by including features such as an online store, premium subscriptions, and online course sales with a drag and drop website builder.
As a result, WordPress is the most profitable blogging platform, with dozens of free WordPress themes and plugins to choose from for your specific needs.
These plugins work in the same way as applications do for your WordPress site, allowing you to add features like contact forms and galleries with just one click.
Most importantly, WordPress is search engine-friendly. There are many fantastic SEO plugins available for further optimization. You may quickly enable Google Analytics' website analysis in WordPress to view key information about your user behavior.
In short, you can save lots of time and money to focus on your blog's growth.
Compared to Others Hosting platforms WordPress there are many advantages that WordPress has. Here are some of them:
WordPress is scalable
Ease of use
Free platforms
WordPress is flexible
Various Plugin Options
Wide choice of themes
Big community
Friendly SEO facilities
Secure website platform
Lots of tutorials on how to use it
Easy to add links from other services
Can accommodate a variety of files
Easy management
Has anti-spam features
Always progressing
Can include multiple authors
Can change HTML code
Tag keywords
Blocking the IP of threatening visitors
WordPress is scalable
Even if you are not a developer, you can beautify your website with a huge range of themes and plugins.
Themes: mainly used to change the appearance of the site's style.
Plugins: Change the way your website works, such as compact contact forms or powerful e-commerce features.
Currently, WordPress offers over 50,000 free plugins and 5,000 free themes, as well as a large number of premium options, which means: you have a lot of choices!
WordPress is easy to get started
Need to be a techie to create your website? That was decades ago! Now it's just a few clicks of a button! Most colocation providers are.
Providing pre-installed WordPress so that your website can be online in minutes.
Special tools are provided to make the installation and use process ideal for beginners.
As a global website platform, WordPress provides easy features for beginners and experts in this field.
WordPress is the correct answer to start learning for a beginner who intends to learn in terms of website development.
WordPress provides a forum that can be used to discuss the features provided on its website.
WordPress is free and open-source.
One of the most significant benefits of using WordPress is that it is free and open-source software, and while there are some fees to pay for web hosting, you never have to pay for the use of the software in a way that alternatives like Wix, Squarespace, etc. do not.
You can also find many open-source plugins and themes to improve the look and functionality of your website.
The number of WordPress channels globally is because the software used to develop websites is free. Even though it's free, the appearance of the user interface is not cheap.
So, even though the user is a beginner, they can create a professional website by utilizing the software facilities provided by WordPress.
WordPress is flexible
WordPress is excellent and allows you to create any website. Better yet, your website can grow with you.
Want to add a forum to your existing WordPress site? No problem, install the bbPress plugin!
Want to add a social network? Don't worry, and the BuddyPress plugin has you covered!
Want to sell your products online? It's easy. Just install the WooCommerce plugin!
You are never tied to a specific set of features and can always grow and develop fully.
It is easy to seek help.
Since WordPress is so popular, it is easy to find help when encountering any problems, such as the following ways.
Blog
Tutorials
Forum
Facebook Groups
Colocation provider's human customer service
Why do so many people use WordPress? What are the advantages of WordPress that many people are interested in? WordPress is a free but quality website platform.
In addition, WordPress itself offers various features that make it easier for users, both beginners, and professionals.
So don't be surprised if more than 40% of websites in the world use WordPress. Even world-famous brands and governments use pussy Sony Music, The New York Times Company, White House, and many others.
Based on data from w3techs, currently, WordPress users make up 41.4% of websites in the world.
As one of the most widely used Content Management Systems (CMS) globally, WordPress provides open and accessible software usage facilities.
In addition, the features provided are also relatively complete and easy to use by users.
Next, at this point, we will discuss the advantages of WordPress and why many companies and world celebrities use it.
Various Plugin Options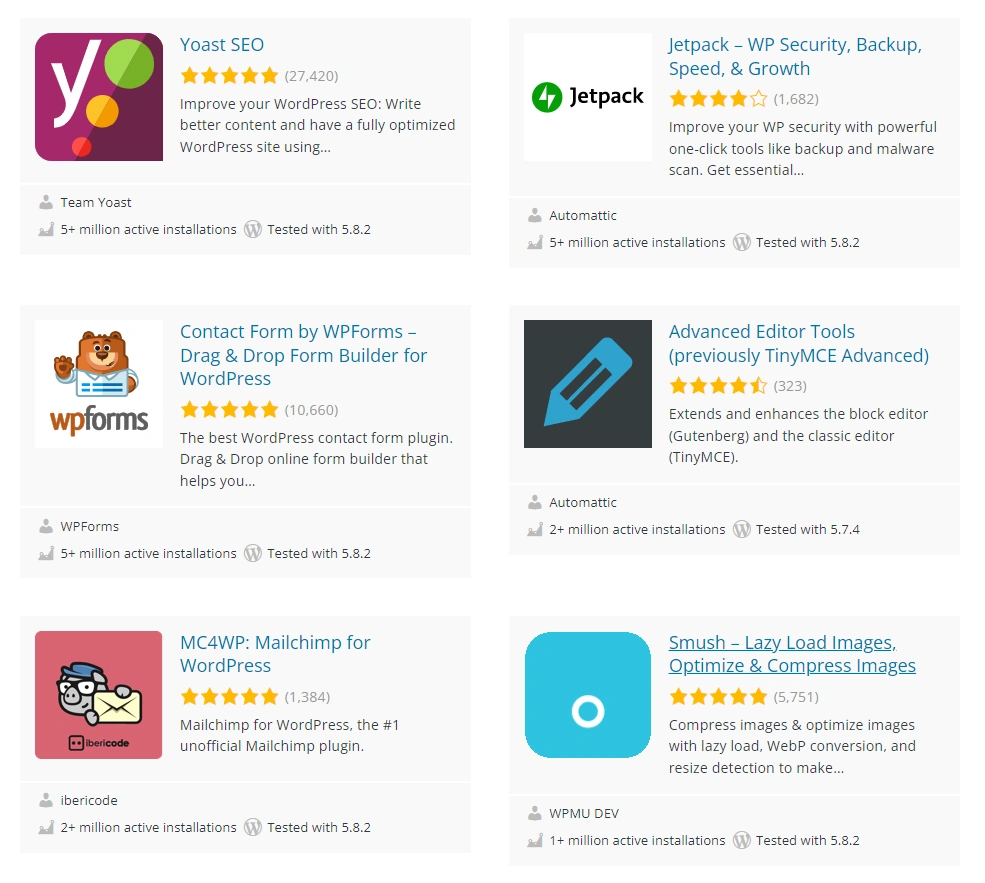 A WordPress plugin is a program that adds features to a website.
In WordPress, there are various kinds of plugins that you can choose according to your WordPress development needs.
So, you don't have to bother to add it using external links. Take advantage of the plugins that WordPress has provided.
There are more than 58,000 types of plugins that you can use for free on the official WordPress plugin directory. I have discussed more details about this WordPress plugin in a separate article.
Read: What is a Plugin?
Wide choice of themes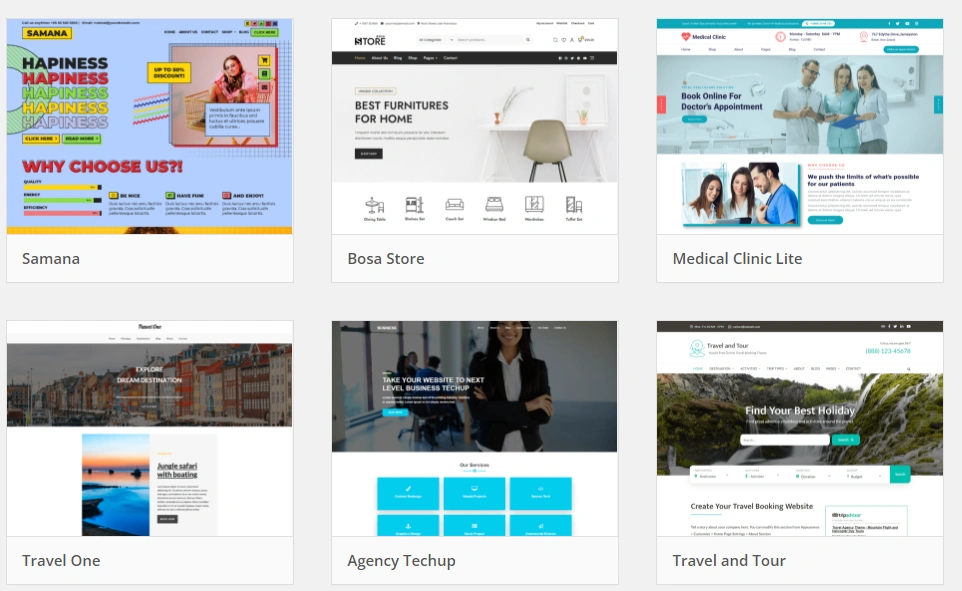 Like website development, you need a theme that will facilitate the process and become a hallmark of the website.
WordPress provides a wide selection of themes that can be selected according to needs. There are more than 8000 free WordPress themes that you can use.
In addition, there are many paid WordPress theme providers that you can use if you want a premium website appearance; you can try:
Divi
ThemeForest
Genesis
Big community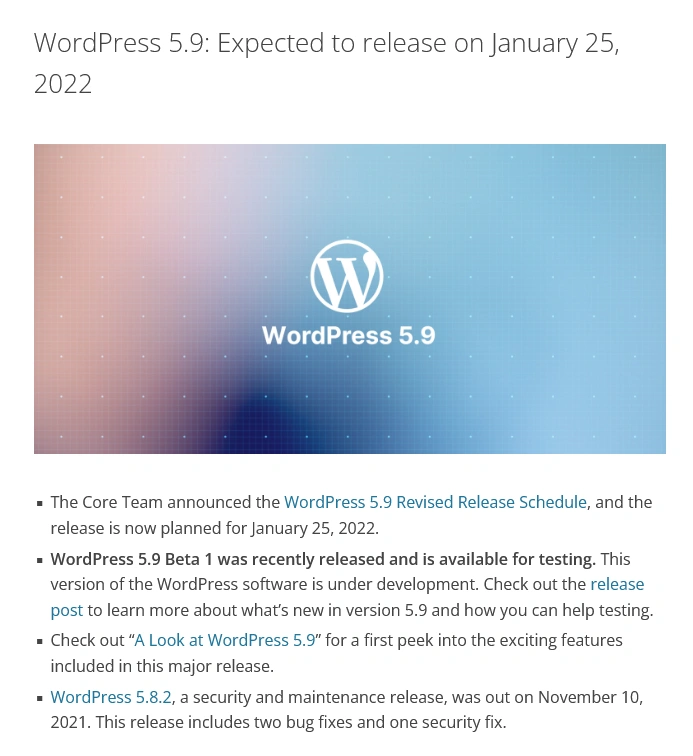 As a website platform spread more than 30% globally, WordPress is, of course, a prominent community compared to the others.
Benefits for users can be more optimal to quickly find the desired information according to their needs.
In addition, its development will be easy to do because of the help from the community.
Several WordPress platforms are used globally, one of which is because it is multifunctional.
WordPress is not only for personal blogs but can also be used as a business website, trade, hobby, promotion.
So, many fields of work use WordPress for their business and market development.
SEO Friendly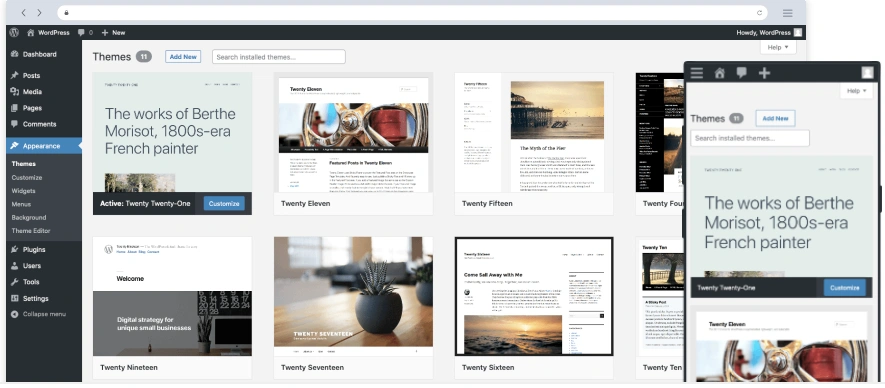 A website will be more easily recognized if you use SEO ( search engine optimization ). Its use, namely to support website development, is pretty straightforward and accessible.
Therefore, websites developed using WordPress can be arranged to quickly find the information provided on search engines.
Secure website platform
Even though WordPress is a free website development, it is highly guarded and prioritized from a security point of view.
So, if users use it to benefit client data or transactions, the security will be maintained.
In addition, for its own security, WordPress provides special plugins such as WordFence that can be added to the website.
Lots of tutorials on how to use it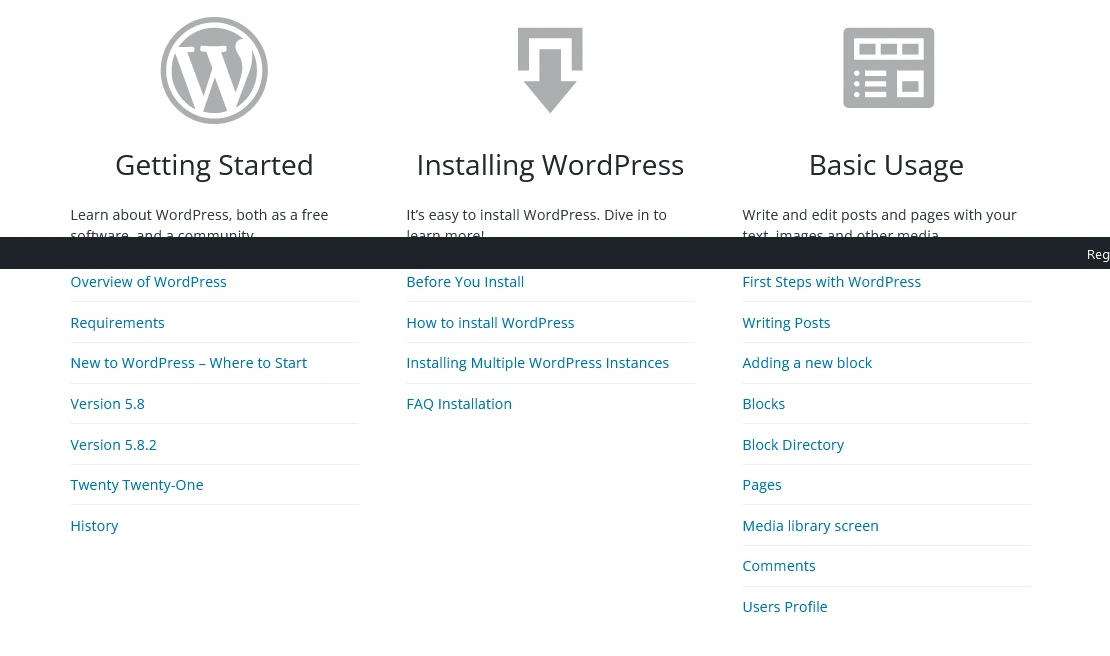 If you are a beginner who has absolutely no experience in website development but has a willingness to learn.
Don't worry, because there are lots of tutorials on developing WordPress to become a website that looks professional.
Just type a keyword in the search engine, it will appear thousands of tutorials that can be learned easily.
Easy to add links from other services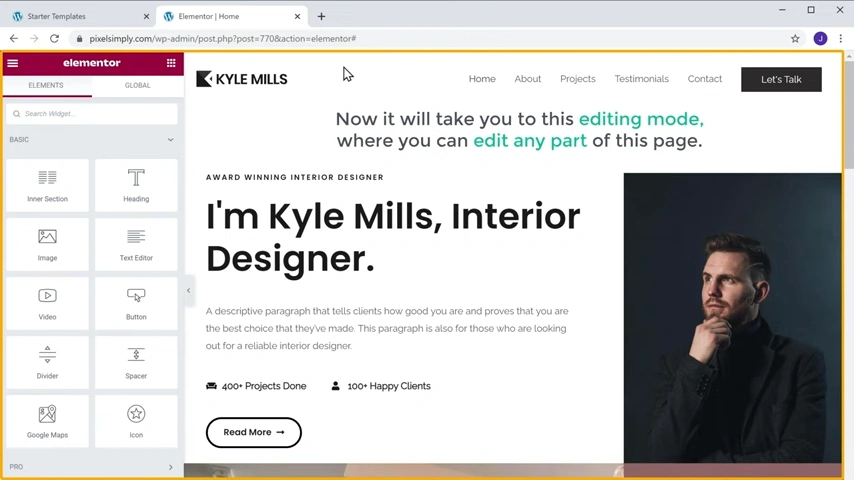 One way to develop a website is to add other services to support website performance.
In addition, we as developers can also monitor the existence of websites that are being developed. For example, by adding Google Analytics, we can see the website's performance we are developing.
Can accommodate a variety of files
Another convenience offered by WordPress is to add various forms of files so that the information presented on each page may vary.
Not only a matter of text but also can add images and videos. How to add it is pretty straightforward. Various information will be presented by dragging or linking the desired file.
Easy management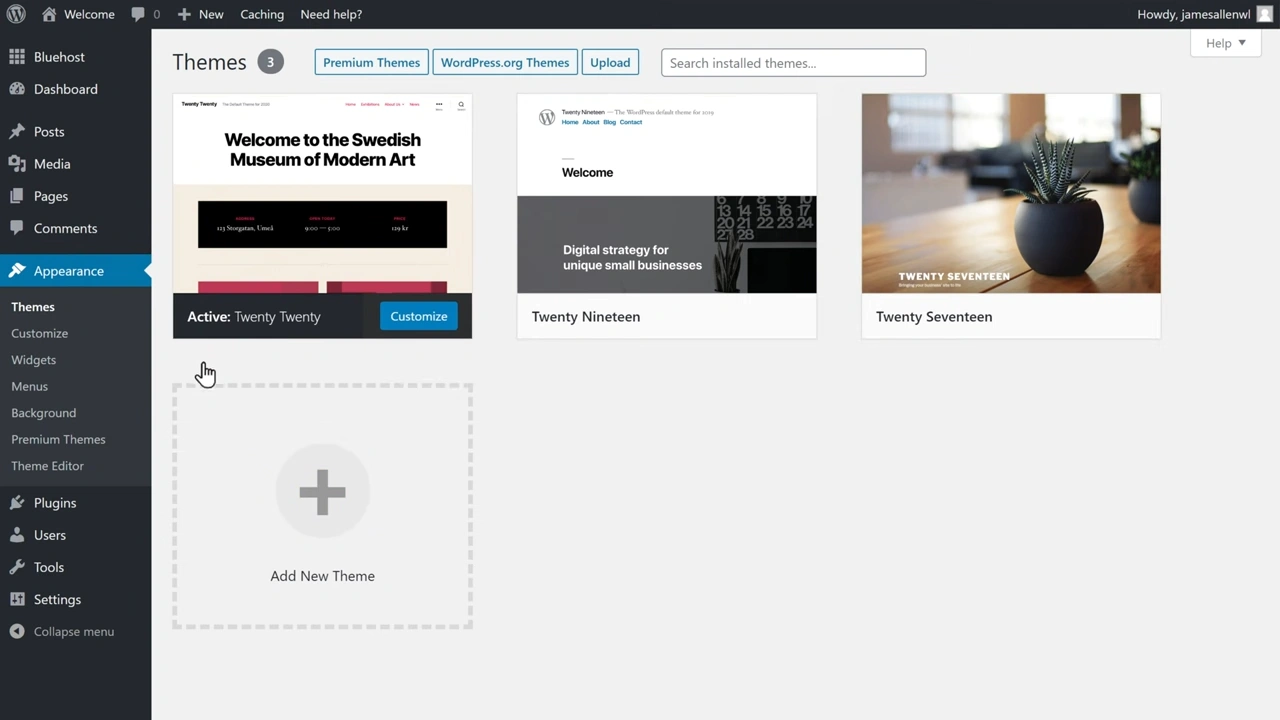 It is equipped with an up-to-date update system, making WordPress easily monitored. Every theme or feature used and then updates will be notified via email connected to WordPress.
So, security can be maintained when hackers attack the website that we manage. In addition, we can immediately anticipate.
Has anti-spam features
In general, informative websites are always equipped with a comment field feature so that users and clients can communicate.
However, the presence of this comment column is usually used by certain parties to promote their sales or any business that can disturb the client's comfort.
Therefore, WordPress provides an anti-spam service to filter incoming comments.
Always Updated And maintained
Websites that always follow the development of the times and client desires will be easier to find and provide convenience to clients.
One of the advantages of WordPress is the development of its management system that always follows the time. Thus, it is not monotonous and can be adapted to the needs of its dynamic use.
Multiple authors Can become contributors
One of the advantages of WordPress is the facility provided to include more than one author.
So, its development can be done using collaboration between people in a team.
This system will make it easier to monitor and manage its progress. So, the publication of writing does not only depend on one author.
You Can change HTML code
For those who are experts or in the learning stage, changing HTML on a ready-made theme will be a fun job Because we can change the theme's appearance to suit our needs, even if we continue to use the WordPress themes.
One of the facilities owned by WordPress is the tagging facility, where we can mark the keywords used in the information content.
This can make the information we create easier to appear and become trending on search engines. The more trending keywords, the more we present will be easier to find.
Blocking the IP of threatening visitors
The benefit of blocking IP visitors is that they cannot access our website.
We can do this if visitors consistently spam the comments column and annoy other visitors.
This allows us to resolve conflicts in the comment column and reduce control over the comment column to focus on the purpose of our website.
Besides the advantages mentioned above, WordPress is also easy to install on different devices. Not only on laptops but also on smartphones, which are indispensable in today's life.
Hence, the information presented in this WordPress can serve as a good starting point to search for information or simply as reading material.
However, we prefer the self-hosted WordPress.org, which offers you more powerful features than WordPress.com. If you have started a blog at WordPress.com, it is easy to transfer it to WordPress.org.
WordPress.org vs.
To create a self-hosted blog, you just need to buy a managed hosting, and many free themes and plugins are great to add various styles and features to your website. You can get web hosting from Hostinger for $8.55/month (most of the time there are promotions, the actual price is less than $5/month), and if you don't like hosting providers, you can also choose the domestic favorite Aliyun.
How to build a WordPress website
improve your writing skills
Anyone can benefit from writing, it is an art and skill worth having. Since you need 10,000 hours of practice to become an expert in any industry, how can bloggers improve your writing skills?
Just like muscle strengthening during exercise, writing a blog regularly will allow you to slowly improve your writing in an invisible way, and you will learn how to translate your ideas into statements faster and make them fit your style.
Many people prefer to draft their articles on paper, but this doesn't actually save much time because WordPress provides the best writing tools.
Not sure what to write about? Daily Prompts posts daily written prompts to help you get started. Or, you can check out this post from us: How to Decide on a Blog Topic.
Learn new knowledge and skills every day
To write valuable content, you must invest time and resources in research, and this work involves writing a variety of content around a niche (Niche). Writing something different every day will make you smarter, which will definitely benefit you later in life. When you first start writing for an unfamiliar field, don't be afraid.
You can spend time learning about programming languages, tourist attractions, exotic cuisines, super cars, historical events and local cultures around the world. There are many online sites that offer this content and we strongly encourage you to visit sites like Treehouse, Lynda and Udemy to learn writing and marketing skills.
Become an authority
It's impossible to explain how this happens, but when you publish consistently on a topic, readers will begin to see you as an expert in the field. Who knows what opportunities this position of authority will open up for you?
There are many self-taught experts on any subject offering a variety of products and services, all thanks to their authority in their respective fields. A columnist in any niche is a well-paid and respected position, an authority in any subject area opens the door to a wide range of possibilities, and blogging is the easiest way to build authority in any field.
So how do you build your authority? Start by finding your niche, then blog about it and engage in social media with other experts related to your field.
How to find the perfect Niche
meet new people
We are social animals and always want to form groups and find those who share the same ambition, and blogging can achieve this.
You'll meet a lot of influencers, motivators who keep you going, bosses who hire you, and even investors who want to work with you. You'll meet all kinds of different people, and none of that would happen without an online blog.
Image source Depositphotos
People from all walks of life can become real friends who will inspire you and share content in unimaginable ways. They may become a part of your life, you will fall in love with the blogosphere, and with WordPress, you can bring these friendships into the real world.
be your own boss
If you have a full-time job that you love, then stick with it! However, if you want to escape from a life of routine, then blogging is definitely for you. Say goodbye to the days of cramming buses, meeting clients, and kissing leaders' asses!
Image source Depositphotos
To be your own boss, you need to run a productive business and do exactly what you envision, and blogging is a perfect solution. You can even use blogging as a side hustle and keep your current full time job.
There are advantages and disadvantages to being your own boss, but it is something you should at least try in your life.
Flexible schedule
A blog can be turned into anything you want, and you can pick it up whenever you want - a flexibility that no other job can offer.
Image source Depositphotos
You can also easily switch and transform your blog into a business activity. For example, you can use a blog to offer services, send more traffic to your main site, promote offline stores, share your ideas, and anything else you can think of. Blogging is a very valuable online tool because it is so versatile.
The best part is that you don't have to write all the time, or even not at all. You can choose other media, such as video, images, audio, games, or hire someone else to write for you to expand your audience. Your options are really endless when it comes to building a blog.
earn a lot of money
I am a blogger, and I am not the only one. This means that I blog for a living, just like millions of other bloggers. The benefits are being your own boss, being 100% responsible for your own income, and having autonomy to control your daily activities and schedule.
Image source Depositphotos
Some people have mastered the most critical techniques and have made hundreds of millions of dollars. Once you launch a blog, create quality content and generate traffic, you can profit from your website and brand. With affiliate marketing, sponsored posts, Google AdSense, targeted ads and more, there are many ways to make money from blogging.
If it performs well, then blogging is one of the most profitable tools in the world. In addition, you get to do what you love every day.
Realize the value of life
You don't have to be the best blogger in the world, but you can help others solve their problems and interact with like-minded people through your blog.
Image source Depositphotos
Do you have to be Bill Gates (William Henry Gates III) or Warren Edward Buffett to start a philanthropic endeavor? Your blog is a powerful tool that can be used to support any position. Write about something you really care about, start a crowdfunding site, or even donate your time and use the knowledge you've gained to create a website for a cause you care about.
It's Your Turn
What are you waiting for? Why aren't you blogging? What's holding you back? You can use blogging to achieve countless dreams.
WordPress is the most popular way to build a website for many reasons. if you want to get started with WordPress See our beginning a WordPress blog tutorial for detailed step-by-step instructions. Overall, WordPress is an excellent platform for personal and professional blogging.