Disclosure: This content is reader-supported, which means if you click on some of our links that we may earn a commission.
Looking for Fastest WordPress Hosting Provider? We compare the server speeds and performance of the leading web hosting companies on different types of hosting, websites, and locations to find out which are the fastest web hosting plans for your WordPress website.
However, it's hard to find fast web hosting suitable for your website from hundreds of available hosts with attractive offers and services.
I did ALL the hard work by evaluating a web hosting provider on speed and performance, and this article will guide you through the complex process of finding the most cost-effective, reliable-uptime, and fastest website hosting server to improve your Largest Contentful Paint (LCP) and First Input Delay (FID) in record time.
In this post, I'll give you an overview of the top 10 fastest WordPress hosting companies for different plans. We will also conduct the actual test results, which will include measures like load times, time to first byte (TTFB), and stress tests.
The best web hosts can help you reduce page loading times by seconds. Speed is a critical factor in the success of your website, impacting everything from conversion rates to SEO.
As a web developer, I created this practical advance guide (Not a list post 🤣) to help you select the fastest servers for your website hosting.
I thoroughly tested web hosting server speed with host server stress to find the high performance web hosting, leaving no room for doubt (everything is transparent).
I ranked web hosting providers based on their web hosting speed test: I purchased web hosting accounts of different types, set up test sites, measured their speeds and uptime, and whittled them down to the fastest web hosting services with their hosting types.
I used WordPress on multiple sub-domains of my website with my heavy load homepage, which is connected to different web hosts for the load test to determine how many users the host server can actually handle.
There are several reasons why you may want to use WordPress as your company's CMS, including access to a vast community of third-party plugins and mobile-friendly features.
The reason for using the WordPress CMS is because:
According to builtwith.com, WordPress has a market share of around 40% of all live websites.
WordPress is built on top of the most popular server-side programming languages PHP and around 80% of the websites are based on PHP.
Most likely, you'll make a website on at least one of them.
In this post, I'll walk you through the process of selecting high performance WordPress hosting providers with the fastest response times for different types of web hosting to host your website.
Including:
Shared Hosting
Wordpess Hosting
Managed
VPS Hosting
Cloud Hosting
Small Business Hosting
If you want my quick recommendations based on your budget, here are my top fast reliable web hosting choices.
Cloudways is the fastest web hosting company in terms of response time, with 5 high-speed servers starting at $10/monthly pulse, no costly renewals, and only a hosting company where you can pay on an hourly basis. You don't have to deal with website maintenance and management, and you can focus on your business's growth and scalability.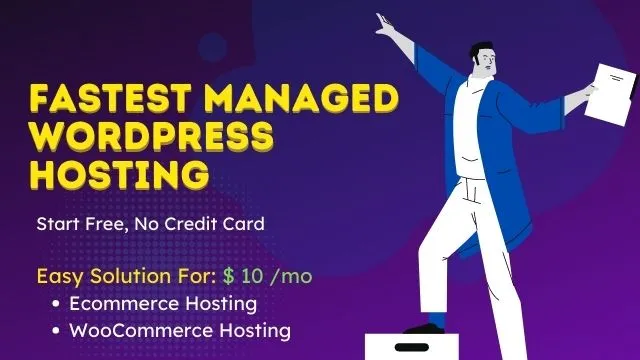 When you first compare Cloudways to another host, you may feel they are expensive, but they are not because they don't have any hidden, higher renewal, or up-gradation costs.
Cloudways is for any size website, not just for small businesses. They are best for eCommerce stores to create, promote, and sell their shops powered by WooCommerce tools.
Cloudways offers the best servers for high-traffic websites as well as excellent packages for larger businesses that need more storage, performance, and control on demand. These packages are for high-end web hosting and focus on performance and security.
You can get the fastest free hosting for three months by using the Cloudways promo code THATMYCLOUD.
Cloudways is a high-speed web hosting provider that makes website management easy. With their hosting features, starting with the super-fast WordPress hosting performance for all their plans, built on the fast secure servers, which includes,
Digital Ocean
Vultr
Google Compute Engine (GCE)
Amazon Web Services (AWS)
Linode
Cloudways — The best WordPress hosting for speed, support & scalability.
A2 Hosting — The fastest shared WordPress hosting
Hostinger – The fastest for cheap WordPress hosting
WP Engine — The fastest for managed WordPress hosting
SiteGround — The fastest affordable WordPress hosting
DreamHost — The lowest day one spend for WordPress hosting
Cloudways — The best WordPress hosting for speed, support & scalability.
1. Features offers:
2. Pricing and Plans
3. Performance Test
4. Stress Test
5. Hosting Optimizations
A2 Hosting — The fastest shared WordPress hosting
1. Features offers:
2. Pricing and Plans
3. Performance Test
4. Stress Test
5. Hosting Optimizations
Hostinger – The fastest for cheap WordPress hosting
1. Features offers:
2. Pricing and Plans
3. Performance Test
4. Stress Test
5. Hosting Optimizations
WP Engine — The fastest for managed WordPress hosting
1. Features offers:
2. Pricing and Plans
3. Performance Test
4. Stress Test
5. Hosting Optimizations
SiteGround — The fastest affordable WordPress hosting
1. Features offers:
2. Pricing and Plans
3. Performance Test
4. Stress Test
5. Hosting Optimizations
DreamHost — The lowest day one spend for WordPress hosting
1. Features offers:
2. Pricing and Plans
3. Performance Test
4. Stress Test
5. Hosting Optimizations