Disclosure: This content is reader-supported, which means if you click on some of our links that we may earn a commission.
7 Best (100%) Free Web Hosting Services – A web hosting service is a type of service that enables any individual or business to create and  host their own website over Internet accessible via the World Wide Web (WWW).
Most hosting is paid, but there are many free hosting alternatives of the highest quality that you can use to meet your needs and goals.
Offering free web hosting services has also become a marketing strategy where people will initially be interested in using their free hosting and then upgrade as the website grows.
Users are offered paid packages and are required to upgrade to paid web hosting.
It's important to remember that while every service is free, the majority of them come with a slew of restrictions. 
If you are serious about developing a website for commercial purposes, free hosting is not for you.
However, if your goal is to create a standard website or for testing purposes, and if you are learning, free web hosting may be the best option for you.
What is the Difference Between Free and Paid Hosting?
The primary and obvious difference Between Free and Paid Hosting is price and Performance.
Even though it is a free hosting service, it does have some limitations.
Even if you register unlimited, free hosting allows you to host a limited number of websites and comes with limited disc space and bandwidth. 
Limitations are imposed in order to ensure that everyone has an equal opportunity to use their services.
Free hosting is an excellent place to begin.
It enables you to experiment, code, and build without the need for any capital or investment.
Paid hosting services typically provide more functionality, additional features, and a large amount of data, as well as a higher bandwidth limitation.
Overall, you get a more professional and adaptable experience.
The following is a list of the best free web hosting service provider websites with popular features from which to choose.
000webhost Web Hosting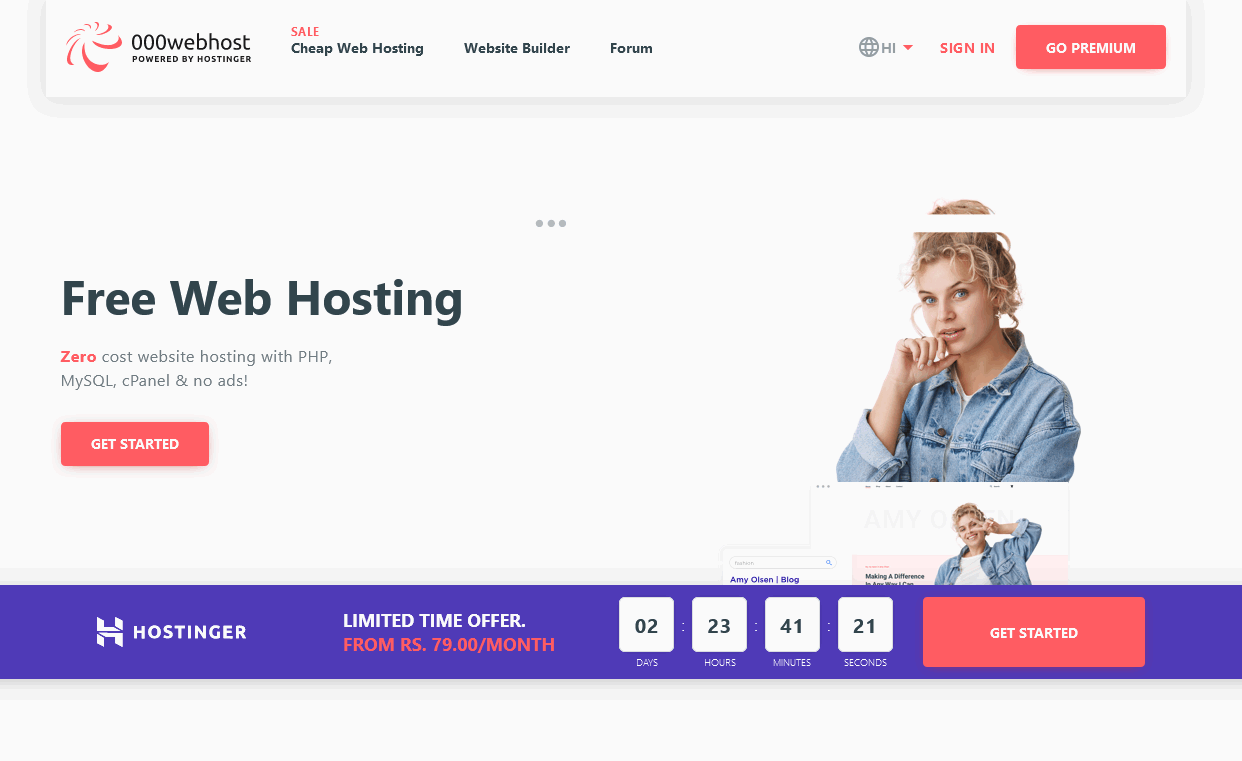 Visit 000webhost.com
000webhost is the first and best free web hosting service that is very experienced and is the oldest hosting service on this list. All 000webhost accounts are activated instantly.
As soon as you sign up, you can begin working on your website project. With this free hosting, you can create anything, from a WordPress blog to a simple HTML website.
Building a website requires perseverance, dedication, and time. But at 000webhost, it's simple, quick, and enjoyable!
Starting an online adventure with your 000webhost account is a straightforward four-step procedure.
Monthly cost: 0
Account activation in seconds,
Control Panel, 99% uptime,
lightning-fast speed, and
cutting-edge technology
Infinityfree Web Hosting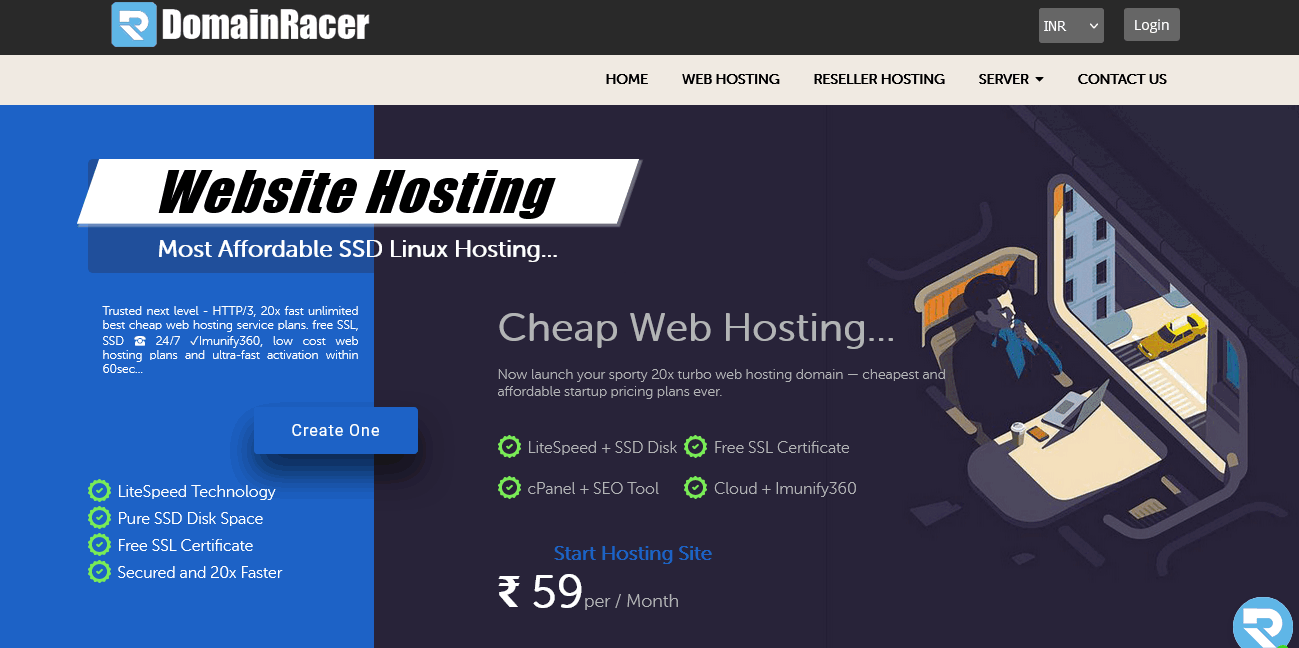 Visit https://infinityfree.net/
Infinityfree is the next best free web hosting platform that provides unlimited disk space
and bandwidth.
Moreover, you will have no ads from them and allow you to bring your
domain name or choose a free subdomain name from over 25 free domain extensions
available.
The features that Infinityfree provides in their free hosting are:
Sub Domain : Yes
Bandwidth : Unlimited
Disk space : Unlimited
Support : Only Support Forum / Knowledge Base
Website: Maximum Up to 400
Email Account : Maximum 10
Uptime & Speed : Good
There are three hosting plans offered by Infinity:
InfinityFree
Price: $0 per month.
Features: Unlimited disk space, unlimited bandwidth, unlimited hosted domains, 10
email accounts, 1 FTP account, etc.
Super Premium
Price: $2.99 per month.
Features: Unlimited disk space, 250 GB bandwidth, 20 hosted domains, 100 email
accounts, 100 FTP accounts
Unlimited daily hits 7/11
Ultimate Premium
Price: $2.90 per month.
Features: Unlimited disk space, unlimited bandwidth, unlimited hosted domains,
unlimited email accounts, unlimited FTP accounts, unlimited daily clicks.
Advantages of Infinity
The test site hosted on Infinity has consistently scored over 99.9% uptime.
For speed and performance the Infinity website performance test managed to score a TTFB (Time To-First-Byte) under 600ms and an A+ rating on the speed test. This free hosting is very good when compared to other free web hosting service providers.
disadvanteages of Infinity
Unlimited bandwidth and storage space comes with many limitations.
Usual support service.
Restrictions on the types of content and files you can upload
Limited amount of bandwidth your site can use
DomainRacer Web Hosting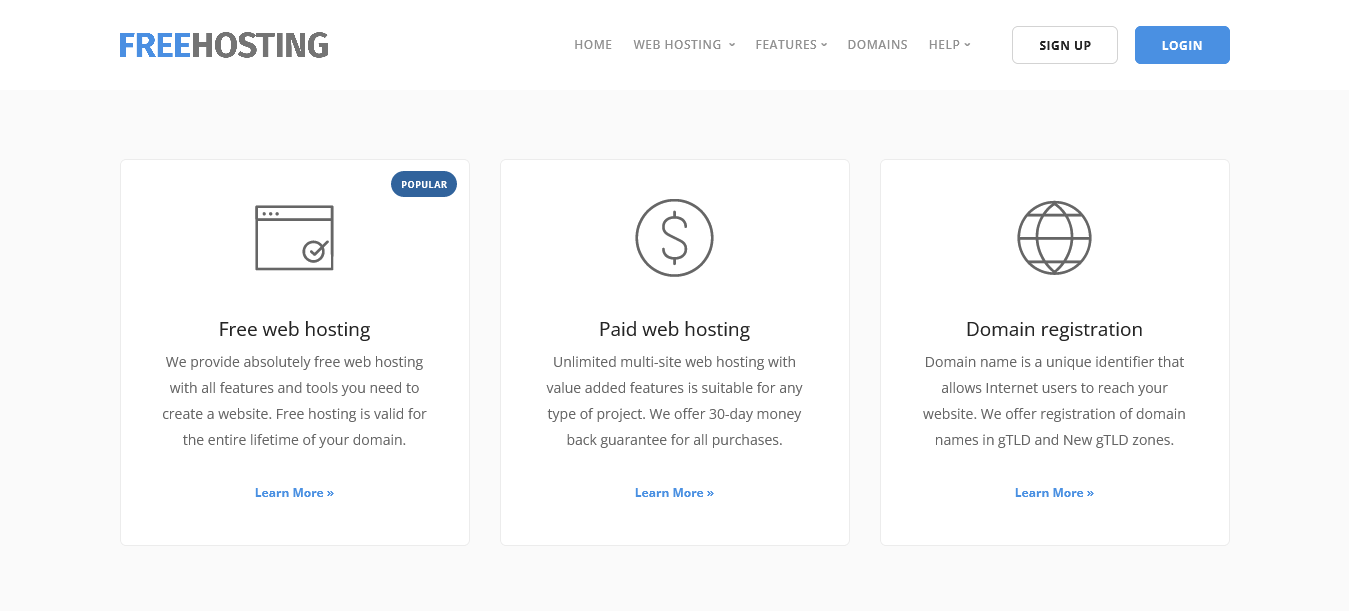 Visit domainracer.com
DomainRacer is a low-cost web hosting service that is almost free. 
It enables you to host your website at high speeds and with unlimited resources. 
DomainRacer has several features; nothing compares in terms of service and affordability.
DomainRacer is the leading low-cost web hosting provider in the United States, and it already powers over two million websites worldwide. 
DomainRacer offers unlimited bandwidth and storage space, as well as free SSL certification for website security. 
All web hosting plans are extremely affordable, with multiple server locations and faster speed cache technology. 
Domain names are included with advanced web hosting plans (.com and.in).
DomainRacer's extremely clever approach: The Amazing and Dedicated Support Team Pocket-Friendly Package 
The cheapest renewal fee 
Amazing has a 99.99 percent uptime. 
Stable Page Load Time on a Fast Server (149 ms) 
Strong Defense Against Recent Attacks 
Unrestricted AccessBonus Service Cache Protocol Support For Much Faster Speed 
Tier 4 server locations
Currently Available Number of Customers Satisfied 
DomainRacer will always protect your website from cyber-attacks. 
They include 7+ security approaches for protection, such as (ImunifyAV+ and Imunify360), ModSecurity, PYXSoft, and secure website apps with DDoS Protection, Email Spam Protection, Magic Spam Protection, and Firewall. 
DomainRacer's customer service is extremely responsive and always available to answer your questions.
They offer multiple support channels (live chat, call, ticket, email, and WhatsApp). 
Here you will find a free website builder app as well as free SEO tools to assist you in maintaining your website's ranking in search engine results pages (SERPs).
Dreamnix Web Hosting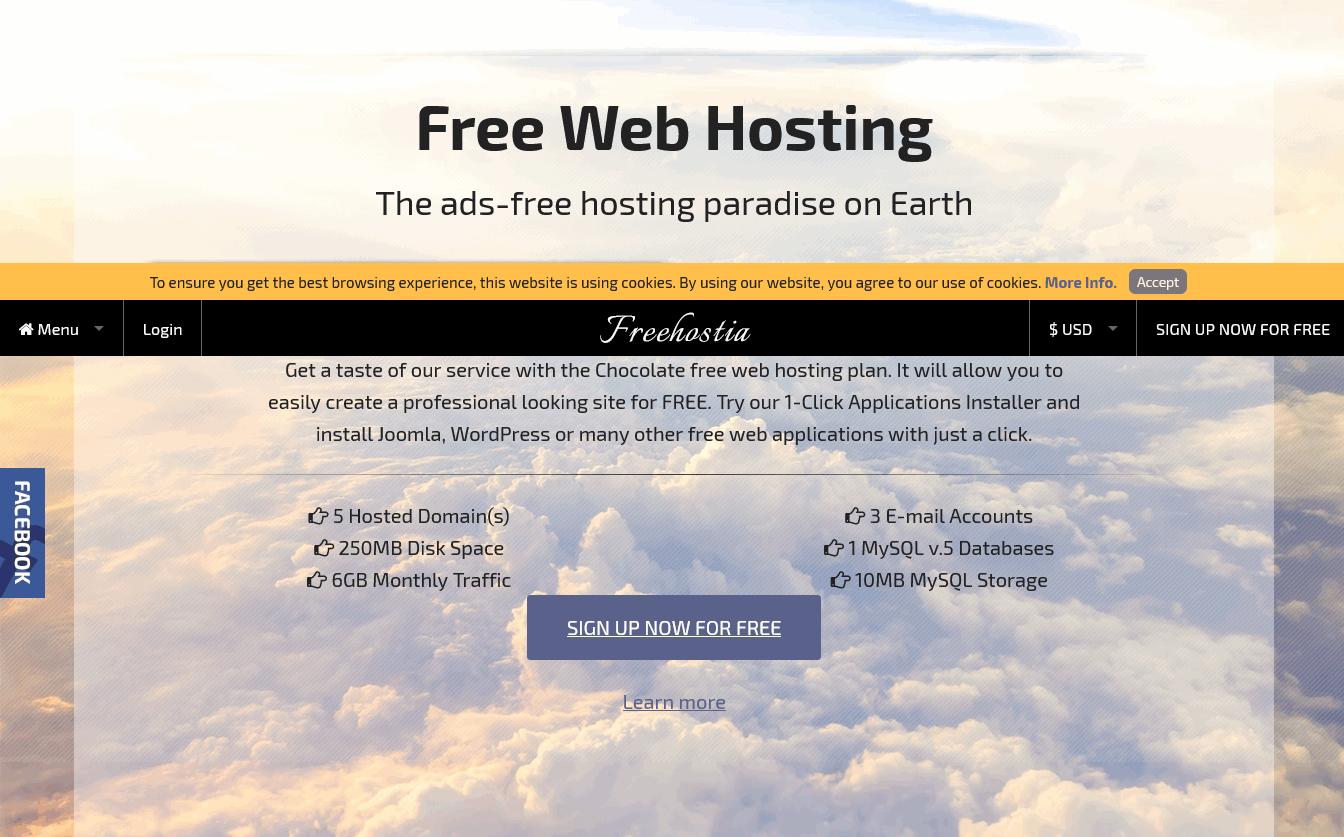 Dreamnix is a division of BusinessICS International Ltd.
BusinessICS has been operating in three different world-class data centres (Los Angeles, Amsterdam, and Hong Kong) that meet the most stringent criteria since 1999.
Dreamnix provides the best free web hosting prices that are simple and adaptable to the needs of any website or organisation.
The cloud costs nothing per month to use.
Advatages of Dreamnix:
1 GB of storage space, 1 GB of monthly bandwidth, 1 site, and 1 database.
Cpanel Cloud Pro costs $2 per month.
Cpanel Cloud Turbo costs $4 per month.
20x faster load speed, limitless disc space and bandwidth, limitless sites and databases, limitless mailboxes, free Cpanel, SSH, and SSL
Disadvatages of Dreamnix:
There are no available email accounts.
Storage and bandwidth are both being reduced.
FreeHosting.com Web Hosting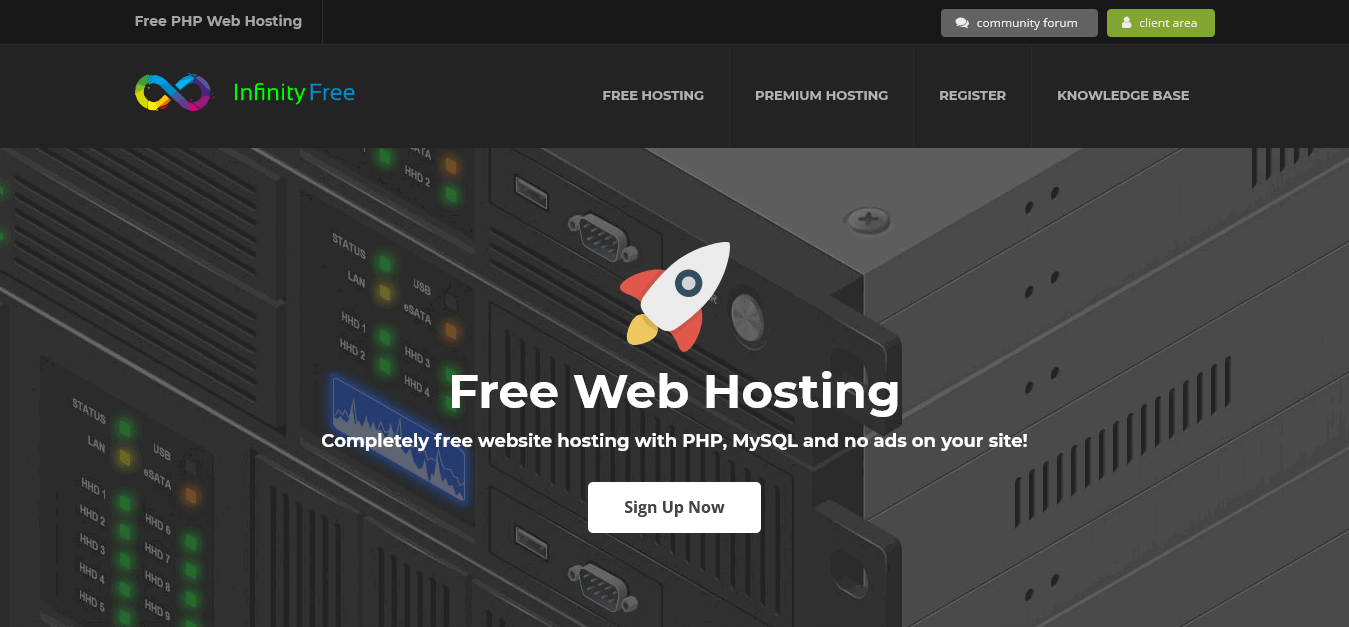 Visit freehosting.com
Another reputable free web host is FreeHosting.com. 
Since 2010, it has been offering web hosting services. 
They operate in two separate data centres that are dedicated to serving free and paid hosting accounts separately without interfering with one another. 
Their data centres are located in Germany and France, respectively. 
These two cutting-edge data centerparks provide excellent and environmentally friendly infrastructure for your internet business. 
Features of FreeHosting : 
Improved server performance, multi-site hosting, and PHP process concurrency 
Fee-based hosting plans: 
Weblog, web statistics, backup, CGI, additional resources, and custom PHP configuration are all available. 
Subdomains include NoUnmetered Bandwidth. 
10 GB of storage space TicketsSSL assists. 
Furthermore, there is the maximum number of websites is one. 
One email account is allowed at a time. 
Features that stand out there are over 480 web apps. 
Disadvantage of FreeHosting 
FreeHosting is a free web hosting service with the slowest speed when compared to others.
Freehostia Web Hosting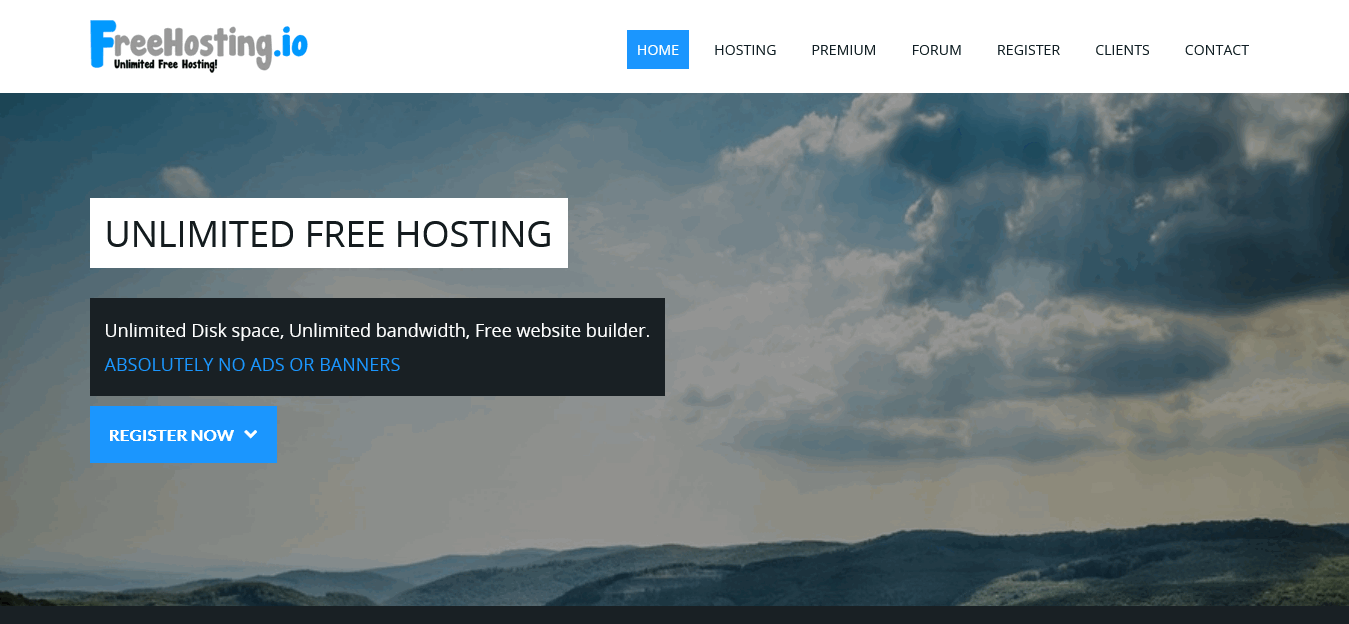 Visit freehostia.com
Freehostia is the best free web hosting platform that offers significant scale, apart from providing free types of hosting. It also provides high-end hosting services, such as dedicated servers.
Freehostia features:
Sub-domain: None 9/11
Bandwidth: 6GB
Disk Space: 250MB
Support: FAQ / Tickets
Website: 5
Email Account: 3
Disdvantages of Freehostia
Uptime & Speed: Poor
Freehostia's free hosting comes with a lot of limitations in terms of storage and bandwidth
FreeHosting.io Web Hosting
Visit freehosting.io
FreeHosting.io offers the ultimate free web hosting solution that provides multiple unlimited features for your business. 
It supports PHP, MySQL, and many other hosting technologies like 
SSD, Unlimited Email, and security. 
Price: No Paid premium plans 
Features: Unlimited Disk Space, Unlimited Bandwidth, Unlimited Hosting Accounts, 
No Ads Or Banners 
FreeHosting.io Disadvantage: Hosting speed is a bit slow This registrar is used by most spammers and scam sites. 
However the name is free for hosting services, there are definitely some disadvantages compared to if you use paid hosting. Read: 10+ Best Hosting Services And those are the 5 best and free web hosting services that you can use for your website.
I remind you again that this free hosting is not suitable for business websites or serious blogging purposes, but free hosting is very possible for just creating a website profile, testing, and learning. Hopefully, this article is useful and good luck