Disclosure: This content is reader-supported, which means if you click on some of our links that we may earn a commission.
A domain name is the gateway to the online world, and once you intend to create a website, you first need to register a compelling domain name.
In order to purchase the domain name of your choice, you need to work with a domain registrar who manages the domain names behind all the websites you want. 
Most registrars offer similar features, but there are distinct advantages and disadvantages. 
We'll dive into the realities of each domain name registrar to give you an idea of how to choose the right one, what to look for, and the pros and cons of those most popular registrars.
What is a domain name registrar?
In short, a domain name registrar is an online service that allows you to register and purchase domain names accredited by ICANN (Internet Corporation for Assigned Names and Numbers). 
They are authorized to manage the domain name system.
Without the Domain Name System, all we would have is confusing and hard-to-remember IP addresses instead of easy-to-use domain names. Now you can choose from domain names with various extensions such as .com, .net, .org, .co, .io, etc.
Buying and renewing a domain name is easy for most domain registrars, but you still need to choose wisely, as each company has pros and cons.
How to choose the right registrar
Once you have found the perfect domain name to meet your needs, take special care to purchase it through the right registrar; you should consider a few important factors.
1. Domain migration
Domain migration is the process of transferring a domain name from one registrar to another. You may not migrate a domain name immediately, but this may come in the future.
Please make sure to check the migration details in the terms and conditions. Usually, you cannot migrate within 60 days after registration. Some registrars do not even allow migration or will charge you a fee. On the other hand, some vendors will enable you to migrate your domain name easily and not charge you any fees.
2. Duration and pricing
This is probably your primary focus. Various domain name registrars offer different pricing options, and you can usually register for a term of one, three, five, or even ten years.
If this is your first time registering a domain name, we recommend registering it for only one year. Since you can enable auto-renewal, you don't have to worry about your domain name expires, and you are free to switch registrars as needed in the future.
3. Customer Support
When there is a problem with your website, you definitely want them to be ready to respond and provide fruitful technical support.
Among the best registrars we recommend, GoDaddy and Namecheap both do a great job in this area, but GoDaddy goes a step further by offering full Chinese language support.
4. Additional Services
In addition to allowing domain name registration, many companies offer additional web services. If you want to host a domain name, build a website, and purchase an SSL certificate, then most of them can help you achieve that goal.
If you are looking for an all-in-one domain registrar and want to keep all your content under one roof, then compare the pricing of these bundles.
5. Due date reminder
Sometimes you may forget to renew, or have a low credit card balance, which can cause your domain name to expire and be bought by someone else. For whatever reason, the domain name now no longer belongs to you, which means your website and business are at risk.
Many domain registrars will serve you for a period of time to prevent this from happening, at least until it expires, and they will send reminders about it.
What to look for when choosing a domain name registrar
Now that you know what to focus on, there are some considerations to follow. Some may be difficult to keep track of, but you'll have to study the fine print. That said, all this work is worth it, and you will end up with a better domain registrar.
1. Additional Services
Some registrars will offer additional services when you purchase a domain name, the most common being WHOIS registration, and privacy protection. Therefore, when you see a domain name advertised as too cheap, it may not be the final price.
Make sure you are not fooled into paying too much for anything else before completing your purchase. Many registrars have straightforward pricing and do not add additional fees.
2. Closing costs
You may not want to stay with your current registrar forever, or you may eventually plan to sell your domain name. Either way, you should be aware of the hidden closing costs.
Some registrars offer this service for free, while others charge a small fee.
3. user experience
Once you have a domain name, you will need to perform certain actions to launch the new site, such as setting up DNS servers, installing a CMS such as WordPress, and creating the associated email address.
If their domain management system is difficult to use, it can be a headache. So when registering your domain name, choose a platform that is easy to use.
1. GoDaddy - the best domain name registrar
 View Details
Bob Parsons founded GoDaddy in 1997, so the brand has been around for more than 20 years. Based in Scottsdale, Arizona, the company was initially known as Jomax Technologies but has now changed its name to GoDaddy Group Inc.
With more than 17 million people worldwide using GoDaddy, the company manages more than 75 million domain names, making it the largest and most popular domain name registrar 
in the world.
In addition to domain registration, GoDaddy offers domain migration, email management (powered by Microsoft), web hosting, web security, online marketing tools, and much more. Another great advantage is the 24/7 global customer support, which you can get via phone and live chat.
2. Namecheap
 View Details
Namecheap was founded in 2000 and is based in Phoenix, Arizona. Since Richard Kirkendall founded the company, they have amassed over 3 million customers and manage over 7 million domains.
Namecheap was named the best domain name registrar by Lifehacker in November 2010 and the most popular domain name registrar in 2012.
This company offers services such as domain migration, application integration, SSL certificates, email, etc. They are also a web hosting provider with online businesses such as shared hosting, WordPress hosting, reseller hosting, VPS, and private email hosting.
3. BlueHost - the most popular web hosting provider
 View Details
Founded in 2003 and headquartered in Plover, Utah, BlueHost is an EIG subsidiary, the largest hosting group.
They host over 2 million websites, making them the most popular web hosting provider in the world. Bluehost's numbers are very secretive, but they already had over 525,000 customers in 2010 alone. 
It is worth mentioning that WordPress officially recommends BlueHost, and for most people, it is probably the best choice to use for building websites.
Since BlueHost is primarily a web hosting provider, it comes as no surprise that they offer a variety of hosting services such as shared hosting, WordPress hosting, VPS, dedicated servers, and reseller hosting. When you purchase any hosting, you get a domain name for free.
4. HostGator
 View Details
HostGator was founded in 2002 and acquired by EIG in 2012, so it has the same parent company as BlueHost, and its main business is also web hosting.
The hosting provider is based in Houston, Texas, but most of its servers are located in Plover, Utah. By 2013, HostGator had over 400,000 customers and was hosting over 9 million domains.
5. Name.com
 View Details
Name.com was founded in 2003 by William Mushkin, the founder and former president of Mushkin Inc.
The registrar, based in Denver, Colorado, is now owned by the Rightside Group. Since 2003, Name.com has acquired more than 320,000 customers worldwide and now controls 2 million of the 16.5 million domain names managed by Rightside.
6. 1&1 IONOS
 View Details
1&1 IONOS was founded in 1988 and is currently one of the oldest domain name registrars.
They are owned by a parent company called United Internet, an Internet service company from Germany.
IONOS is headquartered in Montabaur, Germany, with offices in Karlsruhe, Zweibrücken, Munich, and Berlin.
IONOS offers services such as domain migration, website builder, online store builder, web hosting, WordPress hosting, cloud hosting, VPS hosting, and enterprise email management.
Monthly Membership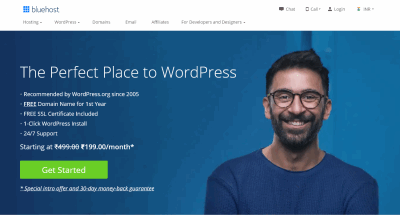 During my host analysis I found top companies with exellent server Speed, performance & sequrity.
10 fastest Website Hosting companies in 2019
As I said, there are basically two sides of the web hosting service for page loading
Programming Language OR CMS (content management system)
Host server initial connection and responce time
Why Are You Starting a Blog?
EVERY hosting plan having different results for both of the above points
That's why we choose most popular CMS from web empire, you may aware about the stats
More than 30% of overall website powered by wordpress CMS,
40% of Top Ranking website within 10K build on WordPress Platform.
So, all result for this section are TESTED on same ready state wordpress setup with equal internal, and external requests.
Myth Related to uptime
Do you think uptime is REALLY MATTERS?
Many companies as well as websites miss leading people about hosts UPTIME
But if you no with the use of free CDN, Advance cashing now a days we no need to worry about service provider uptime
We will learn that tatics in our optimization section.