Disclosure: This content is reader-supported, which means if you click on some of our links that we may earn a commission.
Businesses and consumers are increasingly relying on cloud-based storage solutions and are not inclined to build their own servers. Your files stored on Cloud, essentially a simplified view of other service providers' infrastructure (data centers, servers, hard drives, networks, etc.).
More than a decade ago, since Amazon popularized online storage through S3 (an object storage service), Google statistics show that the number of searches interested in cloud storage alone has increased more than 40 times. Given the large number of online cloud storage providers on the market.
We must choose wisely and offer cost-effective and attractive storage and bandwidth while still keeping your data safe.
The list below represents our preferred network cloud drive services, with most vendors offering free packages to allow you to check their suitability before handing over your hard-earned money.
pCloud
Despite some traffic limitations, you can upload as many files of any size as you like, so it's easy to sync large media libraries using pCloud. 
The cloud service is available for all computer and mobile platforms, and a web version is also available.
The company itself is registered in Switzerland, enforces very strict privacy laws, and is therefore favored by a large number of multinational giant practitioners such as Coca-Cola, Nike, Adidas, Twitter, Instagram, and many others.
You can pay €4.99/month for safekeeping and have pCloud Crypto lock (and unlock) individual files with passwords. 
This is one of the very few cloud services that offer a lifetime subscription, be paid for with PayPal, and has a 30-day trash retention period and unlimited upload traffic.
 However, as expected, download traffic is limited: 500GB for the Advanced plan and 2TB for the Premium plan.
OneDrive
OneDrive has been integrated into Windows 10's File Explorer and can be used directly without downloading additional applications, which is very convenient for upgrading Microsoft's latest operating system.
Using OneDrive, the Photos app for Windows can sync photos across all compatible devices. Recently, Autodesk AutoCAD has been integrated with OneDrive, which is excellent news for any good designer using this software. 
Additionally, you get a feature called Personal Vault that helps provide additional security.
There is an app for mobile devices iOSAndroid, and there is a version for macOS in the App Store. And with Insync, you can even enjoy traversal with OneDrive on Linux, so almost all users can benefit from it.
iDrive
iDrive supports intermittent transfers, even for files on network drives. The web version supports file sharing via email, Facebook, and Twitter, and files deleted via computer will not be automatically deleted from the server, so there is less risk of accidentally losing important content. For each file, iDrive keeps up to 30 different versions of its history.
Notably, IT administrators can access the iDrive Thin Client application to perform backups/restores, manage settings, and more for all connected computers from a centralized dashboard.
You'll get simple facial recognition for photos, which helps sort and organize photos and sync them in real-time across all connected devices. iDrive also offers iDrive Express, which sends you a physical disk if you lose all your data, so you can quickly restore all your backup files.
The commercial version offers priority support, single sign-on, unlimited user and server backups, and iDrive Cloud, an enterprise-grade cloud object storage.
Google Drive
For Android devices that already have integrated functionality, Google Drive's choiceis a logical one. Still, beyond that, users of other platforms will appreciate the free storage space that Google offers. With the companion app, Google Albums for iOSAndroid.
 You can store HD photos on your phone and use the office suite G Suite. upgrade to the paid Google Cloud Drive plan now called Google One (although it may not be available yet, depending on the region).
Google Cloud Drive is an excellent online website that is worth trying for anyone who can afford it but remembers: the web version is not very easy to use.
Dropbox
If you're not familiar with online file storage, Dropbox would be a great place to start. File management is easy to use, and all applications (including the web client) are built around a minimalist theme that provides a smooth operating experience on all major operating systems and devices.
One of the most convenient features is the camera upload, especially since there is no limit on mobile devices' file size. Allow it from the Photos menu on your smartphone or tablet, and the next time your device connects to a WiFi network, any photos are taken will automatically be uploaded to the Dropbox network drive.
Zoolz Cloud
There are many similarities about Zoolz Cloud for both personal use and enterprise deployments. 
This web-based cloud drive features an easy-to-use interface and excellent web management options, and the ability to combine cloud operations with local external storage.
Leveraging Amazon's Glacier infrastructure, the UK-based company offers an irresistible price/performance ratio far less expensive than its competitors. 
For more than 20 years, Zoolz has stored 20 petabytes of data for 3 million users, making it slightly less competitive than other well-known brands.
Degoo Cloud
Swedish company Degoo is not a household name, but surprisingly, they have managed to carve out a niche in the highly competitive cloud storage space.
Since its inception in early 2019, this company has managed to attract more than 15 million users worldwide by offering just two services with about 20,000 people joining every day. 
It is one of the few cloud storage companies in the world that stores encrypted files and distributes them across four continents, and they also support dual authentication through Google Sign-In.
iCloud
If you want to back up your iPhone to iCloud, the free 5GB quota offered by Apple will be far from enough, but iCloud seems to be more reasonably priced compared to its competitors.
The Finder app has been integrated with iCloud to allow you to store any file you need at any time. 
Documents created in the iWork office suite are also saved to iCloud and synced across your devices. 
Windows users can access files from the network drive using the official client or access iWork through the iCloud website application.
Box Drive
Box has been around for a long time, so it is supported by many major applications such as Google Docs and Office 365, and it is also integrated with G Suite, which means that Docs, Sheets, and Slides are automatically saved and managed in Box.
Like OneDrive, Box Drive is integrated with Autodesk AutoCAD, and the Box Sync client is available from the download page on the official website, plus a mobile client for iOSAndroid.
nextcloud
Nextcloud is not an online cloud storage provider, but they offer free software to allow you to download and install cloud storage services on your servers. 
It's much faster to deploy a network drive on your home network using a local server, and you can also enable encryption and ensure that information is never leaked.
If you lack server or IT experience, you can even purchase the already configured NextCloud Box with 1TB of storage and be used with the cheaper Raspberry Pi to keep your data in sync. Unfortunately, the NextCloud Box is already sold out, but you can check out alternatives on the official website.

Pros Of Bluehost

Free migration service
Free SSL Certificate
Free domain for one year
basic site builder
One-Click-Install for WordPress
User friendly Easy to use Control Panel
24/7 support (Phone and Live)
Ready to Use Themes are Available
Cons Of Bluehost

Discount Price Available for 3 year plan

Pros Of A2

Fastest web hosting
servers optimized for WordPress
Unlimited bandwidth and storage
free LetsEncrypt SSL certificate
free site migration
Best for WordPress, Joomla, Drupal, OpenCart and Magento
20+ email accounts
Cons Of A2
Performance Of A2
Speed: 300ms
Uptime: 99.86
Security: best
Fastest Web Hosting with a 51% Discount
A2 Hosting review
Monthly Membership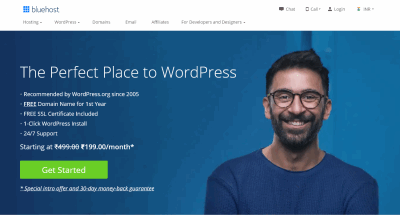 So, let's dive into how you can Increase Your Site Load Speed. Ready?
How to identify best high speed hosting
For finding out high speed website hosting, first thing you need to understand difference between Page speed vs Server speed
1. Page Speed
Page speed is a calculated by time required to load all content and resourcea on your page loads.
Website page has two states
First Contentful Paint (FCP) – User get's the first visual response of a page.
DOM Content Loaded (DCL) – Whole HTML document has been fully loaded and parsed with all resourses like, images, video, js, css etc.
You can evaluate your page speed with Google's PageSpeed Insights. PageSpeed Insights Speed Score
2. Server Speed
server speed is a calculated by downloaded data per second from server. Server Speed = Data Loading Speed / Time.
However host server speed depends on serval factors
Time to first byte (TTFB):- TTFB is the time required by your browser to start receiving information after it has requested from the hosting server
Data Loading Speed from server.
Server Side language Support for rendering into HTML.
Gzip compression :- software application for file compression, to reduce the size of your CSS, HTML, and JavaScript files.
server speed is our measurment to select our fastest web hosting service in 2019
How to check server speed
you can test your website hosting responds to request from different locations using pingdom. using pingdom you can test free accurate Worldwide Server Speed for your current host
Best server and page speed



Server Responce recommended time to first byte is 200ms-400ms, less is always better.
page speed between 1 to 3sec is good. Numbers of case-study already reveals, even delays of 1/10th of a second had a noticeably negative impact on their revenues.
During my host analysis I found top companies with exellent server Speed, performance & sequrity.
10 fastest Website Hosting companies in 2019
As I said, there are basically two sides of the web hosting service for page loading
Programming Language OR CMS (content management system)
Host server initial connection and responce time
Why Are You Starting a Blog?
EVERY hosting plan having different results for both of the above points
That's why we choose most popular CMS from web empire, you may aware about the stats
More than 30% of overall website powered by wordpress CMS,
40% of Top Ranking website within 10K build on WordPress Platform.
So, all result for this section are TESTED on same ready state wordpress setup with equal internal, and external requests.
Myth Related to uptime
Do you think uptime is REALLY MATTERS?
Many companies as well as websites miss leading people about hosts UPTIME
But if you no with the use of free CDN, Advance cashing now a days we no need to worry about service provider uptime
We will learn that tatics in our optimization section.