Affiliate marketing is one of the easiest ways to make money online by linking to participating services, products or offers, and you can earn commissions for each customer you refer.
While you can add membership links to any WordPress site, there are many benefits to choosing a theme created specifically for this purpose, they make it much easier to post professional product reviews that not only highlight the best and worst aspects of each item, but also come with some other useful features such as product comparisons, ratings, star ratings, videos, images and more.
Among the following themes we recommend, some of the generic features include responsive design, rich setting options and custom controls, as well as some bundled premium plugins. By choosing a dedicated affiliate marketing theme, your path to making money online should be much smoother.
REHub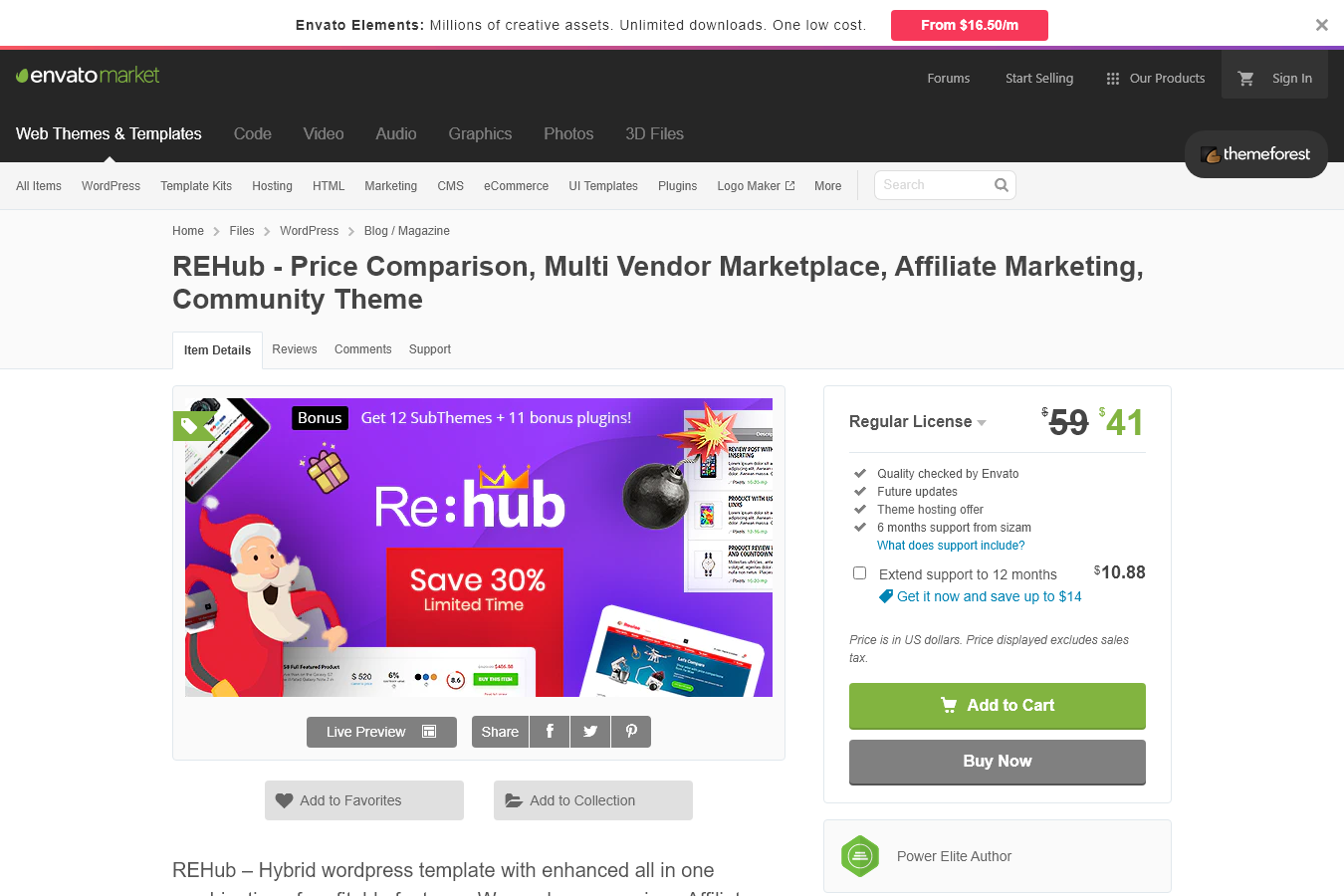 REHub was created to make you an elite online earner, and with the many features related to product display, it becomes easier for you to add reviews, comparisons and other information to your WordPress site. Whether you want to showcase products strictly by membership or sell your own goods from your site, REHub is a great choice thanks to its support for two major e-commerce plugins: WooCommerce and Easy Digital Downloads.
The theme is very flexible, allowing you to configure your website using a variety of formats, including regular blog, e-commerce, online magazine and other layouts, meaning that no matter which type of content you prefer to publish, you won't have any problems. The theme package comes with a number of promotion-related plugins for creating product comparison tables or managing outbound links, the latter of which allows you to track all member link clicks from a central dashboard.
We highly recommend that you add product comparison tables to your articles and pages to make it easier for visitors to see product variants and options so they don't have to leave your site and go elsewhere, and to help you avoid missing those all-important click-through referrals.
Zox News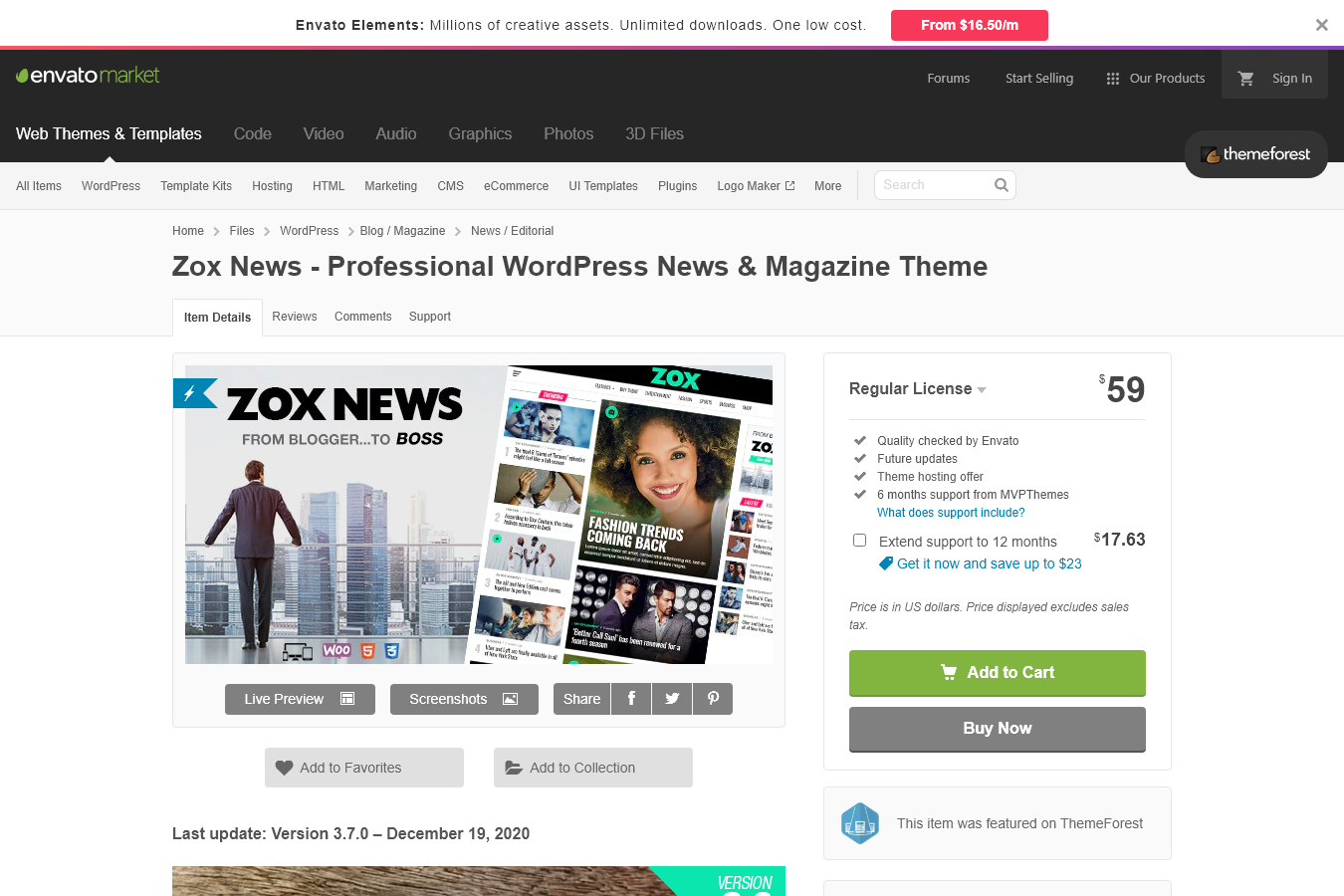 If your affiliate marketing strategy involves creating a high-quality content website designed to attract a large number of readers through search engines, the Zox News theme will ensure that your site has the right design style. Thanks to the rich article templates, you can choose the most appropriate page layout every time you publish new content on your website.
Check out the preset demo of Zox News and you will be able to see how the home page of the affiliate marketing site will look like. Since this is primarily a news magazine theme, it will likely look similar to popular media channels. This means that your homepage will come with an infographic area for the latest and most popular articles, as well as a selection of images and summaries that encourage visitors to click through and view the full content.
To profit from selling membership items, you can display banners and offers in the site's advertising area, and you can also use the included Reviewer premium plugin to post in-depth product reviews, which can include a membership link to the purchase page. It's easy.
Typer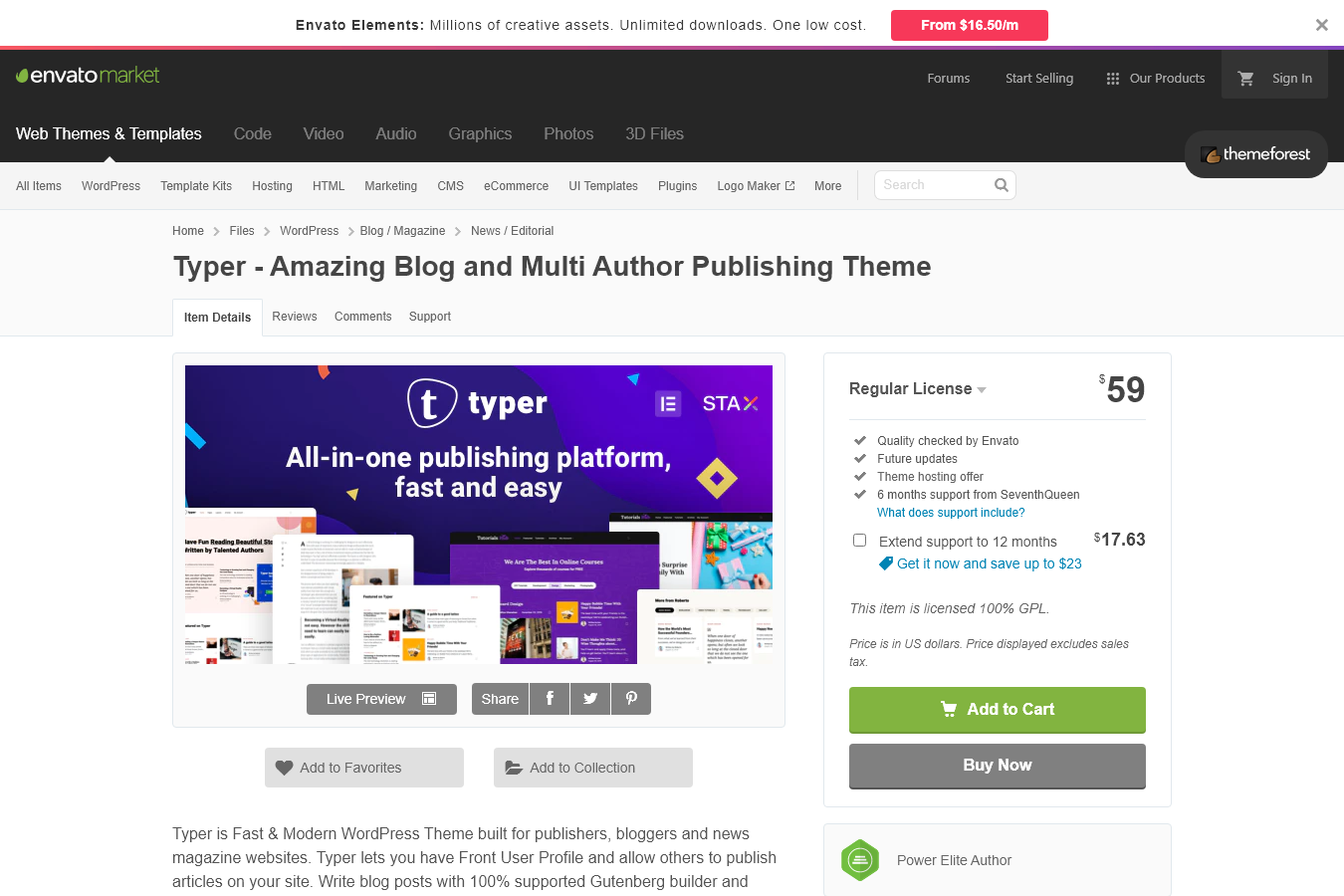 Whether you're creating content for an affiliate marketing site or have a team of professional writers who write articles, Hyper is the way to go. Each writer and registered user on the site gets a unique, personalized page containing a profile and social media links and showcases the latest Featured Articles. While many content-centric themes offer this type of content template, Hyper's approach is more stylish.
In addition to the personalized page templates, Hyper includes a number of different homepage layouts, and among these options is one optimized specifically for tutorials, which is worth checking out if your membership site is focused on sharing how-to and how-to guides. There is also a travel-specific site demo, which makes it a good choice for launching a travel blog site, and with the help of a post template with a large header image, you can also embed some landscape photos into the page.
To ensure that your website content is not only beautiful but also easy to read, Hyper works perfectly with the latest WordPress editor and the popular Elementor plugin, so you have full control over the appearance of your posts and thus stand out from the competition with a unique design. If you want to display popups to promote product sales or increase your email subscription list, this theme also offers built-in support accordingly.
Blabber
As a truly multipurpose affiliate marketing theme, Blabber offers 20 fully functional demo sites in categories such as technical journals, travel sites, gaming portals, food blogs and more. With so many options, no matter what you want to publish, there should be a template design to go with it.
Each demo is carefully crafted with a front page that lists a summary of the latest articles and allows you to post ads and other profitable content. With a large number of custom widgets, you can also insert various content elements into your articles, such as promotional messages containing membership links.
To help you publish properly formatted posts, Blabber takes full advantage of the latest WordPress editor that allows you to insert a series of different blocks in your posts. Nevertheless, you don't have to use the default editor either, as this theme is compatible with the Elementor tool, allowing you to open pre-built content and layouts and then modify them to fit specific needs. Choose Blabber and have a unique design for every article you publish on your website.
Zeen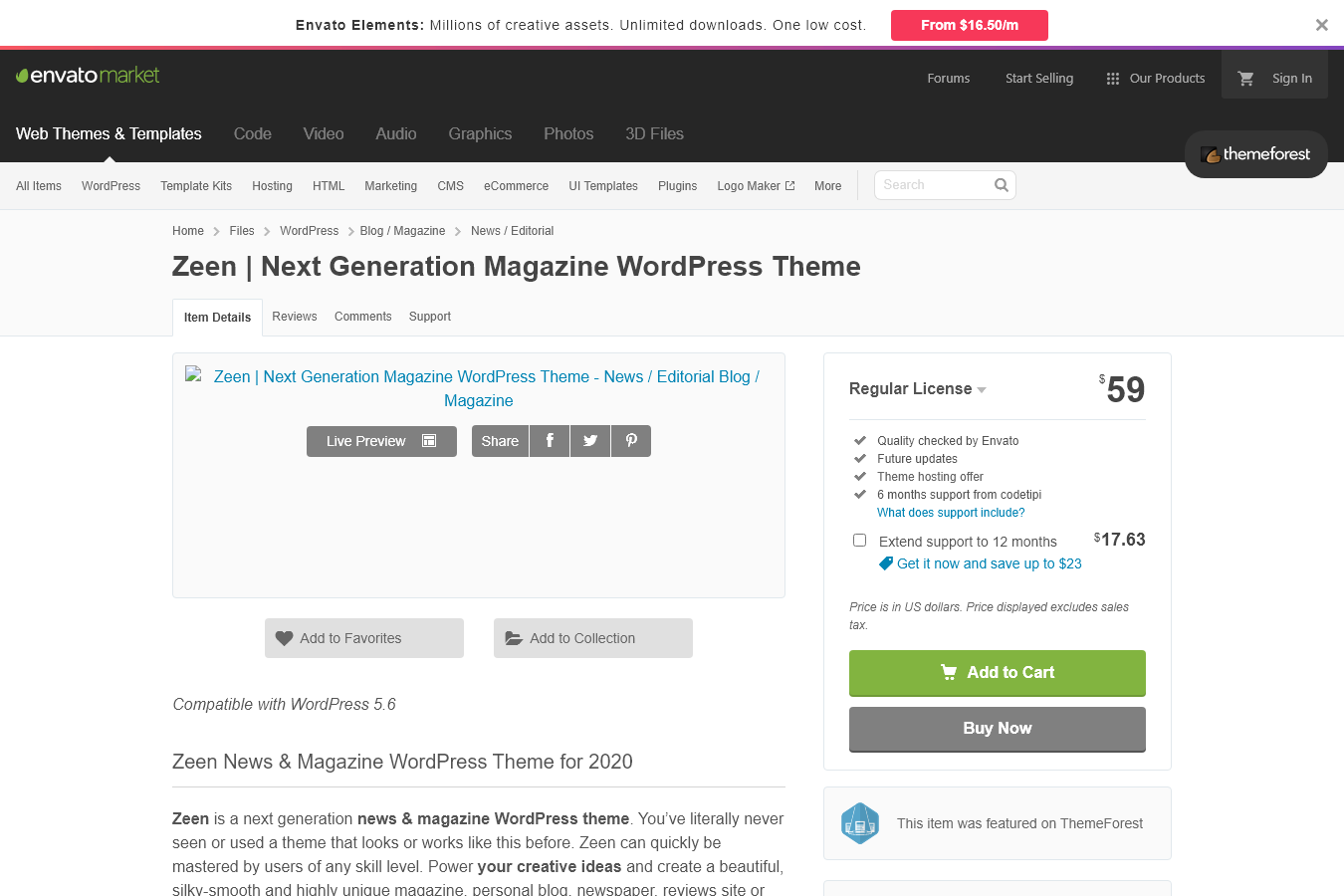 To ensure that Zeen continues to be competitive, the developers have recently released a major upgrade: adding more demo sites to the theme package and improving support for video backgrounds. In addition to this, the recent update includes structural optimization, delayed loading and other features to speed up page rendering, so if you want page load times to be within the range that search engines and online visitors are happy with, Zeen will be worth a look.
Although a large number of pre-built layouts and templates are included, you are not limited to using demo content. zeen has integrated a dedicated custom content editor into the design, so you can create your own article layouts. In terms of engaging your audience and generating more clicks and revenue, if you have specific ideas for affiliate marketing content, use the page editor to present the articles in the desired way.
The theme customization panel offers a wide range of customization options, allowing you to change the fonts, colors, and every other aspect of your website. Everything is extensively documented, so no difficulty can stop you when building a brand new membership site.
Neori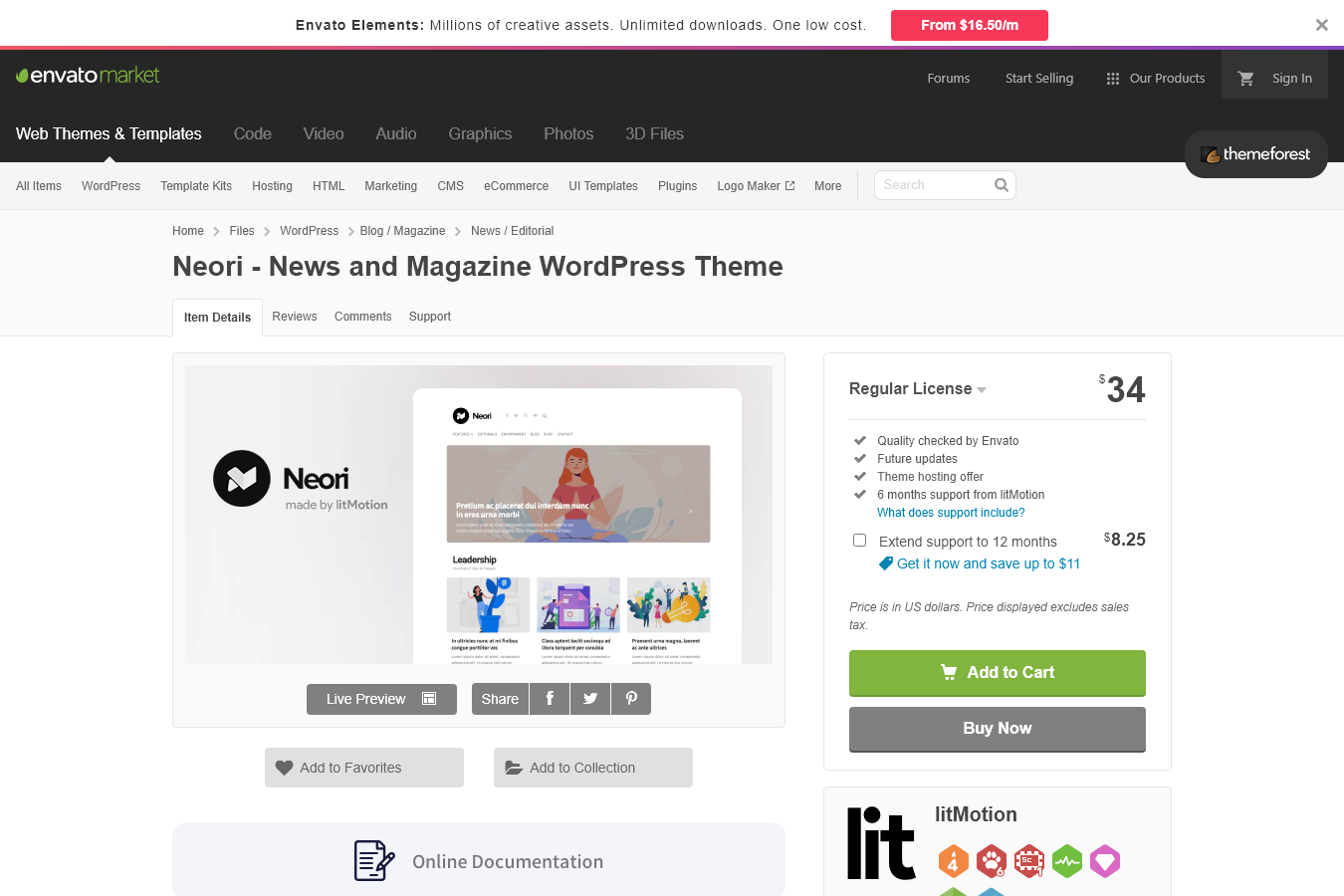 With Neori, you can create a content-centric (e.g. blog or magazine) website and profit from membership offers. After importing demo content, you have access to a range of pre-defined article templates, so you'll be able to choose the right layout for new content every time it's published on your site.
To make your online blog look more visually appealing, the theme developer has chosen the most matching fonts and colors, and some additional features (such as estimated time needed to read each post and a progress bar for readers' familiarity with a particular piece of content) help to enhance the premium feel of the site. There is also mega-menu support, allowing you to add extensive content to the navigation area, such as affiliate product links, floating sidebars, and more.
Although the theme package already comes with a large number of templates and layouts, you can also install your favorite page editor tool in order to make adjustments to the preset templates or create your own layouts from scratch.
Blurb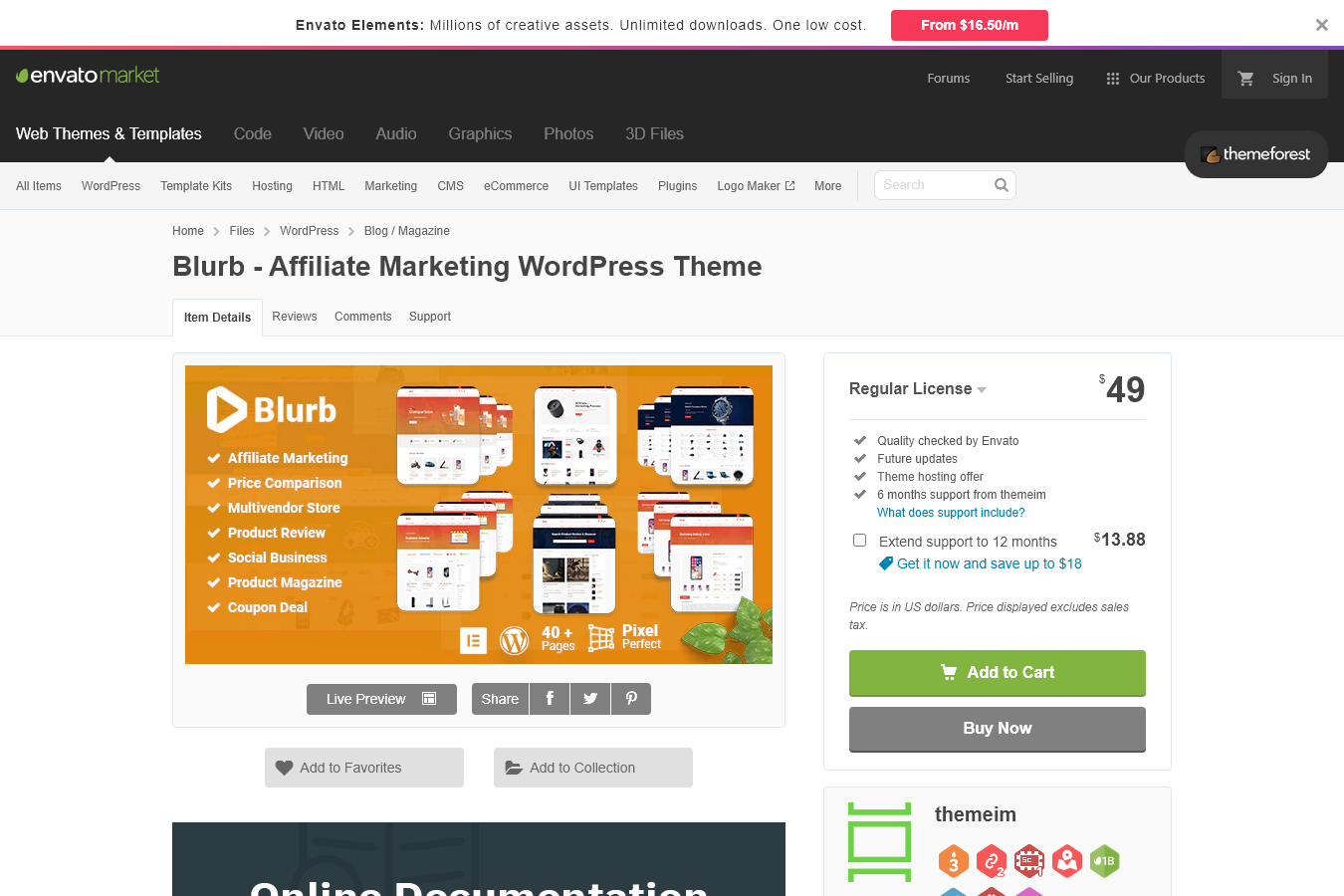 Blurb is suitable for a range of website projects, including review blogs, coupon sites and price comparison portals. With the rich library of templates included, sharing discount codes and coupons on the site is just as easy as posting product reviews. You can also use the price comparison feature to create tables that give visitors a clearer picture of selected products' features and costs to help them make purchasing decisions.
This theme offers some corresponding features, such as email subscription forms, including pop-up and inline options, to help you build your audience. After visitors join your email newsletter, you can send them messages whenever a new promotion is added to the site. In addition, since Blurb works with all the best email marketing services, you can choose the platform that best meets your specific needs.
Another interesting feature is to allow other users to sign up and then share affiliate deals and promotional offers with your audience base, and despite the complexity of the feature, you have a good amount of control over how all the processes work. Through the theme options panel you can set up profit sharing or charge these users a fixed fee to post deals.
Pixwell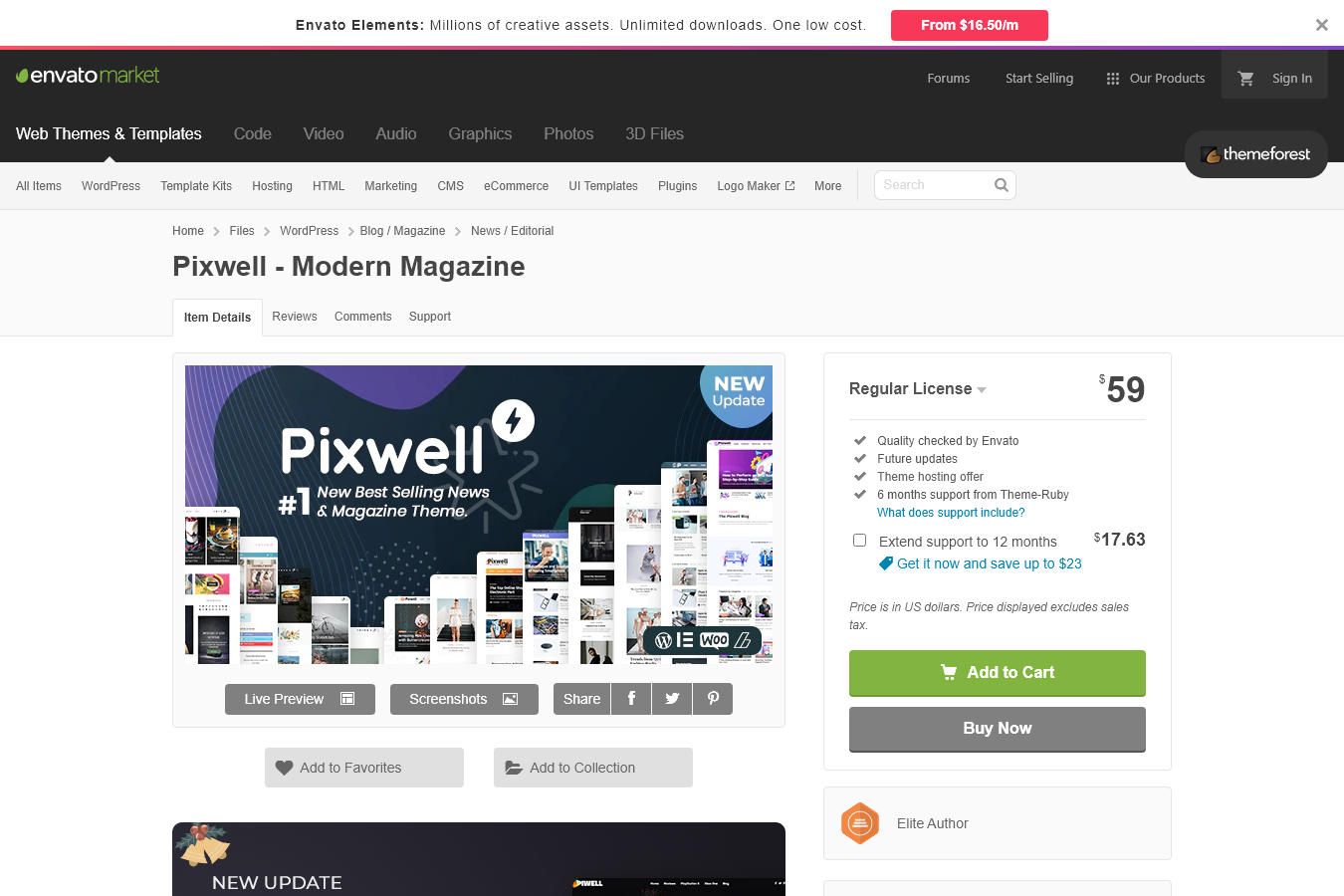 This theme is suitable for publishing a range of content, including short articles and long-form blogs. Thanks to the integrated measurement system, each of your posts looks professional and credible and can be accompanied by custom ratings and rating criteria, which can then be profitable by pointing to referral links to other stores.
In addition to reviewing templates and features, Pixwell also offers a set of layouts that can be used to post ingredient lists in your blog. So whether you want to create an affiliate marketing food blog or occasionally share recipes with your readers, you'll find what you need here.
Pixwell also offers good e-commerce support if you plan to sell your own goods, which is a good option for those who wish to develop their own business after using the membership link. You can also try another way to profit from your website by using the ad feature to display ads in the header, footer, sidebar, article content, and other areas.
To help you launch your new website quickly, this affiliate marketing theme features a perfect content import tool, just select the theme template you want to import into your WordPress website and click a few buttons to enable the necessary plugins. As a supported premium page editor plugin, Elementor lets you modify the demo content and the rest of the site according to your specific needs without having to edit any code.
JNews
With the addition of 3 new demo sites, your affiliate marketing website will have even more templates to choose from. JNews now features demos and templates for portals such as technology blogs, travel sites, tool blogs, news magazines, etc. Import them into your website with just a few clicks of a button, and you'll find that each pre-built site is beautifully crafted and perfect for your project.
If you really can't find the right design, JNews has no shortage of customization options. The theme customization panel gives you access to many settings and the ability to adjust almost every aspect of the way your site looks and works. For full control over each demo site, the theme is fully compatible with Elementor and WPBakery Page Builder plugins, and all premium features are unlocked at no extra cost.
Another customization feature is the header editor, which gives you precise control over the appearance of the site's header area, including whether to profit from membership links or other advertisements. You can also adjust the category pages so that the specified latest article is displayed in the most appropriate format.
CouponXL
As the name suggests, CouponXL is ideal for building coupon sites with WordPress, where you can turn those coupons into profits through membership links and launch a stylish automatic money-making website. The default layout of the theme includes some handy search fields, making it easy for visitors to not only find content of interest, but also discover exclusive offers from local stores.
The rest of the section gives you plenty of room to play with, while also displaying plenty of links to offers related to the products being promoted. Another nice feature of this theme is that visitors can register and submit their own coupons, which helps to make your website traffic grow naturally, and you can also charge users for posting coupons, which provides you with another way to make money from your website.
Voice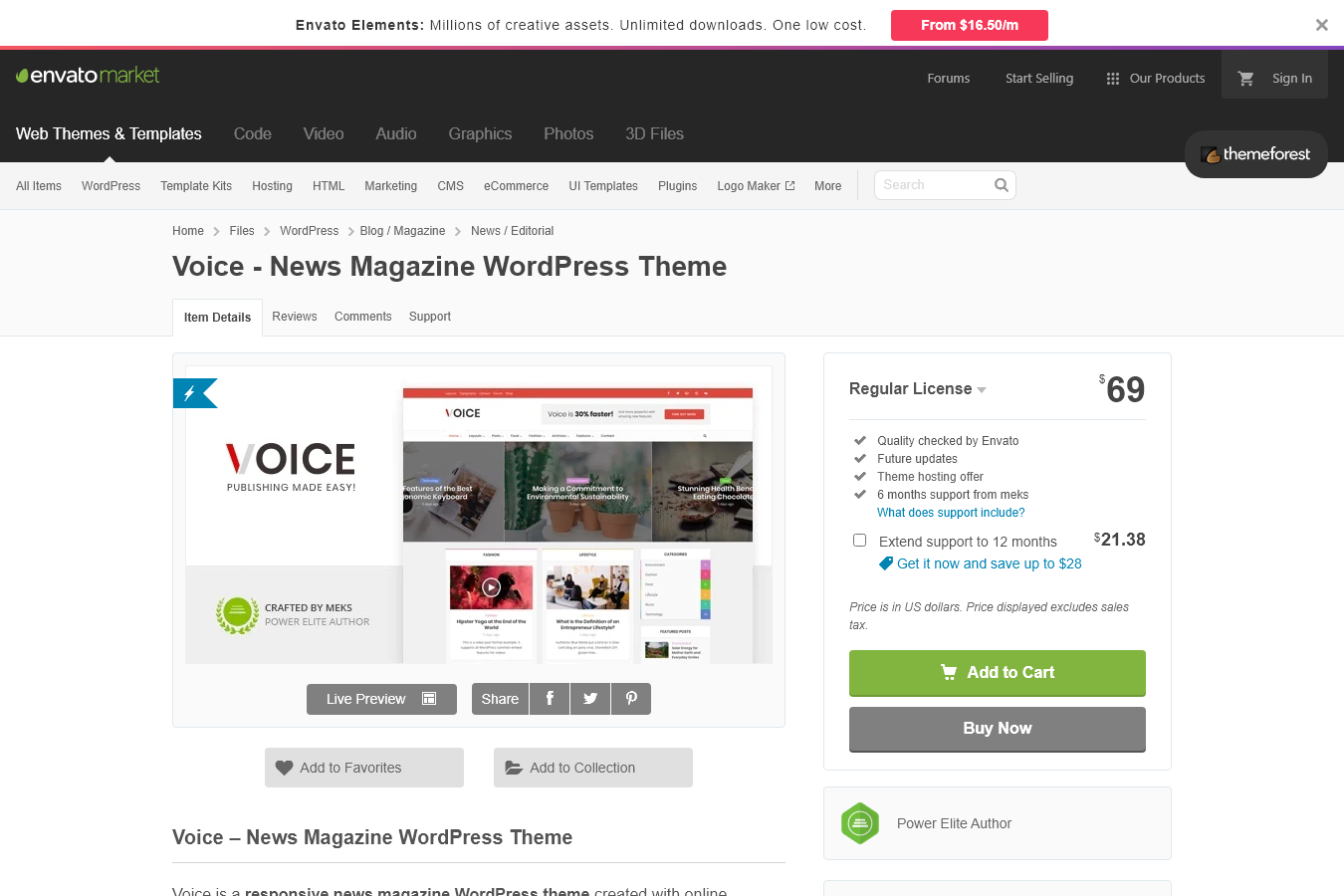 Voice offers a wealth of layout options, but the full-width layout with a selection of images is a great option for those creating affiliate marketing websites with WordPress. In addition to a wide variety of post and page designs, you also get plenty of useful shortcodes for inserting a range of elements into your post content, including progress bars, font icons, button galleries, tabs, multi-column layouts, and more.
The choice of color skins, header configuration mode, custom sidebars, widgets, paging controls is also abundant, and the theme fully supports WooCommerce and bbPress plugins, thus allowing you to add e-commerce and discussion section functionality to your site when needed.
Goliath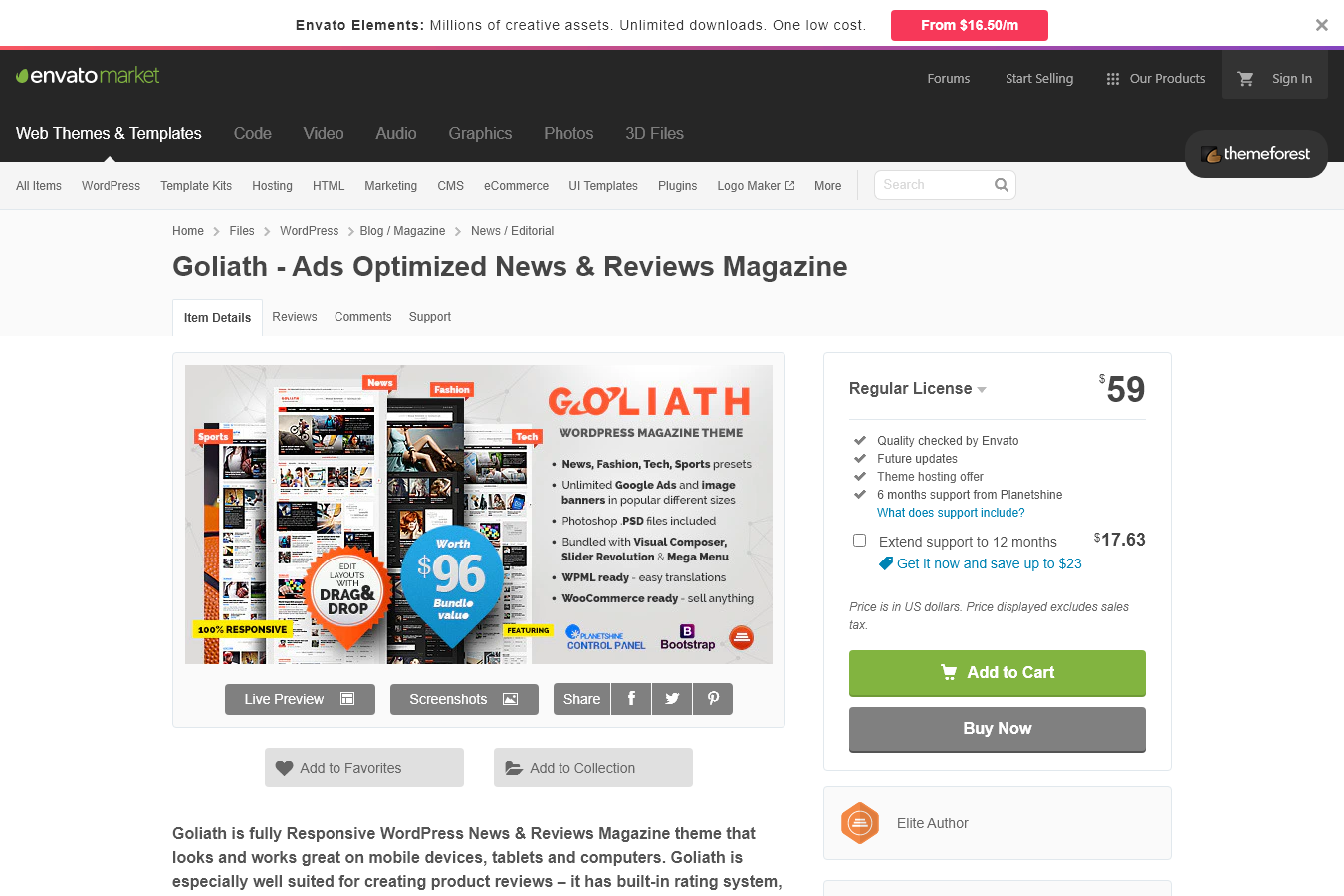 Goliath comes with a built-in measurement system, which makes it a great choice for creating measurement websites. The theme package is offered in 4 different styles and is advertised as best suited for content in the sports, news, fashion and technology fields. With built-in support for affiliate links and Google AdSense, earning money with these two options will be very easy. In addition, you can use ad zones and widgets to display banner ads.
This theme includes the premium Visual Composer drag-and-drop page editor to let you create custom styles and looks.
You'll also find the premium Slider Revolution slider plugin in the theme package that makes it easy to add advanced animated slideshows to your posts and pages.
MoneyFlow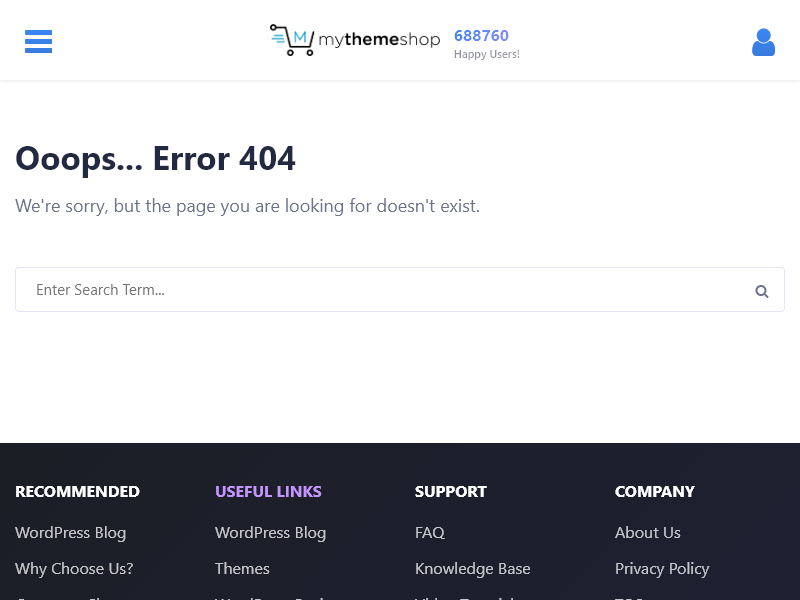 MoneyFlow is an SEO (Search Engine Optimization) friendly, fast loading WordPress theme, and with the purchase of this theme you'll also be able to access the entire premium template library for a low price. Whether you want to make money through affiliate marketing or display advertising, MoneyFlow offers three pre-built layouts, including options for regular blogs, full-width homepages, and more, perfect for content-rich websites.
If you join MyThemeShop Club, you can also access the premium WP Review Pro plugin, which will make the review content look more professional. You can also start with the free WP Review plugin and add some nice features to the member content.
Affiliate Marketing FAQ
Fastest Shared Web Hostingers

But if you no with the use of free CDN, Advance cashing now a days we no need to worry about service provider uptime

Fastest Dedicated Server Hosting

But if you no with the use of free CDN, Advance cashing now a days we no need to worry about service provider uptime

Fastest VPS Hosting

But if you no with the use of free CDN, Advance cashing now a days we no need to worry about service provider uptime

High-speed hosting for small busines

But if you no with the use of free CDN, Advance cashing now a days we no need to worry about service provider uptime

How to improve website loading speed

But if you no with the use of free CDN, Advance cashing now a days we no need to worry about service provider uptime

How to Speed Up WordPress Website

But if you no with the use of free CDN, Advance cashing now a days we no need to worry about service provider uptime

How to Score a Perfect 100% on Google PageSpeed Insights

But if you no with the use of free CDN, Advance cashing now a days we no need to worry about service provider uptime

Best CMS Content Management Systems to Make Your Website Load Faster

But if you no with the use of free CDN, Advance cashing now a days we no need to worry about service provider uptime
Conclusion
The only question is, which side are you going to pick?
Let me know in the comments.